My Chicken Milanese alla Florentine takes chicken cutlets to the next level. Imagine a crispy chicken cutlet topped with steamed spinach and sauteed mushrooms, topped with Swiss cheese and served with a creamy white sauce…..sigh.
It's the stuff foodie dreams are made of.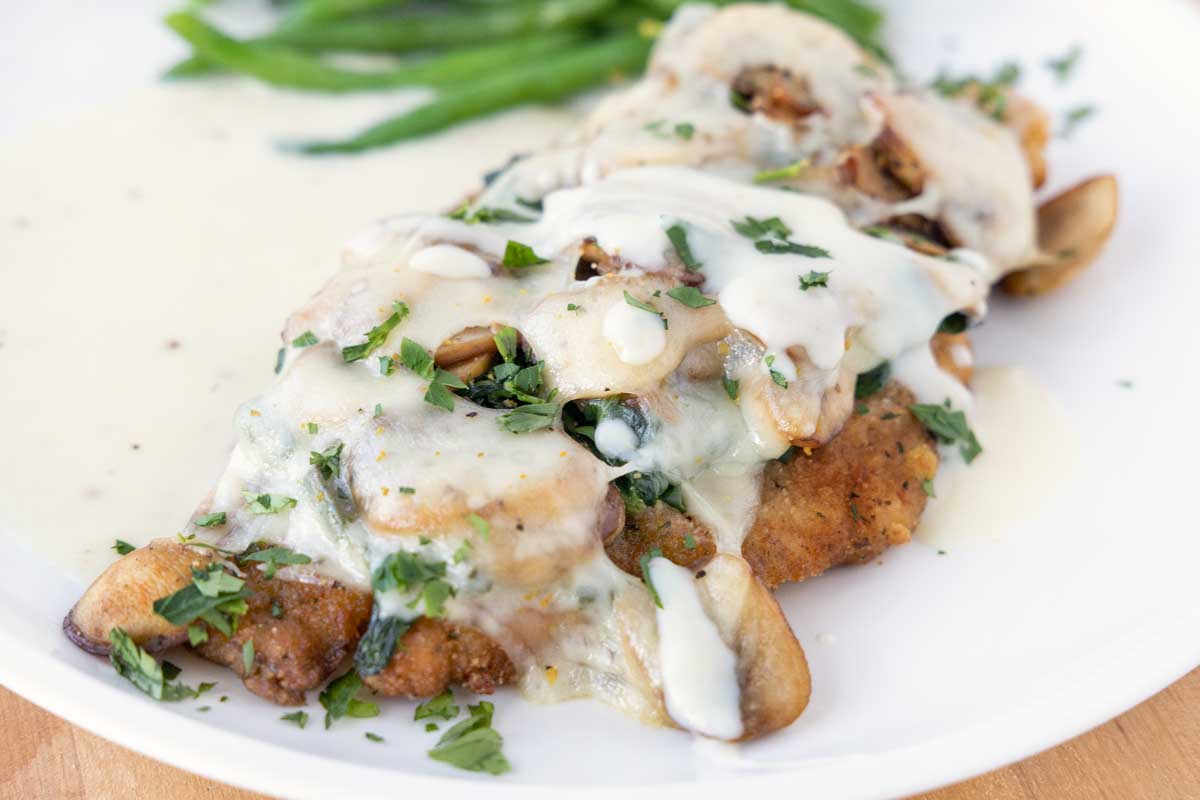 You might find this dish referred to as Chicken Florentine, and that comes from the addition of spinach. Where a Chicken Milanese recipe refers to a boneless chicken breast that has been breaded with seasoned Italian bread crumbs that include parmesan cheese or Romano cheese.
What ingredients do I need to make Chicken Milanese alla Florentine?
Let's start by gathering the ingredients we need to make Chicken Milanese alla Florentine. In Chef Speak this is called the "Mise en Place" which translates to "Everything in its Place".
Not only does setting your ingredients up ahead of time speed up the cooking process, it also helps ensure you have everything you need to make the dish.
How do I make chicken cutlets?
The first step is making the chicken cutlets. These are the same cutlets used in my Chicken Parm Recipe. When I make the cutlets for my chicken parm, I always do a large batch. That way I have extra chicken cutlets prepared and ready in the freezer for quick and easy weeknight dinners.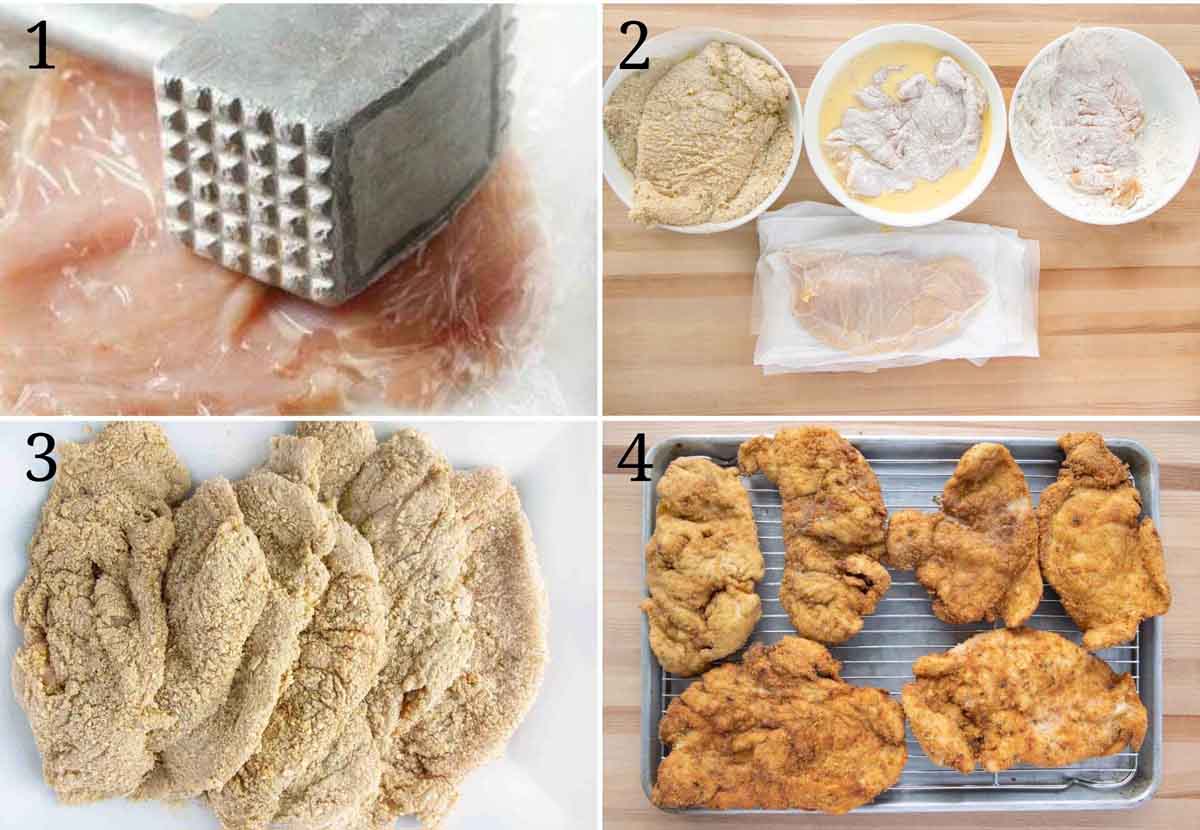 Place the chicken breasts on a cutting board lined with plastic wrap. Cover the chicken with another sheet of plastic wrap and using a meat mallet lightly pound the chicken breasts.
Set up a breading station with flour seasoned with sea salt and black pepper, egg wash, and Italian bread crumbs or Panko breadcrumbs seasoned with Italian spices and parmesan cheese.
Coat the chicken breasts with seasoned flour. Then place in the egg mixture and finally in the bread crumbs. Make sure you get a good coating of each ingredient on the chicken breasts, completely coating them.
Place a large skillet on medium-high heat and add about half an inch of olive oil. Carefully place the breaded cutlets into the oil using tongs. Add as many as you can into your pan without crowding them. Let them saute until they get a nice golden brown color. Using tongs turn them over and saute the other side until golden brown.
Drain the chicken cutlets on baking racks over sheet pans, or on paper towels.
*You can use premade chicken cutlets, or unbreaded chicken breast cutlets to make this dish.
How do I make Chicken Milanese alla Florentine?
Steam the spinach with half a cup of water in a covered saute pan over medium heat. Drain the spinach (don't squeeze out the liquid, just let it naturally drain)
Saute the mushrooms in olive oil until fully cooked (drain any extra oil from the pan). It's okay to have some liquid remain in the mushrooms.
Add the spinach to the top of the chicken cutlet.
Top the spinach with the sauteed mushrooms.
Cover the Chicken Milanese with two slices of Swiss cheese. (Feel free to substitute the Swiss with gruyere, fontina, or provolone).
Place the chicken Milanese in a preheated 350-degree oven for 25 minutes.
If the cheese looks dry, brush it with a little water to perk it up. Or if you're feeling extremely decadent a little melted butter.
How do I make a Supreme sauce (white sauce)?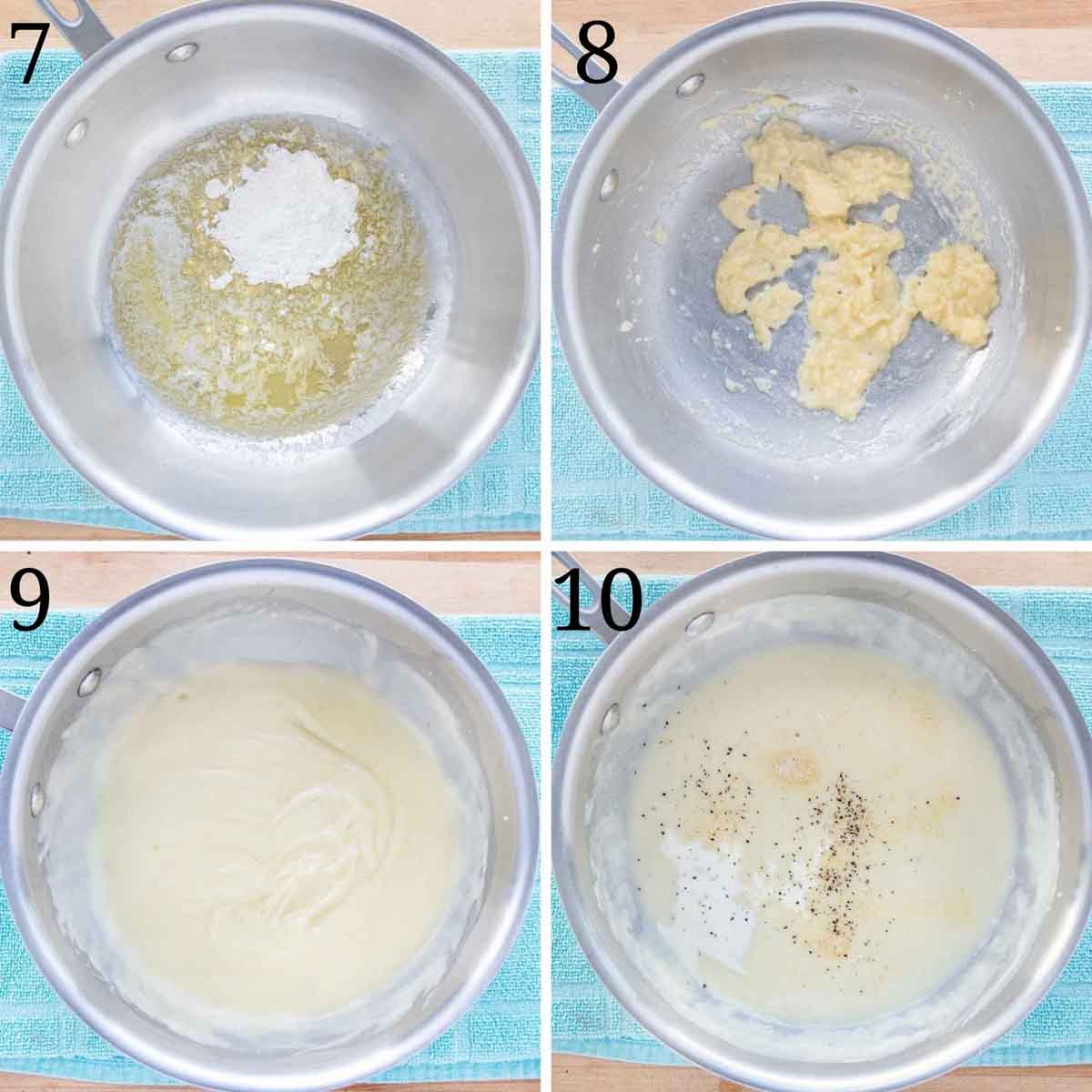 Melt butter over medium heat in a small saucepan. Add flour and whisk mixture together. This is the roux.
Cook the roux for 1 minute, then reduce the heat to simmer and continue to cook for another 1-2 minutes.
Add one cup of chicken stock to the roux and mix with a wire whip until you get a smooth consistency. If the sauce is still too thick add the additional chicken stock.
Add the cream and the seasonings to the sauce. Cook for 2- 3 minutes, whisking constantly.
This is the basic version of a Supreme Sauce. You can add dijon mustard to the sauce to add extra flavor. You can also turn this sauce into a cheese sauce by adding shredded cheese to the sauce.
Cheddar, swiss, gruyere, fontina and even American cheese can be added. A little grated parmesan or Romano cheese will also add flavor to the sauce.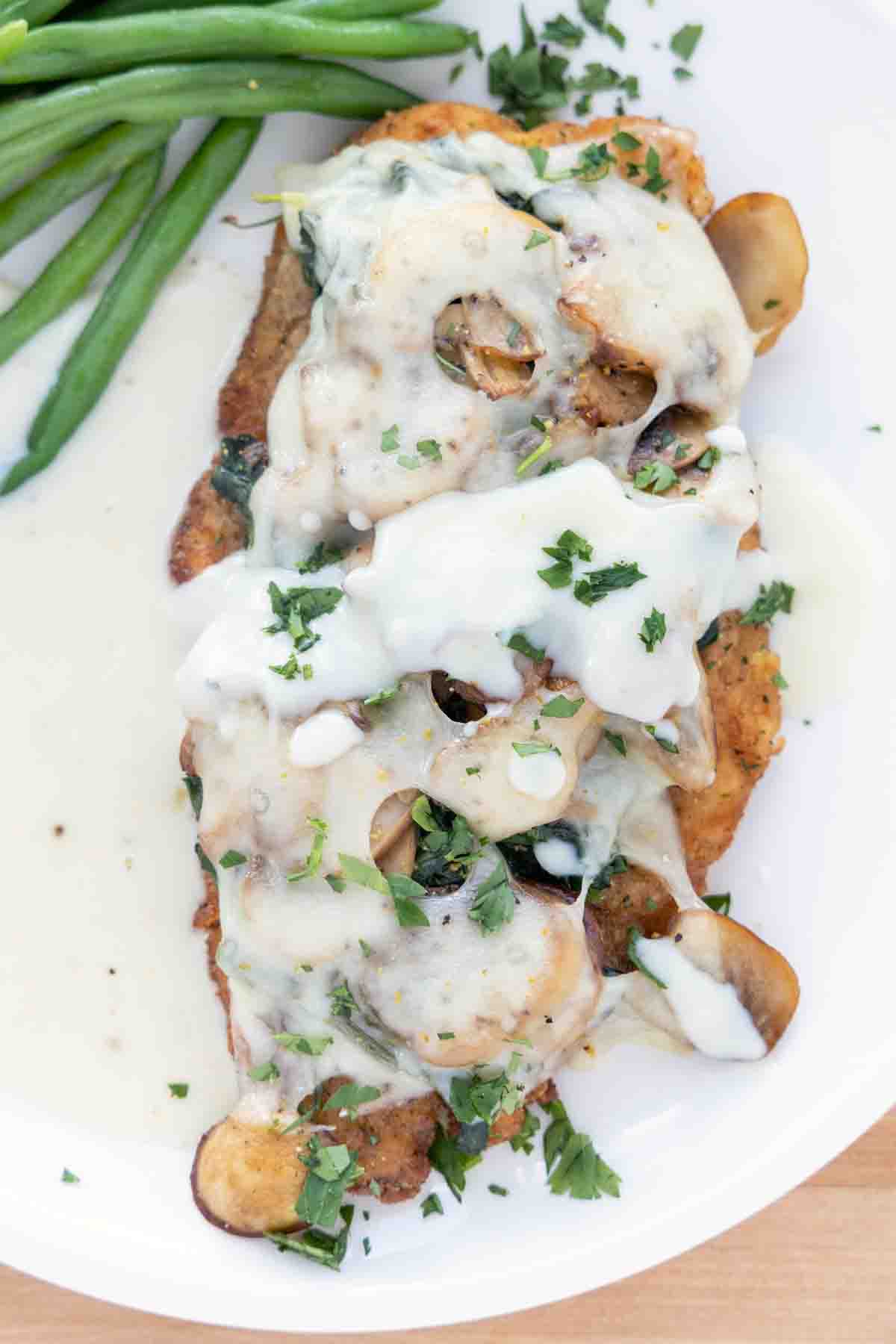 Serve the Chicken Milanese alla Florentine with the supreme sauce and be prepared for quiet at the dinner table. Everyone will be chowing down, devouring this delicious easy-to-make chicken dish.
What should I serve with Chicken Milanese?
Rice or risotto would be a great side dish. Roasted potatoes or mashed potatoes would also make excellent sides. And just about any vegetable will go with this dish. I like to add a little color to the plate so I like green beans, zucchini, or broccoli with the chicken.
Recipe FAQ's
What is chicken Milanese?
Preparing something Milanese style means dredging chicken cutlets pounded thin in seasoned flour, egg wash, and bread crumbs seasoned with parmesan or Romano cheese. The breaded cutlet is then pan-fried until fully cooked.
This method was first used with veal but has since been adapted to include chicken and pork. In German, this would be called Schnitzel.
What does alla Florentine mean?
In the culinary world, the word Florentine refers to a recipe that is prepared in the style of the Italian region of Florence. These days it usually means that spinach has a starring role in the dish.
Can I make chicken cutlets in an air fryer?
You certainly can. Preheat the air fryer for 3-4 minutes before adding the breaded chicken.
Don't overload the air fryer basket, chicken cutlets need to have some breathing space in order for them to cook properly. 
Make sure to flip the chicken cutlets have way through cooking to get both sides crispy.
*Spray the chicken cutlets with cooking spray when you put them in the air fryer and again when you flip them.
The chicken should cook in 6-8 minutes, don't overcook the chicken cutlets!
More Chicken Recipes You'll Love!