Chicken Milanese is an Italian Classic that's easy to make and can be on your dinner table in less than 30 minutes. Add a side salad to this restaurant-quality dish, and you've got the perfect weeknight meal.
My Chicken Milanese recipe is guaranteed to be better than your favorite Italian restaurant.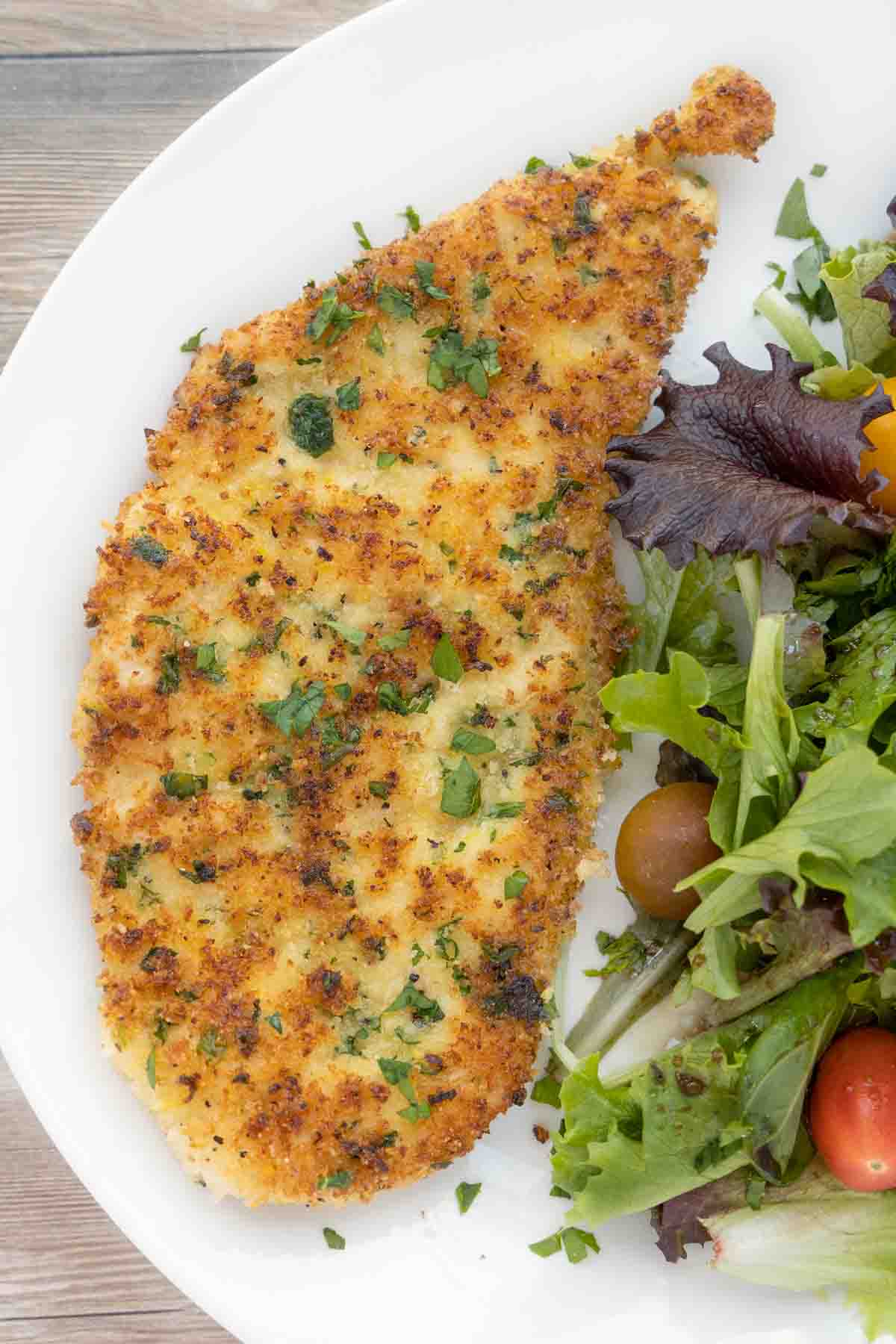 This crispy chicken cutlet is an Italian version of a dish that can be found around the world. In Germany, it's Chicken Schnitzel; in the United States, it's a fried chicken cutlet that makes its appearance on sandwiches and countless other delicious dishes.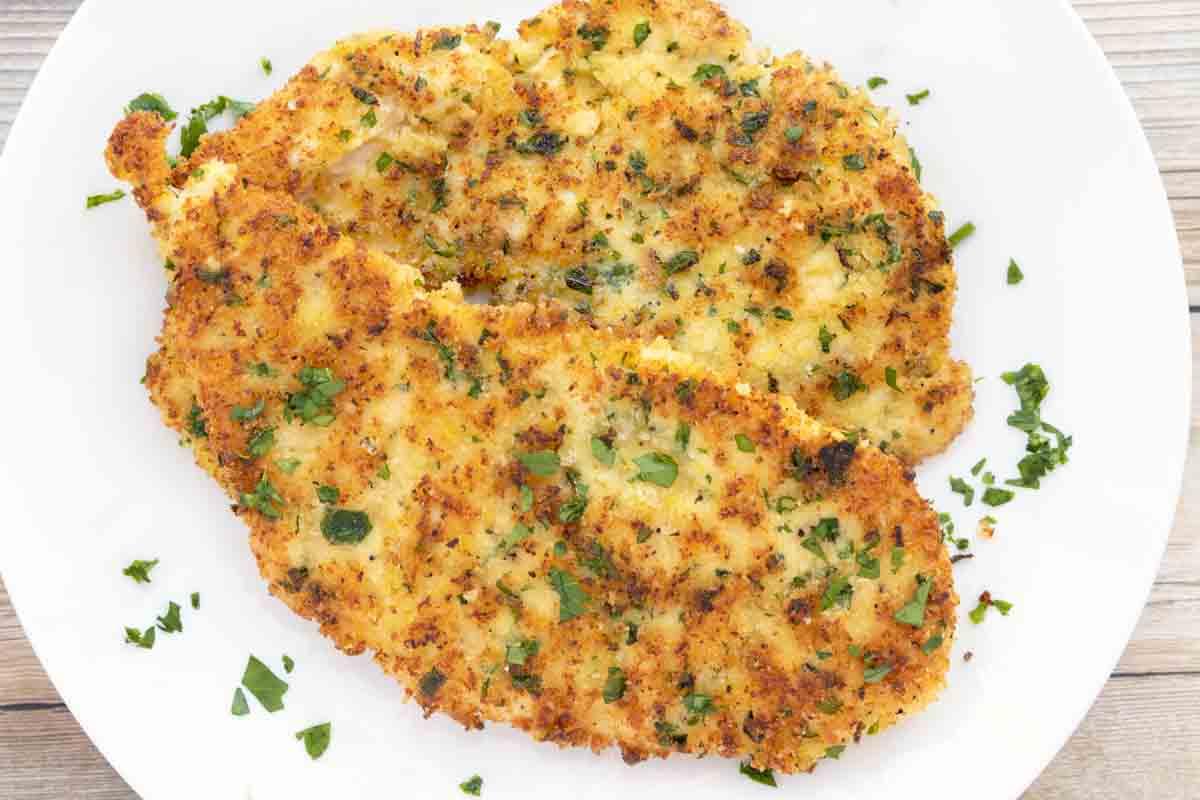 Coated with panko breadcrumbs and then pan-fried until crispy and golden brown, these chicken cutlets are sure to become a family favorite.
I'll let you in on a little secret. Add your favorite marinara sauce and some shredded mozzarella cheese to my Chicken Milanese, and you've got a delicious Chicken Parmesan.
Make up a batch of these flavorful chicken cutlets and freeze them for days you don't feel like cooking. It makes dinner time easy and delicious!
And if you're looking for other similar recipes, check out my flavorful chicken Francaise.
Ingredients to make Chicken Milanese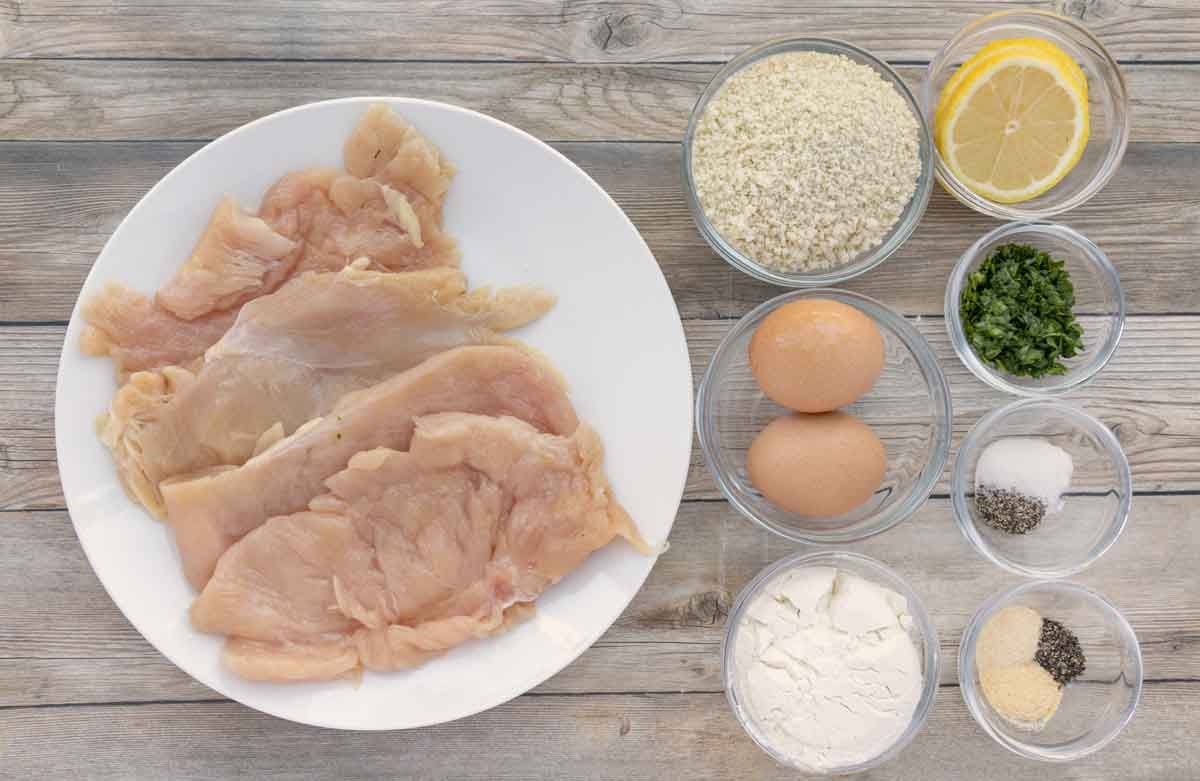 Let's start by gathering the ingredients we need to make Chicken Milanese recipe. In Chef Speak, this is called the "Mise en Place," which translates to "Everything in its Place."
Not only does setting up your ingredients ahead of time speed up the cooking process, it also helps ensure you have everything you need to make the dish.
Simple Ingredients
Chicken breasts
Panko breadcrumbs
Grated romano or parmesan cheese
Italian parsley
Onion powder
Garlic powder
Black pepper
Table salt
All-purpose flour
Eggs
How to make Chicken Milanese
The key to making the perfect Chicken Milanese is flattening the skinless breasts (which also tenderizes them) with a meat mallet. This makes the chicken breast tender and helps in the cooking process, keeping the breast moist and flavorful.
The chicken breasts should weigh between 4-5 ounces each.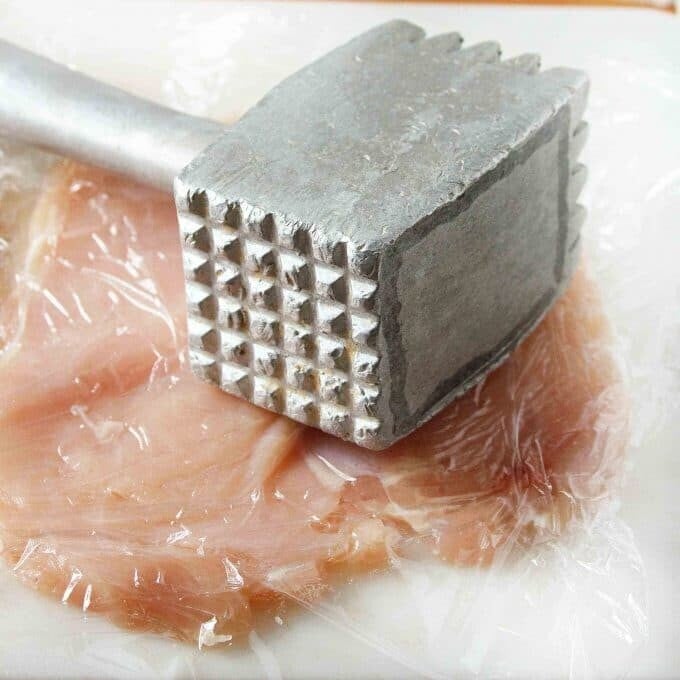 Place the boneless skinless chicken breasts between two sheets of plastic wrap and pound the chicken with the flat end of a meat mallet until the cutlets are about ¼ inch thick.
*If any of the chicken breasts are thicker than half an inch, use a sharp knife to split the chicken breast in half. Think of it as butterflying the breast. You're just going to cut all the way through to make two cutlets out of one large breast.
Set up the breading station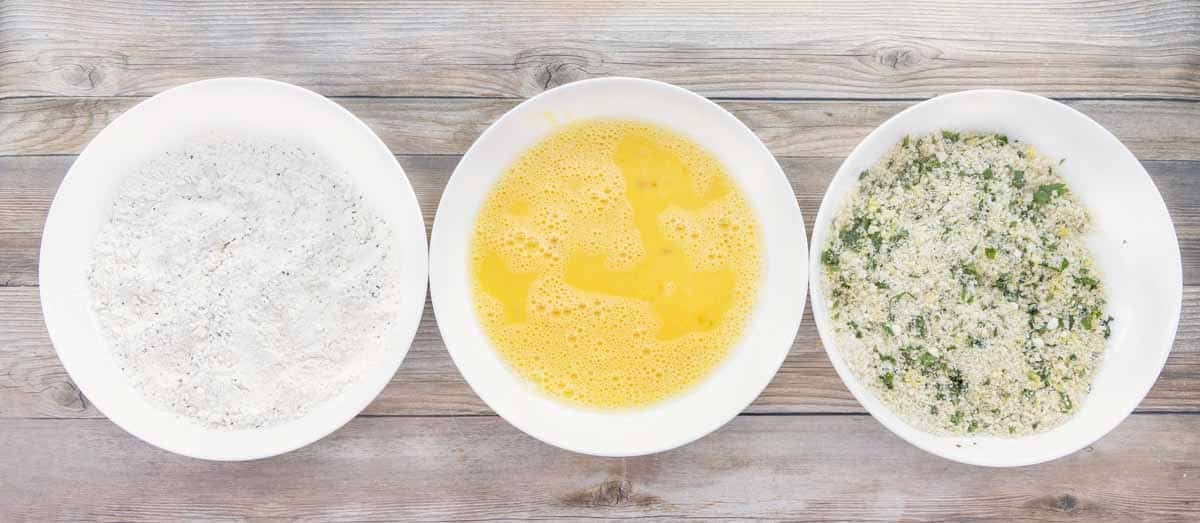 Add the all-purpose flour, salt, and black pepper to a shallow bowl and whisk to combine.
Add two eggs with ¼ cup of milk or water to a shallow bowl and whisk to combine the egg wash.
Mix panko breadcrumbs, romano cheese, garlic powder, onion powder, black pepper, parsley, and lemon zest together in a shallow until well blended. *Replace the breadcrumb mixture with Italian breadcrumbs if you want to make this dish even easier.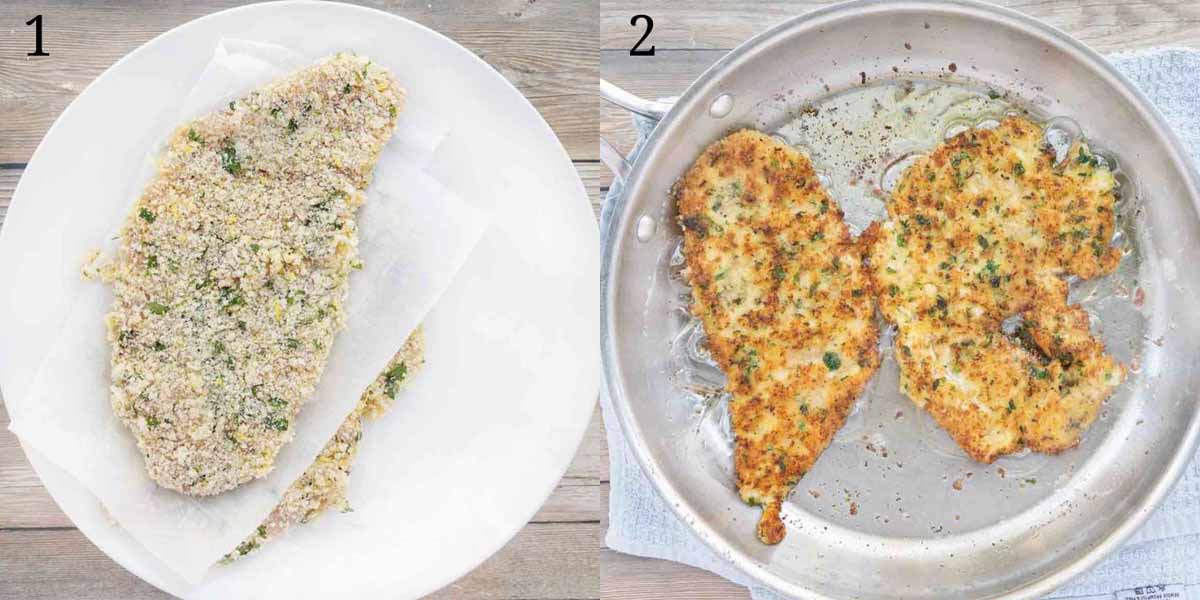 Coat the chicken breasts with the seasoned flour. Then, place the piece of chicken in the egg mixture and finally in the breadcrumb mixture.
Make sure you get a good coating of each ingredient on the chicken breasts, completely coating them with the bread crumbs.
Add ½ cup of vegetable oil (or olive oil) to a large skillet, then place it over medium-high heat.
When the oil is hot, carefully place the breaded cutlets into the pan and saute until golden brown (about 3 minutes per side).
*The chicken is cooked when the internal temperature has reached 165°Fahrenheit. The outside should also have a crispy texture.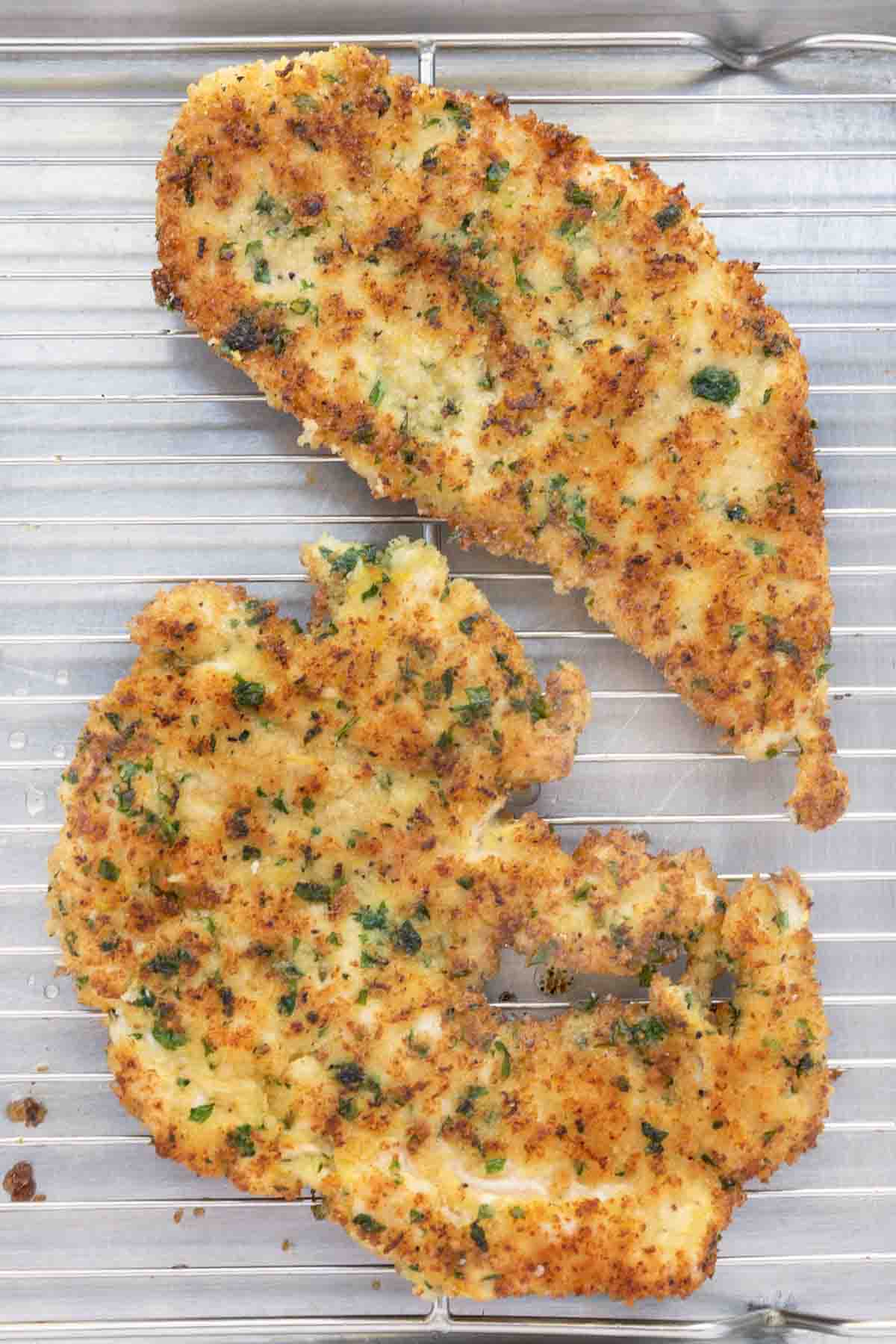 Remove the cooked chicken breasts from the pan and place them on a wire rack to drain for one minute. *If you are cooking in batches and need to keep them warm, set your oven at 225 degrees and keep them on the wire rack over a baking sheet in the oven until ready to serve.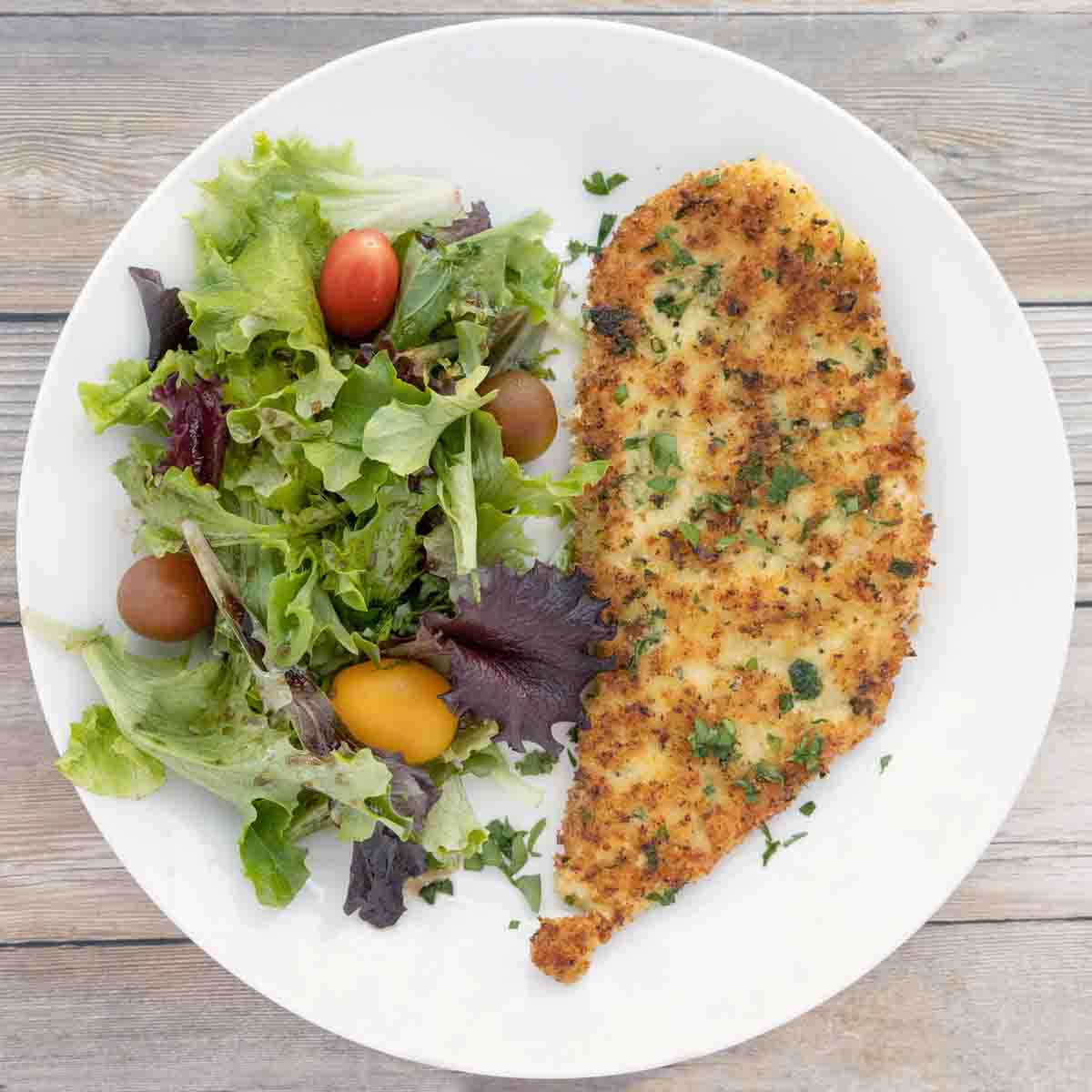 Serve the Chicken Milanese with an arugula salad, tossed salad, or any of your favorite side dishes from green beans to french fries. After one taste, I'm sure this will become one of your family's favorite chicken recipes!
Store any leftover chicken in an airtight container for 2-3 days.
Recipe FAQ's
What is chicken Milanese?
Chicken Milanese finds its origins in Milan, Italy. It was traditionally made with veal, but chicken soon became the more popular version of this classic Italian dish. Thin chicken cutlets are coated with seasoned flour, egg wash, and seasoned bread crumbs, and then quickly fried till crispy and golden brown.
What is Milanese style?
The term Milanese (or Milanesa) means dredging thin slices of floured meat into an egg mixture and seasoned breadcrumbs. The meat is then quickly pan-fried until golden brown and crispy,
Can I freeze chicken Milanese?
Milanese-style cutlets can easily be frozen. Allow the fried cutlets to cool completely, then separate the pieces with parchment paper and place them in a ziplock bag or an airtight container. The cutlets can be kept frozen for up to two months.
More Recipes You'll Love!