When it comes to vegetables potatoes are king and my roasted potato wedges are one of my favorite ways to serve the king of vegetables.
My crispy baked potato wedges are easy to make and the perfect side dish for busy weeknight dinners and fancy enough for an elegant dinner party.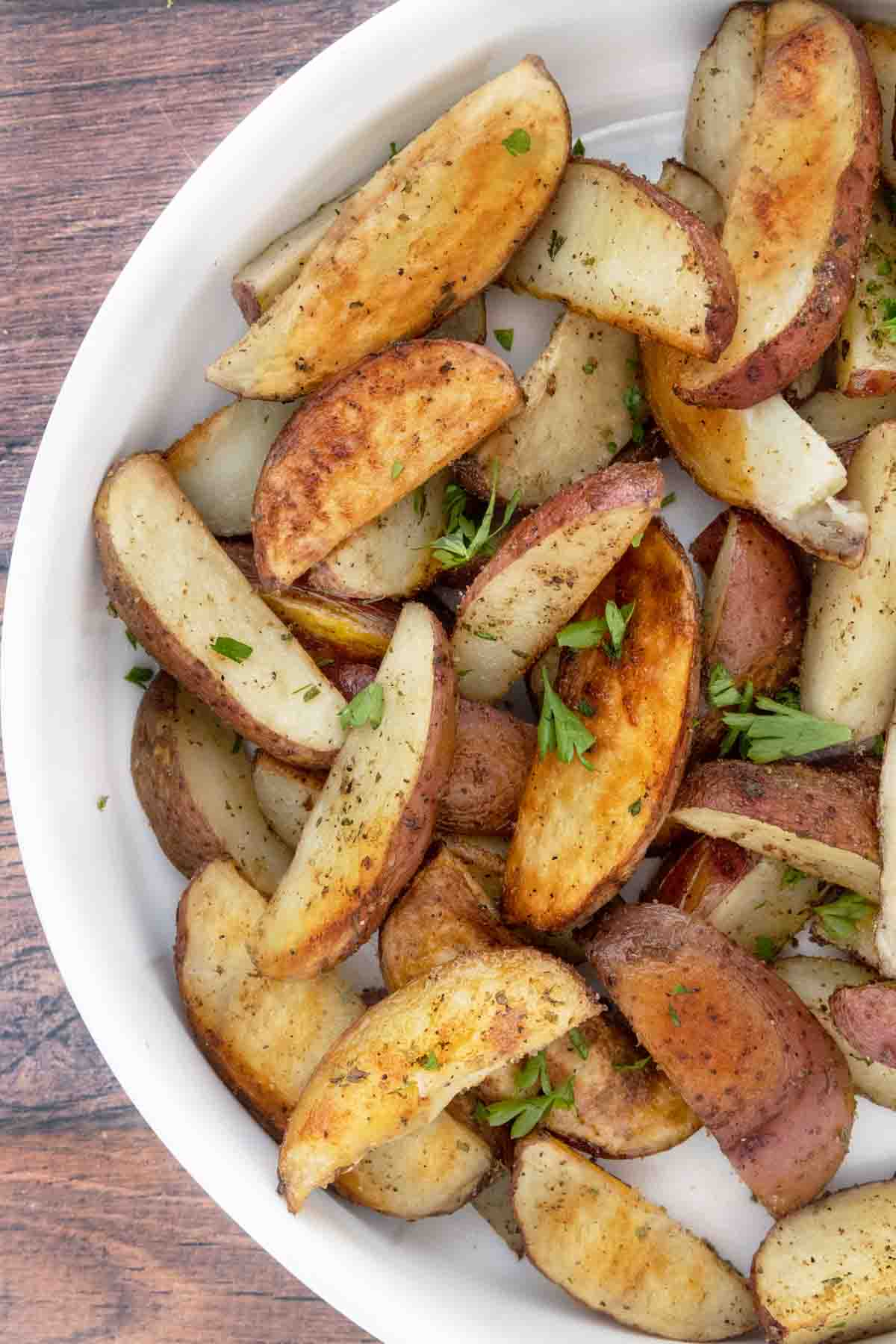 These perfect wedges, roasted till golden brown take oven fries to a whole new level of deliciousness. You can serve them with an elegant steak dinner, or a veggie burger. I promise you can't go wrong with my roasted potato wedge recipe.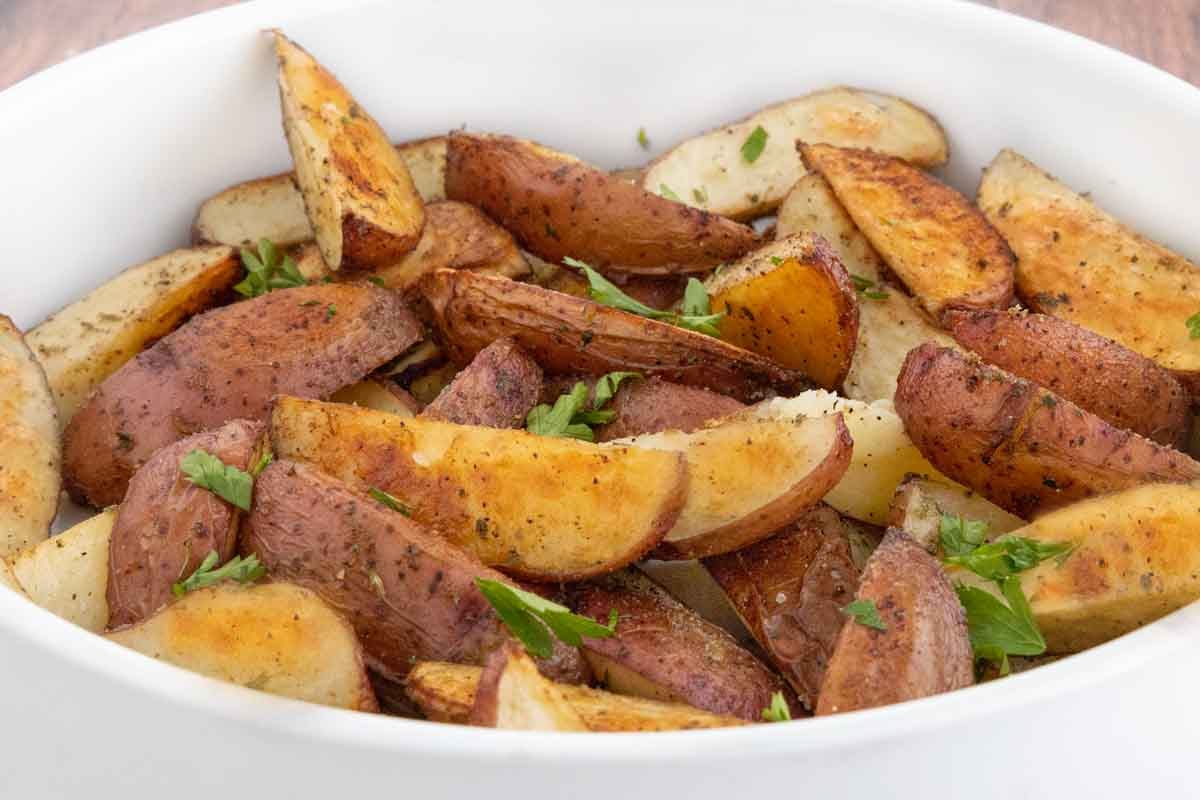 These red potato wedges were perfectly seasoned, tender on the inside and crispy on the outside!
If you love potatoes make sure to try my buttery smashed potato recipe.
Ingredients to make Roasted Potato Wedges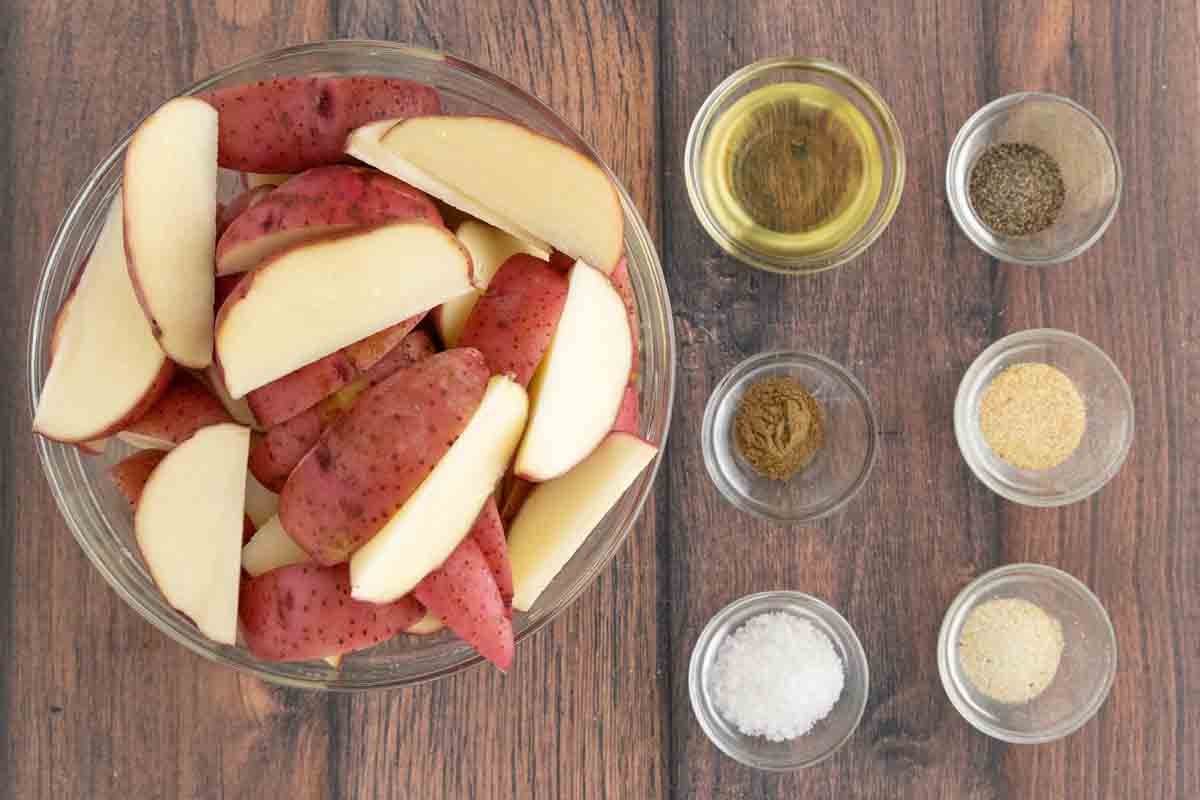 Let's start by gathering the ingredients we need to make roasted potato wedges. In Chef Speak, this is called the "Mise en Place," which translates to "Everything in its Place."
Not only does setting up your ingredients ahead of time speed up the cooking process, it also helps ensure you have everything you need to make the dish.
Can I use other seasonings to make Oven Baked Potato Wedges?
Absolutely! The key to making food that you and your family enjoy is using the ingredients and flavors that you like to eat. I used cumin in my potato seasoning, but you can easily replace it with one of your favorite spices or seasoning blends.
Try adding chili powder, smoked paprika, sweet paprika, Italian seasoning, cajun seasoning, Old Bay, or lemon pepper. You can even add fresh herbs, like rosemary, thyme, or oregano to the seasoning blend. If you want to add a little heat to the wedges add a sprinkle of cayenne pepper to the blend.
What type of potatoes are best for roasted potato wedges?
The best potatoes for roasting will be a blend of waxy and starchy. But in reality it comes down to what your local grocery store is carrying.
I used red potatoes to make my oven baked potato wedges. But you can also use Yukon gold potatoes or russet potatoes for my potato wedges recipe. You could even use sweet potatoes to make homemade sweet potato wedges.
Choose medium potatoes for my roasted potato wedges. If you pick ones that are too big, you'll have long wedges that will take too long to cook. Too small and they'll be too dry.
How to make Roasted Potato Wedges
Preheat the oven to 375 degrees F.
Line a baking tray or sheet pan with aluminum foil or parchment paper.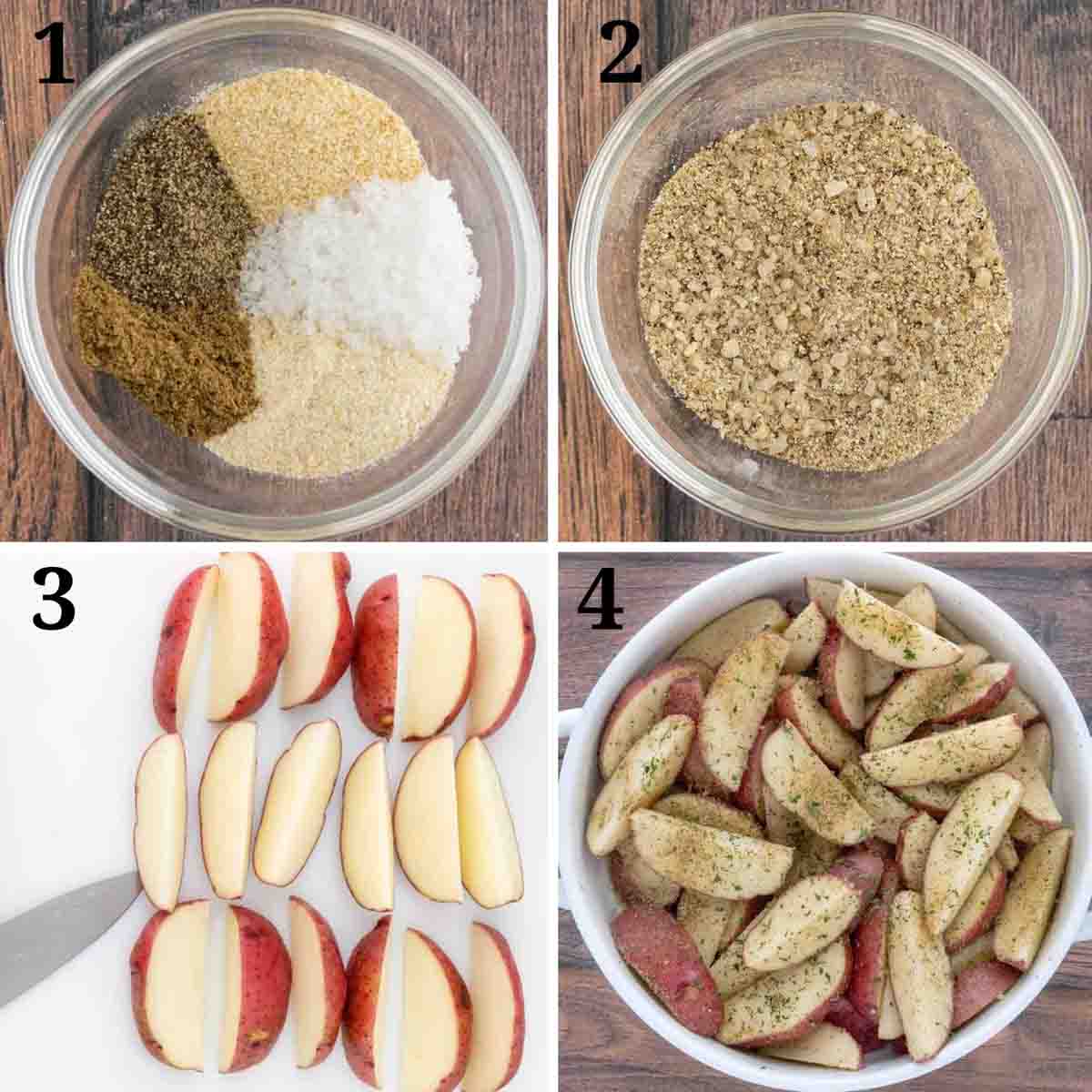 Add the kosher salt, onion powder, garlic powder, black pepper, and cumin to a small bowl.
Whisk to combine the sesaonings.
Rinse the potatoes in cold running water, then pat dry with paper towels.
Cut the potatoes in half long ways, then cut in half again making 4 quarters cut the long way. Cut the quarters into wedges (3 or 4 cuts depending on the size of the potato).
Add the wedges to a large bowl and toss them with olive oil, then season the oiled wedges with the seasoning blend (you can also use pan spray to coat the potatoes).
Place the seasoned wedges cut side down in a single layer on the prepared baking sheet.
Place the sheet pan on the middle rack of the preheated oven and bake for 40-50 minutes (cooking time will vary depending on how crispy you want the potatoes) at 350 degrees F. till golden brown.
You should be able to easily pierce the potato with a fork (internal temperature approx 200-210 degrees F).
For extra crispy wedges, soak the cut potatoes in cold water for 30 minutes before preparing the recipe, it will make a big difference.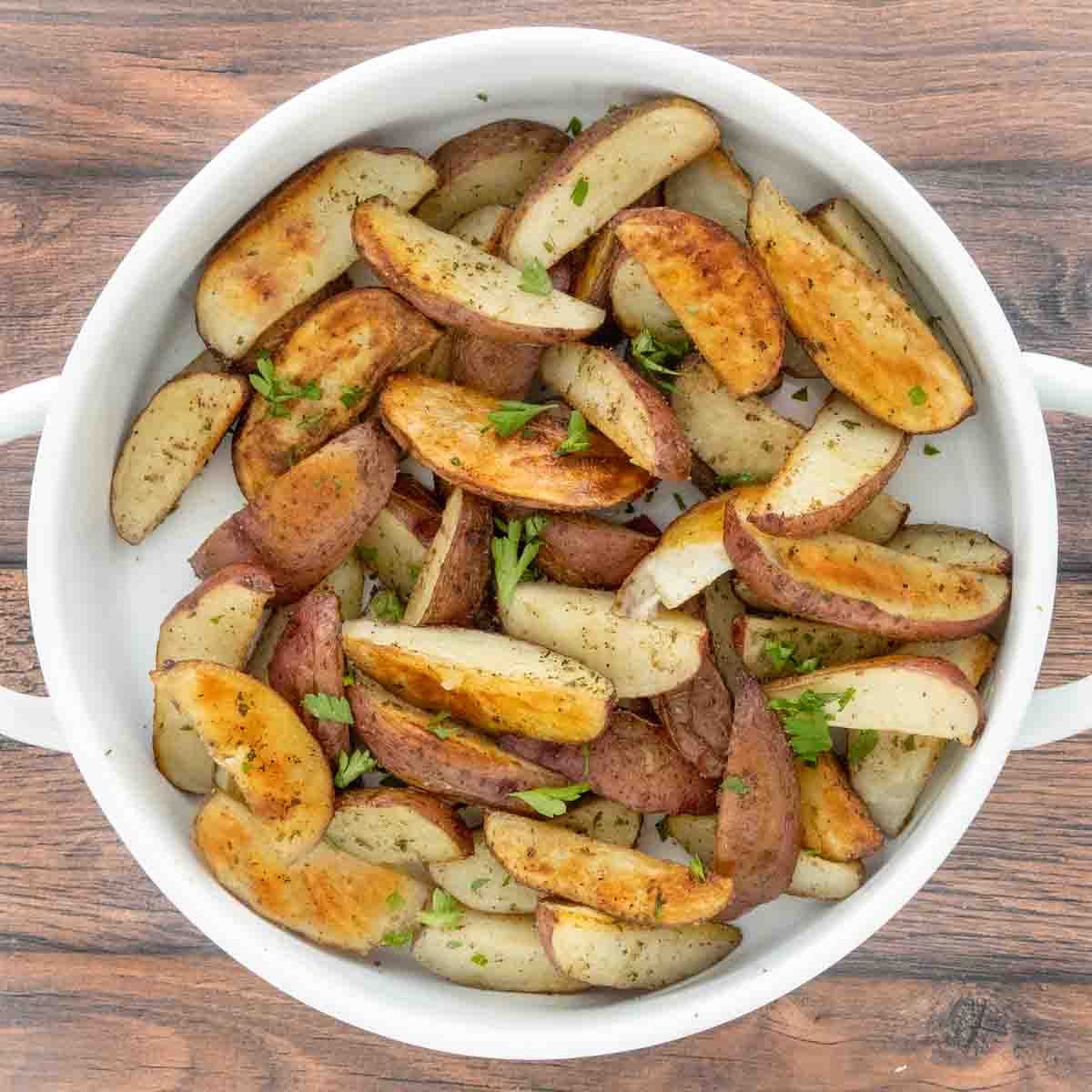 You're going to love my crispy potato wedges, it's the perfect side dish for so many of your favorite entrees. Sprinkle the wedges with chopped Italian parsley to add a little pop of color.
Kick up the flavor of these adult french fries with grated parmesan cheese or a sprinkle of old bay to make crab fries. Serve the roasted potato wedges with sour cream, hot sauce, salsa, ketchup, or your favorite dipping sauce.
Store any leftover potatoes refrigerated in an airtight container for 3-4 days. Reheat the potatoes for 10 – 15 minutes in a 400 degree F oven.
Recipe FAQ's
What is the best potato for roasting?
Russet (or baking) potatoes are a popular choice due to their starchy content, resulting in a crisp exterior and fluffy interior. However, Yukon Golds or red potatoes are great choices as they have a creamier texture.
Do I need to peel the potatoes?
No, you don't, but it's up to your personal preference. Leaving the skin on provides additional texture, nutrients, and flavor.
Can I cook the potatoes in an air fryer?
Absolutely. Place the prepared oiled nd seasoned wedges in a single layer the basket of the air fryer and cook for 15 minutes at 400. After 8 minutes flip the potatoes for extra crispy wedges.
More Recipes You'll Love!
This post includes affiliate links. As an Amazon Associate, I earn from qualifying purchases.
Depending on how many people I'm cooking for I use a half sheet pan or quarter sheet pan for roasting vegetables. These are the same sheet pans that professional restaurants use.