Have you ever heard of Chicken Pepperoni? You may not have, but it's roots come from a 1980 Classic called Seems like Old Times with Chevy Chase and Goldie Hawn.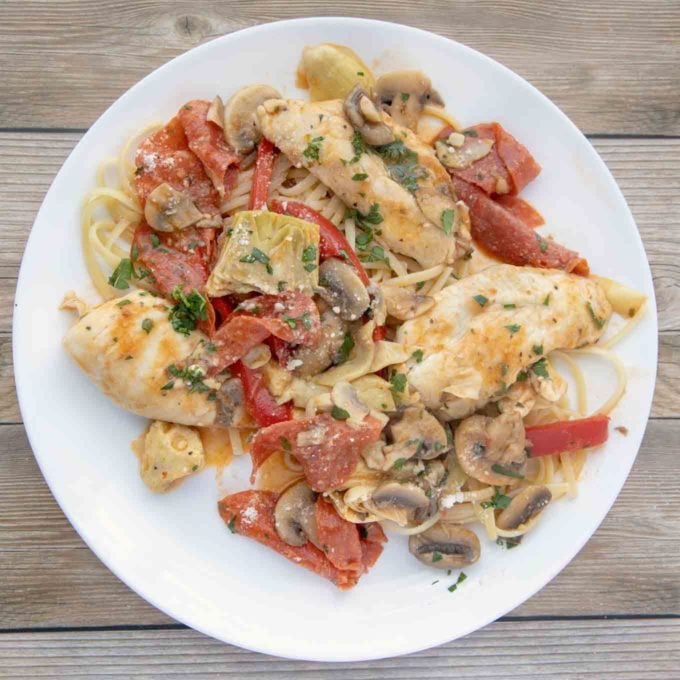 Although you never see the dish in the movie, "Aurora's Chicken Pepperoni" is mentioned as the Governor's favorite dish. And Aurora will be making it for a dinner party the governor will be attending.
After watching the move the owner of the restaurant I worked at came up with his version of the dish. And it's been a favorite at the places I've worked over the years.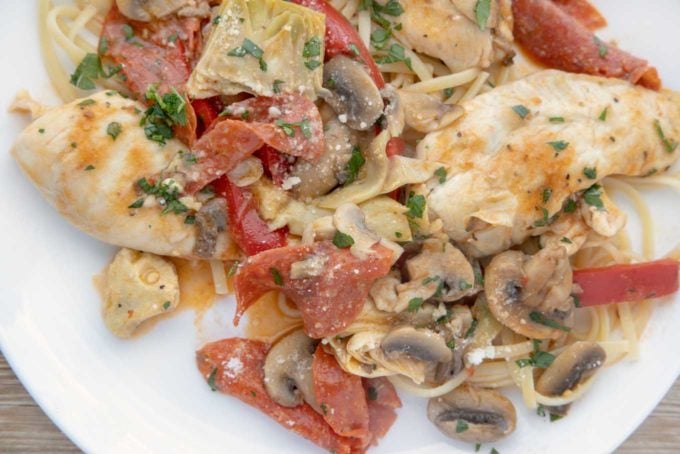 Over my career as a Restaurant Chef, I've seen food fads come and go. But one type of dish that never goes out of style is a flavorful combination of ingredients served over pasta.
And my Chicken Pepperoni is definitely one of those dishes.
What do I need to make chicken pepperoni?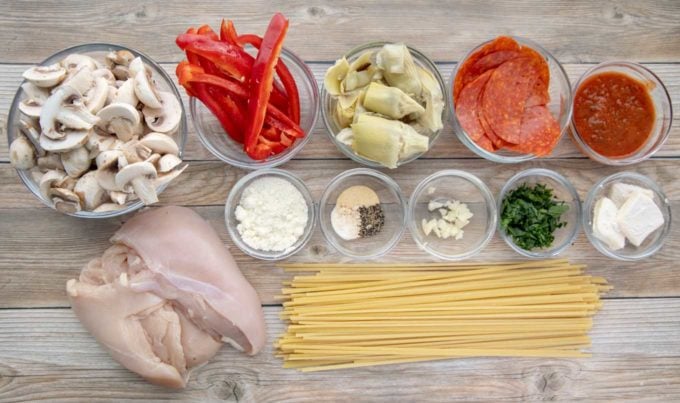 Let's start by gathering the ingredients we need to make Chicken Pepperoni. In Chef Speak this is called the Mise en Place which translates into Everything in its Place.
Not only does setting your ingredients up ahead of time speed the cooking process, but it also helps ensure you have everything you need to make the dish.
Do I have to use chicken breasts to make this dish?
No you don't. I sometimes use chicken thighs to make this at home. It's up to you to use the parts you'd rather eat or have on hand.
Do I have to use Peppers to make this dish?
No you don't. They do add some flavor but if peppers don't agree with you feel free to leave them out.
The same can be said for the mushrooms. They do pick up the flavors nicely and add more substance to the dish. Artichokes are used to soften the flavor but aren't essential.
The key to making really flavorful dishes is finding the balance of different flavors that work well together. All of these ingredients blend very well, but this is your dinner, so adapt it to your flavor preferences.
How do I make Chicken Pepperoni?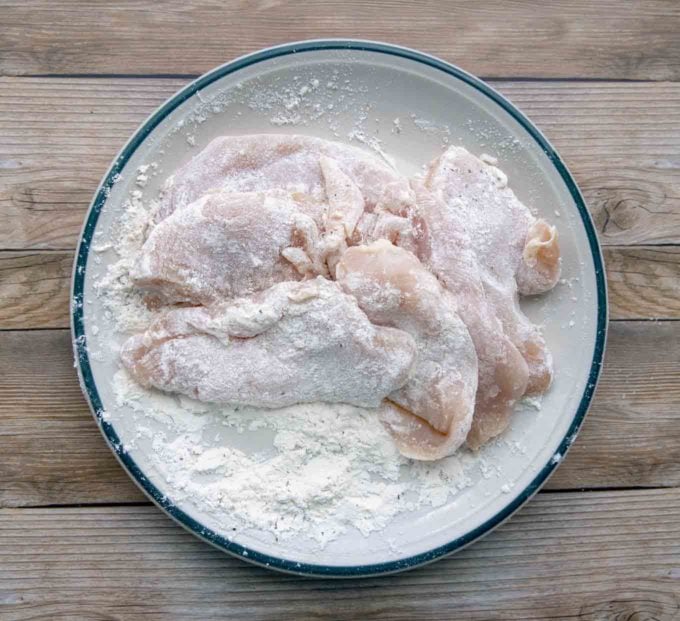 The first step is dredging the chicken breasts in flour seasoned with sea salt and black pepper.
You will then saute the chicken in a little olive oil over medium-high heat.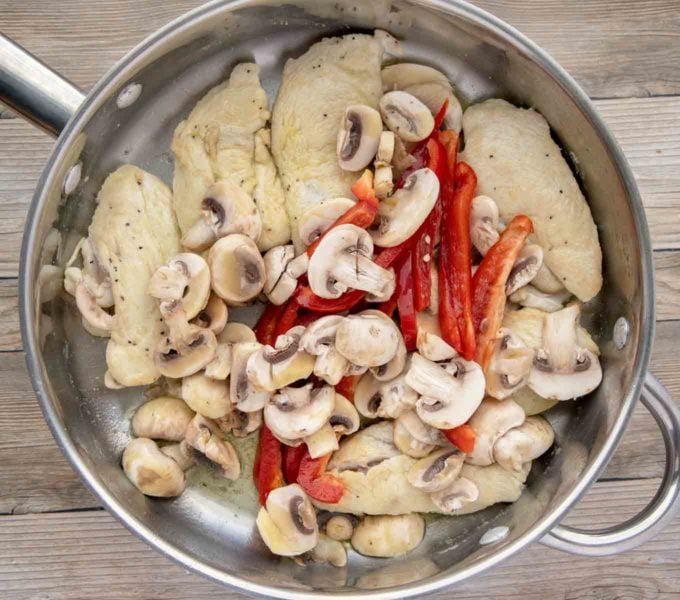 After cooking the chicken on one side turn it over and add the garlic, mushrooms and peppers to the pan. Add additional olive oil as needed.
Continue cooking the ingredients for 3 – 4 minutes.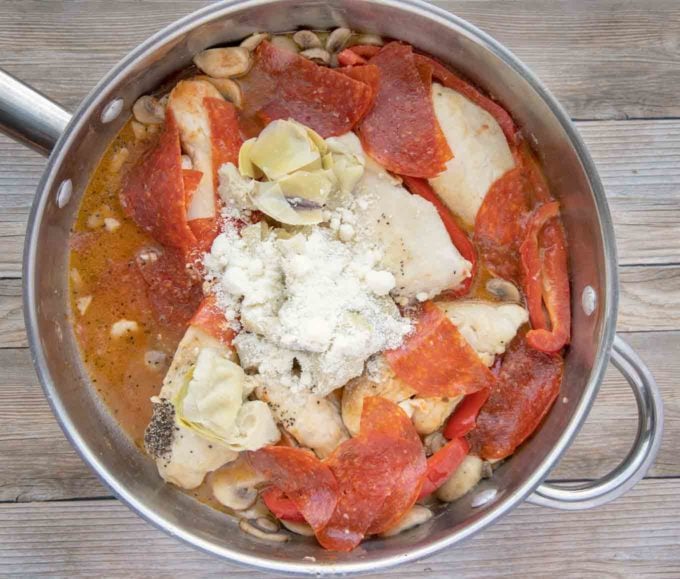 Now add the chicken stock, marinara, artichoke hearts(along with some of the juice), pepperoni, Romano cheese and seasonings.
This a good time to start cooking your pasta.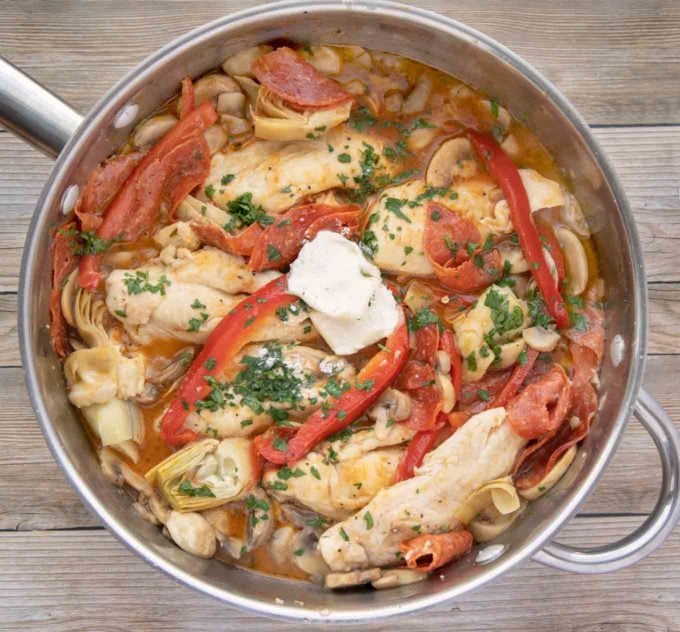 About two minutes before your pasta is done, begin the reheat of the Chicken Pepperoni. Add butter that has been rolled in seasoned flour (beurre manie) to the pan to thicken the sauce.
Serve the finished dish over linguine or pasta of your choice. Garnish with chopped parsley and a sprinkle of Romano cheese and enjoy!
More Chicken Recipes You'll Love!