If you're looking for a delicious side dish to add to your home menu try my Restaurant-Style Creamy Mushroom Risotto. You'll be blown away by the flavors and the versatility of this Italian Classic!
Making risotto will take a little more effort than making your standard white rice. But it's time well spent and you're family is going to love the taste!
What Ingredients do I need to make Creamy Mushroom Risotto?
Let's start by gathering the ingredients we need to make my Creamy Mushroom Risotto In Chef Speak this is called the Mise en Place which translates into Everything in its Place.
Not only does setting your ingredients up ahead of time speed the cooking process, but it also helps ensure you have everything you need to make the dish.
What kind of rice should I use to make risotto?
In Italy risotto is usually made with short- to medium-grain in size, plump, and has a high amylopectin (starch) content. These are the grains that are typically used.
Carnaroli
Arborio
Vialone Nano
Baldo
For non traditional variations of risotto you can also use:
Can I make risotto with white or brown rice?
Yes you can, traditional white or brown rice can be used to make risotto. The problem you run into is not having as much starch to work with which makes risotto creamy.
If you use regular rice, you can fake the texture by adding heavy cream to the finished rice. I would advise following the steps as outlined in my recipe. It won't be exactly like traditional Italian risotto but I guarantee it will be delicious!
I use heavy cream in my Creamy Mushroom Risotto but it's an optional ingredient that can be left out if you're using risotto rice.
Chef Dennis Tips for making Risotto:
Precook the mushrooms – Or any other vegetable you're using to make risotto. You will add the mushrooms (or other veggies) at the end of the recipe. Cook the mushrooms over high heat, to release the liquid and caramelize the mushrooms. (Use 1 tablespoon butter and 1 tablespoon olive oil).
Start with Onions – After precooking the veggies start the risotto with diced onions. Add the onions to the same pan you cooked the mushrooms in over medium-high heat. (Use 1 tablespoon butter and 1 tablespoon olive oil).
Toast the Rice – Add the rice to the pan and toast the rice for a few minutes with the onions. This will help bring out the natural flavors of the rice. Just don't let the rice get brown!
Heat the Broth – It's an easy rule to remember. If your cooking food that requires adding broth (other than a non-cream soup) the broth should be hot.
Stir Frequently Stirring helps release starches resulting in a creamy dish.
Add Broth in Small Doses Add broth, allow it to evaporate (while frequently stirring) and then add a bit more. A bit tedious but worth the time.
How do I make Mushroom Risotto?
In a large skillet, heat 1 tablespoon of olive oil and one tablespoon of butter over high heat. Add the mushrooms and saute until nicely browned. Approximately 5-6 minutes. Remove them from the pan and set them aside.
In the same skillet, heat 1 tablespoon of olive oil and one tablespoon of butter, Saute the onion for 1-2 minutes and then add in the rice. Toast the rice in the pan for about 2-3.
**Don't overcook, the rice won't change color.
Do I have to use onions in my risotto?
No you don't, but they do make risotto extra tasty. But if you can't eat onions, leave them out. Pancetta or bacon would be a good substitute, but you can always make it by just starting with just the rice.
Add 1 cup of the heated chicken broth to the rice in the pan, stirring occasionally.
**Stirring occasionally to help the rice cook evenly. It should take 10-15 minutes to add the entire all the chicken stock.
Can I use Vegetable Stock to make risotto?
Yes you can. Depending upon what type of risotto you are making you can use any stock you like. You can also make it with wine or water, adding the seasoning in at the end.
**Will it taste the same? Probably not, but it will still be delicious and it's your risotto and you should make it to fit your dietary needs or likes.
Reduce the heat to medium and add the rest of the stock ½ cup at a time until the rice absorbs all of the liquid.
When all the stock has been absorbed by the rice add in the mushrooms. Remove from the heat and mix well.
Do I have to use mushrooms in my risotto?
No you don't. In fact risotto can be made with just about any vegetable or combination of vegetables you enjoy eating. Some of my favorites are listed below, but there are many others you can try.
Asparagus
Butternut Squash
Roasted Tomato
Pesto (basil or sundried tomato)
You can even add seafood, chicken, pork or beef to the risotto. Think of this rice dish as a blank canvas with you adding the delicious strokes of the flavors you enjoy eating.
And of course you can just make risotto with cheese, nothing else is needed.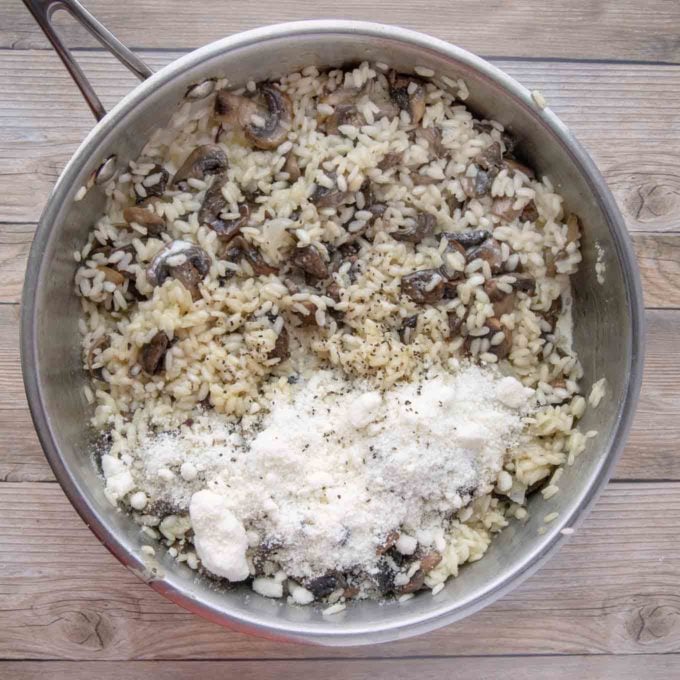 Add the Romano cheese, heavy cream and black pepper. Return to medium heat and mix thoroughly as the risotto reheats.
**you can leave the cream out of the risotto, it is an optional ingredient.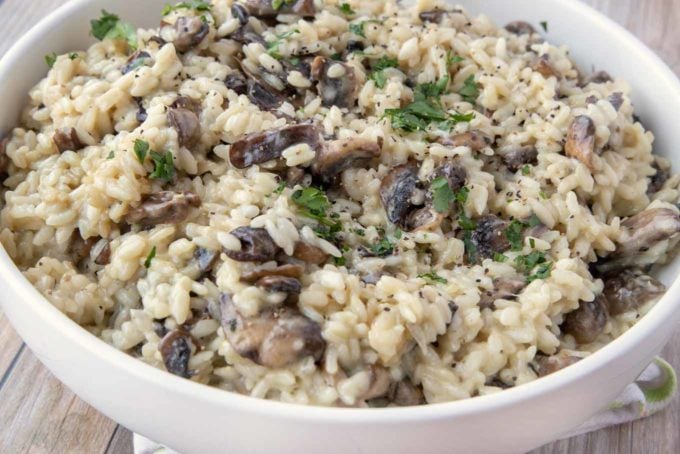 Garnish with chopped parsley, serve and enjoy!
More Recipes You'll Love!