This post includes affiliate links. As an Amazon Associate I earn from qualifying purchases.
Years ago I worked in an Italian restaurant and learned to make Chicken Scarpariello which translates to Shoemakers Chicken. It's a typical Italian dish that each family makes a little differently.
The owners of this restaurant used many of the recipes passed down by their Italian Grandmother who had come from Naples at the turn of the century. This had always been one of her favorite dishes to prepare for her family.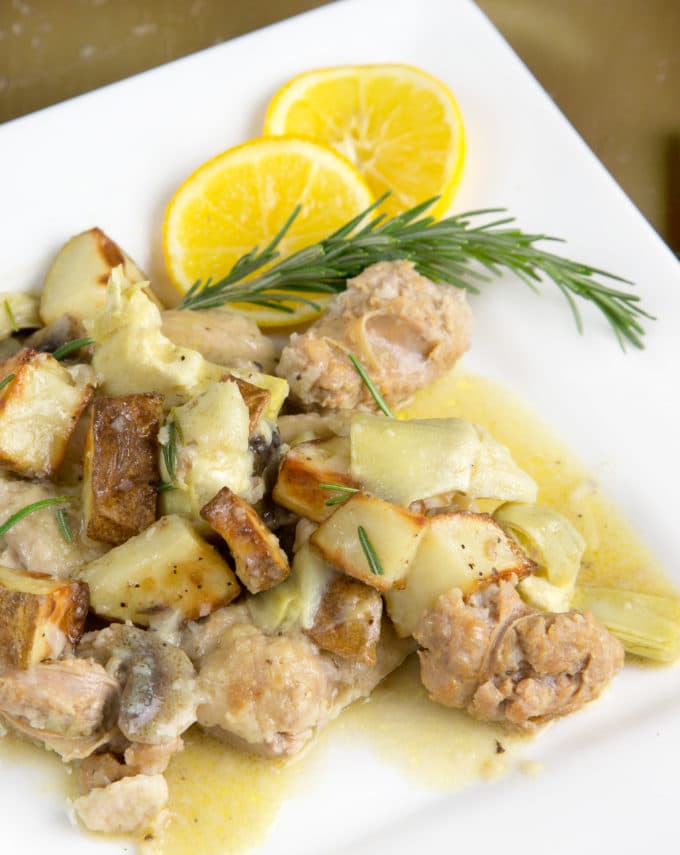 If you look for this recipe online you'll find countless variations of Chicken Scarpariello. Although it does have its roots in Italy, its popularity grew as an Italian-American dish created by Italians that helped build this country. After a hard day's work this dish was fast and easy to make and often times would have been served over pasta.
This is a dish that you can prep ahead of time and have it ready and waiting in your fridge when you get home from work. That way in just about 15 minutes you can have dinner on the table. But even if you don't prep it ahead, it won't take long to get everything ready to go. This is the beauty of saute dishes.
And if you're not a fan of one of the ingredients, leave it out. You can always add or detract ingredients to make this your very own. Spinach would go very nicely in this dish and a little roasted red pepper would add some color. Remember recipes are guidelines, have fun in your kitchen being creative!
Chicken Scarpariello became one of my goto dishes in the restaurants I worked at because of the different elements that made up the dish. And how easily ingredients can be interchanged.
My version of this "shoemaker's style" chicken dish, is sure to please your friends and family and I promise you won't hear your family say chicken again when you serve this deliciousness.
If you enjoyed this recipe you might also like these recipes: