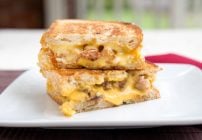 I've been on a grilled cheese kick lately, stuffing those ooey gooey sammies with whatever I happen to have on hand.   I really think that's how you need to go about making Grilled Cheese Sandwiches these days, get creative and come up with some delicious combinations.
While I'm normally not much of a sausage eater, I do enjoy a tasty grilled sausage sandwich from time to time and they do find there way onto our menu on a regular basis since they happen to be one of Lisa's favorite lunch items.   Of course I always add a few slices of american cheese to my sandwich and that bothers her to no end, she doesn't get it.    Now if I added  mozzarella with a little marinara making it a sausage parm sandwich, she'd be all over it.  But American cheese  just doesn't seem right to her.
We'll got me thinking about taking my sandwich to the next level with the addition of even more cheese!   Luckily Lisa was in Florida getting our new home ready for our move later this year, so I decided to eat like a bachelor and live on pizza and sandwiches while she was gone.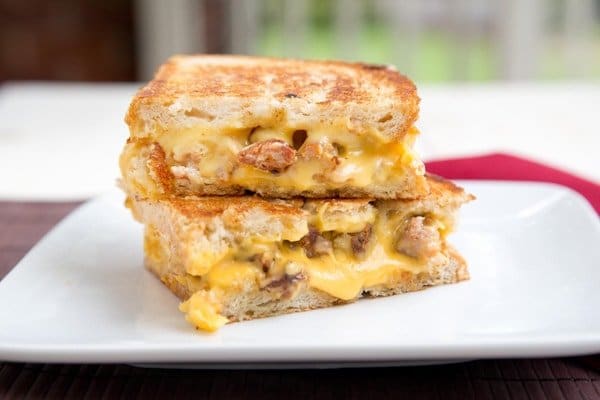 Sweet sausage is one of those items you almost always find in my freezer, because Lisa likes sausage in her red sauce when we have pasta.  And I like using it because the fat and spices from the sausage does add a nice flavor to my sauce.
So I had the makings of  my next sandwich since my new food love happens to be yellow American cheese.   I know it doesn't taste any different then the white variety, and its just the added coloring that makes it look that lovely shade of orange yellow goodness….sigh    And I know its all  psychological, but that melty mass of gooeyness tastes better because of it.
After all,  We Eat with our Eyes.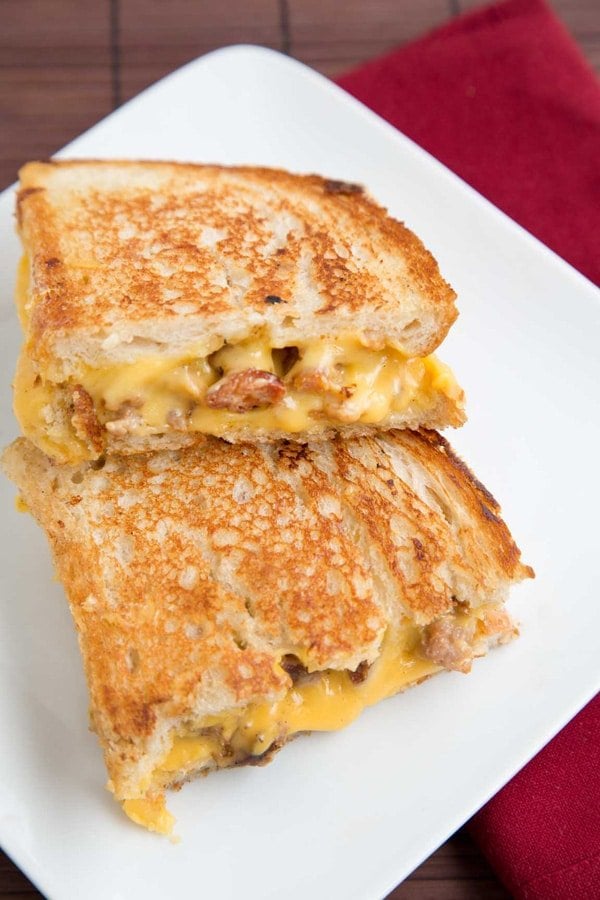 I know it's crazy to get so worked up over a simple sandwich, but when you think about these wonderful toasted sandwiches, you have to agree that they are comfort food.  Most of us have childhood memories that include grilled cheese sandwiches, and how they made us feel when we ate them.   Happy memories make for happy meals and I still enjoy a bowl of creamy tomato soup when I make the standard no frills grilled cheese.  And you know you gotta dunk that sandwich into the soup when you do have those two together.
That memory takes me back to my grade school days growing up  in Pomona so many years ago, when the cafeteria ladies would feed us like Royalty with my favorite lunch combination..  If it happened to be a perfect lunch day we got jello cubes too!
Since I rarely make tomato soup at home, and  have serious qualms about opening that can of soup that we all grew up on, I've decided that  making what I like to call my Enhanced Grilled Cheese Sandwiches will more than make up for the soup.
Grilled Sweet Sausage - Grilled Cheese Sandwich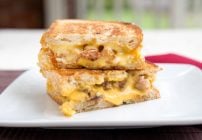 Ingredients
4

slices

of sourdough bread thickly sliced from a wide loaf.

pound

½ of yellow American cheese

8

ounces

of sweet Italian sausage

cut into 4 links

4

ounces

unsalted butter melted
Instructions
Split 4 links of sweet sausage, remove the skin and grill on both sides until completely cooked, then set aside. ( do not overcook the sausage)

Begin building your sandwiches by placing four slices of sourdough bread on the counter Cover each slice of bread with a total of 4 cheese slices on each slice of bread. ( 2 to cover the bread, and two deep)

Place two of the split links of grilled sweet sausage on one of the slices of the prepared slices of sourdough, then repeat making one more topped slice.

Top the two finished sandwiches halves, with the other piece of sourdough that you have cheese already on, with the cheese facing the sausage (You should have a total of 8 slices of cheese on each sandwich, 4 on the bottom and 4 on the top)

Melt the butter in a small pan over low heat, then using a pastry brush, brush one side of each of the sandwiches liberally with the melted butter

Heat your pan on the stove top until it is hot enough to toast the bread.

Place the buttered side down on the pan.

Turn heat down to medium, and cover the sandwich with a pot lid to keep the heat in and help the cheese to melt. After about 3-4 minutes check the bread on the pan to see how the color is. It should be toasted a dark golden brown.

Brush butter on the side that is up, then turn it over to repeat the process of toasting the bread. (Use the pot lid again to help melt the cheese) After 3-4 minutes check that side, to see how the color is.

If the cheese is not fully melted, turn the heat down to low and keep the lid covering the sandwich until the cheese has melted. Just be careful not to burn the bread.

Place sandwich on plate, cut in half, serve and enjoy! -
I hope where ever you are that you're settling in to your new season, for us in the Philly area, the mornings have become crisper and cooler with temps dropping down into the 50's.   I do love fall and will miss that season most of all when we move down to Florida, but I can say with all certainty that I will not miss Winter this year!
Have a happy week!