When I first started blogging a few years ago, the friends that I made were from all over the world, it seemed like I knew bloggers on a first name basis in every part of our country, and across the globe.  But I never seemed to find any bloggers in Philadelphia, or at least any that would talk to me.  I use to envy other cites that had there groups of bloggers and had woefully accepted that I would never have that sort of community locally.   Then one day that all changed.   I met a blogger from Philadelphia that was planning get together's…..oh the joy, I would finally meet local bloggers!   One was scheduled and I was all signed up and ready to attend, when of course my work schedule changed and I had to miss my very first opportunity at meeting some local food bloggers…..sigh
Luckily that blogger didn't give up on me and finally got me out to my first local meet and greet, that has become a regular event for our little group.  She also organized a much bigger meet up at R2L last October, where we were wined and dined  courtesy of Daniel Stern and Visit Philly, where I finally got to meet in person so many of the local bloggers that I had only know on line.
Today my friends it's my great pleasure to introduce you to that very persistent blogger from Philadelphia,  that showed me that Philly Bloggers Rock, Wendy from La Phemme Phoodie.  If you've never been to La Phemme Phoodie before, you're in for quite a treat, not only will you find creative and delicious creations, but occasionally some very timely advice on subjects that all bloggers need to learn more about, such as trademark infringement.   Wendy has also become quite the photographer and food stylist,  and I know you're going to love what she does with her camera as much as those tasty dishes she creates (many of which are now gluten free)!
So sit back, relax, put your feet up and get ready for that stomach to rumble as I give you Philadelphia's very own Wendy…….
Hi everyone! My name is Wendy. I'm the author of La Phemme Phoodie and I'm thrilled to be a guest on Chef Dennis' blog. I have known Chef Dennis for quite some time. I'm one of the lucky few that gets to hang out with him in real life. I can tell you he is just as sweet in person as he is online.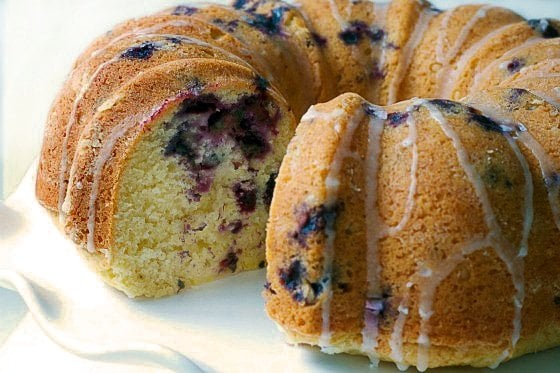 I am excited to share my new favorite gluten-free dessert recipe with you. It's a combination of a plain pound cake recipe from Land O Lakes with the flavor profile from a previous guest poster, Live Life. The cake is gluten-free. I will admit that some gluten-free desserts just don't taste as good as their gluten filled counterparts. Done right, gluten-free desserts taste just as good or even better than "regular" desserts. This pound cake recipe can easily compete with any "regular" pound cake recipe. The cake rises perfectly. It's dense and moist. The burst of blueberries combined with the tang of lemons create a lovely flavor combination. Enjoy!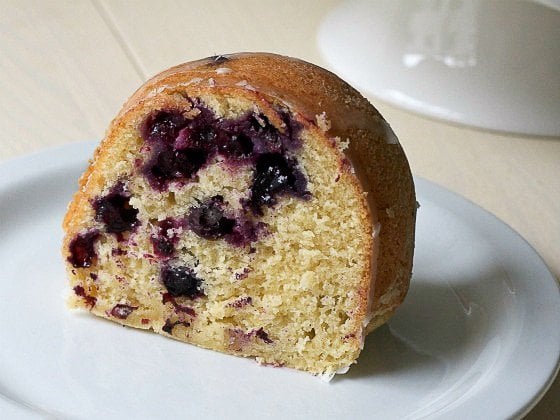 A burst of blueberries with a hint of lemons combine to make this dessert a perfect dish to include on your spring menu.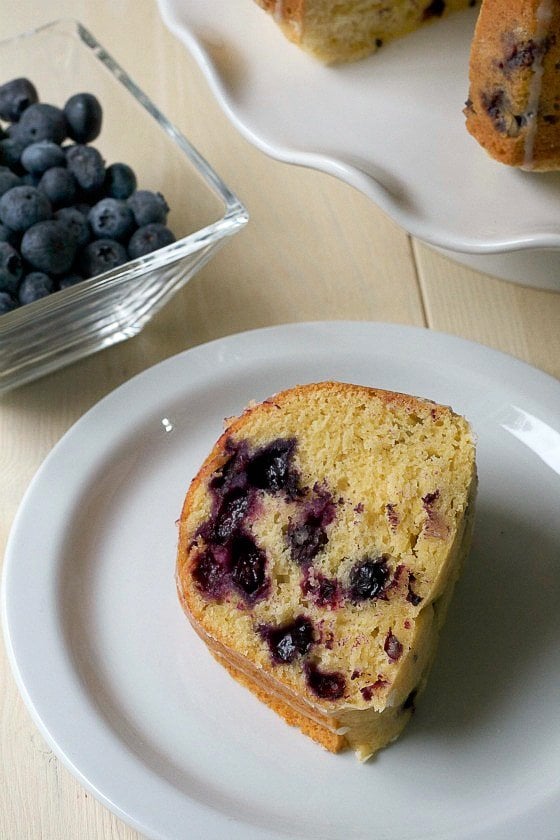 Gluten Free Blueberry Lemon Pound Cake
Ingredients
Cake
2

cups

sugar

1

cup

Butter

melted

4

large

All-Natural Eggs

4

teaspoons

gluten-free vanilla

3

cups

Gluten-Free Flour Blend

1 1/2

teaspoon

xanthan gum

2

teaspoons

gluten-free baking powder

1

cup

milk

Zest of 1 lemon

1/4

cup

of freshly squeezed lemon juice

2

cups

blueberries
Glaze
1/2

cup

sifted powdered sugar

4

teaspoons

lemon juice
Gluten Free Flour Blend
2

cups

rice flour

2/3

cup

potato starch

1/3

cup

tapioca flour
Instructions
Cake
Heat oven to 350°F. Grease 12-cup Bundt® or 10-inch angel food cake (tube) pan; sprinkle with gluten-free flour blend. Set aside.

Combine sugar and melted butter in large bowl. Beat at medium speed, scraping bowl often, until creamy.

Add 1 egg at a time, beating well after each addition. Add vanilla; beat until well mixed. Add lemon zest and lemon juice until combined.

Stir together gluten-free flour blend, xanthan gum and baking powder in small bowl. Gradually add flour blend mixture alternately with milk to butter mixture, beating at low speed until well mixed. Fold in the blueberries.

Pour batter into prepared pan. Bake for 50 to 60 minutes or until toothpick inserted in center comes out clean. Cool 10 minutes; remove from pan. Add the glaze.
Wow, what I wouldn't give for a slice or two of that cake,  but no matter how hard I try my head keeps hitting the screen….sigh   Now before you forget, head on over to La Phemme Phoodie and say Yo to Wendy (comon' were in Philly, youse gotta say yo) just remember to tell her Chef Dennis sent you!   Take some time while your there and enjoy some of  Wendy's creations, you'll be glad you did!
The weather in Philly has once again turned, (this time for the better) it's in the 60's, breezy and just perfect for sleeping with the windows open!  Now if it just wasn't for all this pollen it truly would be perfect!  But you can't have everything….sigh
Have a great weekend my friends,and make sure to get out and enjoy the spring weather while you can, cause summer's on the way, and it's going to be a hot one!
Cheers