When it comes to warm, comforting desserts, Blueberry Cobbler is at the top of my list. It's one of my favorite ways to use those plump juicy, sweet blueberries, and I know it will become one of your favorite blueberry recipes too.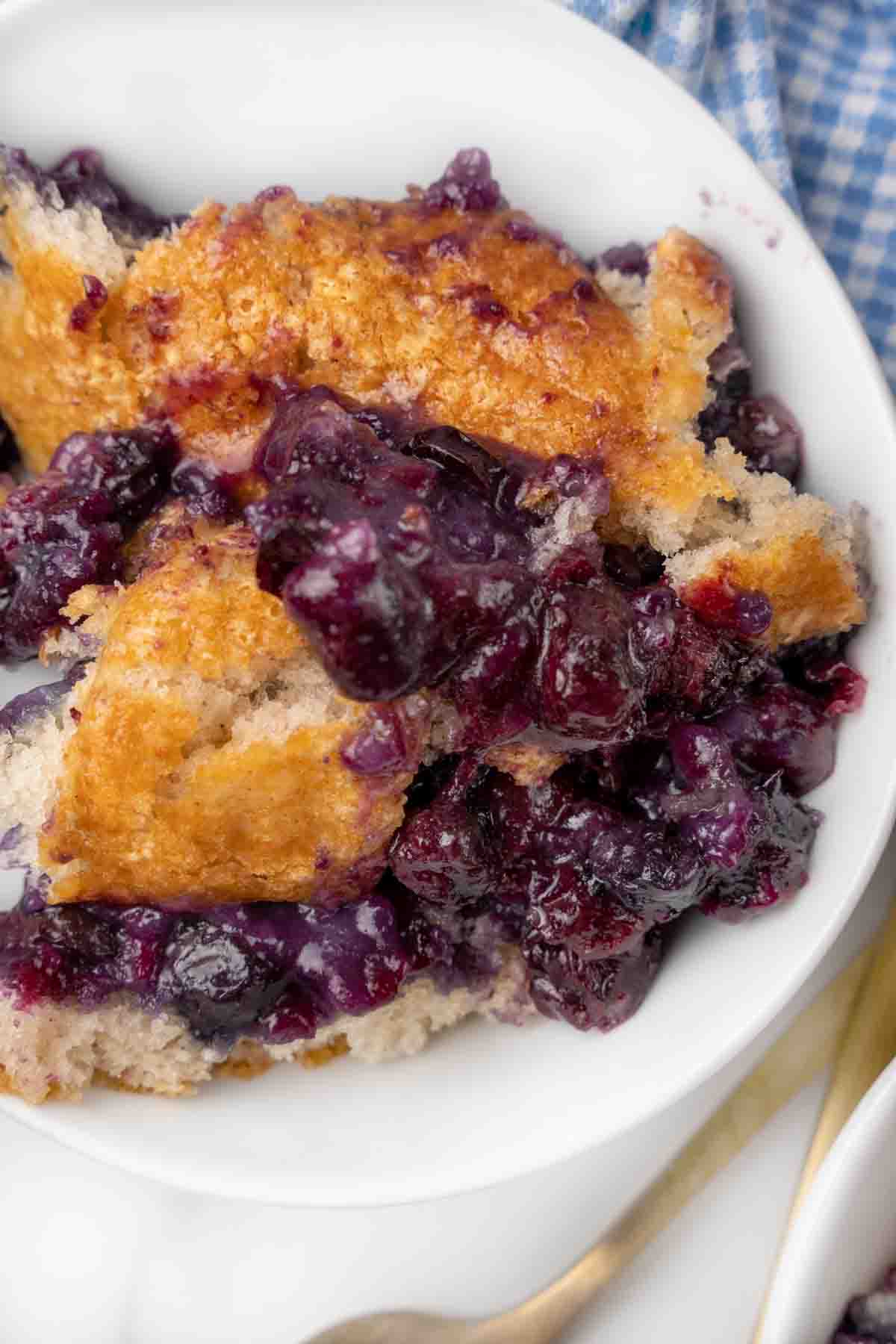 If you're looking for a delicious and easy dessert to impress your family or guests, my easy blueberry cobbler recipe is just what you're looking for.
Blueberry desserts, like my cobbler that are made with simple ingredients, have an old-fashioned rustic charm that will make your guests feel at home and very happy.
If you're a fan of blueberry desserts, my blueberry buckle and blueberry coffee cake are other family favorites.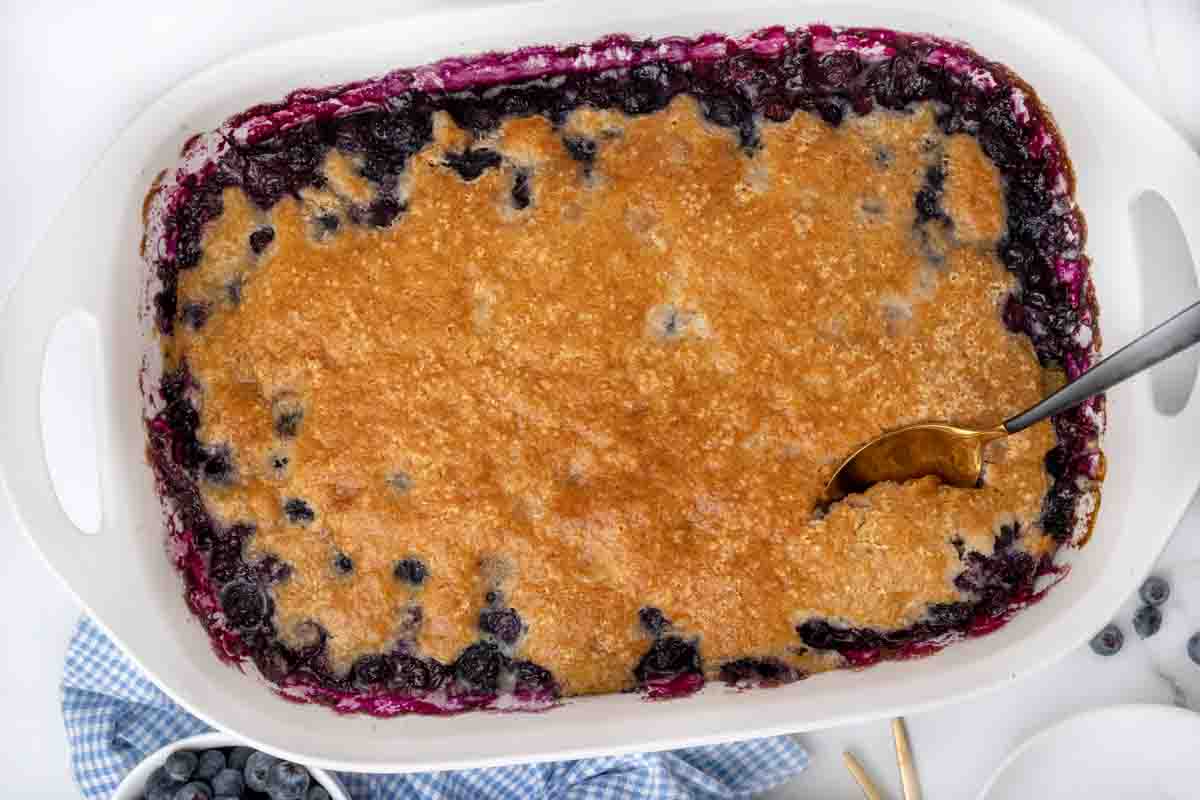 Growing up in New Jersey, blueberry season was always one of my favorite times of the year. But these days, juicy sweet blueberries are available all year long.
It only takes about ten minutes to put this delicious homemade blueberry cobbler together. It's an easy dessert recipe that your whole family will love. And if you've never tried cobbler recipes, I promise you'll be a big fan after making this delicious cobbler.
Depending on what's fresh and available in your market, you can use this recipe with different fruit, making delicious cobblers for your friends and family to enjoy. My other favorites are peach cobbler, apple cobbler, and mixed berry cobblers.
Ingredients to make Blueberry Cobbler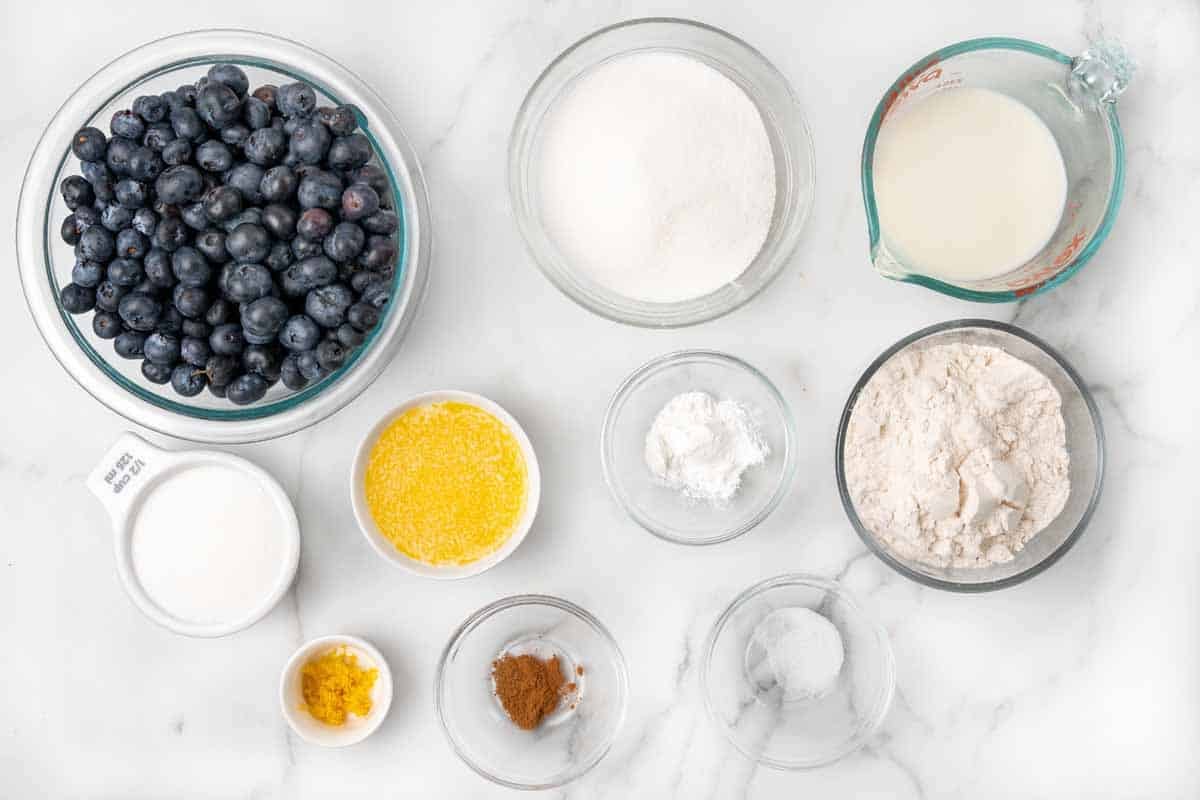 Let's start by gathering the ingredients we need to make Blueberry Cobbler. In Chef Speak, this is called the "Mise en Place," which translates to "Everything in its Place."
Not only does setting up your ingredients ahead of time speed up the cooking process, it also helps ensure you have everything you need to make the dish.
Made with simple wholesome ingredients
fresh blueberries (or frozen blueberries)
all-purpose flour
unsalted butter
whole milk (skim milk or low-fat milk)
granulated sugar
lemon zest
baking powder
table salt
ground cinnamon
How to make Blueberry Cobbler
Preheat oven to 350 degrees F. and place an oven rack in the center of the oven.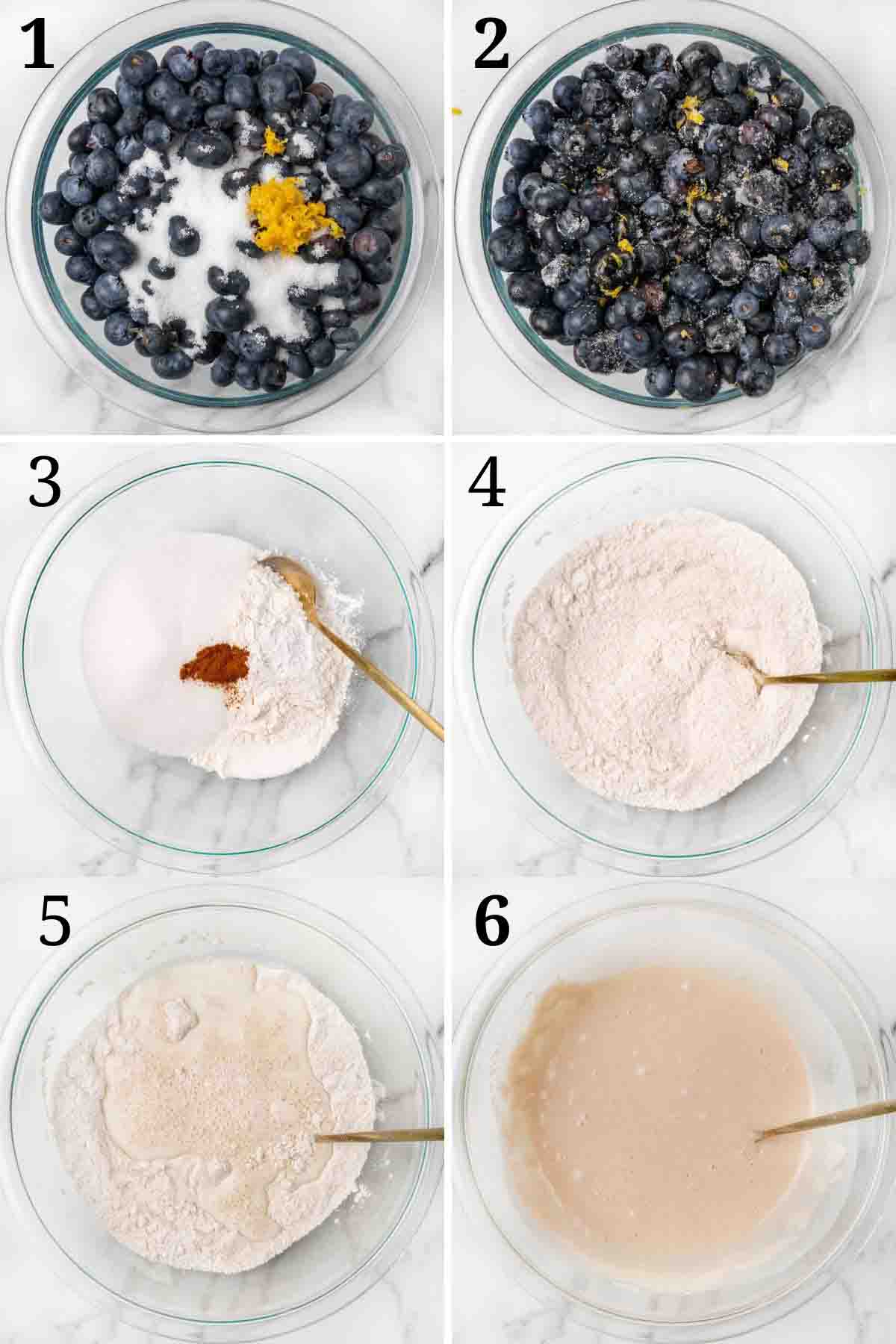 Add the blueberries, sugar, and lemon zest to a medium bowl.
Mix to combine.
Add the flour, sugar, baking powder, cinnamon, and salt to a large bowl.
Whisk the dry ingredients to combine.
Add the milk to the flour mixture.
Mix the milk in just enough to combine.
*The cobbler batter is easy to make, no electric mixer or food processor is needed to make this recipe.
Add the melted butter to a 9×13-inch baking dish.
Pour the blueberry mixture over the melted butter in the prepared baking dish, making an even layer of blueberries.
Drizzle the cobbler batter over the top of the blueberries.
Place the baking dish on the center rack of the preheated oven and bake for 35-40 minutes until the cobbler topping begins to get golden brown.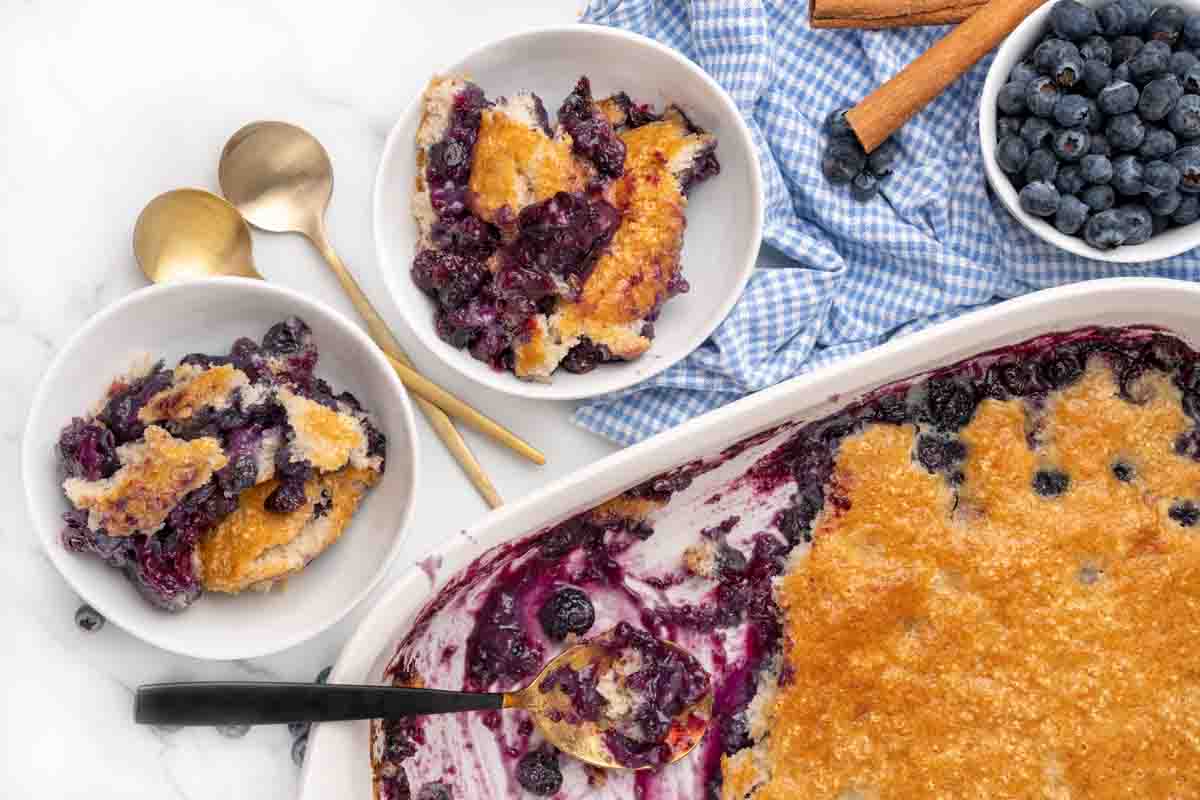 Blueberry cobbler is the perfect summer dessert that will satisfy every sweet tooth in your house.
If you love fruit desserts, my apple crisp is another easy-to-make, delicious homemade dessert your family will enjoy.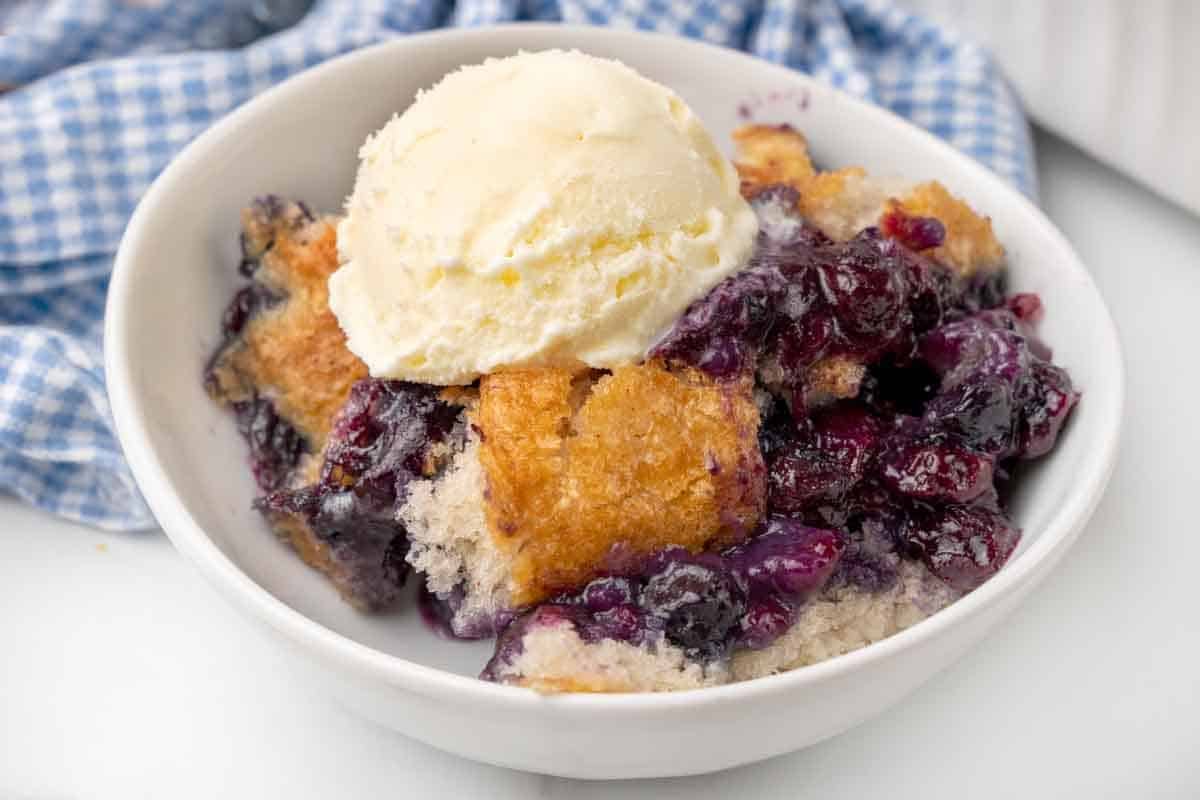 Serve this delicious blueberry cobbler warm with a scoop of vanilla ice cream or homemade whipped cream, and I promise there will be lots of smiling faces around your dinner table!
This blueberry cobbler is sure to be a crowd-pleaser and a great way to use fresh or frozen blueberries. With its buttery, tender topping and juicy blueberry filling, this dessert is the perfect way to end a summer meal.
Recipe FAQ's
What is a blueberry cobbler made of?
Blueberry cobbler consists of a batter that is made from flour, sugar, milk, baking powder, salt, and cinnamon. The batter is layered on top of the prepared blueberries creating a delicious cake-like topping with a slightly crispy crust and soft center.
Can I use frozen blueberries to make cobbler?
Yes, you can use either fresh or frozen blueberries in this recipe. Just be sure to thaw the frozen blueberries and drain any excess liquid before using them in the recipe.
Can I make a cobbler ahead of time?
Yes, you can prepare the filling and topping separately ahead of time. Assemble the cobbler and bake when you're ready to serve it.
More Recipes You'll Love!