What could be better than a slice of my Blueberry Coffee Cake? This tender, moist coffee cake is loaded with juicy blueberries, topped with a crunchy, buttery streusel topping, and finished with a sweet-tart lemon glaze.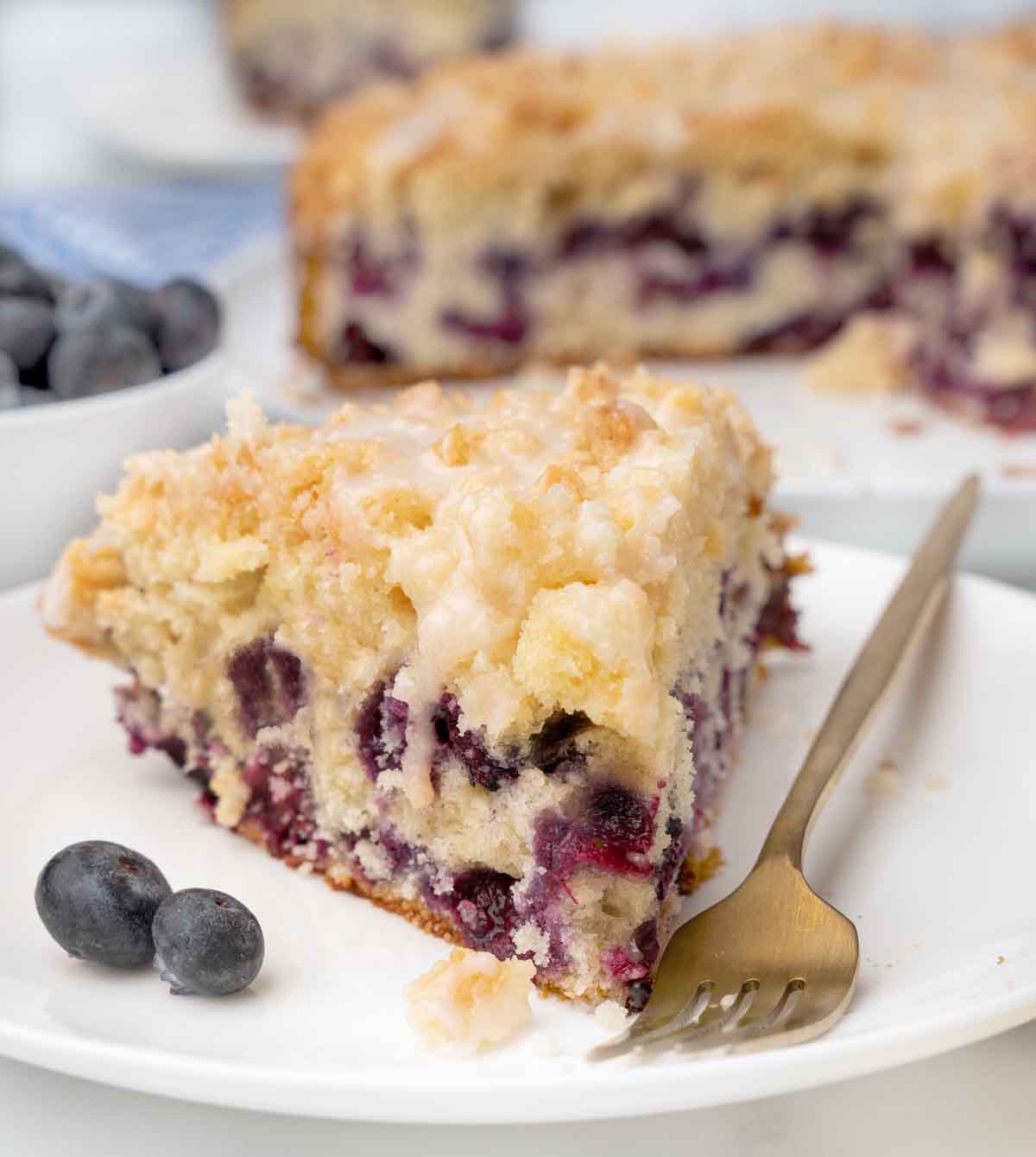 Coffee cakes are underrated and so easy to make. A great recipe for a weekend breakfast or weekday dessert and classy enough for any special occasion you might be celebrating.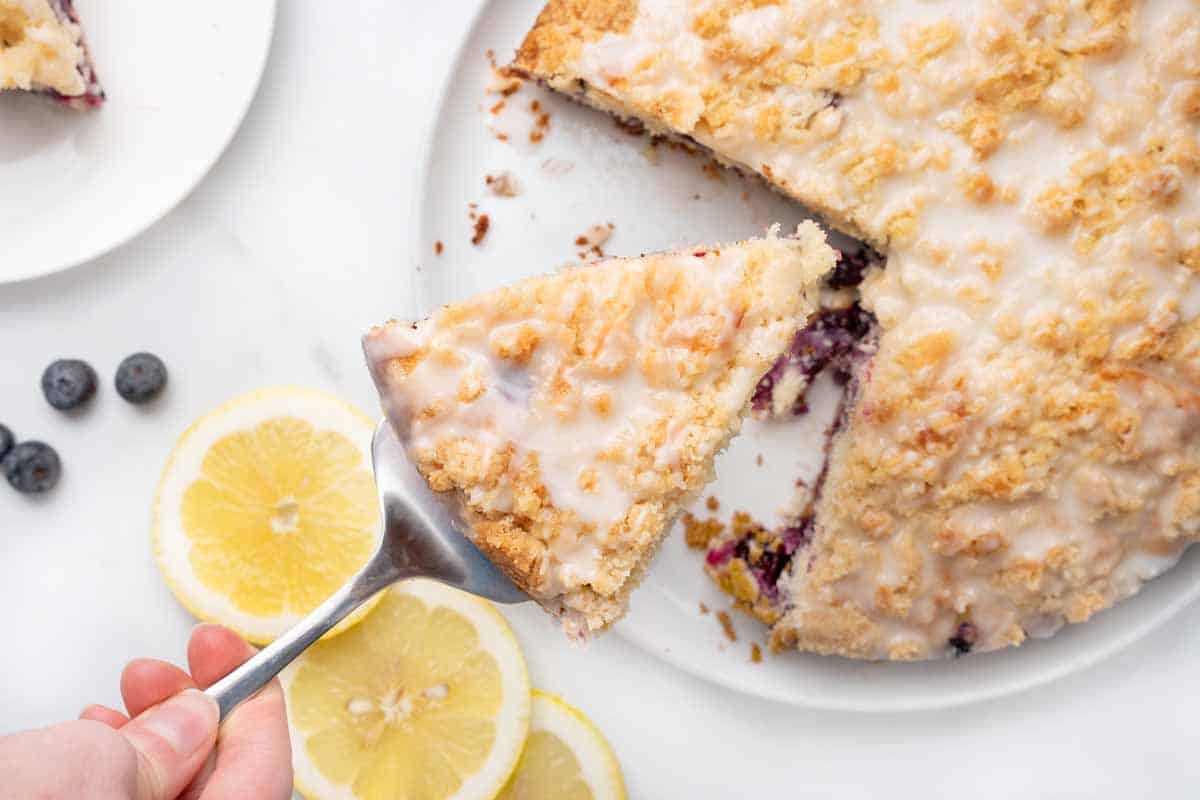 Made with simple ingredients, this blueberry crumb cake will satisfy your family's sweet tooth.
If you love blueberries, you might also like my blueberry muffins.
Ingredients to make Blueberry Coffee Cake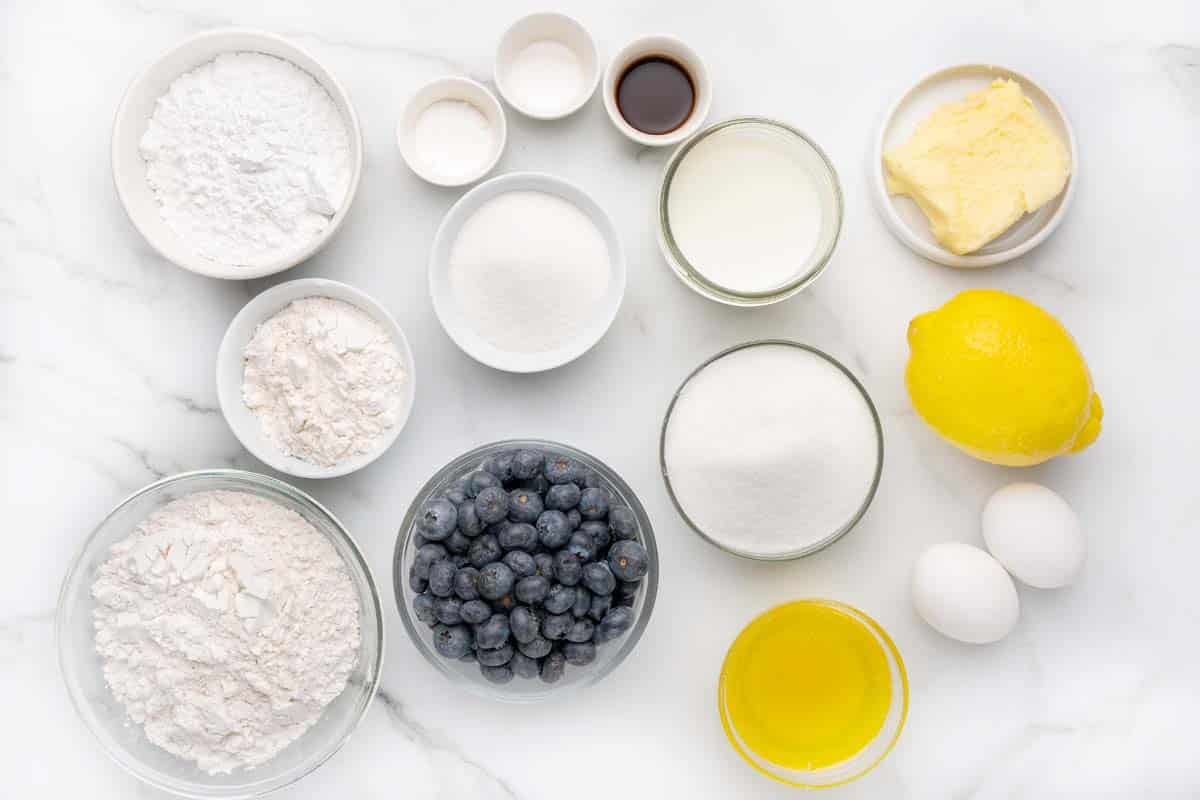 Let's start by gathering the ingredients we need to make Blueberry Coffee Cake. In Chef Speak, this is called the "Mise en Place," which translates to "Everything in its Place."
Not only does setting up your ingredients ahead of time speed up the cooking process, it also helps ensure you have everything you need to make the dish.
Simple Ingredients
all-purpose flour
baking powder
salt
unsalted butter
granulated sugar
eggs
vanilla extract
whole milk
lemon zest
blueberries
powdered sugar
fresh lemon juice
How to make Crumb Topping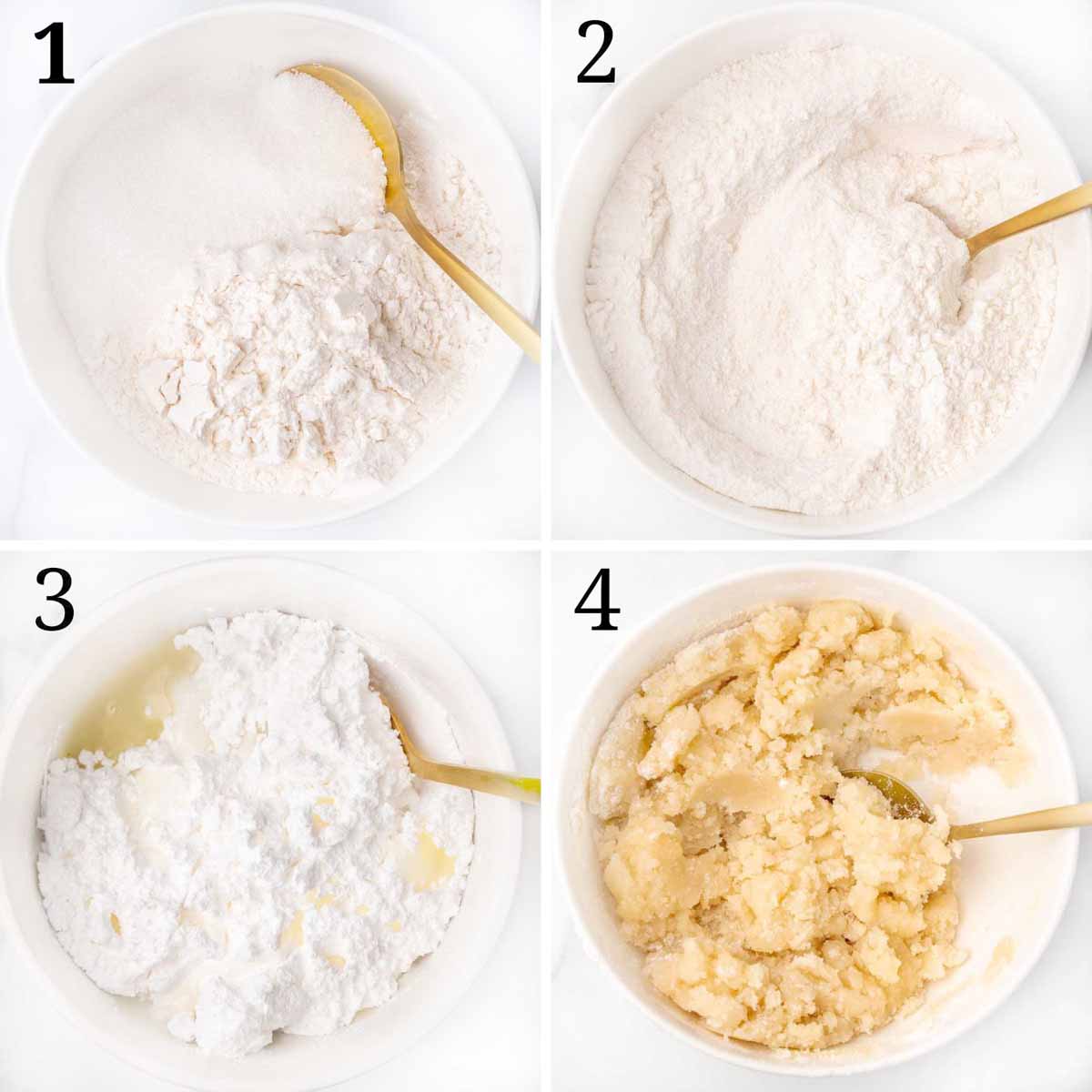 Add the flour, granulated sugar, and melted butter to a medium bowl.
Mix the ingredients together until it resembles clumps of wet sand. Set aside until needed.
How to make Blueberry Coffee Cake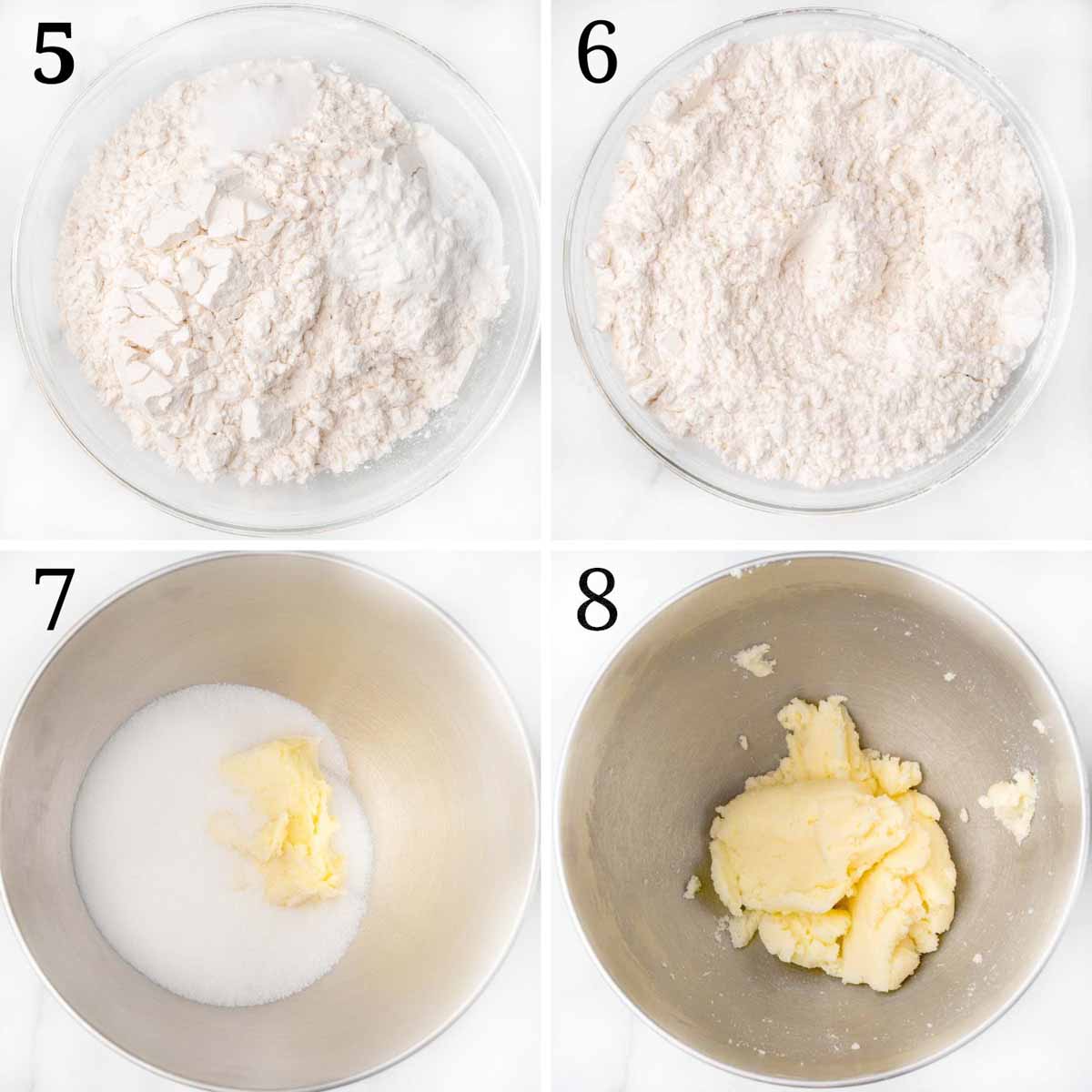 Add the flour, baking powder, and salt to a medium mixing bowl
Whisk the dry ingredients together until well blended.
Add the butter and granulated sugar to a large bowl.
Using a stand mixer or hand mixer, beat the butter and sugar together until light and fluffy (3-4 minutes).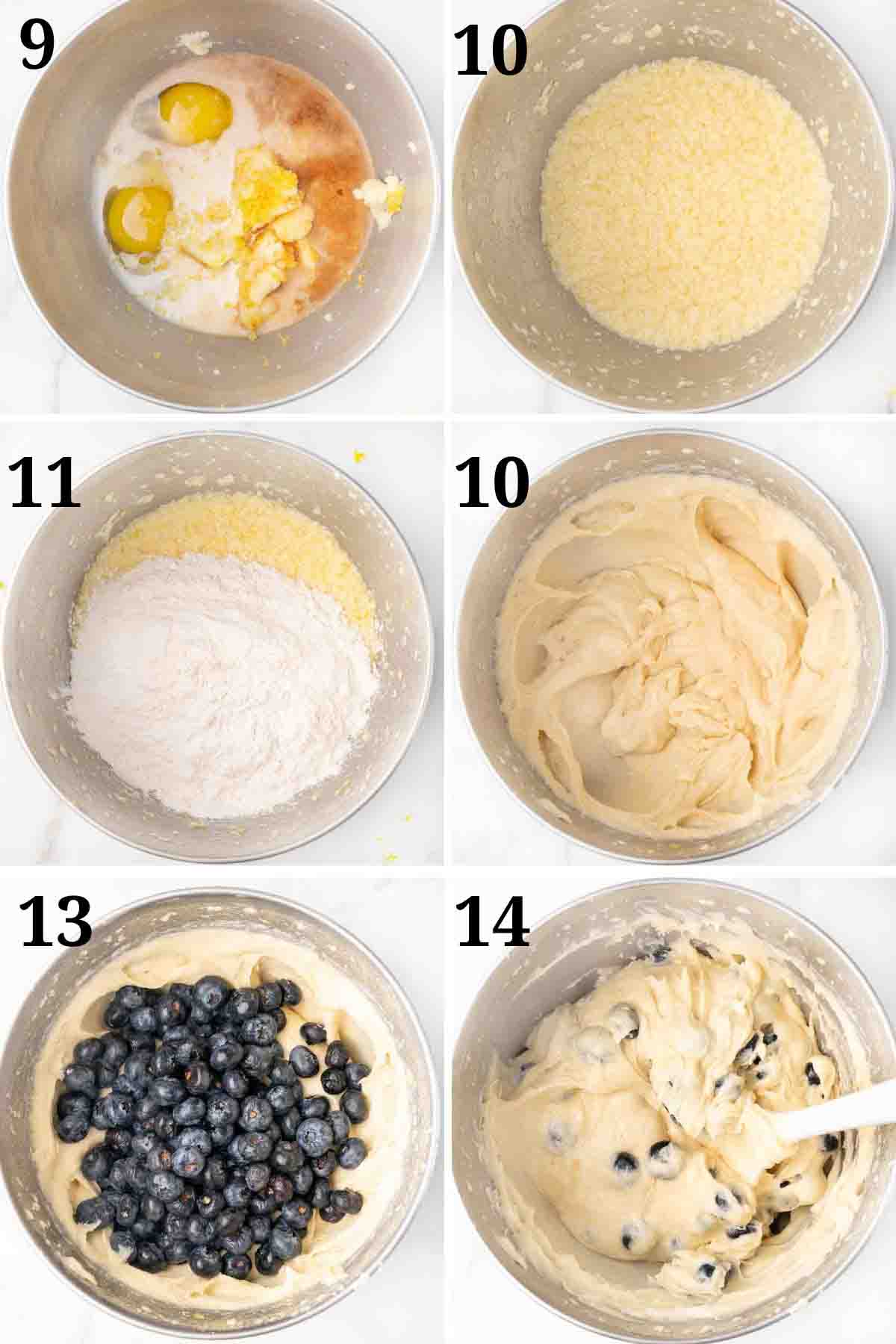 Add the room eggs, vanilla, lemon zest, and milk to the butter mixture. *The milk and eggs should be at room temperature
Mix the ingredients together using a stand mixer on low speed until well blended. *The mixture may look a little curdled, but that's okay. It will come together when the flour is added.
Add the flour mixture to the butter mixture.
Mix the ingredients together, just enough to combine.
Add the blueberries to the batter.
Gently fold the blueberries into the batter using a rubber spatula.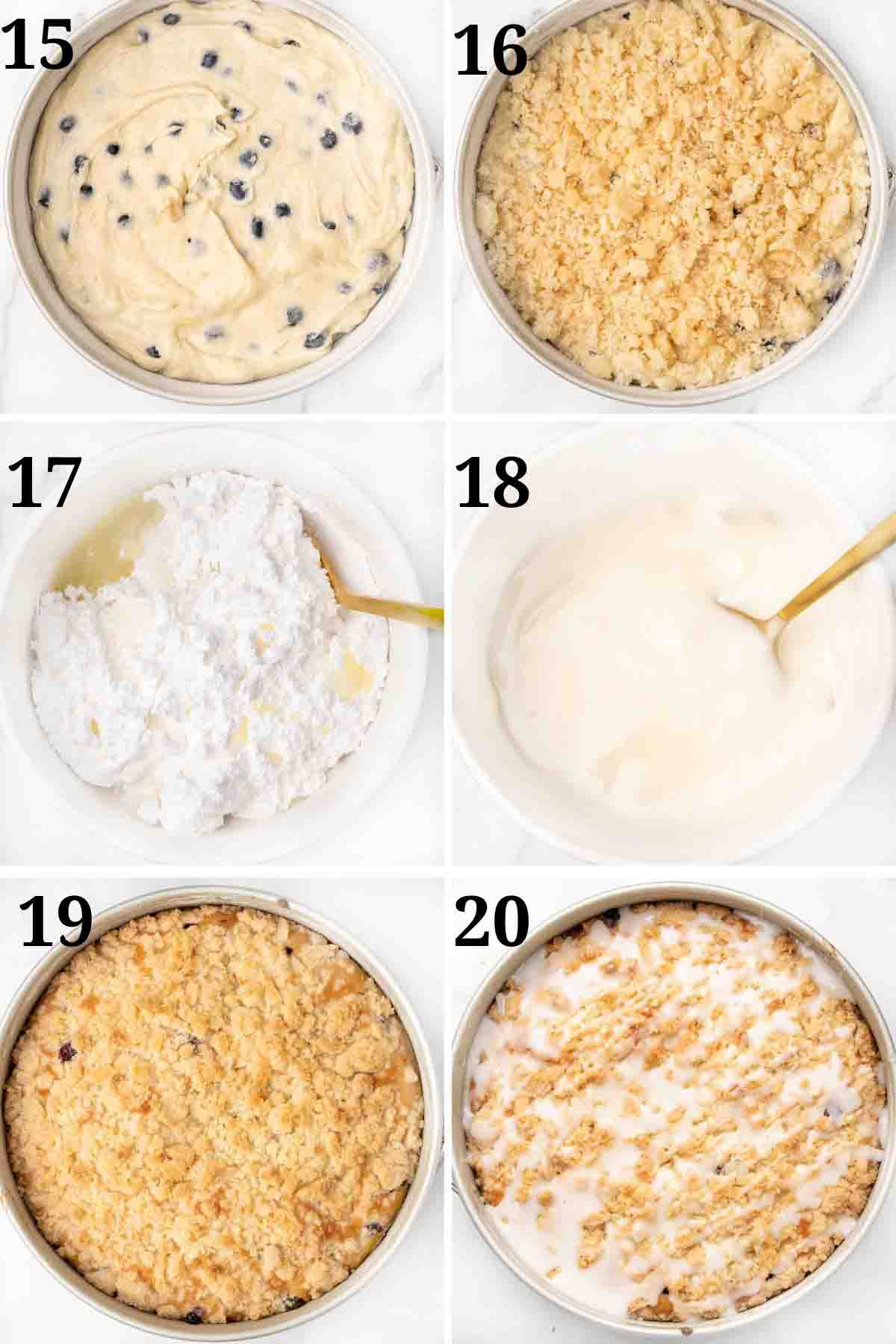 Spread batter evenly into the prepared springform pan.
Evenly distribute the streusel topping on top of the batter.
Place the springform pan on the center rack of a 350º preheated oven and bake for 45 minutes or until a toothpick inserted into the center comes out clean.
While the cake is baking, make the lemon glaze
Add the lemon juice and powdered sugar (10x sugar) to a small bowl.
Whisk the ingredients together until well blended. Set aside until needed.
Remove the cake from the oven and allow it to cool on a wire rack for 10-15 minutes. Drizzle the lemon icing on the top of the cake.
Run a knife around the edge and remove the ring.
*Allow the cake to cool completely before serving.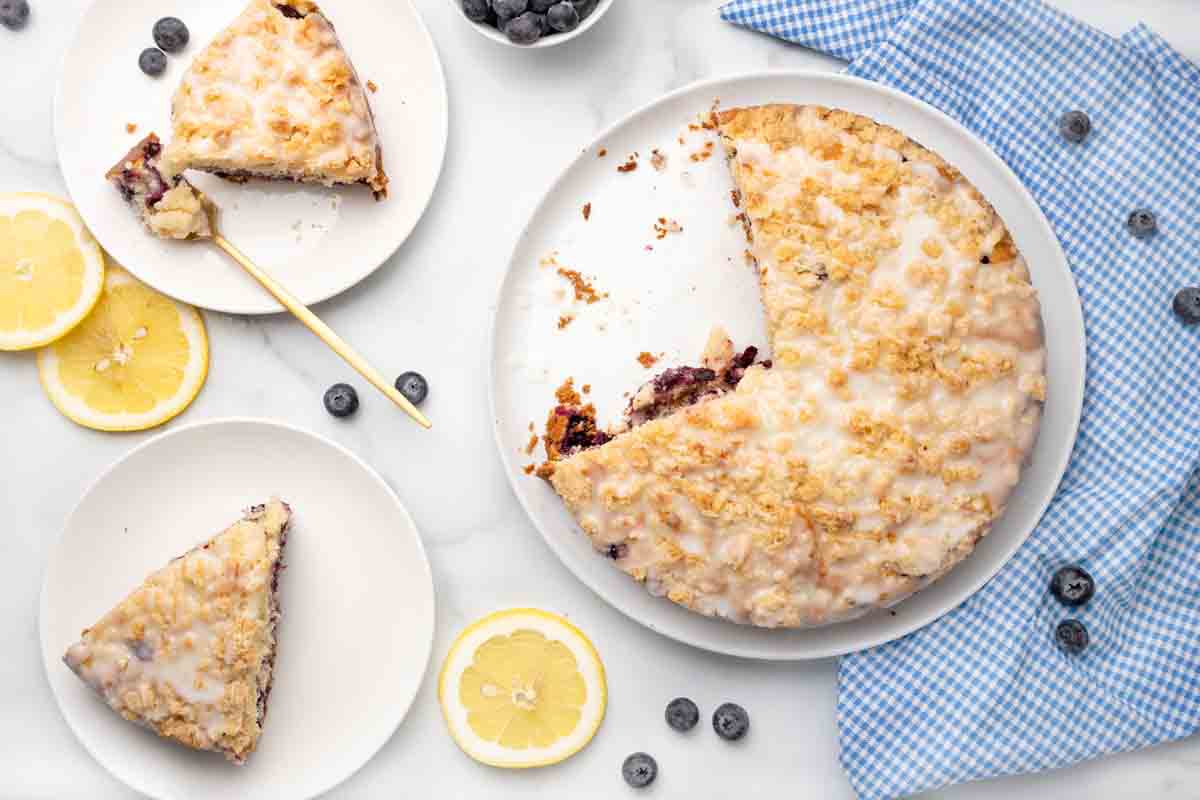 I love blueberries and just about any baked dessert you can think of using blueberries, and this blueberry coffee cake even exceeded my expectations. I know you're going to love how easy this coffee cake is to make and how delicious it is.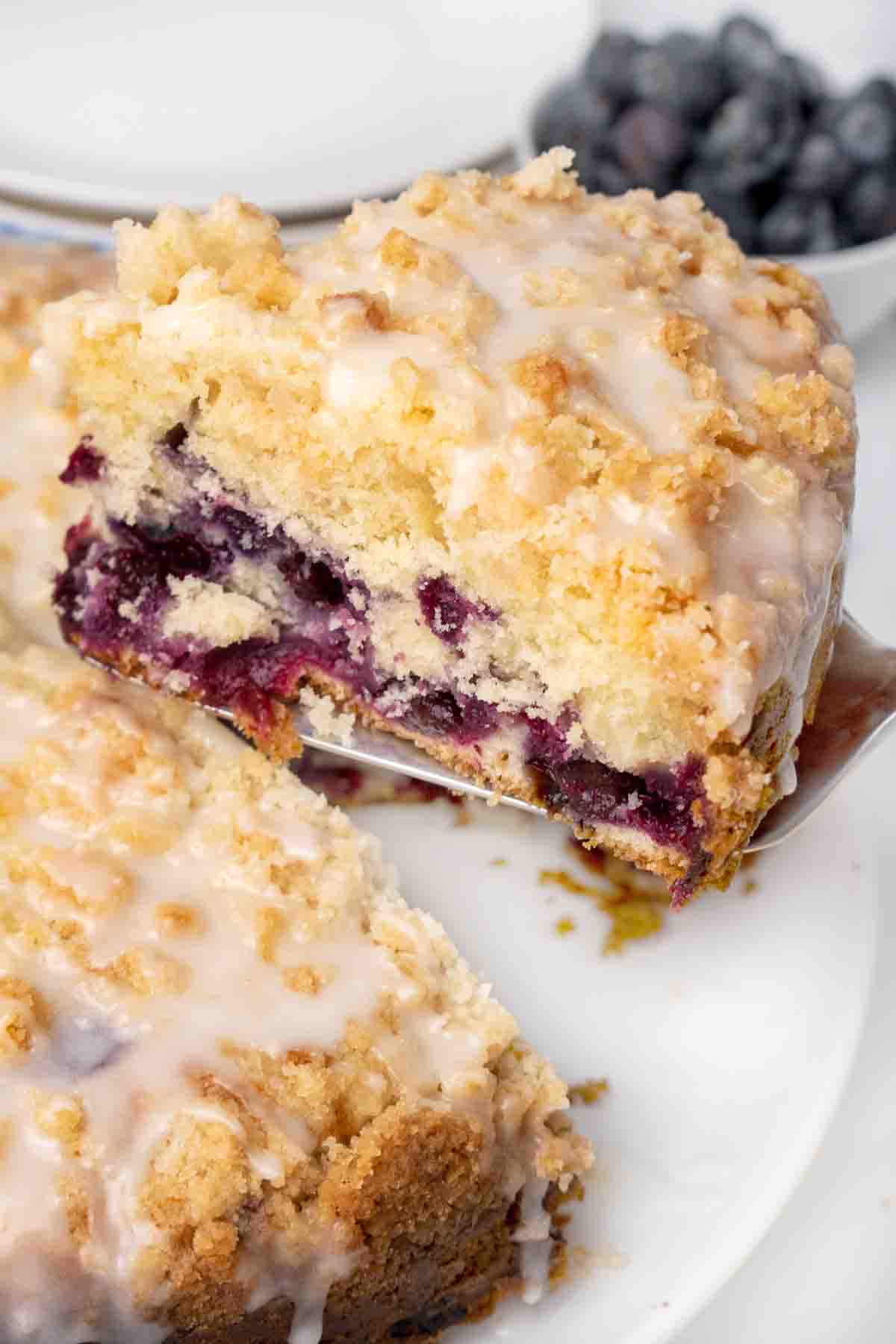 After one bite, I know you'll agree my Blueberry Coffee Cake Recipe makes the best lemon blueberry coffee cake you've ever had!
Recipe FAQ's
What make a cake a coffee cake?
Coffee cake, or kaffekuchen in Geman, is usually a single-layer cake with a streusel topping that is made from flour, butter, and sugar. It many instances, it also contains cinnamon. The streusel can also be added to the middle of the cake.
How do you keep a coffee cake moist?
To keep a coffee cake moist and tender, be careful not to overmix the batter. This also includes creaming the butter too long.
The other reasons the cake might be dry is overbaking or using cold ingredients to make the batter. The eggs and milk should be at room temperature. The butter shouldn't be too soft but shouldn't be ice cold.
Should a coffee cake be refrigerated?
A coffee cake can be kept unrefrigerated for up to 3 days in an airtight container. However, the cake will stay fresher and can last up to a week if kept in the refrigerator. The cake can also be kept frozen for up to 3 months, well sealed in two layers of plastic wrap.
More Recipes You'll Love!