One of my favorite breakfast treats is Blueberry Scones warm from the oven. Flaky pastry with a crunchy exterior loaded with plump juicy blueberries.
My blueberry scones recipe comes from a friend in Ocean City, New Jersey, who made the best scones I have ever tasted. Mine are close, but I will admit his were better.
But I promise these will be the best blueberry scones you'll ever make! I made my scones with fresh blueberries, but you can also use frozen if fresh aren't available.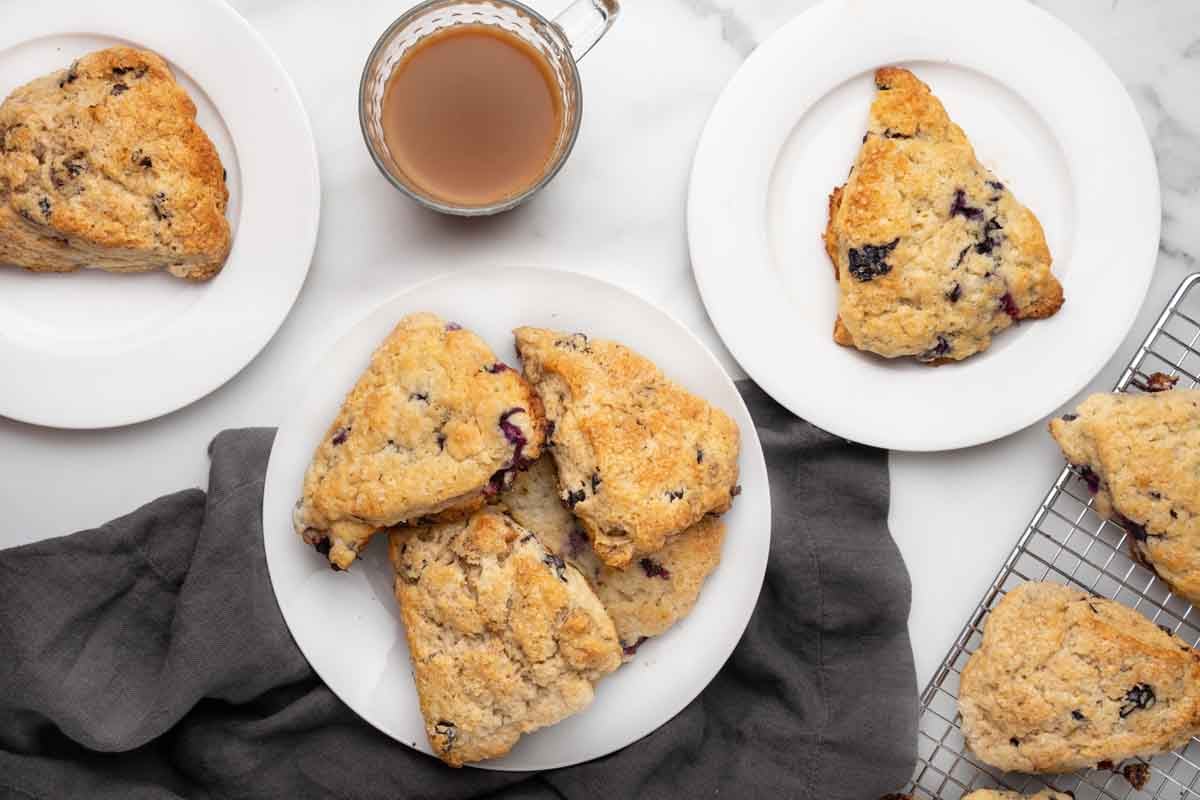 I like to think of this recipe as a Master Scone Recipe, which can easily be adapted to your favorite flavor of scone. Replace the blueberries with your favorite baking chips (mine are butterscotch or chocolate chips), dried fruit, or nuts. Or any combination that you enjoy.
Ingredients to make Blueberry Scones
Let's start by gathering the ingredients we need to make my Blueberry Scones. In Chef Speak, this is called the "Mise en Place," which translates to "Everything in its Place."
Not only does setting up your ingredients ahead of time speed up the cooking process, it also helps ensure you have everything you need to make the dish.
Simple Ingredients
all-purpose flour
unsalted butter
granulated sugar
baking powder
heavy cream
vanilla extract
salt
egg
blueberries
I didn't include it in this recipe, but you can add lemon zest or make a lemon glaze to make lemon blueberry scones.
How to make Blueberry Scones
Preheat the oven to 400 degrees F.
Line a baking sheet with parchment paper.
Add the flour, sugar, salt, and baking powder to a large bowl.
Whisk until well blended.
Use a box grater to shred the frozen butter.
Add the grated butter to the flour mixture and combine with two forks or a pastry blender. The finished mixture should be pea-sized crumbs. You can use your hands to mix the butter in, but your hands will warm up the butter, so you need to wear plastic gloves and be quick if using your hands. Place in the refrigerator until needed.
Add the heavy cream, egg, and vanilla extract to a small bowl.
Mix until well blended.
Add the wet ingredients and blueberries to the dry ingredients.
Mix until the dough forms. For the tender scones, do not overmix.
Turn the scone dough out on a lightly floured surface. Coat your hands with flour and form the dough into an 8-inch disc. *If the dough feels too sticky, add a little more flour to the dough. If the dough feels too dry, add a little more cream to the dough.
Using a sharp knife, cut the disc into 8 wedges.
Place the wedges on a parchment-lined sheet pan leaving a few inches between the scones.
Brush the scones with heavy cream and sprinkle raw or coarse sugar on top of the scones. *You can leave out the sugar if you want to cut back on sugar. It's not essential.
Refrigerate the scones for 30 – 60 minutes before baking.
Place the baking sheet on the middle rack of the preheated oven and bake for 20-25 minutes until golden brown.
I'm sure you'll agree after one bite that this is the best blueberry scone recipe. They are so much better than Starbucks blueberry scones!
Recipe FAQ's
What is the secret to good scones?
Using good quality butter is most important. And the less you knead the dough, the less the gluten will tighten up, which will keep your scones tender.
Can I use buttermilk instead of heavy cream to make scones?
Buttermilk can easily be used instead of heavy cream. Heavy cream is my first choice, but buttermilk will add a tangy flavor to the scones.
Why do I refrigerate the scones before baking?
Keeping the ingredients cold is essential to making good scones. refrigerating helps to keep the butter from melting, which helps create flaky, delicious scones.
More Recipes You'll Love!