When you're looking for a delicious change of pace treat yourself and try my Blackened Shrimp Nachos or my Blackened Shrimp Taco Salad for dinner.
This post includes affiliate links. As an Amazon Associate I earn from qualifying purchases.
I do love football season and all the delicious home-gating dishes I create. This season I decided to up my game with a Restaurant-Style Blackened Shrimp Nachos.
And since my wife's not a big fan of tortilla chips I also made a Blackened Shrimp Salad with a side a chips, hoping I could tempt her to try them.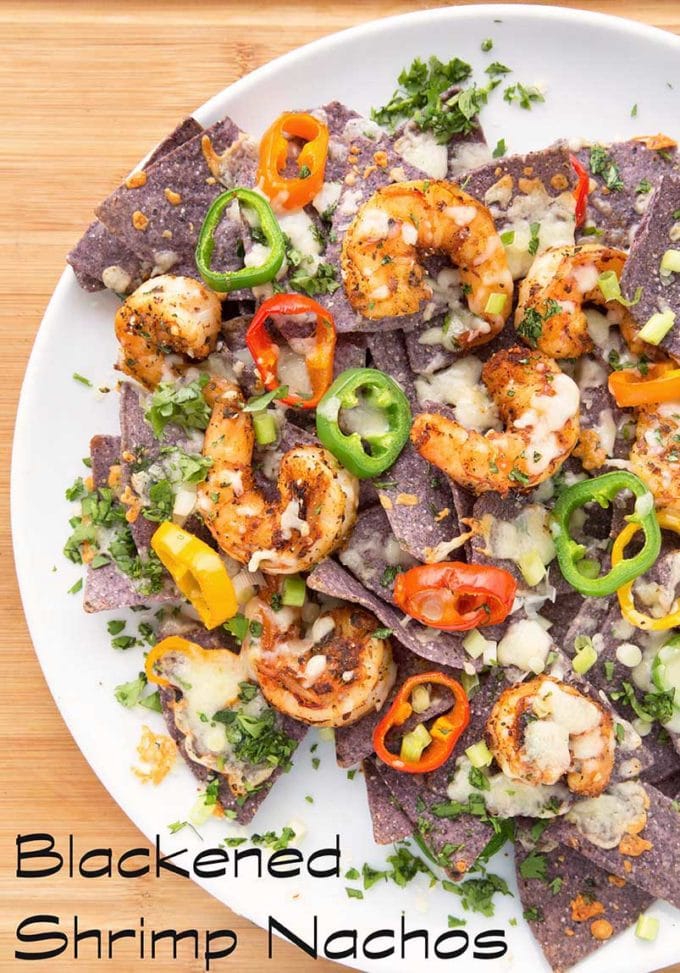 As a chef, I've always loved shrimp and loved working with shrimp in my dishes. I almost feel like Bubba from Forrest Gump when I start talking about all the different ways I can serve shrimp.
And blackening my favorite gulf shrimp adds another level of deliciousness to those sweet treats from the gulf.
Let's start by gathering the ingredients we need to make my Blackened Shimp Nachos. In Chef Speak this is called the Mise en Place which translates into Everything in its Place.
Not only does setting your ingredients up ahead of time speed the cooking process, but it also helps ensure you have everything you need to make the dish.
In my quest to use better ingredients I opted for Organic Blue Corn Tortilla Chips from my favorite Mexican tortilla company Mission.
Feel free to use the chips of your choice.
Do I have to use peppers in my nachos?
No, you don't. These are your nachos and you can make them how you want them.
I'm not as big a fan of heat, so plain jalapenos don't always thrill me. But pickled jalapenos can be a nice addition.
What else can I add to my Blackened Shrimp Nachos?
One of my friends likes to add a cheese sauce to the nachos, making them even more ooey, gooey and delicious.
If you really want to up your game add some crumbled cooked chorizo sausage before you melt the cheese. Giving us a surf and turf version of my nachos.
And if you a fan of sour cream, don't hold back. It's all good!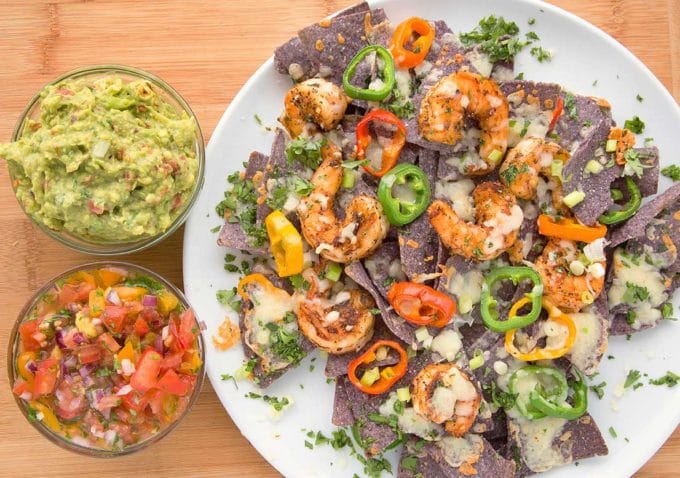 My Blackened Shrimp Nachos came out of the oven looking OMG delicious and it was all I could do to restrain myself long enough to take the pictures.
Do I have to make the shrimp blackened?
No, you don't. You can saute them in whatever seasoning you like. Perhaps a little old bay, or cook them in a light garlic aioli.
How do I make Blackened Seasonings?
It's really pretty easy to make you own blackened seasoning. This is my basic recipe:
11/2 teaspoons Hungarian paprika
2 teaspoons sea salt
1 teaspoon garlic powder
1 teaspoon onion powder
1 teaspoon chili powder
1/4 teaspoon black pepper
When you want to change up the flavors try using Smoked Paprika instead of regular paprika. Cumin also makes a nice addition to the flavor.
For more heat increase the chili powder, or use Ancho chili or Sriracha seasoning to perk up the dish.
If you like a little sweetness add a teaspoon of brown sugar to the mix.
There are lots of different flavor combinations you can come up with using the spices you have on hand.
Can I use the blackened seasoning with other seafood?
Yes, you can. It would be good on just about any type of fish, scallops or even lobster. You can even use the seasoning with chicken or tofu.
Another way to enjoy this deliciousness is in a Blackened Shrimp Taco Salad. You're using the same basic ingredients, just not melting the cheese.
My wife wanted a salad instead of the nachos. I did sneak some chips on her plate, but they were still there when she was done eating.
It's easy to customize the salad with the ingredients you enjoy. It would also make a nice DIY salad bar for game day.
And if you're just looking for a lighter snack, make up a batch of guacamole and salsa fresca and enjoy your chips in style!
If you enjoyed this recipe you may also like these: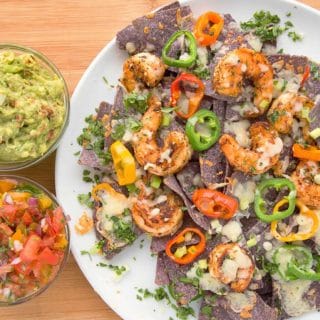 Print Recipe
Blackened Shrimp Nachos
When you're looking for a delicious change of pace treat yourself and try my Blackened Shrimp Nachos or my Blackened Shrimp Taco Salad for dinner.
Ingredients
Blackened Seasoning
11/2

teaspoons

Hungarian paprika

2

teaspoons

sea salt

1

teaspoon

garlic powder

1

teaspoon

onion powder

1

teaspoon

chili powder

1/4

teaspoon

black pepper
Blackened Shrimp Nachos
1/2

lb

shrimp

peeled and deveined with the tails removed

3-4

mini sweet peppers

1

Tbsp

blackened seasoning

(see recipe above)

1

cup

cheddar or Monterrey Jack

shredded

1

jalapeño pepper

thinly sliced (or you can substitute jarred jalapenos if you can't find fresh ones)

2

Tbsp

chopped fresh cilantro

4

cups

Mission Organics® Tortilla Chips

(about half a bag)
Salsa Fresca
1

medium

tomato

diced

1/4

cup

red onion

diced

1

teaspoon

cilantro

finely minced

juice from one lime

(more or less to your tastes)

sea salt

to taste
Guacamole
2

Hass Avocado

ripe

1/4

cup

tomato

diced

1

teaspoon

cilantro

finely chopped

juice from one lime

(more or less to your tastes)

jalapeno or hot sauce

optional
Instructions
Preheat the oven to 400 while you gather your ingredients

Season shrimp with blackening spices using as much or as little as you prefer.

Heat up a cooking pan over medium-high heat. Add shrimp and quickly sear them on both sides until just done. Take shrimp out of the pan and set aside. *You can also bake the shrimp in the oven or grill them.

Place the tortilla chips onto a baking sheet covered with parchment paper. The paper will help you transfer the completed nachos to a serving dish.

Place the shrimp onto the chips, then add the sweet peppers.

Add the shredded cheddar to the nachos, evenly distributing the cheese. *use more cheese than you think you need. As it melts it won't look to be as much as you imagined.

Sprinkle cilantro over the cheese, then add sliced jalapenos if you want a little extra heat.

place sheet into preheated oven and bake for 7-10 minutes or until the cheese is nicely melted.
Salsa
In a mixing bowl add diced tomatoes, onion, cilantro and lime juice. Season with sea salt to taste. * If you like heat feel free to add some diced jalapeno or hot sauce.
Guacamole
Mash avocado with a potato masher or fork until you have the desired texture.

Add the diced tomato, cilantro, and lime juice. Season with sea salt to taste. *If you like heat feel free to add some diced jalapeno
Nutrition
Calories:
913
kcal
|
Carbohydrates:
88
g
|
Protein:
30
g
|
Fat:
52
g
|
Saturated Fat:
11
g
|
Cholesterol:
172
mg
|
Sodium:
2548
mg
|
Potassium:
979
mg
|
Fiber:
14
g
|
Sugar:
4
g
|
Vitamin A:
1730
IU
|
Vitamin C:
41.9
mg
|
Calcium:
502
mg
|
Iron:
5
mg