When it comes to an easy-to-make weeknight meal my oven-roasted blackened chicken is sure to please! Tender, juicy and so very flavorful this easy-to-make oven-roasted chicken recipe made with simple pantry ingredients will soon become a family favorite.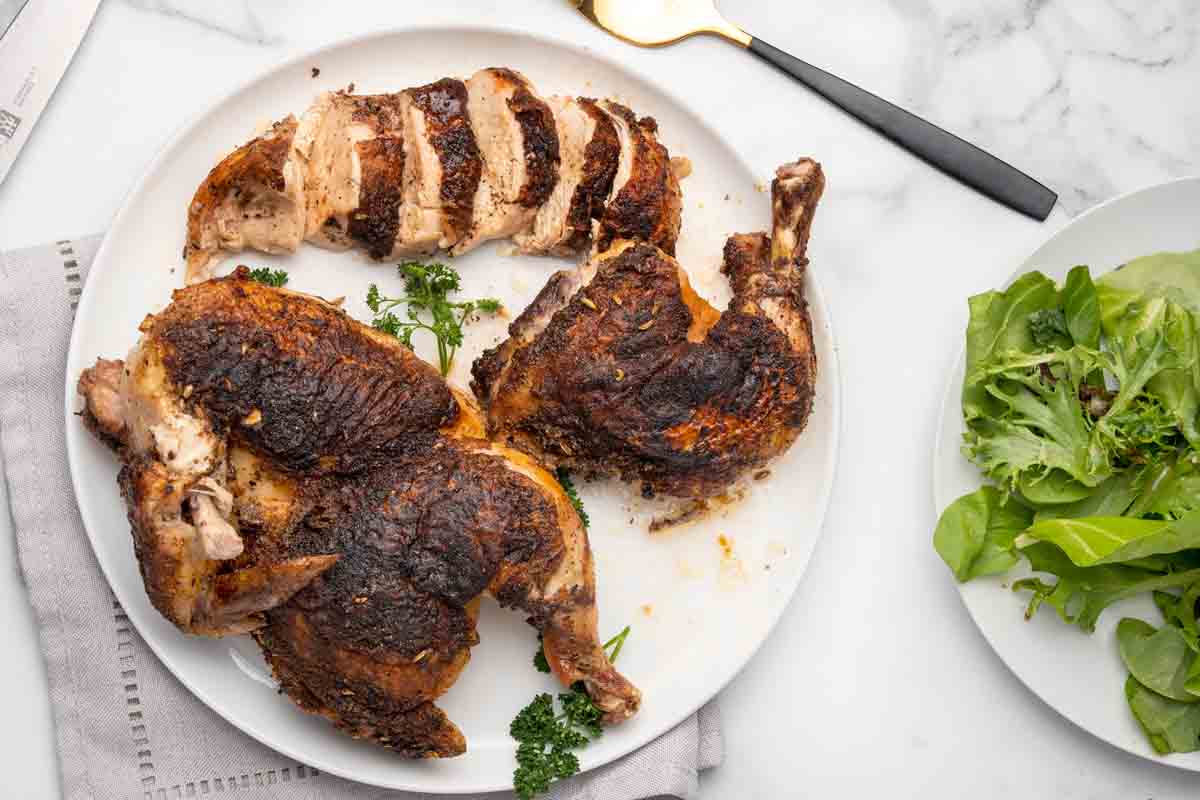 I'll even tell you how to make your own blackening spices and really turn up the volume on the flavor!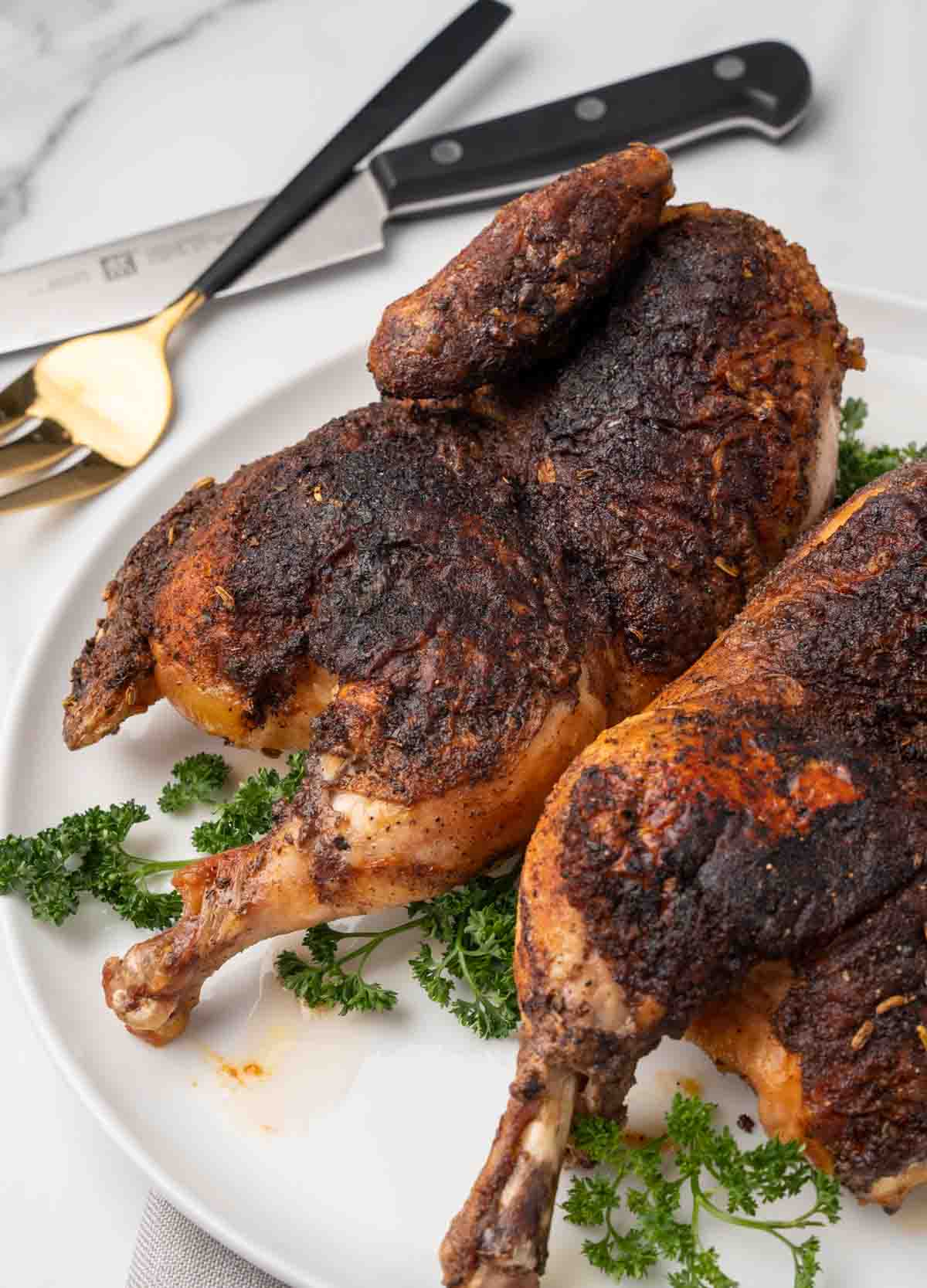 You can never have too many good chicken recipes and my blackened oven-roasted chicken. With only 10 minutes of prep, you can have this chicken in the oven and ready for dinner in an hour, making it the perfect chicken recipe for weeknights.
Ingredients to make Blackened Chicken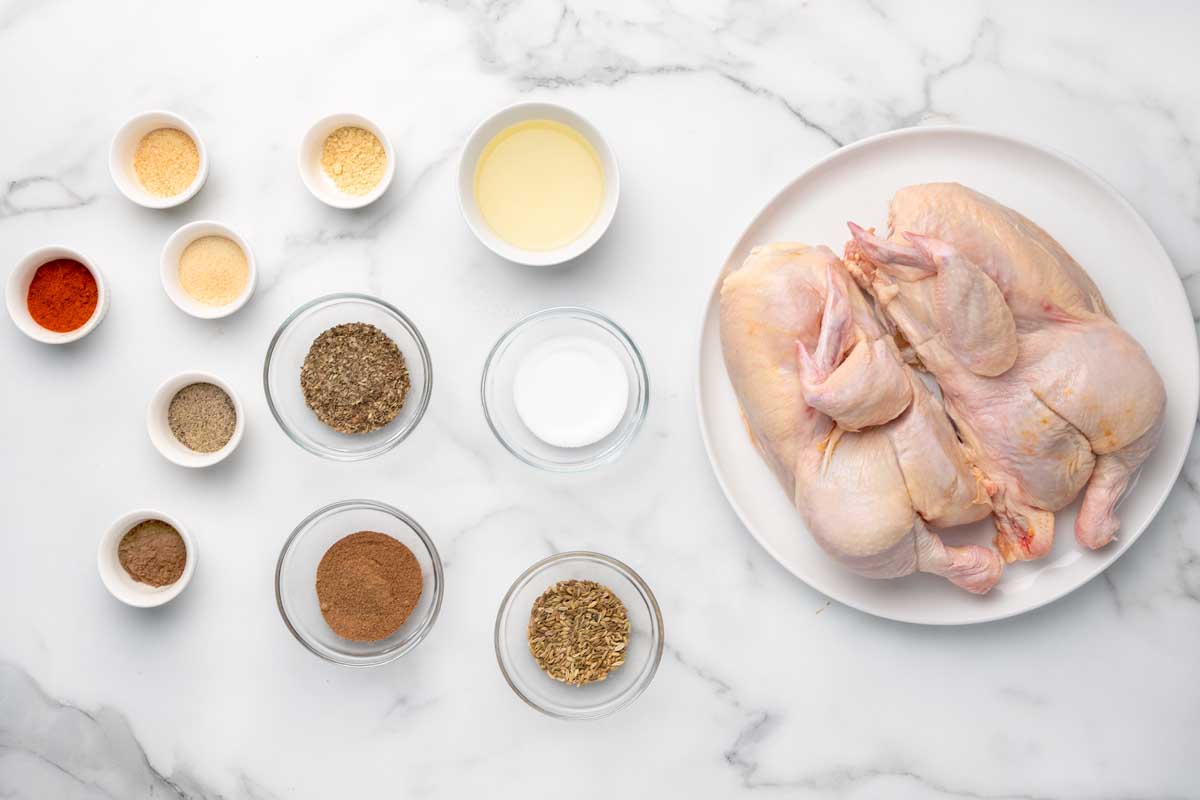 Let's start by gathering the ingredients we need to make my Oven Roasted Blackened Chicken. In Chef Speak this is called the "Mise en Place" which translates to "Everything in its Place".
Not only does setting your ingredients up ahead of time speed up the cooking process, it also helps ensure you have everything you need to make the dish.
Of course, you can use your favorite store brand of Cajun spices for my Blackened Chicken, but making your own seasoning isn't hard to do and allows you to add in more of the flavors you enjoy, or leave out the seasonings you're not fond of.
How do I Make Blackened Chicken?
Gather the seasonings together
Mix the seasonings in a small bowl
Coat the skin side of the chicken with blackening seasoning, and set aside until needed. *Use as little or as much seasoning as you like, saving the rest for later.
Heat a large skillet over medium-high heat, then add the cooking oil and chicken halves seasoned skin down. Press the chicken down into the pan. Cover and cook over medium heat for 8-10 minutes or until chicken has seared and has good color.
Place chicken in a baking dish with a rack under the chicken
Place the baking dish into a 400-degree preheated oven and cook for about 40-50 minutes or until you have an internal temperature of at least 165 degrees. (check the thickest part of the chicken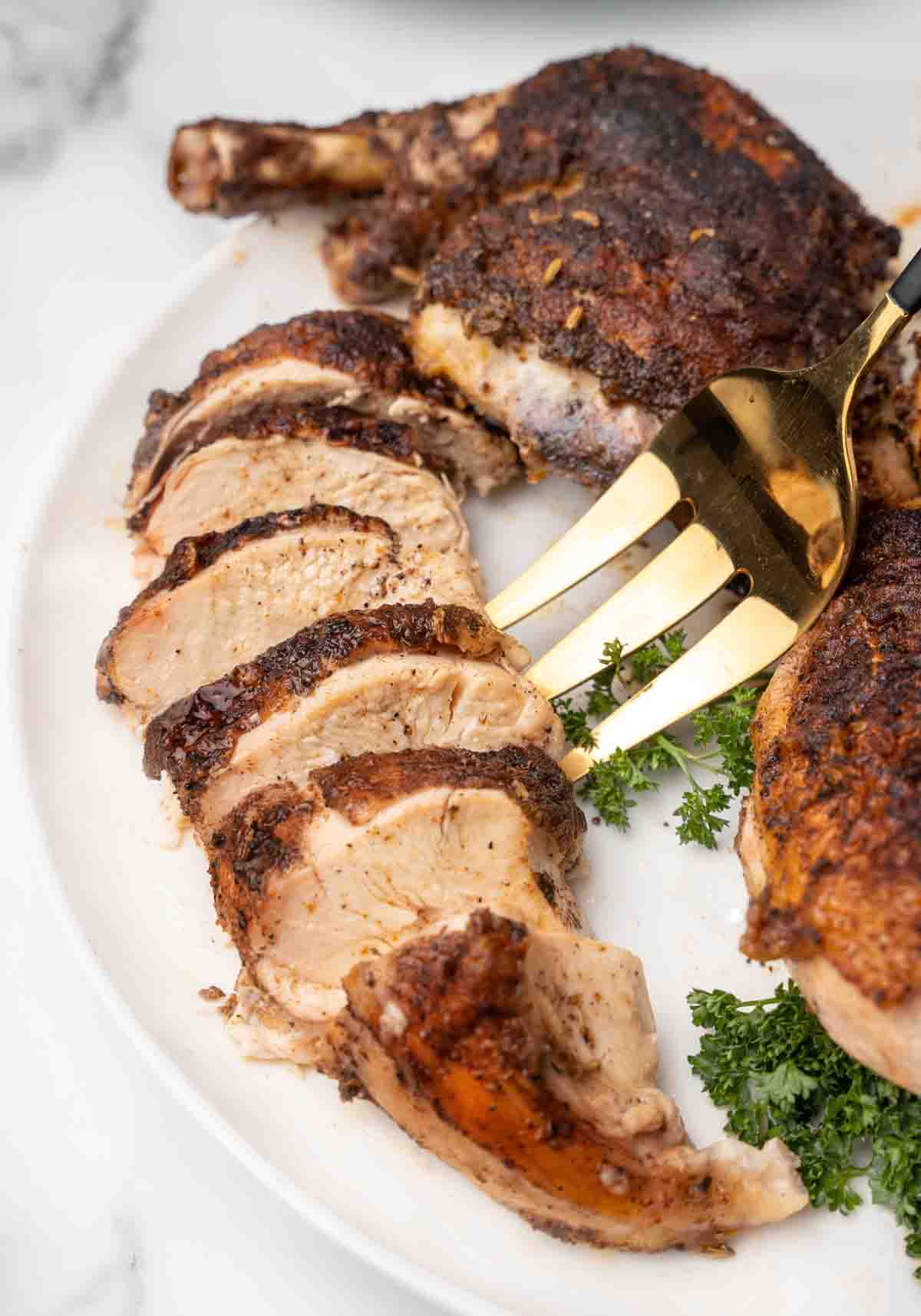 Allow the chicken to rest for 10 minutes before slicing so that the juices can flow back into the meat. If you cut the chicken immediately, all the juice will run onto the plate making the meat dry.
If you enjoy succulent juicy oven-baked chicken, my Crispy Chicken Legs recipe is sure to please!
Serve my blackened chicken with your favorite side dishes and you'll have a feast, as good as any store-bought barbecue! For a change of pace after the blackening, finish off the chicken on your barbecue grill. Just make sure to have someone guarding the grill so the neighbors don't run off with your deliciousness!
Recipe FAQ's
Can I make blackened chicken with other seasonings?
Adding or deleting spices to my blackening seasoning is what will make this a dish your family will look forward to. Add more heat, a little brown sugar for sweetness and leave out or add and seasonings you prefer.
You can also use a store-bought Cajun seasoning or any other seasoning blend you enjoy to make this dish.
What does blackened mean when it talks about food?
The most important thing to know is that blackened doesn't mean burnt. Blackening or Bronzing is a method of cooking using a coating of spices, salts, or sugars. The meat or seafood takes on a very dark brown, almost black color when cooked in a skillet, on a grill or in the oven.
Is Cajun the same as Blackened?
Both are seasoning blends, but Cajun seasoning is generally spicer than blackening seasoning. I will sometimes cut cajun seasonings by adding a little brown sugar and additional paprika to reduce the heat.
More Delicious Recipes You'll Love!