Chicken Riggies aka Utica Chicken Riggies is spicy comfort food that takes pasta dishes to a whole new level of deliciousness. The cheesy, creamy tomato sauce is loaded with flavor and can be easily customized to your taste preference.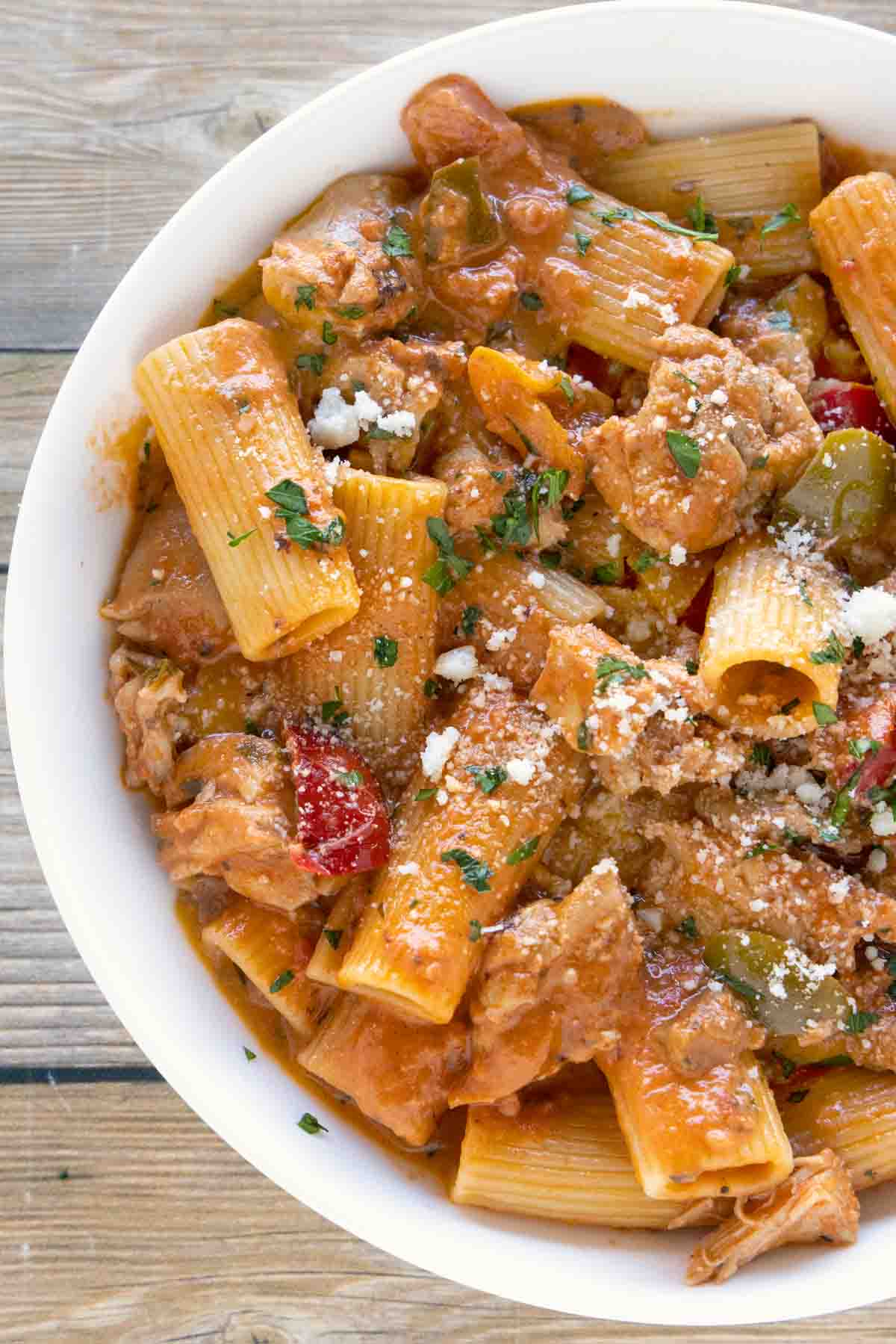 Chicken riggies or Utica riggies is a popular Italian-American pasta dish native to the Utica area in New York State. They're a local specialty dish, that you'll find at almost every restaurant in central New York.
After one bite you'll understand why everyone loves this dish with it's spicy tomato sauce!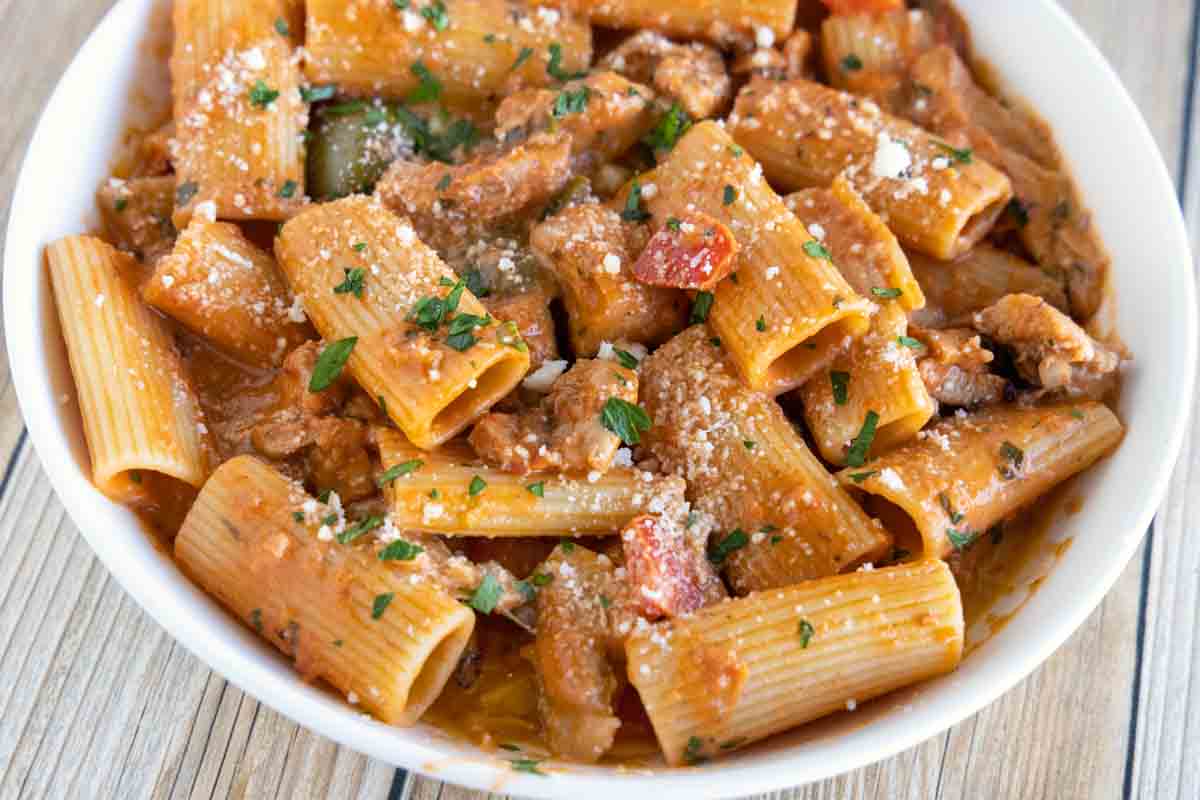 The first time I made spicy chicken riggies, it was love at first bite. If your family isn't a fan of heat, you can always control the spice level by leaving out the spicy peppers. Without the peppers it will make my chicken riggies recipe more like a vodka sauce with chicken.
If you love spicy pasta dishes make sure to try my Penne Arrabbiata.
Ingredients to make Chicken Riggies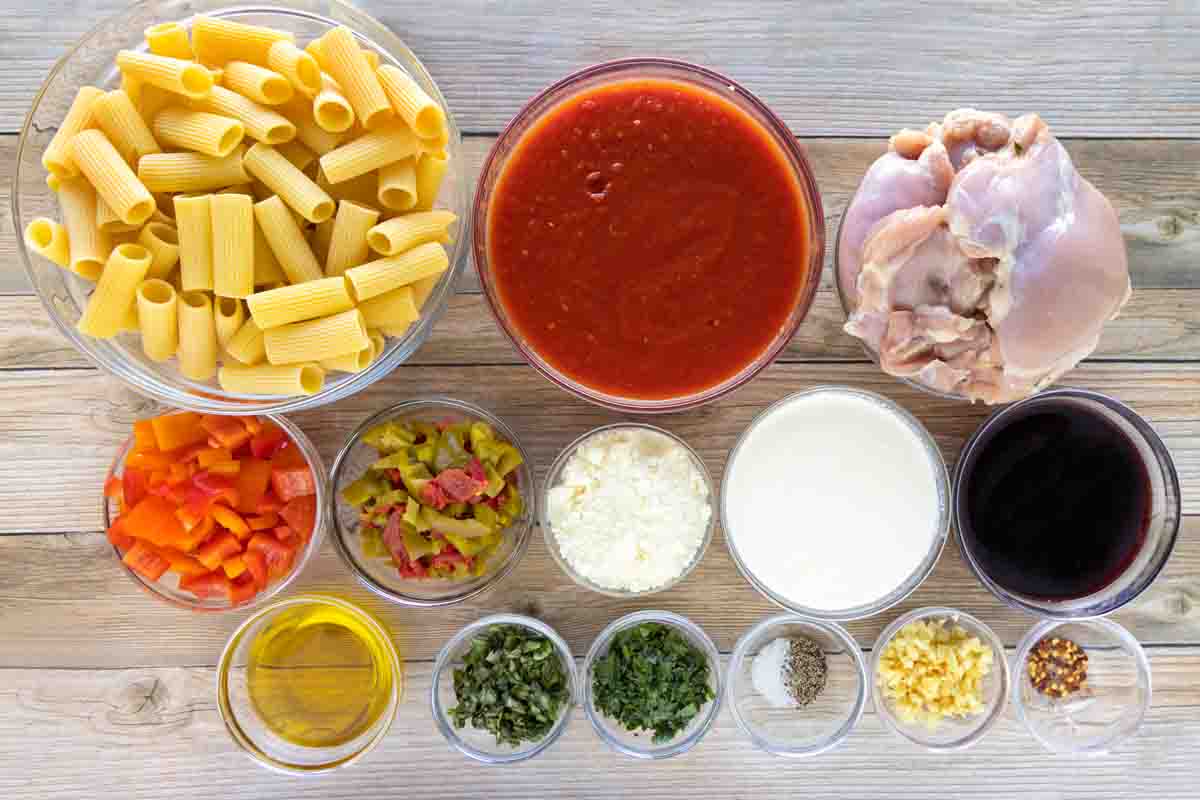 Let's start by gathering the ingredients we need to make Chicken Riggies. In Chef Speak, this is called the "Mise en Place," which translates to "Everything in its Place."
Not only does setting up your ingredients ahead of time speed up the cooking process, it also helps ensure you have everything you need to make the dish
Ingredient Tips
Hot peppers vs sweet peppers: I used sweet cherry peppers instead of hot cherry peppers. They still had a fair amount of heat to them, but if you like a lot of heat you can use hot peppers instead of sweet peppers. For added heat you can also add red pepper flakes to the spicy tomato cream sauce.
Bell Peppers: When it comes to bell peppers I usually pick red peppers, as they always seem a little sweeter to me. I added yellow peppers for color, but feel free to use green peppers or which ever peppers you have on hand. Cubanelle peppers can also be used. They have a sweet taste with a little heat.
Romano vs Parmesan: People always ask me why I use Pecorino romano cheese instead of parmesan cheese. Romano has a sharper flavor that tends to stand out more in dishes. Parmesan is a good cheese and has a nutty flavor that is less salty, creating a more mellow flavor. I also like the finer grated texture that most romano cheeses have, parmesan can have more of a grated look to it and because of that it doesn't melt into the sauce as easily.
Red wine vs white wine: When adding wine to a dish, its always best to use a wine that pairs well with the dish. Cooking with the same wine you'll be serving with the dish is always the best choice, but you can use white or red to make this regional specialty. If you'd rather not use wine in this dish, you can substitute chicken broth for the wine.
Chicken thighs vs chicken breasts: This traditional pasta dish from upstate New York was originally made with thighs but you can use boneless skinless chicken breasts if you prefer. The thighs tend to stay moist and dark meat has more flavor than white, but you can use either to make this dish.
Pasta Choice: This dish is called chicken riggies because it uses rigatoni pasta. Rigatoni is the best choice since the noodles hold a lot of sauce, but you can also use penne, or ziti to make this pasta dish. If you've got pasta lovers in your household, the best pasta available is De Cecco. You'll find their iconic blue boxes at most grocery stores.
Onions: Some recipes add a chopped yellow onion to the dish when you add the peppers. I didn't see them in the original recipe, but you can add them for additional flavor. I have also seen olives and mushrooms in different versions of chicken riggies, so feel free to add those if you like.
Crushed tomatoes vs tomato puree: I always use San Marzano tomatoes to cook with and they only come as whole tomatoes in juice. I use a handheld immersion blender to puree them. Feel free to use either type of tomato you like, including jarred marinara sauce. Tomato paste can be used but isn't the best choice as you'll need to add more liquid to the dish.
How to make Chicken Riggies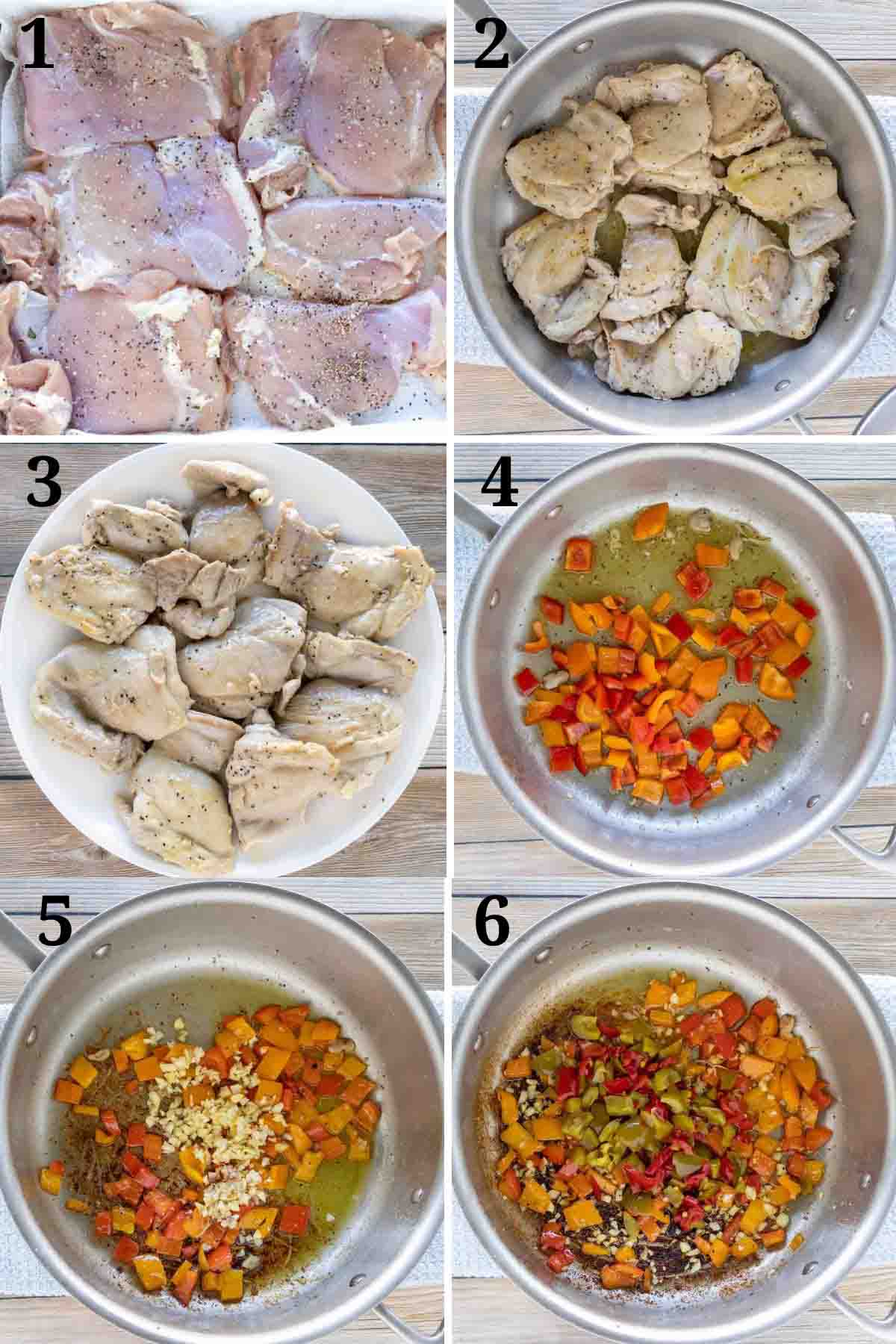 Pat the boneless skinless chicken thighs dry and season with salt and pepper on both sides.
Add two tablespoons of olive oil to a large skillet (or dutch oven) over medium heat and cook the chicken until fully cooked (5-6 minutes per side). Place the chicken on a plate and tent with foil. *Use an instant-read thermometer to make sure the chicken is at least 165 degrees F.
Add the chopped bell peppers to the pan and saute for 4-5 minutes. The peppers should be soft and start to brown.
Add the chopped garlic cloves to the mixture and cook for 1 – 2 minutes, until the garlic is fragrant. Don't let the garlic burn!
Add the cherry peppers to the pan and continue cooking for another minute.
Bring a large pot of salted water to boil. Add the pasta to the boiling water and cook the pasta al dente, per package directions. When you drain the pasta, make sure to reserve 1 cup of the starchy pasta water.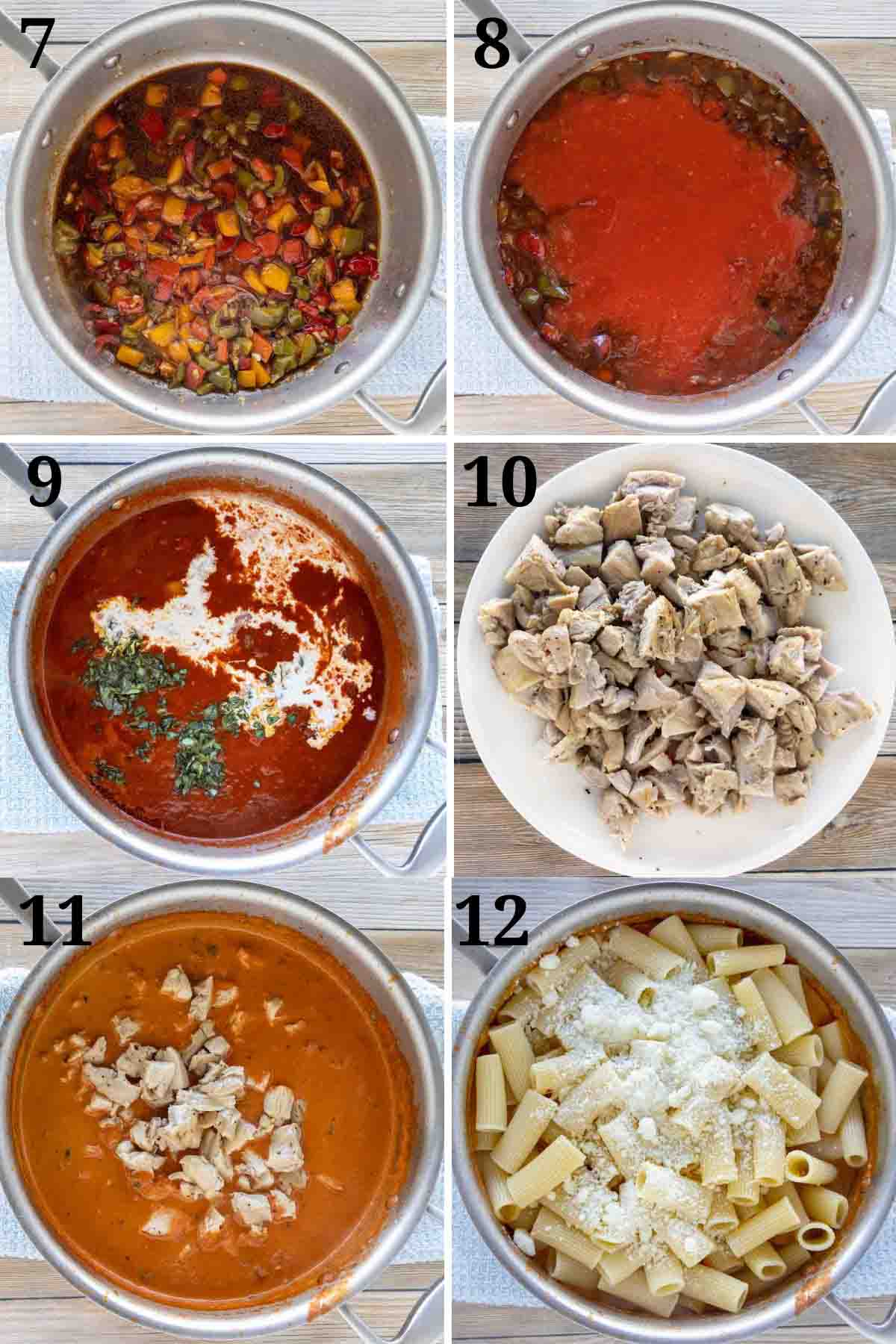 Add the red wine to the pan, scraping all the tasty browned bits from the bottom of the pot. Increase the temperature to medium-high heat and continue cooking for 2-3 minutes until the liquid reduces by half.
Add the crushed tomatoes to the pan and reduce the heat to medium. Let the mixture cook for another five minutes.
Add the heavy cream to the sauce, stirring to mix it into the sauce. Let the sauce simmer for 2-3 minutes or until it begins to thicken.
While the sauce is simmering, cut the chicken thighs into small bite-sized pieces.
Add the chicken to the sauce and mix well. Taste the sauce and season with black pepper and salt as needed (remember the cheese will add a little more salt to the dish)
Add the cooked pasta and grated romano cheese (or parmesan cheese) to the sauce and mix until well blended and the pasta is coated with the creamy sauce.
If you like a more heavily seasoned pasta dish, you can add your favorite italian seasonings to the sauce.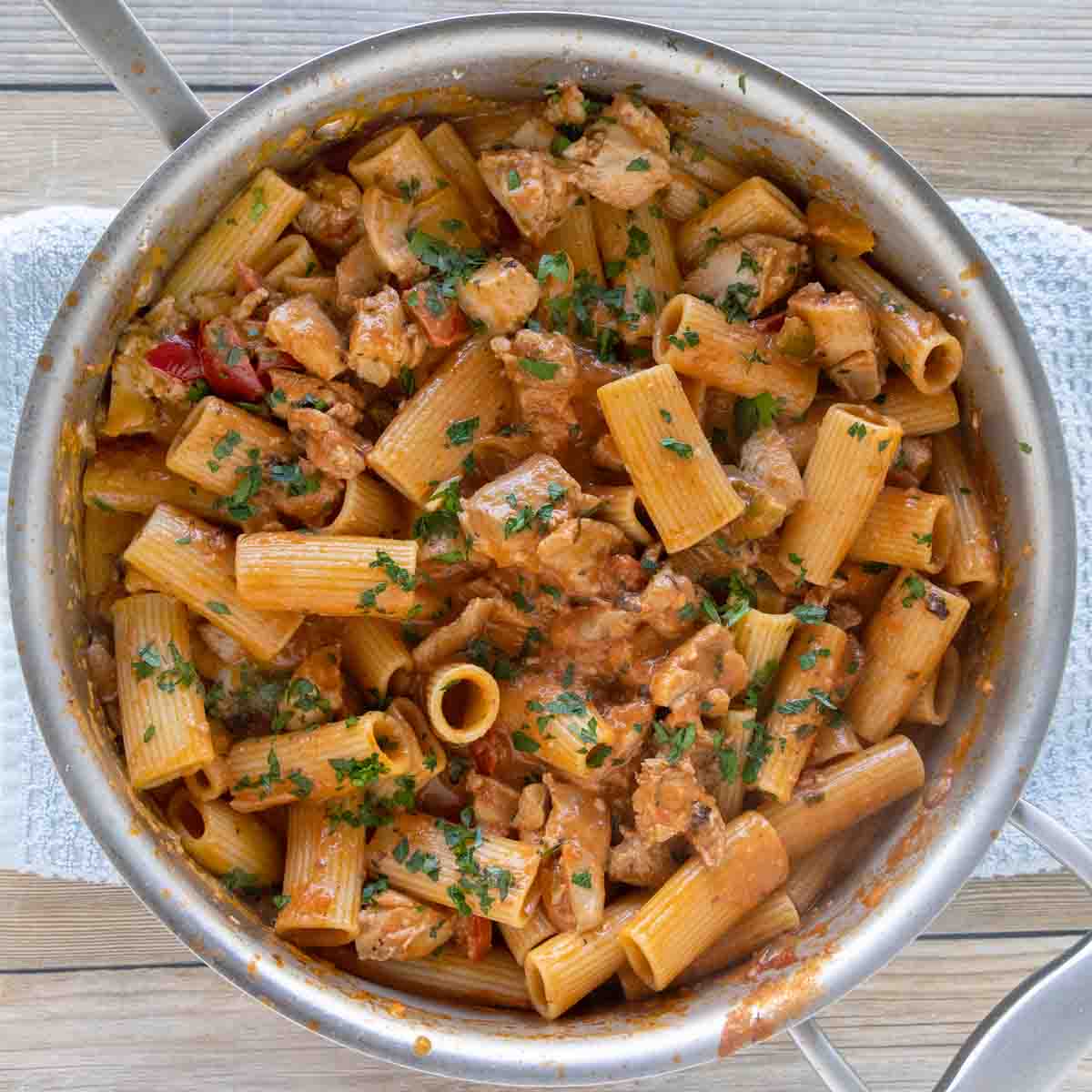 If the sauce is too thick, add ½ cup (or more) of reserved pasta water to loosen up the sauce. Let the sauce simmer for 1 minute to bring it back up to temperature. Use an instant-read thermometer to make sure the chicken riggies is at least 165 degrees F.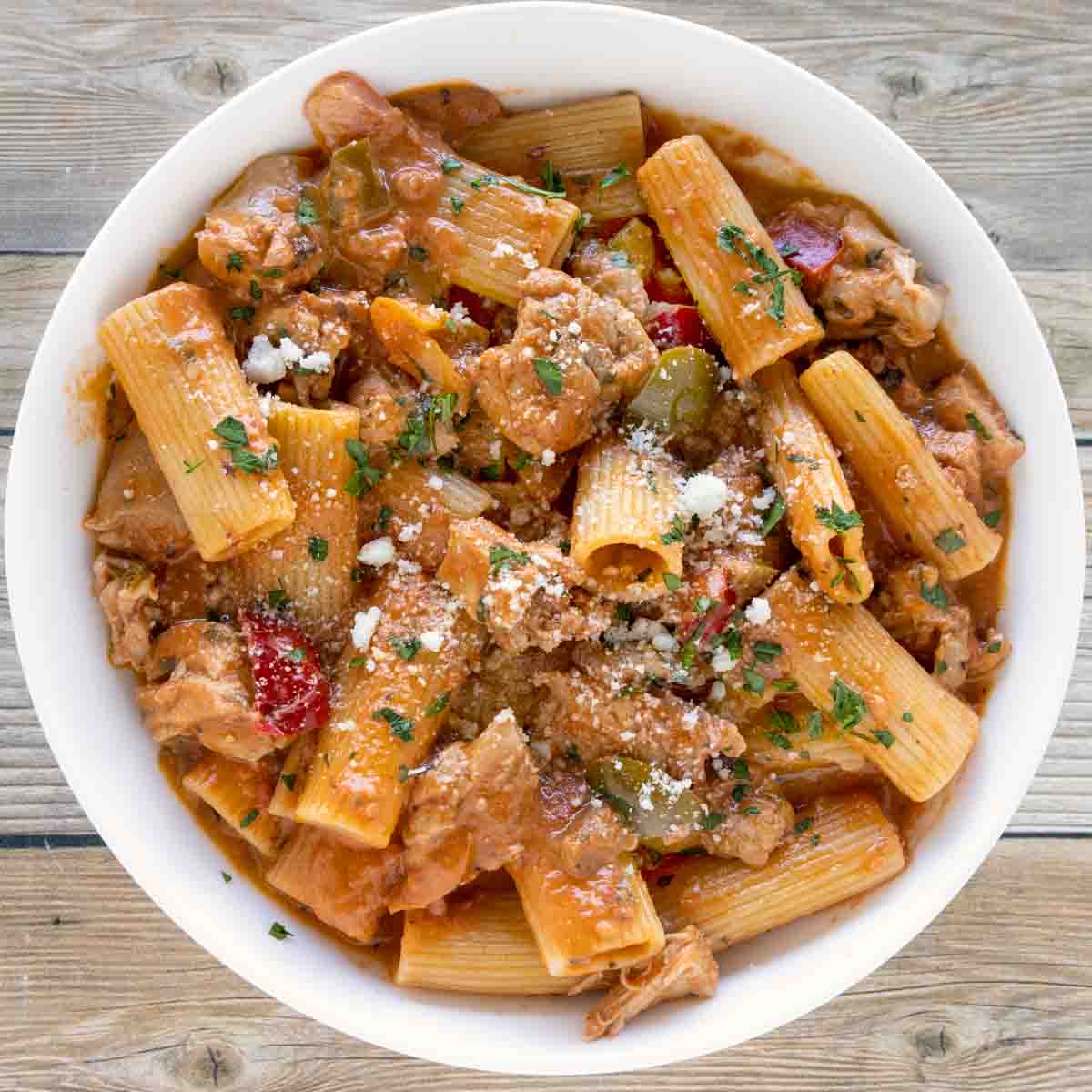 Garnish the chicken riggies with chopped fresh basil and grated romano cheese. Add a tossed salad and crusty bread and you've got a feast that you're whole family will love!
Recipe FAQ's
Why is it called chicken riggies?
The Chesterfield restaurant claims they invented chicken riggies in 1989. But chef Michael Geno says it happened a full decade before that, in 1979, at the Clinton House (located in a Utica suburb). Chef Geno claims he created the dish (made with rigatoni) for a group of "doctors, lawyers, and union guys that frequent the restaurant on Monday nights to play cards." The card players began to refer to the meal as the "riggie dish" and began asking for it every week.
What is chicken riggies sauce made of?
Chicken riggies is a chicken and rigatoni dish made with a spicy, creamy tomato-based sauce. The sauce is made with crushed tomatoes, heavy cream, and grated romano cheese. It gets its heat from hot cherry peppers. The key to getting the right consistency of the sauce is adding starchy pasta cooking water to the dish after the chicken and rigatoni has been added.
Can I use a different kind of pasta?
Absolutely. While rigatoni is traditional (hence the name "riggies"), you can use other pasta shapes. Penne, ziti, and cavatappi are also good choices.
More Recipes You'll Love!