A few years ago while traveling in Hungary I sampled an authentic Chicken Paprikash recipe at a little restaurant on a side street in Budapest and after testing I finally came up with a recipe that recreates that delicious chicken dish.
Chicken Paprikash is made with a whole cut up chicken that is simmered in a rich creamy sauce. This is comfort food Hungarian-style.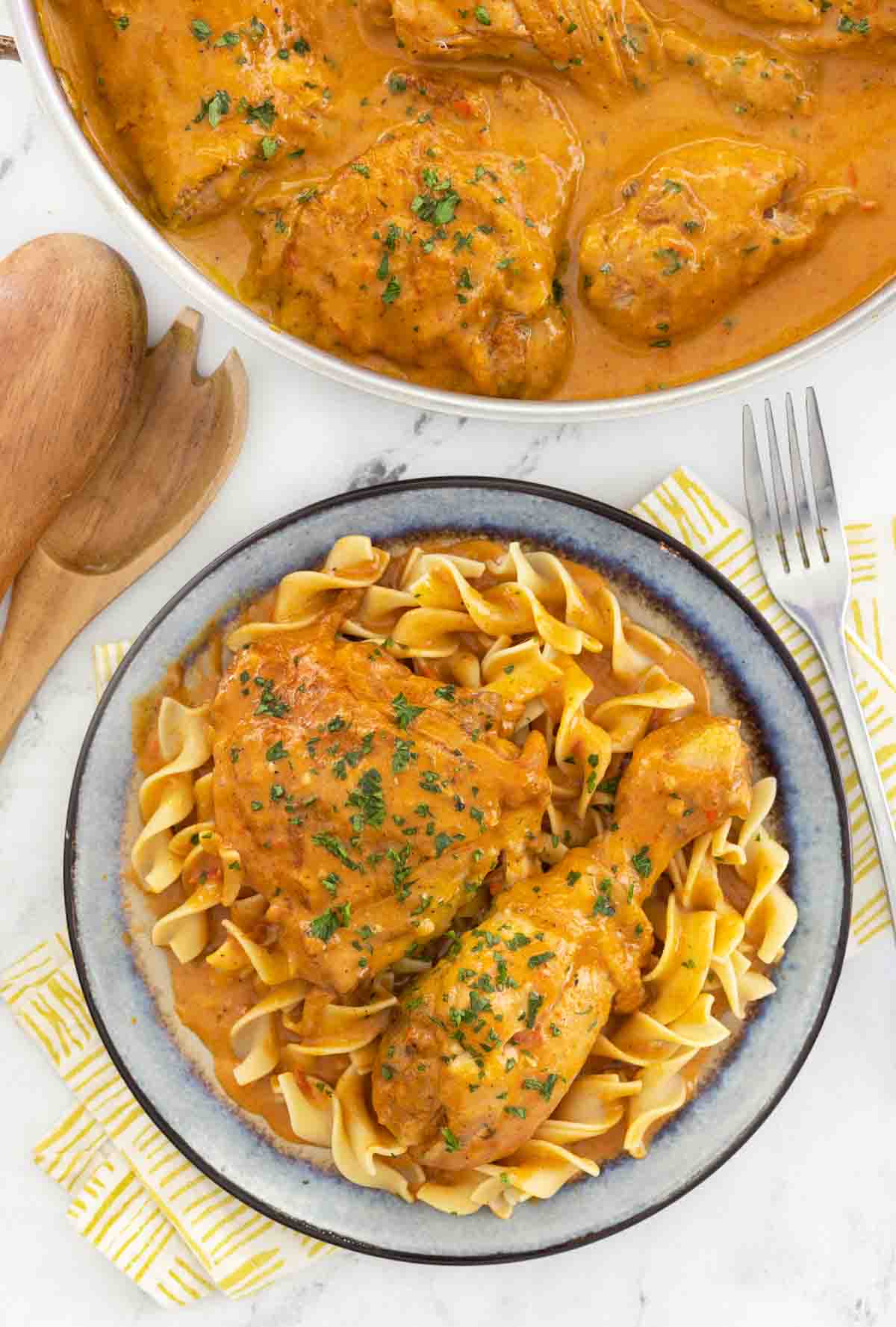 Traditional Chicken Paprikash (paprikás csirke) gets its beautiful color and flavor from sweet Hungarian paprika, but the layers of flavors comes from the aromatics. Chopped onion, red pepper, and fresh garlic create a symphony of flavors in this traditional Hungarian dish.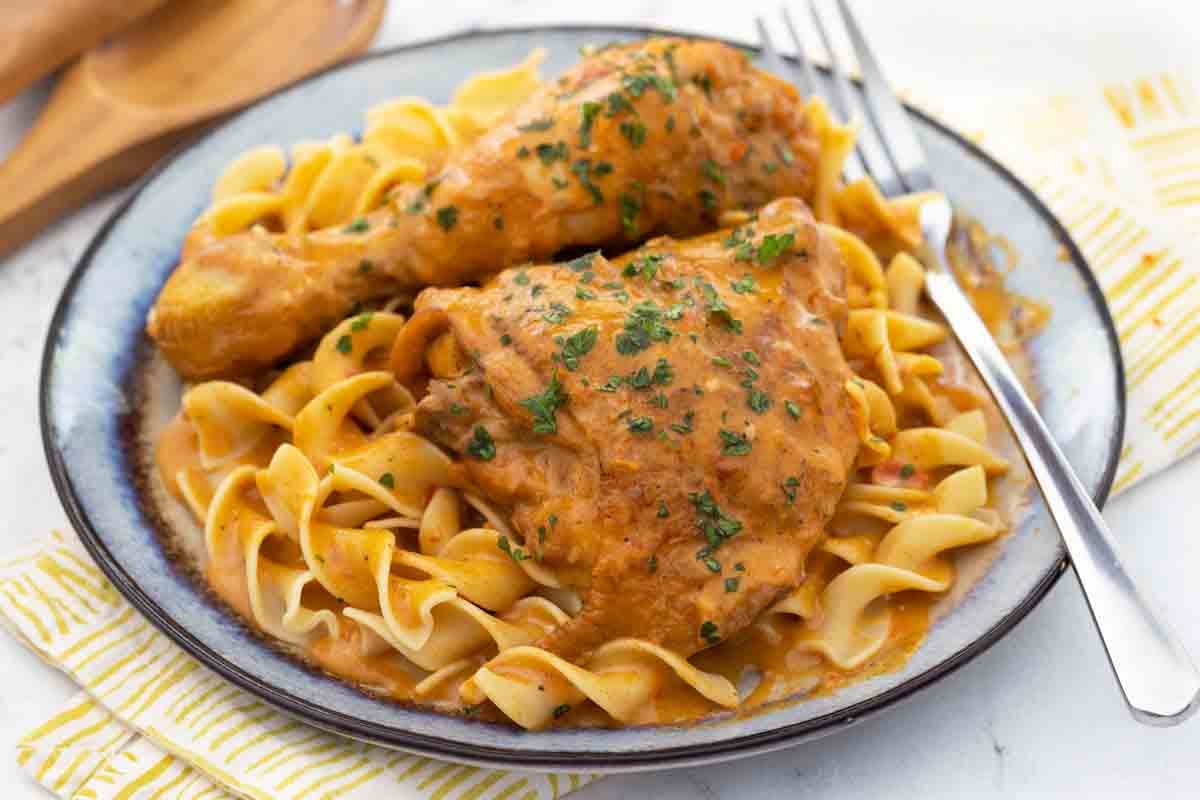 My easy chicken paprikash recipe is one of my favorite chicken recipes. The tender chicken simmered in the flavorful sauce is not to be missed! YOu can make this delicious dish using a whole cut up chicken or your favorite chicken parts.
Ingredients for Chicken Paprikash Recipe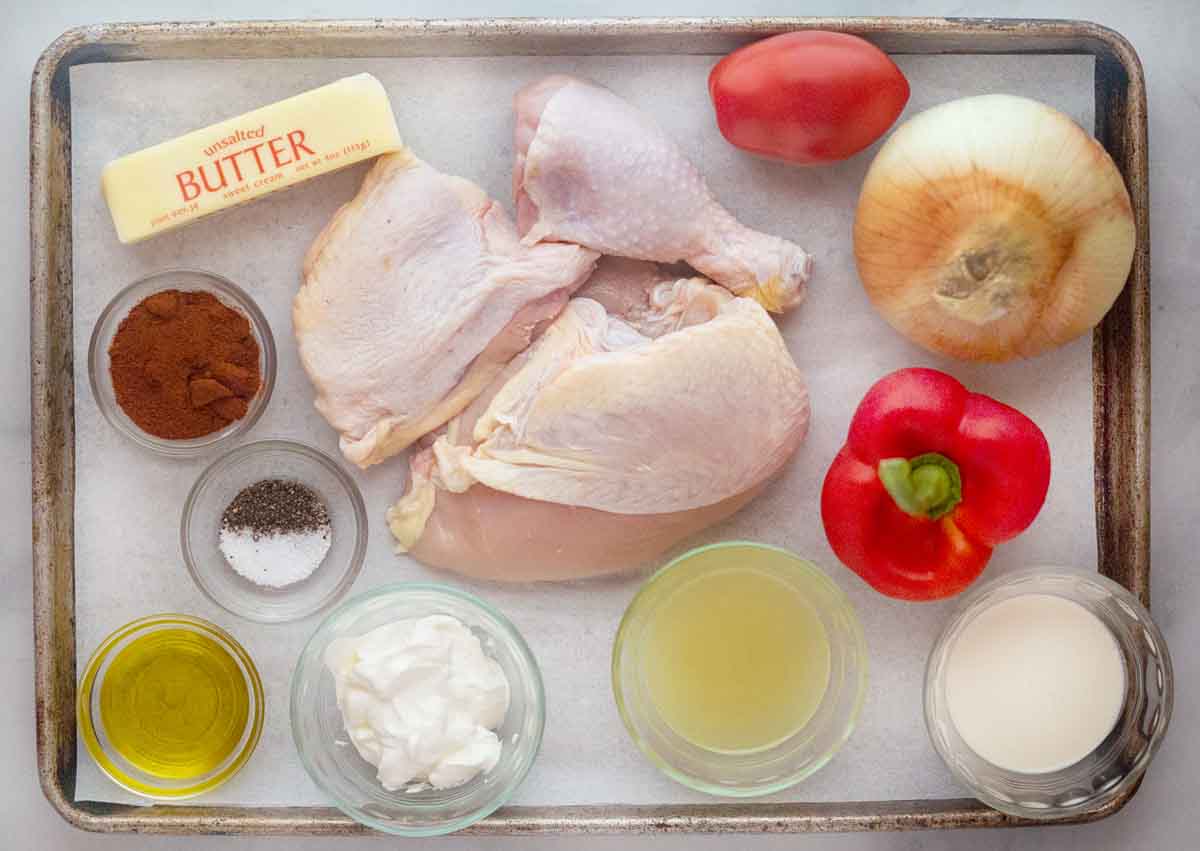 Let's start by gathering the ingredients we need to make my Hungarian Chicken Paprikash Recipe (also known as paprika chicken). In Chef Speak, this is called the "Mise en Place," which translates to "Everything in its Place."
Not only does setting up your ingredients ahead of time speed up the cooking process, it also helps ensure you have everything you need to make the dish.
Made with Simple Ingredients
Whole chicken cut up into pieces
Onion
Red bell pepper
Fresh garlic cloves
Tomato
Sour cream
Heavy cream
Chicken broth
Hungarian sweet paprika
All purpose flour
Unsalted butter
Extra virgin olive oil
Table salt
Black pepper
Italian Parsley
Can I change up the ingredients in the Chicken Paprikash Recipe?
Typically a whole chicken is used to make this chicken paprikash, but you can use chicken breasts or thighs to make the recipe. I prefer bone-in chicken pieces because both the bone and skin add flavor. But you can use boneless chicken breasts or boneless chicken thighs if you prefer.
The creamy rich sauce is made using sour cream and heavy cream, but you can use Greek yogurt in place of the sour cream and whole milk instead of the heavy cream. It won't be quite as rich without the heavy cream but it will still be delicious.
Hungarian Parprika is typically the sweet variety unless otherwise stated. You will find hot paprika and also smoked paprika. If you would like to use either the smoked or hot, I would suggest only substituting half or one-third of the paprika with either of those varieties. Otherwise, their flavors may be overbearing and take away from the balance of the dish. Always buy good quality paprika make sure to check the dates on the container for freshness.
How to make Chicken Paprikash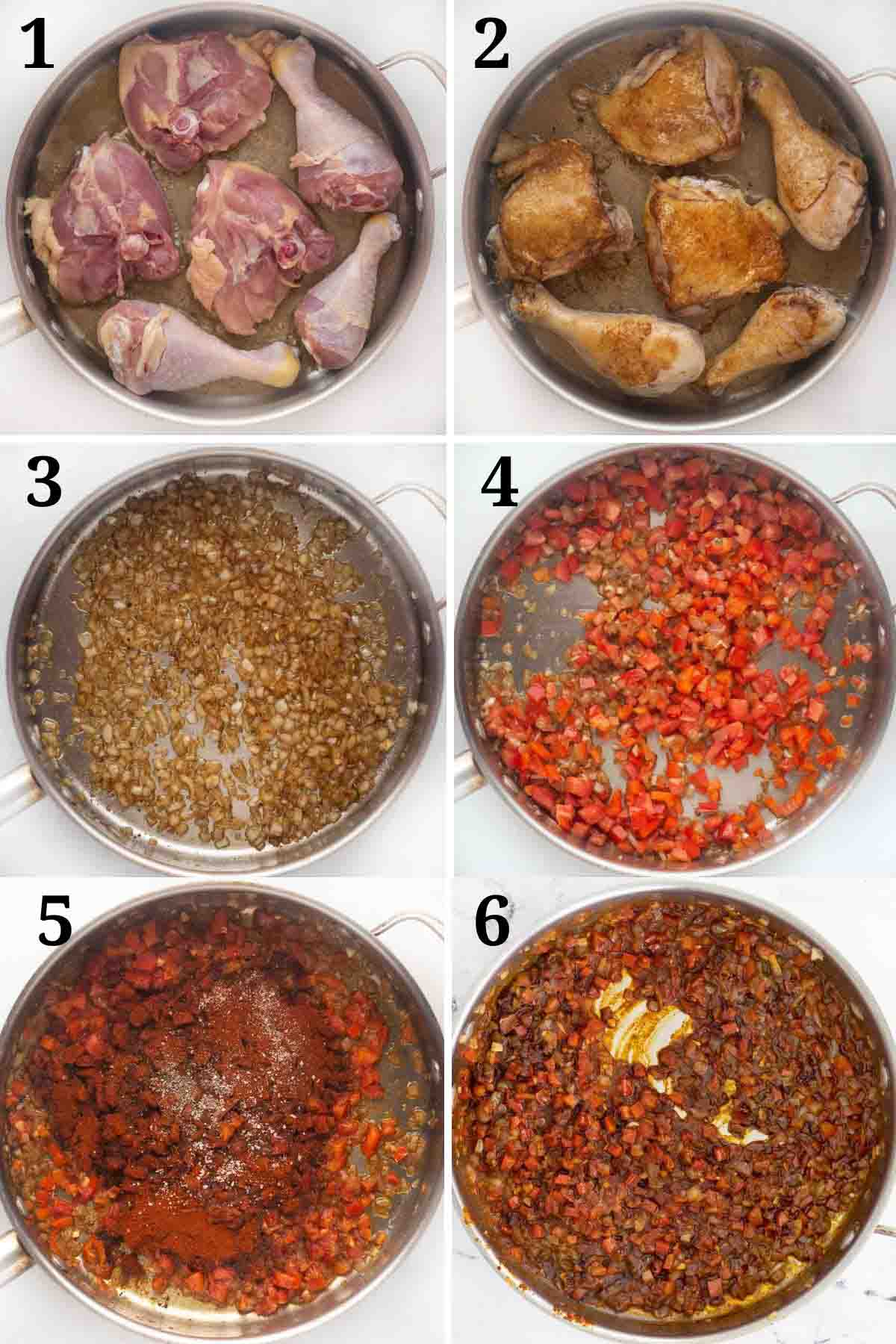 Add the butter and olive oil to a large skillet (or Dutch oven) over medium-high heat.
Brown the chicken in a single layer, skin side down for 3-4 minutes, then turn the chicken over and cook the other side for another 3-4 minutes. Transfer the chicken to a plate and set aside until needed.
Add the onions to the pan with the cooking oil and cook for 6-8 minutes over medium heat until golden brown.
Add the garlic, red peppers, and tomatoes to the pan and cook for 2-3 minutes.
Remove the pan from the stove top, then add the paprika, salt, and black pepper.
Stir the seasonings to combine. Don't let the paprika burn, it will get bitter.
Chef's Choice
Chef's Choice
HexClad 7 Quart Hybrid Non-Stick Pan
This multi use pan can be used for a multitude of recipes. It's oven safe and the depth of the pan makes a great pan for deep frying.
Buy On Amazon
This post includes affiliate links. As an Amazon Associate, I earn from qualifying purchases.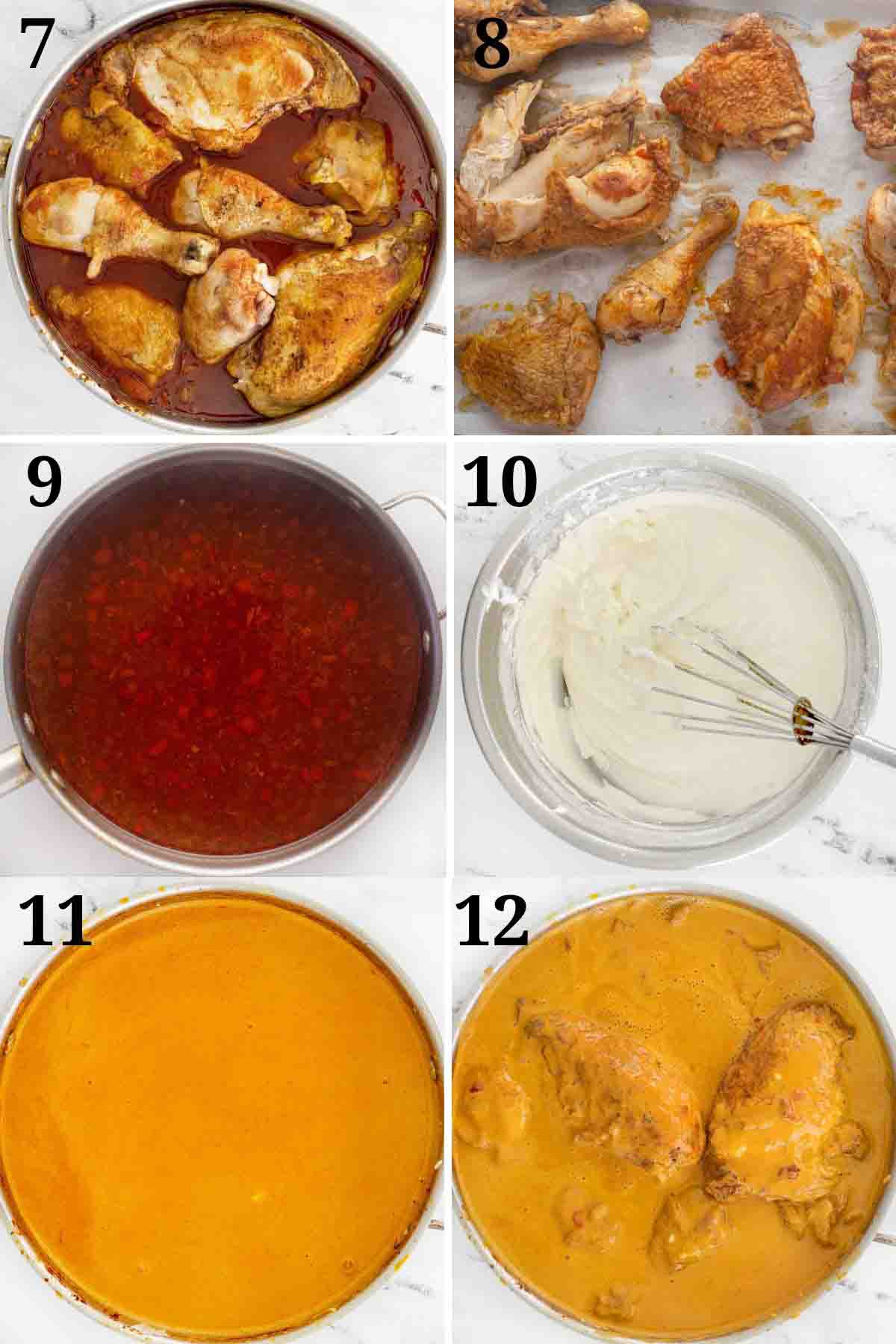 Return the chicken to the pan and place it back on the stove top. Add the chicken stock (most of the chicken should be covered) and turn the heat up to medium-high heat. Bring the mixture to a boil, cover, and reduce the heat to low. Simmer the mixture on low heat for 45-60 minutes.
Remove the cooked chicken from the pot and transfer it to a plate. Tent with foil to keep warm.
Keep the sauce on the stove over simmering over medium heat to reduce and thicken the sauce. Stir the sauce to get all the tasty browned bits off the bottom of the pan.
Add the cold sour cream and cold heavy cream to a small bowl and whisk to combine. Then add the flour to the sour cream mixture and whisk to combine.
Add the sour cream mixture to the sauce, constantly whisking to prevent lumps from forming. Bring the sauce back to a simmer and let it cook for 4 -5 minutes until the sauce has thickened.
Re-season the creamy paprika sauce with salt and pepper to taste, then return the chicken to the sauce, increasing the heat to medium, and let the chicken reheat for 5 minutes or until it's at least 165 degrees F.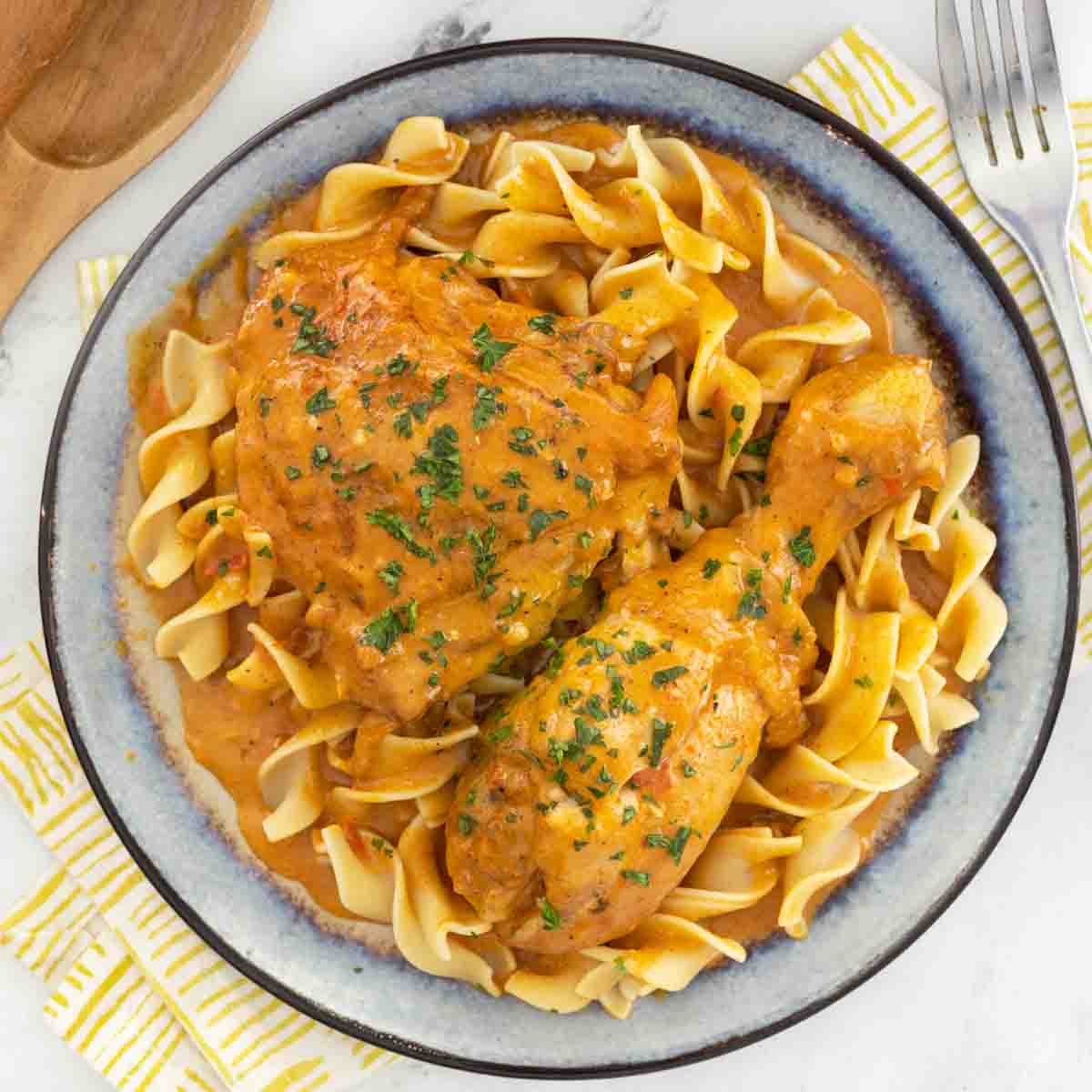 Serve the chicken paprikash over egg noodles, garnish with chopped Italian parsley and enjoy! I know your whole family is going to love my this classic Hungarian chicken dish.
If you're a fan of Hungarian cuisine, make sure to try my Hungarian Goulash, its another delicious Hungarian recipe!
Store any leftover Chicken Paprikash refrigerated in an airtight container. It also can be frozen in a well sealed container for up to 3 months. You may need to add a little bit of water to the dish when reheating, as the sauce will continue to thicken.
Recipe FAQ's
What is chicken paprikash sauce made of?
Traditional chicken paprikash is made from simple ingredients, chicken, onions, bell pepper, tomatoes, garlic, chicken stock, paprika, flour, sour cream, and cream. Some recipes use tomato paste for a deeper tomato flavor while other won't include tomato products. The original recipe did not include tomatoes but over the years it's been adapted many times and I like the flavor that fresh tomato adds to the sauce.
What does paprikash mean?
Paprikash refers to a stew like Hungarian dish resembling goulash (another Hungarian paprika-based stew) Some variations include veal or pork, but the original recipe is made with chicken.
What is the difference between Hungarian paprika and regular paprika?
Unless it says Hungarian paprika on the label, it's more than likely Spanish paprika aka regular paprika.
Spanish paprika is typically a sweeter variety of paprika and is made from Spanish chiles. Hungarian paprika can be either hot or sweet and is made using ground Hungarian paprika chile peppers. Hungarian paprika is generally considered to be better quality and more desirable than Spanish paprika.
More Recipes You'll Love!