Traveling with Viking Cruises had always been a dream for me and after taking my second Viking River Cruise I've been seeing my travel dreams turn into reality. Life is good….sigh
This Post has been sponsored by Viking Cruises. All opinions, text and images are my own.
Traveling with Viking Cruises is like traveling with your own private staff. Including chefs and staff worthy of any Five-Star restaurant. And while they wow you at each meal, the personal attention they give each and every passenger makes your stay on board relaxed and enjoyable.
And like your grandmother they feed you constantly, making sure your belly and your wine glass is always full.
What Can You Expect to Eat on board Viking Cruises?
One of the first dishes I was served on board the Viking Forsetti was this amazing bowl of mussels. The flavor of the mussels left me questioning how they were prepared and as luck would have it the Regional Chef Magalie Kaufling kindly supplied the recipe and a bottle of Pineau au Charentes wine so I could make them at home. Don't worry if you can't find that wine, you can substitute your favorite white wine.
You'll find the recipe at the bottom of this post and trust me when I say these will be the best mussels you've ever had!
What Type of Appetizers and Salads are served on Viking Cruises
And salads are anything but ordinary. This eggplant mozzarella involtini with an olive oil and lemon vinaigrette was a perfect balance of flavors.
How about a lump crabmeat and avocado salad? Add grapefruit sections and a citrus emulsion and you're in heaven!
What Type of Entrees can I choose from on a Viking Cruise?
Every night in the main dining room you have a choice of three entrees. On my Bordeaux Chateaux and Rivers cruise each night we had a regional menu created by the chef.
Duck is all the rage in the states but it's been the star on French Menus for centuries. This Duck Breast was served with a fig sauce on a bed of crushed potatoes. And it was magnificent!
I had to order this Greek Eggplant Moussaka Timbale as soon as I saw it being served.
I've had a lot of lamb on my travels and this Rosemary and Honey Glazed Rack and Fillet of Lamb was one of the best I've ever tasted.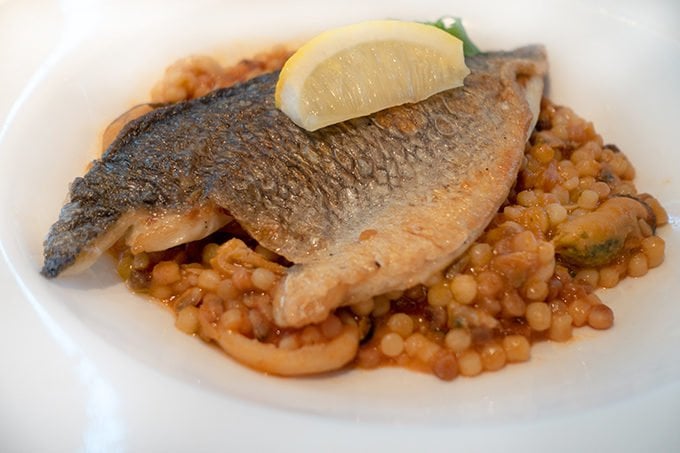 In France seafood is plentiful and one of the favored fish is the Dorado. Here it's served pan-seared with a Seafood Fregola Sarda. If you've never heard of Fregola, don't feel bad. It's a unique toasted pasta from the Sardinia region of Italy and it is OMG delicious!
And of course, there was Coq au Vin a true French Classic. Click on this link for my version of Coq au Vin.
I love apples and this Apple Crumble Pie with a caramel sauce and vanilla ice cream was the perfect end to my meal.
Have you ever heard of a Floating Island? If you haven't, make sure to remember that name because it is one of the most unique and delicious desserts you'll ever have. French Meringue served with Creme Anglaise and Pistachios is a true culinary experience.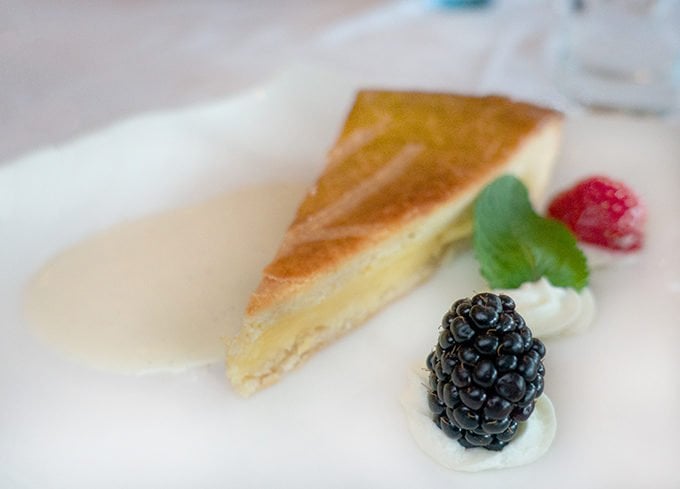 The desserts onboard Viking Cruises are delightfully crafted and call upon all of the European favorites for inspiration. This Gâteau Basque from Nothern France is filled with a light pastry cream was a celebration of flavors.
What do they Serve for Lunch?
It's not just about delicious amazing dinners, lunch can be as simple as you like or another amazing culinary experience.
This Seared Flounder with served with a leek and onion confit and tapenade.
I loved this creative dish so much I copied it and shared it on my blog. Smoked Salmon Quesadilla with cipollini onion, cucumber and cherry tomato relish.
Are there any special Dining Events?
The pièce de résistance of the trip was dining at the Chateau Kirwan.
We were treated to a sumptuous meal at the chateau and the staff of our Viking Longship Forsetti came along to prepare and serve our dinner to make sure we were treated in the style we had become accustomed to.
As usual, the staff of the Forsetti excelled and our dinner was perfect.
We started with a fun take on the classic French Onion Soup.
Followed by a Waldorf Salad with celeriac, apples, walnuts and grapes with a warm smoked salmon.
Our entre was a Filet Mignon of Veal with truffled jus, potato gratin and steamed vegetables.
For dessert, we enjoyed a molten chocolate lava cake with a red wine reduction and ice cream.
It was an amazingly delicious dinner and I even got to spend some time in the kitchen with Viking Cruises Regional Executive Chef Magalie Kaufling.
So if you were ever worried about eating on a Viking Cruise, fear not. Viking Cruises are truly culinary journeys!
If you enjoyed this post you may like my other cruise posts: