Portugal's River of Gold had been on my bucket list for years and last summer I finally got to experience the beauty and deliciousness of that region on a Viking River Cruise.
This post has been sponsored by Viking River Cruise. All opinions, text and images are 100% my own.
Nothing is more relaxing than sitting on the deck of a small cruise ship as it sails through the countryside. Whether you're lounging on one of the sofas or watching the world go by on a comfy rocker it's a great place to be.
And there's always a member of the crew trying to help make your day a little happier. Whether it's with a taste of this delightful almond liqueur, a snack or just a kind word, the Viking crew knows how to keep their guests happy.
What can I expect on a Viking Douro River Tour?
The optimum word in that description is tour. What makes this different from most Viking River Cruises is the length of the Douro River Valley that's set up for Cruise Ships. And that accessibility limits the ports available.
The tour also includes time in Lisbon at a five-star hotel. The rooftop bar was a great spot for a cocktail, people watching and enjoying a view of the city. And Lisbon is ah-mazing! I could definitely live there.
The location is perfect for sightseeing with great restaurants, parks and the Tagus River within walking distance. Commerce Square down by the river was an easy walk. But if you get tired and need a taxi or Uber, don't hesitate to call one. It will be the least expensive ride you've ever had. I'm not sure why prices are so low in Lisbon, but both Uber and taxis are inexpensive options.
Where is the River of Gold?
After your time in Lisbon, you'll take a Viking motor coach to Porto where you'll board your ship. We were onboard the Helgrim one of the newly commissioned "Baby Longships" on our River of Gold cruise in the Douro Valley.
They're smaller than the normal Viking Longship due to the constraints set by the Portuguese government. But you'll find everything you love about a Viking cruise ship and even more! You can see the now have a pool on the upper deck.
We spent four days in Lisbon prior to leaving for Porto and our ship the Helmgrim. Two days were part of the Viking Cruise Tour. Lisbon still has streetcars that operate regularly and also provide an easy form of transportation.
We also found an elevator that was included in the local transportation pass as well as an adventure and photo op for tourists.
What can you see in Lisbon and the surrounding area?
We added an additional two days to our stay so we would have more time to explore Lisbon and get acclimated to the time difference. Our four days in Lisbon was a delightful experience and left us wishing we had more time to explore the city.
The extra days gave us time to meet with friends that live in Lisbon for dinner. We ended up at Damas one of Lisbon's best-kept secrets in the Graça's district.
Add it to your list of must-visit restaurants when you visit Lisbon. The restaurant is tapas style with its menu handwritten on the tile wall by the kitchen. These garlic shrimp were a hit of the evening!
After dinner, we went back into the main part of the city and sampled Portugal's signature pastry a custard tart called "Pasteis de Nata" at Pastelaria Versailles. Long known as the 'grande dame' of Lisbon' Pastelaria Versailles was recently declared a part of the national heritage. Don't miss this little gem when you visit Lisbon!
Lisbon truly was a beautiful, safe city and I can see why my friends decided to move there. Seeing the city with the help of Viking Tour Guides made it even more enjoyable. On one of our excursions, we went to the westernmost point of Portugal, Cabo da Roca. It was truly breath-taking.
We also visited Sintra, a resort town in the foothills of Portugal's Sintra Mountains, not far from Lisbon.
The town of Sintra was a little overcrowded and touristy for me but we did get a pretty amazing lunch on a side street in a small cafe. And it is a stop in Portugal you should make.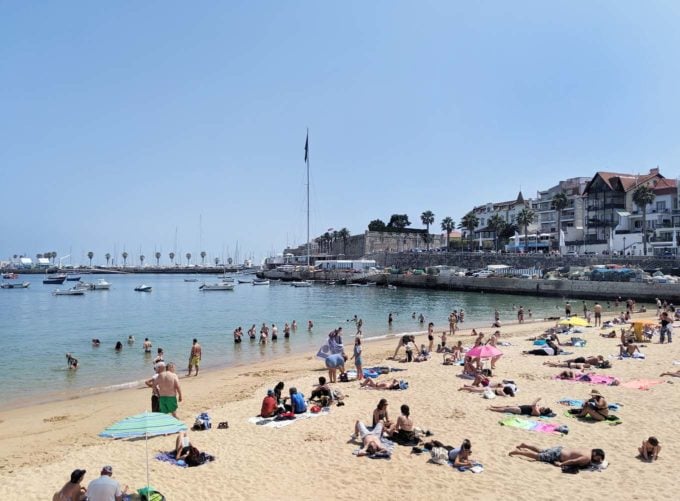 We also made it to the beach town of Cascais. This coastal resort town can be found just west of Lisbon and is known for its sandy beaches and busy marina. We were told we might see the president of Portugal there since he often frequented the beach and would happily take a selfie with us. Sadly he wasn't on the beach that day.
The world is your oyster when you travel with Viking. They take all the work out of the adventure, leaving you with time to enjoy the experience and discover the city on your own.
And we all know I love to eat! When you're in Lisbon you must experience the Time Out Market!
The Time Out Market is a great place for dinner, drinks and music. You'll find 26 restaurants, 8 bars, and a dozen shops to keep you well-fed and happy.
From Oysters on the half-shell to some of the best beef you'll find in the city, the Time-Out Market has something for everyone's tastebuds.
And if you're looking for something a little different sit down to this Octopus Hot Dog. It's not really a hot dog but its what the locals refer to this creation as. And it was a popular item on the menu.
Where to stay in Lisbon?
When you book a tour with Viking you can be assured that you'll be staying in a 5-star hotel. On our trip, we stayed at the Tivoli Avenida Liberdade located in the center of town on the prestigious Avenida Liberdade.
This was a beautiful property, centrally located so we could walk (or take an uber) into the city. And speaking of Uber they were plentiful and very inexpensive as were the taxis.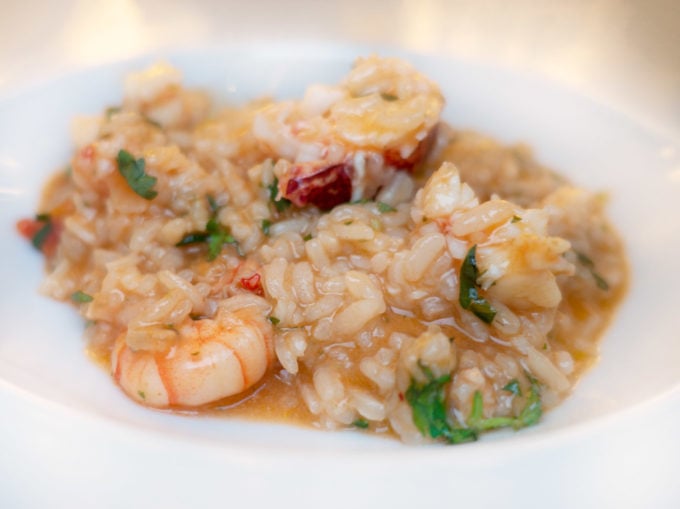 We had cocktails on the rooftop overlooking the city and had an amazing dinner in their restaurant. This seafood rice bowl was ah-mazingly delicious and something I need to recreate at home. If you love good seafood the Restaurant Cervejaria Liberdade inside the Tivoli Hotel is one of the best choices in Lisbon.
As you can see our Viking Cruises "River of Gold" Tour was pretty amazing. In Part One of this series, I've covered our time in Lisbon sharing what we saw and more importantly what I ate…..sigh.
In Part Two of this series, I'll share our travels to Porto where we boarded our baby longship and all the deliciousness we enjoyed during our cruise on the Douro River aka The River of Gold.
Click on the link if you'd like to learn more about Viking Cruises. You might also like these posts about my other cruise experiences.