Restaurant Style Deliciousness just got easier with my Stuffed Rack of Lamb!
If you're looking for a show-stopper for your next dinner party, or for an extra special dinner at home, my Stuffed Rack of Lamb is exactly what you're looking for.
What Ingredients do You Need to Make a Stuffed Rack of Lamb?
Let's get our ingredients ready (aka mise en place). Lamb racks come two to a cryovac pack, so keep that in mind when purchasing them.
You'll find lamb is very expensive at your local grocer, but big box stores like Sam's Club usually have them at a much better price, and I've found the quality of their lamb to be excellent.
You'll also find that New Zealand lamb is smaller than the American variety and fairly mild in flavor.
What can I stuff a rack of lamb with?
When stuffing a rack of lamb you can be as creative or simple as you desire. Changing the ingredients to include what you enjoy is the key to enjoying your time in the kitchen. If you like what you're eating, you're going to be happier creating delicious dishes in your own kitchen.
Bread and herb stuffing
Bread, herb and ground lamb (or pork sausage)
Bread, herb and bitter greens
Bread, herb apples (or pears), pecan and goat cheese (optional)
As you can see the options can be as creative as you like. The two common ingredients in all of the stuffings are bread and herbs and that is to give the stuffing substance to hold together and give the finished product eye appeal.
You can also simply roast the rack coating it with either oil or dijon mustard and your favorite seasonings.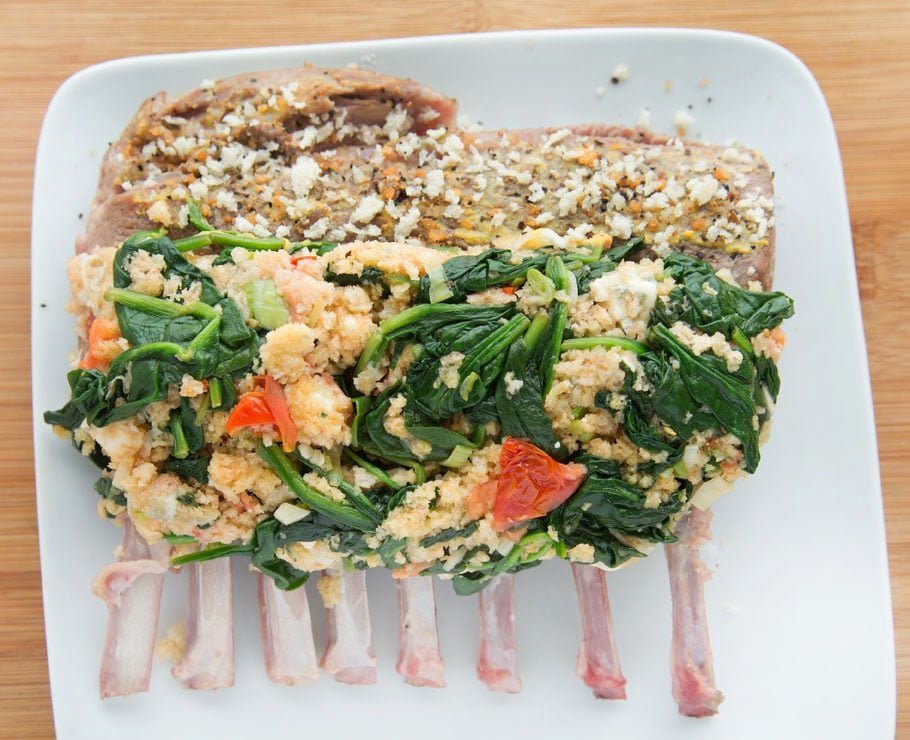 Once your ingredients are combined all the hard work is done and your stuffed rack of lamb is ready to roast. It really is that simple.
How do you make a restaurant-style rack of lamb?
The only thing you have left to do to make this an over the top meal is to make a demi-glace for the lamb. It's simply a stovetop reduction that will produce delicious results faster and easier than you thought possible!
Restaurant-style dishes are easier to make than you might think. Following a few simple rules and learning the techniques used by professional chefs will open up a whole new world of cooking to you. After all, it's not rocket science it's simply about the ingredients you use and the way you prepare them.
Can I Cut the Rack of Lamb into smaller portions?
Yes, you can. Prior to stuffing the rack of lamb, you can cut the rack in half or into 2 or 3 bone segments. Then stuff the segments and roast. The smaller racks will take less time to cook, so remember to keep an eye on them. You may need to reduce the cooking time by 30-40 percent.
I absolutely love my Meater Plus | Smart Meat Thermometer It takes all the guesswork out of cooking meats in the oven, on the grill, or in a smoker.
If you enjoyed this recipe you might also like these recipes: