Homemade soups are much easier to make than you think and my Turkey Noodle Soup makes the perfect lunch or light dinner during the chilly winter months.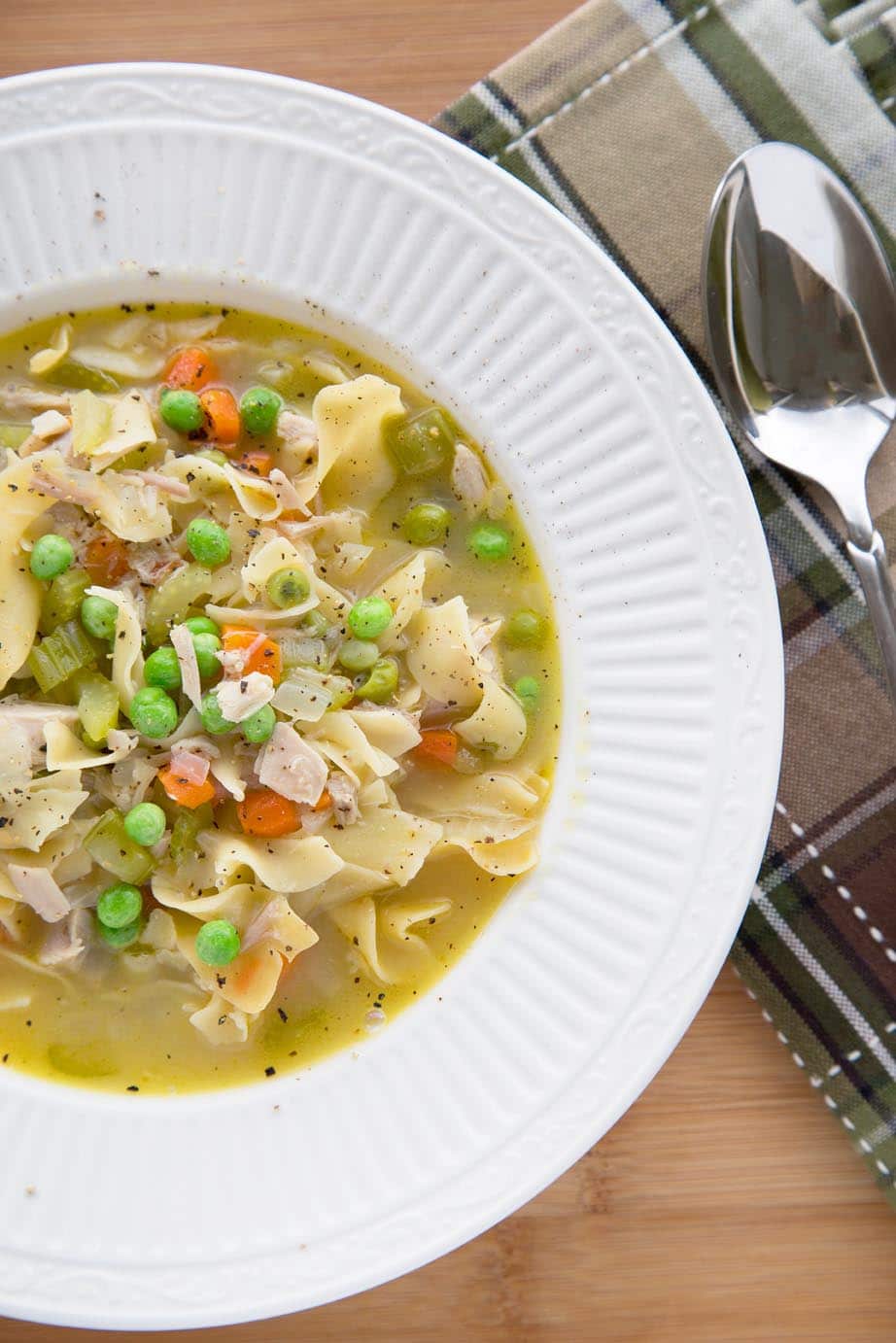 For my soup, I used my leftover turkey carcass and all the scraps from deboning my turkey to make a stock. But you can use a store-bought chicken or vegetable stock if you'd rather skip that part of the recipe.
What ingredients do I need to make Turkey Noodle Soup?
Let's start by gathering the ingredients we need to make Turkey Noodle Soup. In Chef Speak this is called the "Mise en Place" which translates to "Everything in its Place".
Not only does setting your ingredients up ahead of time speed up the cooking process, it also helps ensure you have everything you need to make the dish.
Can I make this soup with chicken instead of turkey?
You certainly can. I created this recipe after Thanksgiving which is why I used turkey. You can also use beef if you like beef noodle soup.
How long does it take to make soup?
Homemade soup can be made in just about 45 minutes, but if you have the time let it simmer for just a little longer to build the flavor profile.
How do I keep the noodles in my soup from getting mushy?
The trick to any noodle soup is not adding the noodles to the very end of the process, allowing them to cook just enough before serving. A great way to ensure your noodles are perfect every time is to cook them ahead of time.
Make sure to rinse and chill them down and when you're ready to serve simply place the noodles in the bowl and ladle the hot soup over top of them. This will help cool the soup down just a bit and the noodles will be plump and firm! It's going to be oh so delicioso, just serve it with a salad and some crusty bread and you've got dinner!
What kind of noodles can I use in my soup?
There are so many types of noodles if you're not a fan of egg noodles use one of your favorites.
Broken spaghetti, macaroni, ramen or any variety of Asian noodles are good choices. I also love using tiny pasta like acini di pepe, ditali, pastina and orzo.
Other good choices are orecchiette, farfalle or any smaller pasta shape. I also enjoy adding tortellini or mini ravioli to my soups, making them even heartier and more filling.
I don't like noodles what else can I use?
If you're not a fan of noodles you can use rice, barley, zucchini noodles (aka zoodles), beans, or simply add more vegetables.
More soup recipes you'll love!