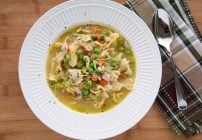 Total Time:
1
hour
15
minutes
Homemade soups are much easier to make than you think and my Turkey Noodle Soup makes the perfect lunch or light dinner during the chilly winter months.
For my soup, I used my leftover turkey carcass and all the scraps from deboning my turkey to make a stock. But you can use a store bought chicken or vegetable stock if you'd rather skip that part of the recipe. Let's start by getting the rest of our ingredients together. (aka mise en place)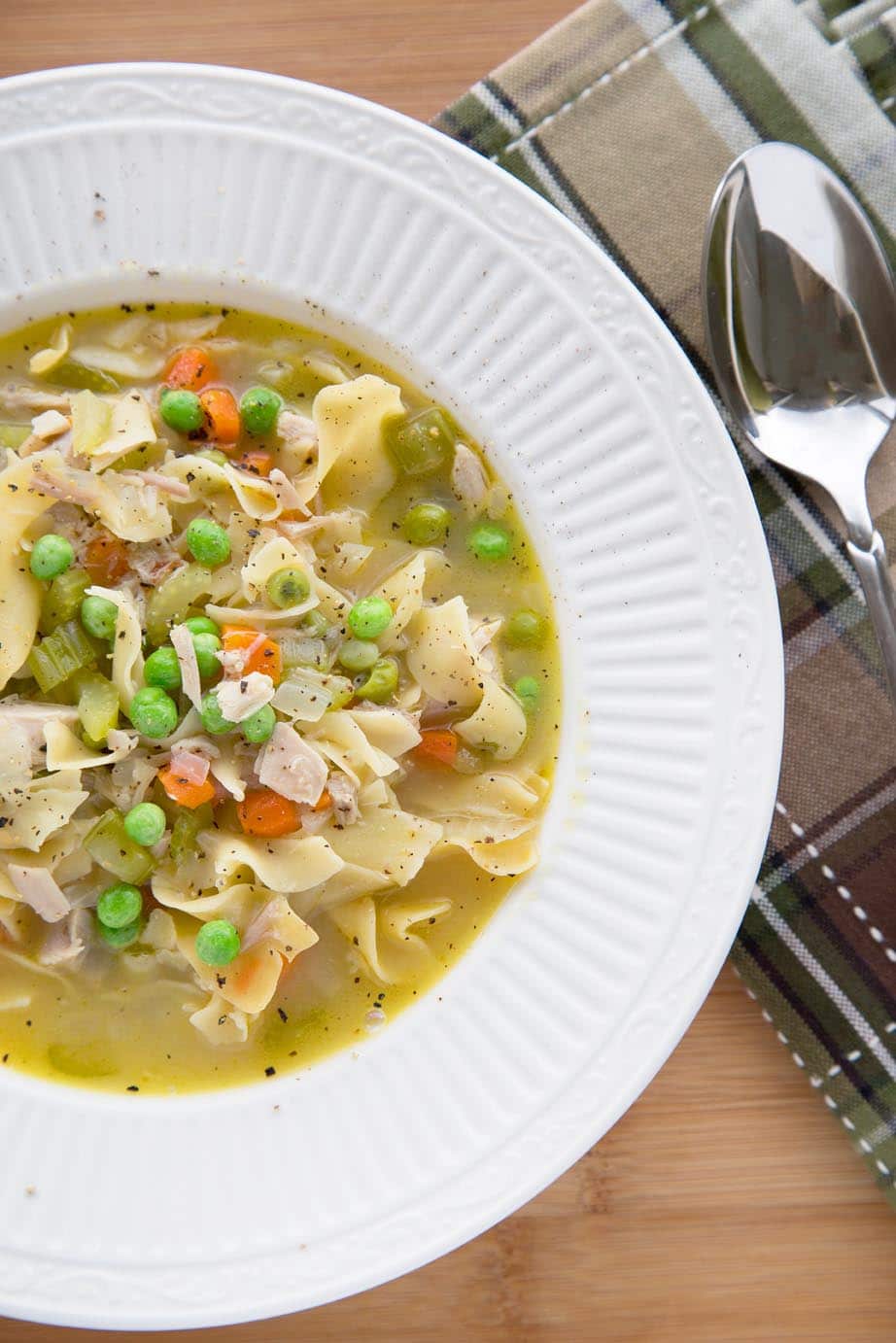 Homemade soup can be made in just about 45 minutes, but if you have the time let it simmer for just a little longer to build the flavor profile.
The trick to any noodle soup is not adding the noodles to the very end of the process, allowing them to cook just enough before serving. A great way to ensure your noodles are perfect everytime is to cook them ahead of time. Make sure to rinse and chill them down and when you're ready to serve simply place the noodles in the bowl and ladle the hot soup over top of them. This will help cool the soup down just a bit and the noodles will be plump and firm! It's going to be oh so delicioso, just serve it with a salad and some crusty bread and you've got dinner!
Turkey Noodle Soup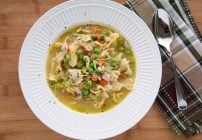 Ingredients
2

carrots diced

4

stalks celery diced

1

medium onion diced

1

cup

of frozen peas

olive oil for sauteing veggies

sea salt and pepper to taste

4

cups

homemade turkey stock or store bought chicken or veggie stock

2

cups

turkey meat diced or pulled into small easy to eat pieces

2-4

cups

uncooked egg noodles or your favorite pasta shape
Instructions
Turkey Stock
place all your scraps and turkey carcass in a large pot with the peels and vegetable scraps from the soup prep. Cover with water and bring to a boil. Allow stock to simmer and reduce by 60-70% or about 4 cups of stock. This process should take about an hour or a little longer.
Turkey soup
heat a medium stockpot and add olive oil to sweat down the veggies (mirepoix)

Add in diced celery, carrots and onion stir well and season with a little sea salt and black pepper, allow to cook for 3-4 minutes

Add turkey stock and turkey meat, bring to a boil then reduce to a simmer allowing to cook for at least 30 minutes. I like to let my soups simmer for 90 minutes whenever possible.

While soup is cooking in another pot cook your egg noodles a little on the al dente side, then rinse and chill until you serve the soup.

finish seasoning the soup as needed and add in frozen peas, allow to cook for 5 minutes longer before serving.

Add a heaping helping of cooked noodles to the bowl and ladle over the hot soup and serve with your favorite crusty bread.