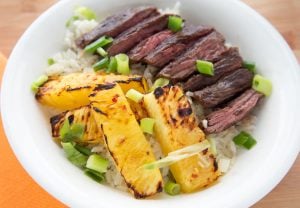 Take a trip to the islands with this easy to make and oh so delicious Big Island Steak Bowl. Wouldn't this make a delicious weeknight dinner for your family?
This post includes affiliate links. As an Amazon Associate I earn from qualifying purchases.
Take a trip to the Islands with my Big Island Steak Bowl
Encouraging people to cook at home has been my mission for the last twenty years. People think that because I'm a chef that they could never do what I do, but it's really just about the ingredients you use and understanding a few basic cooking techniques
What do I need to make a Steak Bowl?
Let's start by gathering our ingredients. This is something I do before I cook anything. Getting my ingredients out so everything is at my fingertips as I need it makes cooking easier and also ensures you have everything you need on hand to make the dish.
In the professional kitchen, we refer to this as a Mise en Place (everything in its place).
What Kind of Steak Should I Use for a Steak Bowl?
I like using skirt steak because of the higher fat content which will add flavor and little more tenderness to the meat.
You can also use:
Flank Steak- leaner than skirt steak
Hanger Steak- relatively tender piece of meat
Flat Iron Steak – tender strip steak alternative great for grilling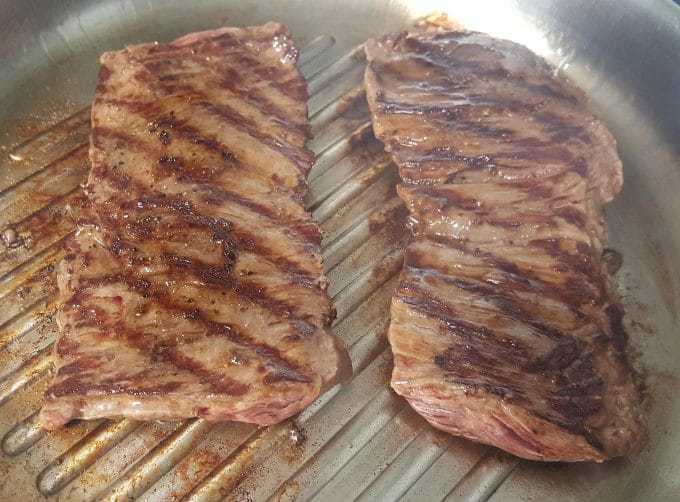 I used my grill pan to cook the flank steak but feel free to toss it on your barbecue grill. Either way, it will come out delicious and tender!
What is a good alternative to Beef in this dish?
You can easily substitute grilled chicken for the beef. Grilled or blackened would make this a delicious dinner.
If you like seafood, shrimp or your favorite fish would also be good substitutes for the beef.
Recipes are guidelines, cook with the ingredients you like, creating dishes you will enjoy again and again.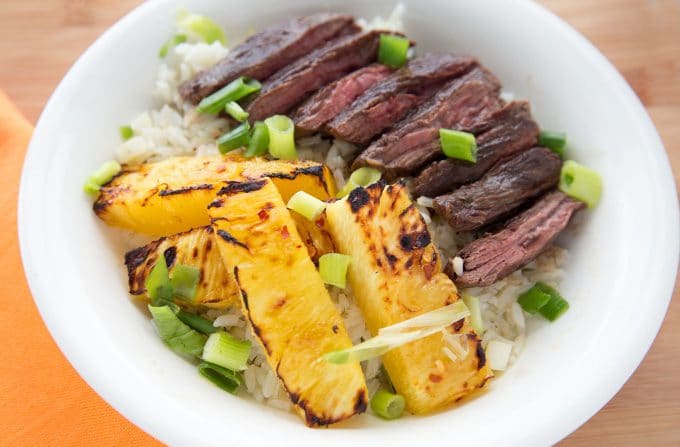 Making an ah-mazingly delicious dinner in your own home has never been so easy. Your family will love this restaurant-style dinner that takes minutes to prepare after your busy day. Healthy recipes in less than 30 minutes, these are Recipes for Real Life.
If you enjoyed this recipe you may like these island-inspired dishes: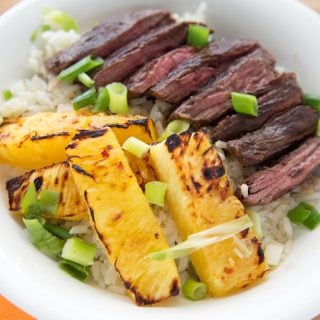 Print Recipe
The Big Island Steak Bowl
Take a trip to the islands with this easy to make and oh so delicious Big Island Steak Bowl. Wouldn't this make a delicious weeknight dinner for your family?
Ingredients
1

lime

10

ounces

skirt steak

20

ounces

pineapple spears

1

ounce

sliced scallions

5

ounces

Jasmine rice

1

teaspoon

light soy sauce

1

tablespoon

sesame oil

1

tablespoon

brown sugar

1/4

teaspoon

crushed red pepper

2

teaspoons

vegetable oil

sea salt and black pepper as needed
Instructions
Preheat oven to broil

In a small bowl combine half the soy sauce, half the brown sugar, 1/2 teaspoon salt and 1/2 teaspoon black pepper. Rub mixture over steak and set aside until needed.

Line a baking sheet with foil and set aside

Zest half the lime and cut in half.

In a small saucepan over high heat, bring 1/1/4 cups water and 1/4 teaspoon salt to a boil. Stir in rice and return to a boil. Reduce heat to low, cover and simmer for 15 minutes. Turn off heat and let sit, covered for 5 minutes. Fluff with a fork and gently stir in sesame oil, lime zest, the juice from half of a lime and all but 1 tablespoon of the scallions.

While cooking rice, place pineapple spears in a single layer on the foil-lined baking sheet and brush tops with 1 teaspoon oil. Lightly sprinkle spears with salt. Broil until charred in places (about 15 minutes)

Remove pineapple from oven and sprinkle with the remaining brown sugar and red pepper flakes to taste.

Rub a grill pan (or grill outdoors) with 1 teaspoon cooking oil and place over high heat. When the grill pan starts to smoke, add steaks and cook to medium-rare (or your preference), turning once. Cook each side 3-4 minutes or as needed to the desired temperature. Remove to a plate and allow to rest for 5 minutes. Thinly slice steaks against the grain.
To Serve
Divide rice between two bowls. Top with sliced steak and pineapple spears. Squeeze remaining lime over ingredients and garnish with scallions and crushed red pepper if you'd like a little more heat.
Nutrition
Calories:
754
kcal
|
Carbohydrates:
105
g
|
Protein:
38
g
|
Fat:
22
g
|
Saturated Fat:
8
g
|
Cholesterol:
89
mg
|
Sodium:
276
mg
|
Potassium:
878
mg
|
Fiber:
6
g
|
Sugar:
35
g
|
Vitamin A:
380
IU
|
Vitamin C:
148
mg
|
Calcium:
86
mg
|
Iron:
4
mg