For a quick and delicious dinner, Pan-Seared Skirt Steak is sure to please. Served on a bed of farro with spinach, mushrooms and a touch of bleu cheese you'll love the flavors and ease of clean up with the foil packets.
This post includes affiliate links. As an Amazon Associate I earn from qualifying purchases.
If you like easy to make dinners that require little cleanup than my Pan-Seared Skirt Steak with Farro is a dish you're going to love!
I'm thrilled to announce I'm a 2020 Reynolds Wrap® Ambassador. This is a sponsored post but all opinions are my own.
Making dinner shouldn't be a difficult process and clean up afterward shouldn't be something you dread!
Skirt Steak has been a popular menu item off and on since the 1950's. It used to be a fairly inexpensive cut of meat, but popularity always causes prices to rise.
That being said it's still a good value, cooks quickly and is a tasty item to add to your dinner repertoire. It's also very user friendly and can be turned into a number of dishes.
The sturdy Reynolds Wrap® Heavy Duty Foil keeps all the juices and toppings inside the foil packet, so you get a perfectly cooked and easy to cleanup meal.
What do I need to make a Pan-Seared Skirt Steak for dinner?
Let's start by gathering the ingredients we need to make my Pan-Seared Skirt Steak. In Chef Speak this is called the Mise en Place which translates into Everything in its Place.
Not only does setting your ingredients up ahead of time speed the cooking process, but it also helps ensure you have everything you need to make the dish.
How do I make Pan-Seared Skirt Steak with Farro in a Foil Packet?
The first step is preparing the farro. If you've ever made risotto, the process for cooking farro is pretty much the same. In fact, farro is often used instead of rice to make risotto.
sauté chopped onion in olive oil until fragrant (2 minutes) over medium-high heat
add the farro and continue cooking for 1-2 minutes over medium heat to bring out the natural nuttiness of the grain
lower the heat to simmer and add one-third of the stock to the farro
repeat this process adding the remainder of the stock in thirds until the farro has absorbed the liquid
cover and set aside until needed (the farro can be cooked ahead of time and refrigerated)
The next step is prepping the mushrooms. Sauté the mushrooms with butter (or olive oil) until soft. Set aside until needed.
This step should be done while you're making the farro.
Now it's time to get the skirt steak ready to cook.
Pat dry the steak with paper towels. Season the steak with sea salt and black pepper.
What's the best way to cook a skirt steak?
In this chef's opinion, skirt steak is best seared in a hot pan. Cast Iron or Carbon Steel are always good choices when it comes to pan searing. But any good quality saute pan will do the trick.
Here are a few rules that will help you cook like a pro.
Use paper towels to dry the surface of the meat. Moisture will create steam and will make it harder to get that perfect crust on the steak.
Season the steak well after you've dried it off.
High heat is your friend when it comes to pan-searing skirt steak. Skirt Steak doesn't have much in the way of connective tissue. That means cook it fast and use high heat.
Slow cooking won't work with this cut of meat.
Don't overcook the steak. You're going to get the best results with just a few minutes of contact with the heated surface of your pan. You want just enough time to get a good crust on the meat. Don't cook the skirt steak past medium-rare or you'll end up with a tough, chewy piece of meat!
Heat a sauté pan on high heat until almost smoking. Very carefully add one tablespoon of cooking oil to the pan. Very carefully add the seasoned skirt steak to the pan. Sear the steak 2-3 minutes on each side until you get a nice crust on the steak.
**Make sure to have your kitchen fan on and a window open if possible.
Can I marinate a skirt steak?
Marinating the skirt steak can add additional flavors to the meat. Use your favorite oils and seasonings to change the flavors to your liking.
Skirt steaks accordion-like structure of coarse muscle fibers provides a larger surface area to marinate. That means more flavor because of the larger surface gives the steak more opportunity to absorb the flavors.
You only need 30 minutes for marinating. Any more than that may add too much flavor to the meat, taking away from the dish.
***Make sure to dry the meat surface before searing the steaks.
Start by cutting off four 16 inch pieces of Reynolds Wrap® Heavy Duty Aluminum Foil.
Place 1 cup of cooked farro in the center of the foil
Top the farro with one cup of raw spinach
Add the pan-seared skirt steak on top of the spinach
Top the skirt steak with the sauteed mushrooms and bleu cheese crumbles
To close the foil pouch:
Bring up the long sides of the foil, so the ends meet over the food
Double fold the ends, leaving room for heat to circulate inside
Double fold the two short ends to seal the packet
I've been using Reynolds Wrap® Foil for as long as I can remember, both at home and at work where I like to use the 18-inch rolls.
Thankfully Reynolds Wrap® Foil offers a variety of different cooking foil in sizes that accommodates just about any task. I love the versatility of foil, it withstands high heat and extreme cold, making it perfect for everything from grilling to freezer storage. And, did I mention how quick and easy clean-up is with kitchen foil? After preparing a delicious meal the last thing I want to do is spend extra time cleaning up. 
Reynolds Wrap® is also made in the U.S.A.
Place all the foil packets on a sheet pan or baking tray and place in a preheated 350 degree F. oven for 25 minutes. Or until an internal temperature of 165 degrees F has been reached.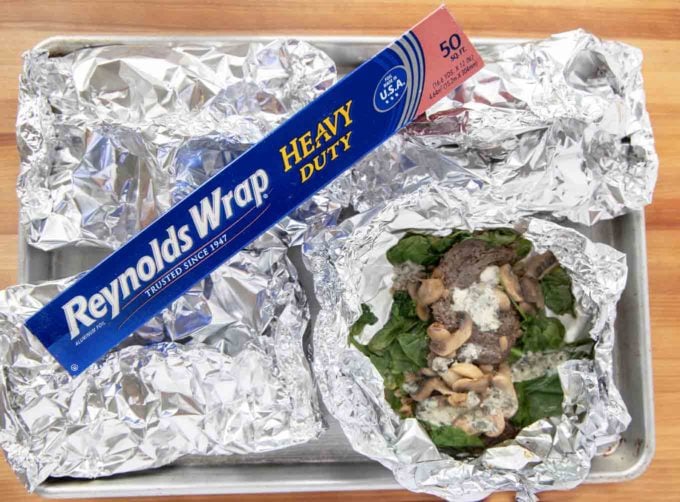 Carefully remove the packets from the oven and cautiously open the packets for serving as steam will escape.
The foil will be hot, so use kitchen gloves or towels when touching them. Don't spoil dinner by getting burned!
Carefully slide the skirt steak and all the fixings onto a plate, and dinner is served!
And the best part is there are no pans to clean up afterward. Just toss the used foil and enjoy the skirt steak and your evening!
If you enjoyed this recipe you may also like these: