Nothing beats a good homemade soup, and my creamy Corn Chowder, made with sweet corn and garden fresh vegetables, is definitely a soup your whole family will enjoy! The creamy texture and sweet corn flavor make this hearty chowder perfect for lunch or a light dinner.
Whether you serve up my corn chowder as the main course or a starter, making delicious soups is easier than you think. My easy corn chowder recipe is easily adaptable to include your favorite vegetables, crispy bacon, cheddar cheese, or shredded chicken to make chicken corn chowder.
My corn chowder is a great year-round soup, although I love to make it when summer corn is in season. The sweetness of the corn seems even better in the summer…sigh.
Fresh corn chowder is an easy recipe that can be doubled and frozen for those days when you don't have time to cook.
If you can even make a delicious vegan corn chowder by using plant-based butter, coconut milk, and vegetable stock.
If you love chowders, make sure to try my New England Clam Chowder.
Ingredients to make Corn Chowder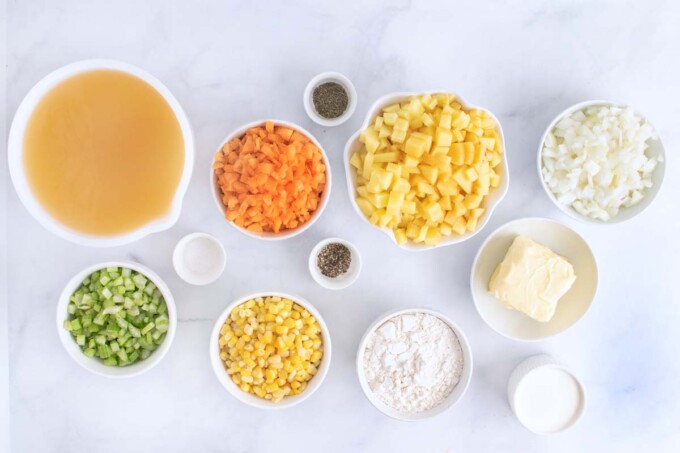 Let's start by gathering the ingredients we need to make Corn Chowder. In Chef Speak, this is called the "Mise en Place," which translates to "Everything in its Place".
Not only does setting your ingredients up ahead of time speed up the cooking process, it also helps ensure you have everything you need to make the dish.
Made with simple ingredients
corn
carrots
celery
onion
unsalted butter
Yukon gold potatoes
black pepper
thyme
salt
all-purpose flour
heavy cream
chicken stock or vegetable stock
Do I have to use fresh vegetables in my soup?
No, you don't. I prefer using fresh vegetables whenever possible, but you can also use frozen vegetables when making soups. I also try to use up any leftover veggies or meats that I have on hand. In the old days, soups were always made out of leftovers!
If you're using fresh corn, you can make an amazing stock using the corn cobs. After removing the corn kernels from the cob, place the cobs in a large pot of water, with any scraps of celery, corn, and onion in the pot, bring the mixture to a boil, then reduce the heat to low and simmer for an hour.
You may have to add additional chicken broth or vegetable broth to the mixture, but the corn broth will really kick up the flavor of the corn chowder.
How to make Corn Chowder
Add the butter to a large soup pot or Dutch oven over medium heat until the butter melts.
Add the diced vegetables to the melted butter and increase the temperature to medium-high and let the vegetable cook for 5-7 minutes, stirring as needed.
Add the all-purpose flour to the sauteed veggies.
Mix the flour into the vegetables, turn down the heat to low, and allow the mixture to simmer for 3-4 minutes to let the flour cook (don't let the flour burn or get dark).
Vegetables and flour should be cooked long enough to get the raw taste of flour out of the mixture.
Add the hot stock to the cooked roux (butter and flour mixture) and mix in well. 
Add the milk, corn kernels, and seasonings to the pot and mix to combine.
Reduce the heat and allow the chowder to simmer for 30-45 minutes.
*If the chowder starts to get too thick, thin it out with additional milk, stock, or water.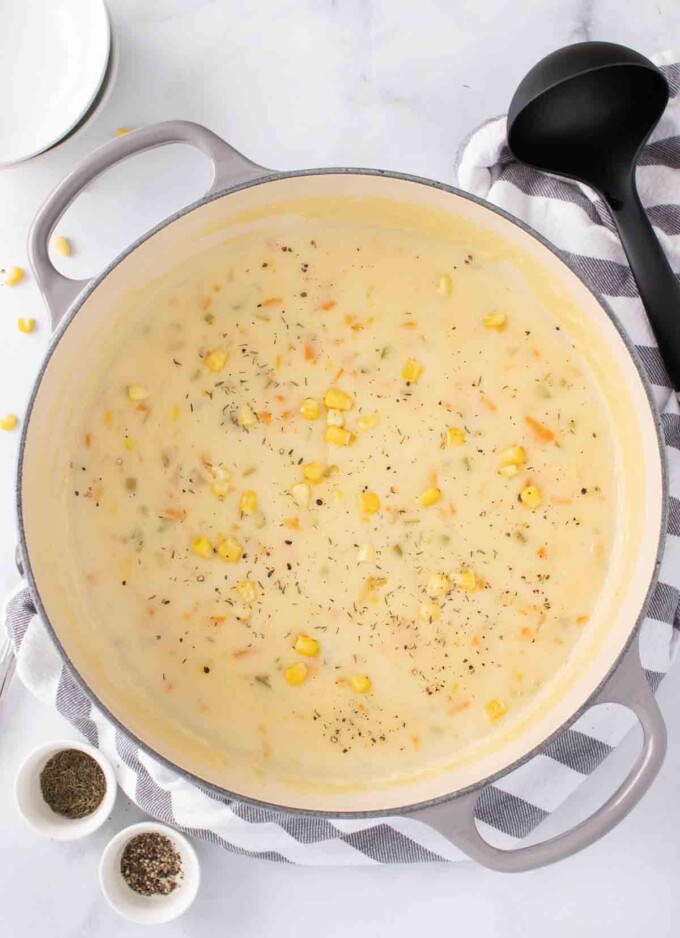 Corn chowder is the perfect summer soup. Full of fresh garden vegetables, it's a soup that's guaranteed to bring smiles to your table.
What else can I add to my corn chowder?
Pulled cooked chicken breasts would make a great addition to the soup. Adding your favorite vegetables is also a great way to change up this soup. If you like heat, try adding a poblano pepper to the soup, it will add a subtle heat to the soup.
Originally soup was made up of anything extra we had lying around, so don't be afraid to get creative with your leftovers!
You're going to love this creamy soup, it really is one of my favorite chowder recipes, and I know after one bite, you'll agree that this is the best corn chowder you've ever had.
Store any leftover soup in an airtight container in the refrigerator for 3-4 days. It can be kept frozen for up to 3 months.
More Soup Recipes You'll Love!