Have you ever made a seafood soup? If you haven't now is the perfect time to give it a try. I always like to remind people that recipes are guidelines, if you don't have everything on hand or you don't like an ingredient, replace them.
It's really that easy and if you enjoy eating what you've created in your kitchen you're going to enjoy spending more time cooking.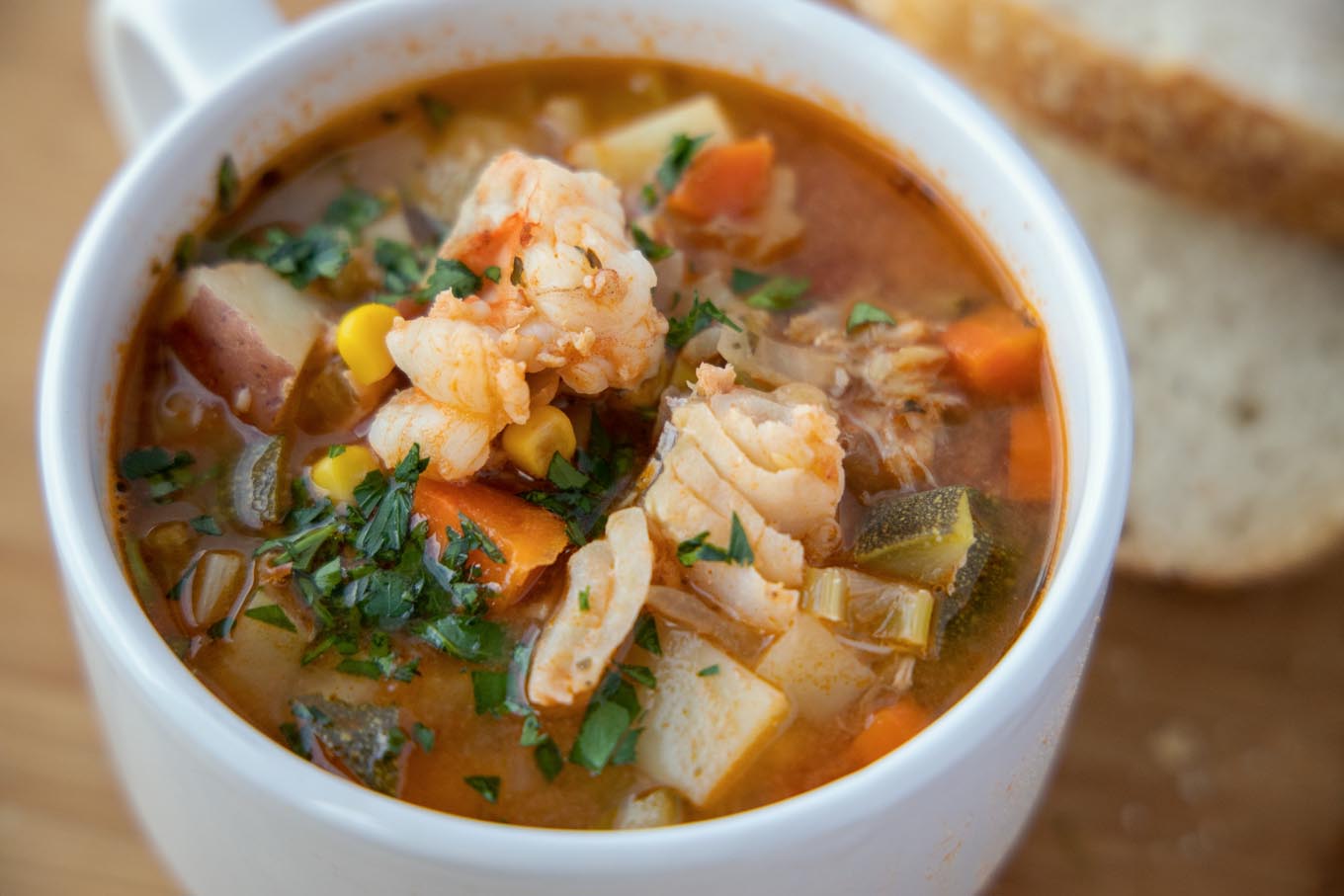 We love seafood at our house and sometimes we end up with odds and ends from our meals. Some are cooked and some are raw. The best way to make use of these leftovers and unused portions is to make seafood soup or stew out of them.
At one time soups were always made from leftovers. It's the easiest way to use up the ingredients that have been hanging out a little too long in your fridge, freezer and pantry, instead of throwing them out as too many people do.
You work hard for your money so make use of all the food you buy and create delicious dishes that your family will love!
If you enjoyed this soup, you'll also love my San Francisco Cioppino Recipe.
What do I need to make seafood soup?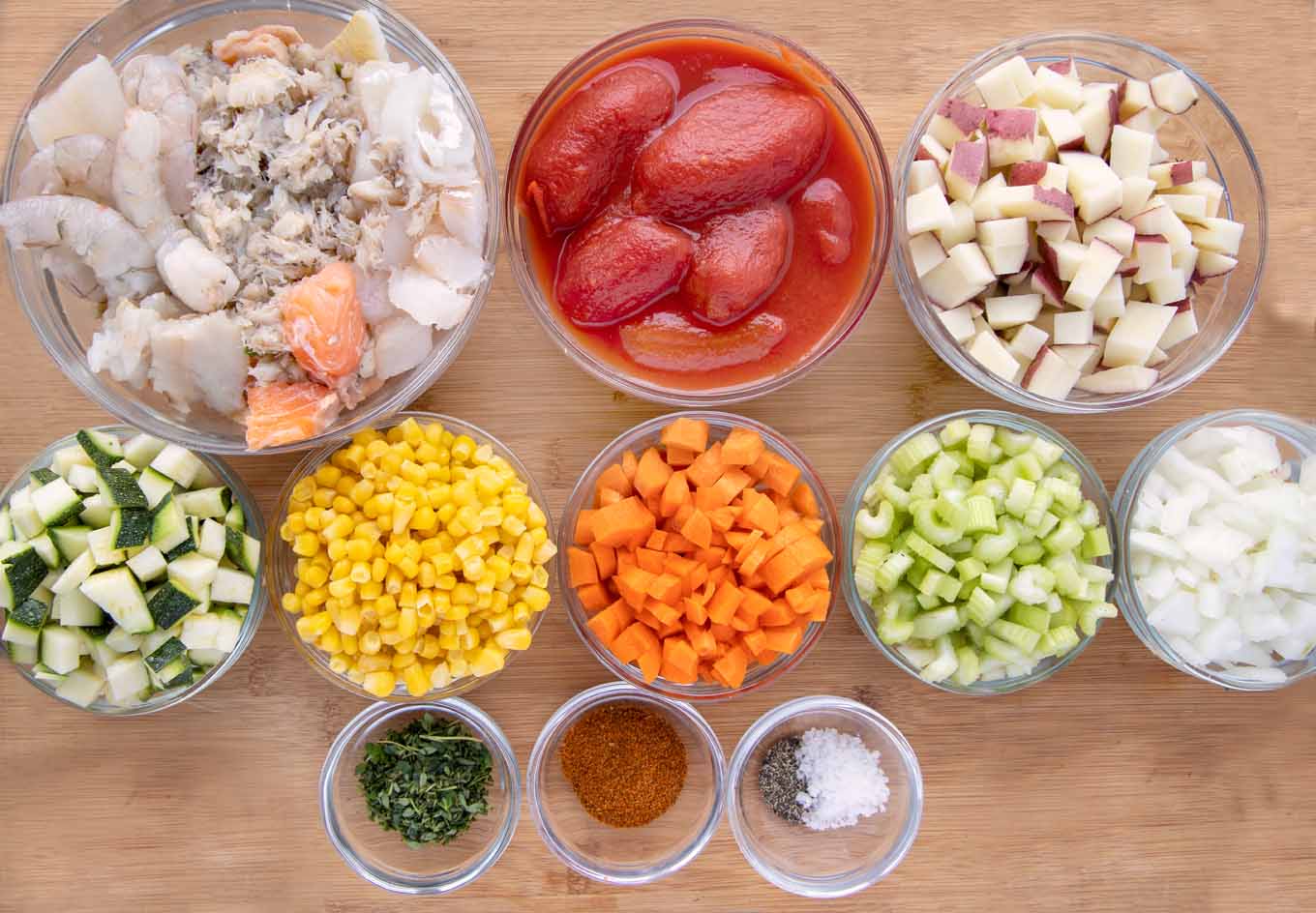 Let's gather the ingredients to make our seafood soup recipe. In Chef Speak this is called the Mise en Place which translates into everything in its place.
You'll see in my bowl of seafood the different ingredients that I had on hand. If you don't have any seafood leftovers to start with, use new ingredients you enjoy the most or happen to be on sale at your local grocer.
As I do with meats I save all the scraps of trim that look too good to throw out and save them in the freezer till needed. This goes for leftovers of cooked seafood from dinner at home or the doggy bags we bring home from a night out.
Don't throw out those expensive leftovers, freeze them to make soup.
*Chef Dennis Tip
Save shrimp shells and scraps of fish you can't eat to make a seafood stock out of for your favorite fish soup, or chowder.
What kind of fish can I use in seafood soup?
Any type of fish that you enjoy eating will work in soup. Cut the fish into small pieces if they're not a flaky fish. Fish like cod will pretty much just break up into flakes as the soup cook so you don't have to worry about making it too small. Otherwise think in terms of bite-size pieces.
Do I have to use shellfish in seafood soup?
No, you don't. If you're allergic to shellfish or simply don't like certain shellfish, leave them out. Use ingredients you enjoy eating.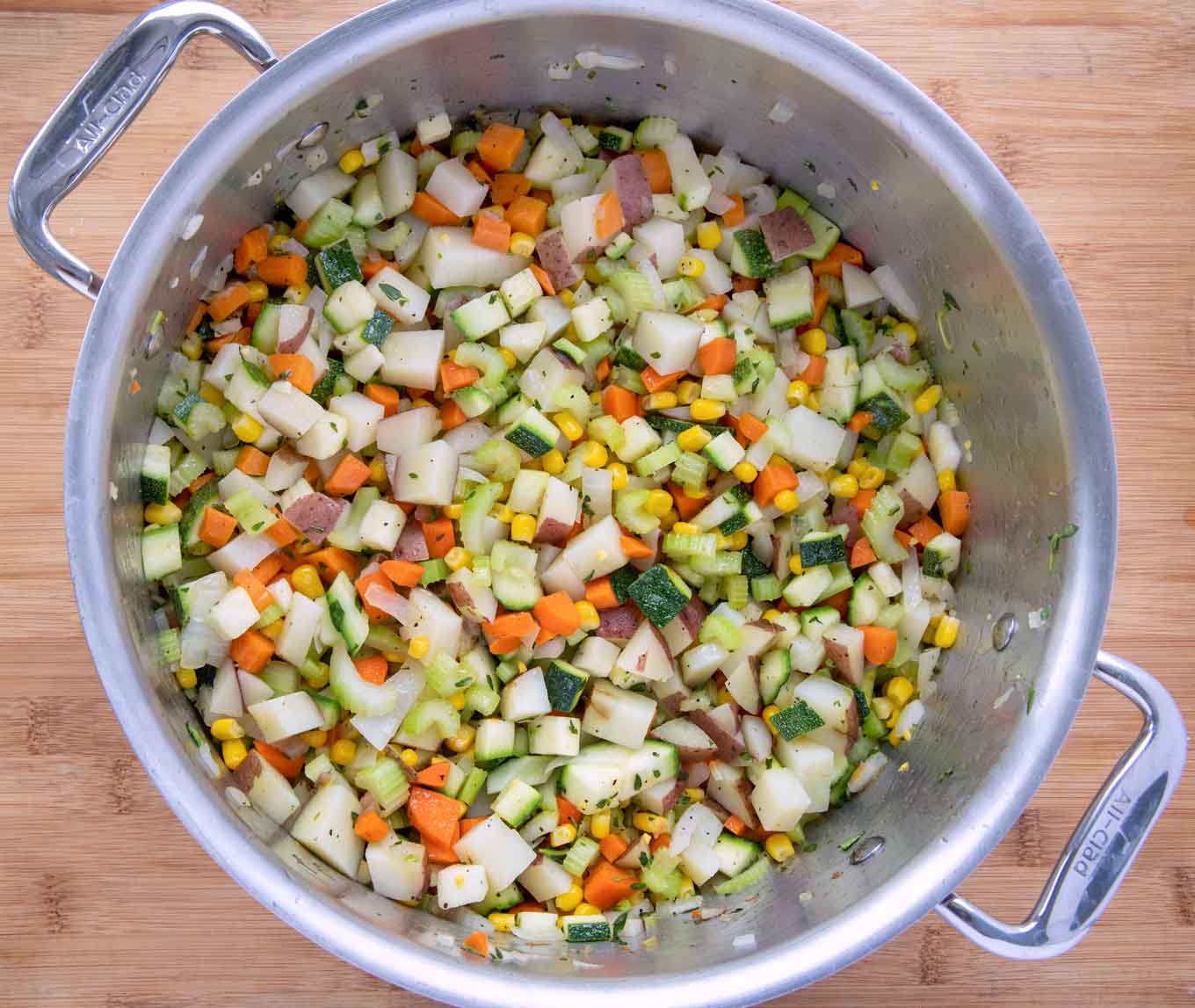 Let's get started making our seafood soup. In a large pot over medium-high heat add the olive oil, celery, onions and carrots. Saute for 3-4 minutes then add the rest of the vegetables except for the tomatoes. Continue to cook the veggies over medium heat for 5 – 10 minutes.
I use my favorite 6 qt. Copper Core 5-ply All-Clad pot for this soup. It's classified as a roaster and is a great pan for use in your kitchen! It's the perfect soup pot and so much more.
Should I cook the vegetables before adding the water to the soup?
Letting the vegetables cook before adding water to the pot goes a long way in improving the flavor of the soup. as the vegetables cook, the water steams off and the vegetable's natural sugars start to break down.
This process improves the vegetable's natural flavor of the vegetables while adding a distinct nuttiness to the flavor profile. If you can let the veggies cook over low for 15-20 minutes it will improve the overall flavor of the soup.
This cannot be accomplished by boiling the vegetables. And that is why it's important to let the veggies cook before adding the water.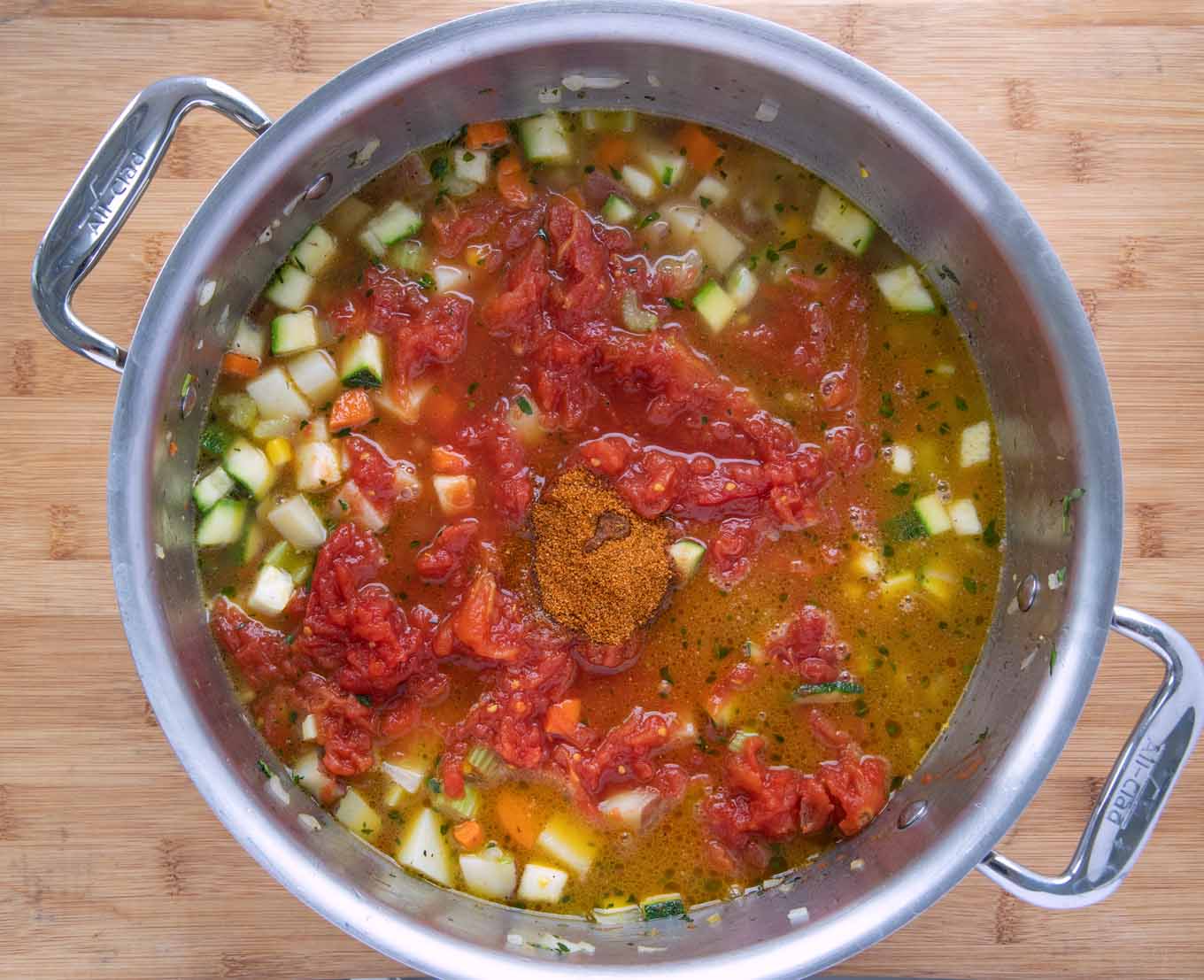 After the vegetables have been cooked, add the stock, tomatoes and seasonings to the pot. Bring to a boil, then reduce the heat and let the soup simmer for 30 minutes.
*Chef Dennis Tip
I have found that using chicken stock instead of fish stock gives seafood soups a more palatable flavor. Seafood stocks tend to have a softer taste and a more pronounced seafood flavor. Chicken stock adds a sharper flavor while balancing the overall seafood taste, making it milder allowing the seafood to stand out more than just blend in.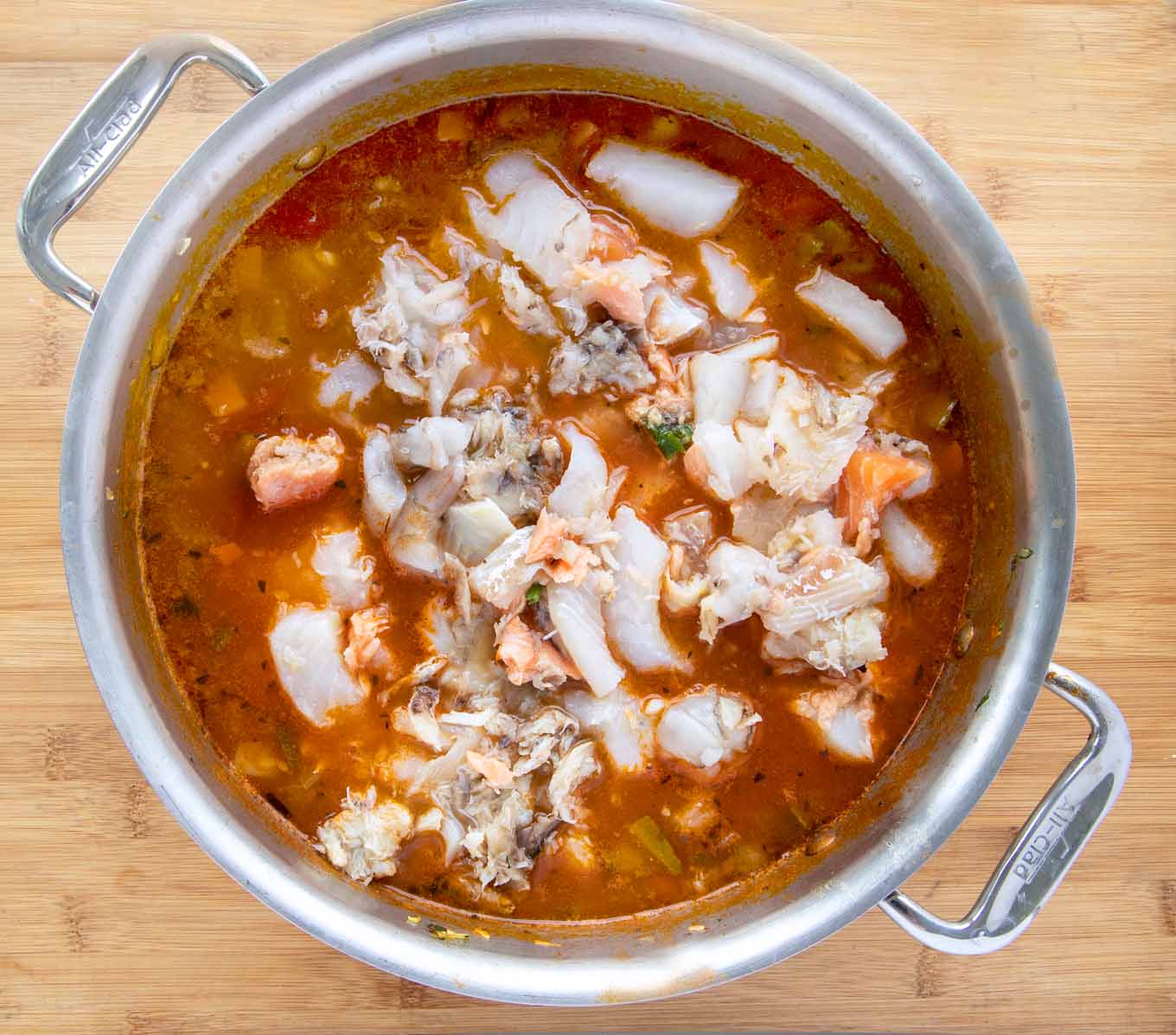 Add the seafood to the soup pot and continue to simmer for 30 minutes to an hour. Season to taste with sea salt and black pepper.
Can I add white wine to my seafood soup?
You sure can. Adding a little of your favorite white wine will help enrich the flavor. If you'd like to change up the seasonings to a Thai flavor, think about using coconut milk, lemongrass, and your favorite Thai spices instead of old bay and thyme.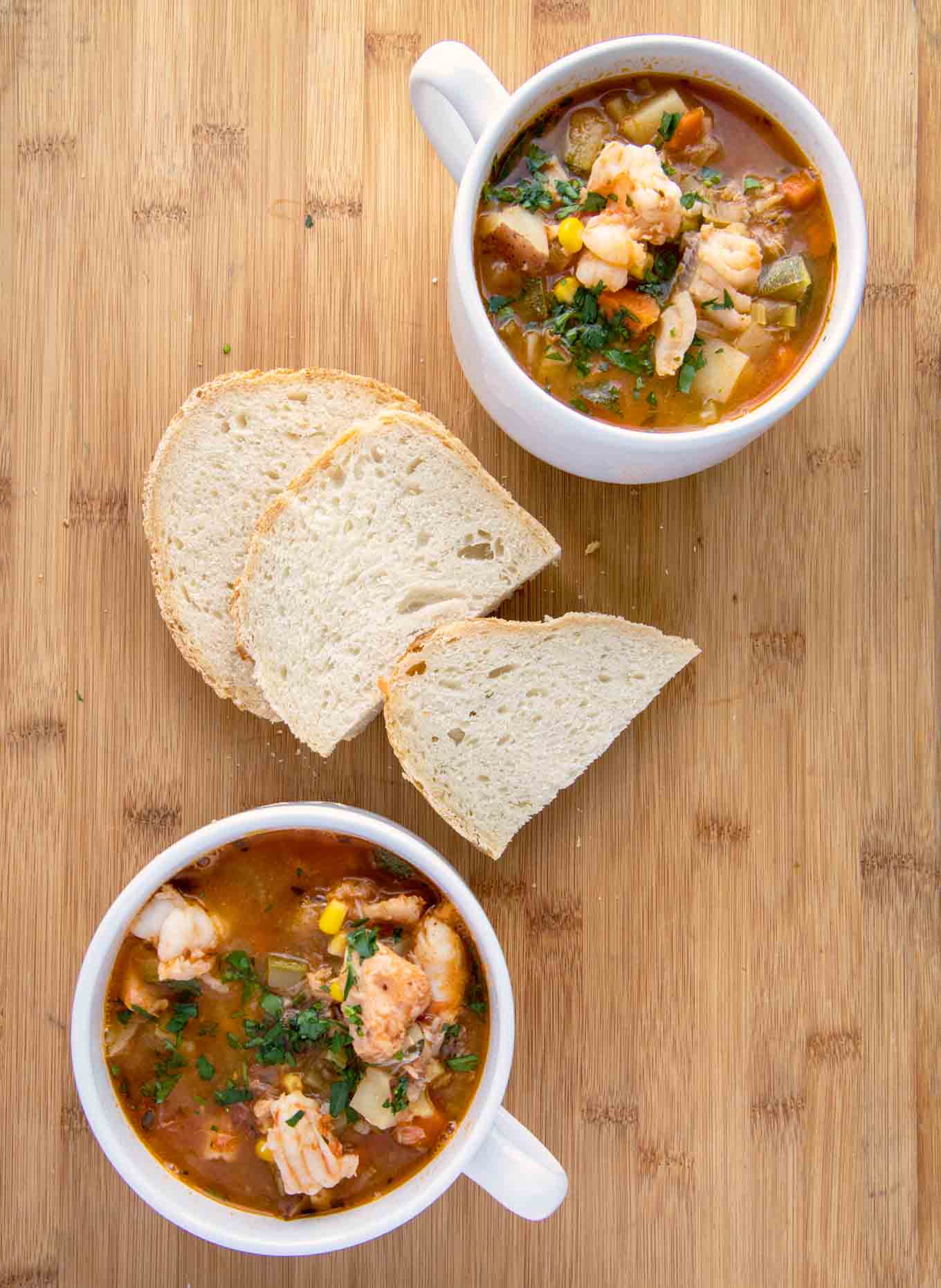 Garnish soup with chopped parsley and serve with your favorite crusty bread.
Recipe FAQ's
What are the types of Seafood Soups?
Seafood soups can be broth-based like my seafood soup and sometimes contain tomatoes.
Chowders are traditionally made with milk or cream, butter, potatoes, salt pork (bacon), onions, celery and sometimes carrots.
Seafood Stews are chunky soups with less liquid that can be cream-based or broth-based.
What are the benefits of Seafood Soup?
Besides being a delicious and good use of leftover seafood, fish contain many essential nutrients, such as omega-3 fatty acids and high-quality proteins.
Does Fish Bone Broth have Collagen?
Fish Bone Broth is the king of bone broths. It's rich in iodine, and collagen which supports good gut health.
More Soup Recipes You'll Love!