If you love seafood and pasta, you're going to love my Seafood Riviera.
During my career as a restaurant chef, this was one of my more popular seafood and pasta dishes.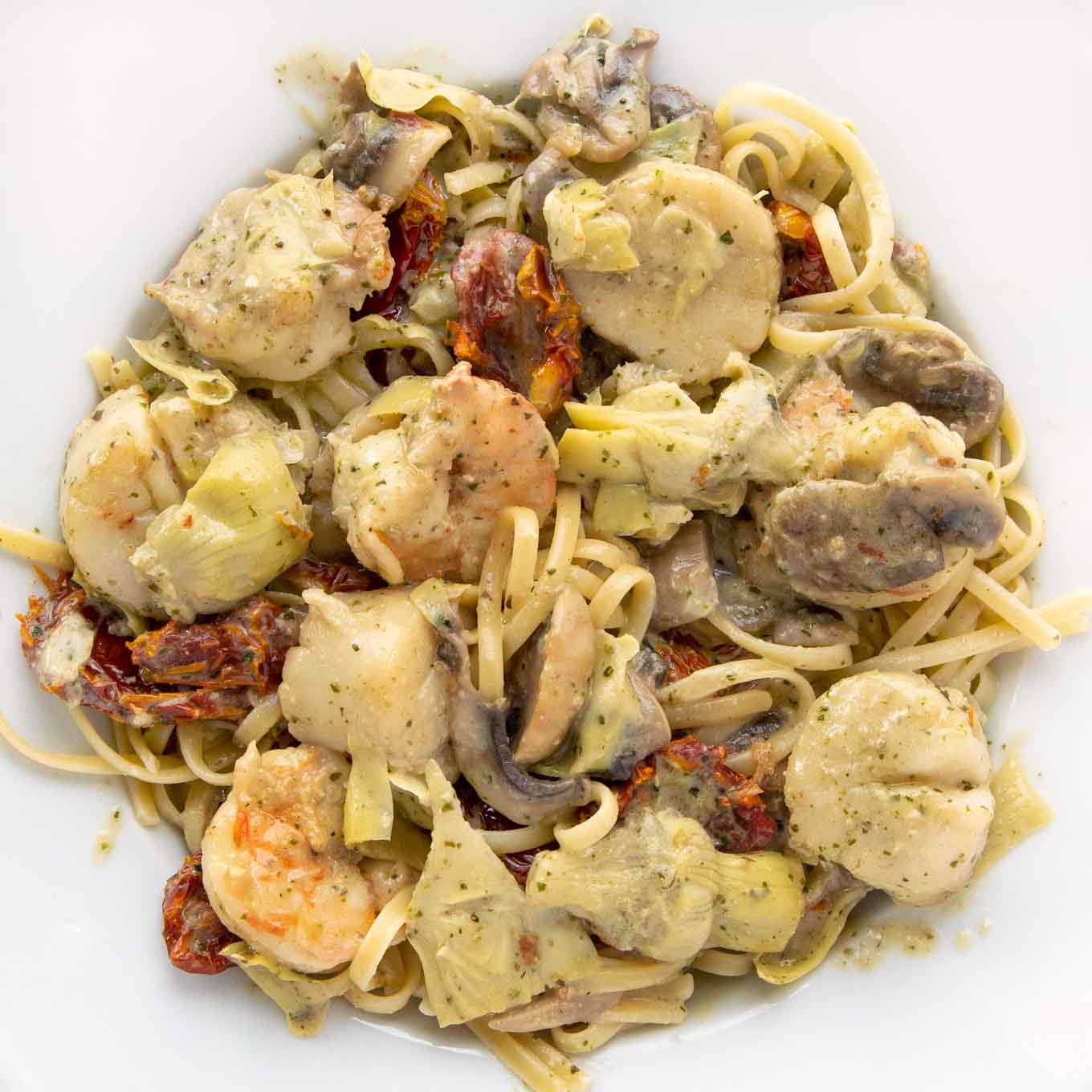 The sweet sundried tomatoes, earthy mushrooms and tangy artichokes blended together with the pesto and seafood to build a flavorful dish that will bring moans to your dinner table.
What ingredients are needed to make Seafood Riviera over Linguine
Let's start by gathering the ingredients we need to make Seafood Riviera. In Chef Speak this is called the Mise en Place which translates into Everything in its Place.
Not only does setting your ingredients up ahead of time speed the cooking process, but it also helps ensure you have everything you need to make the dish.
How do I make Pesto?
If you've never made pesto before, there is really nothing to it. Although you will need a food processor or powerful blender to make pesto.
All you need is fresh basil, garlic cloves, grated Romano cheese, pine nuts or walnuts and olive oil.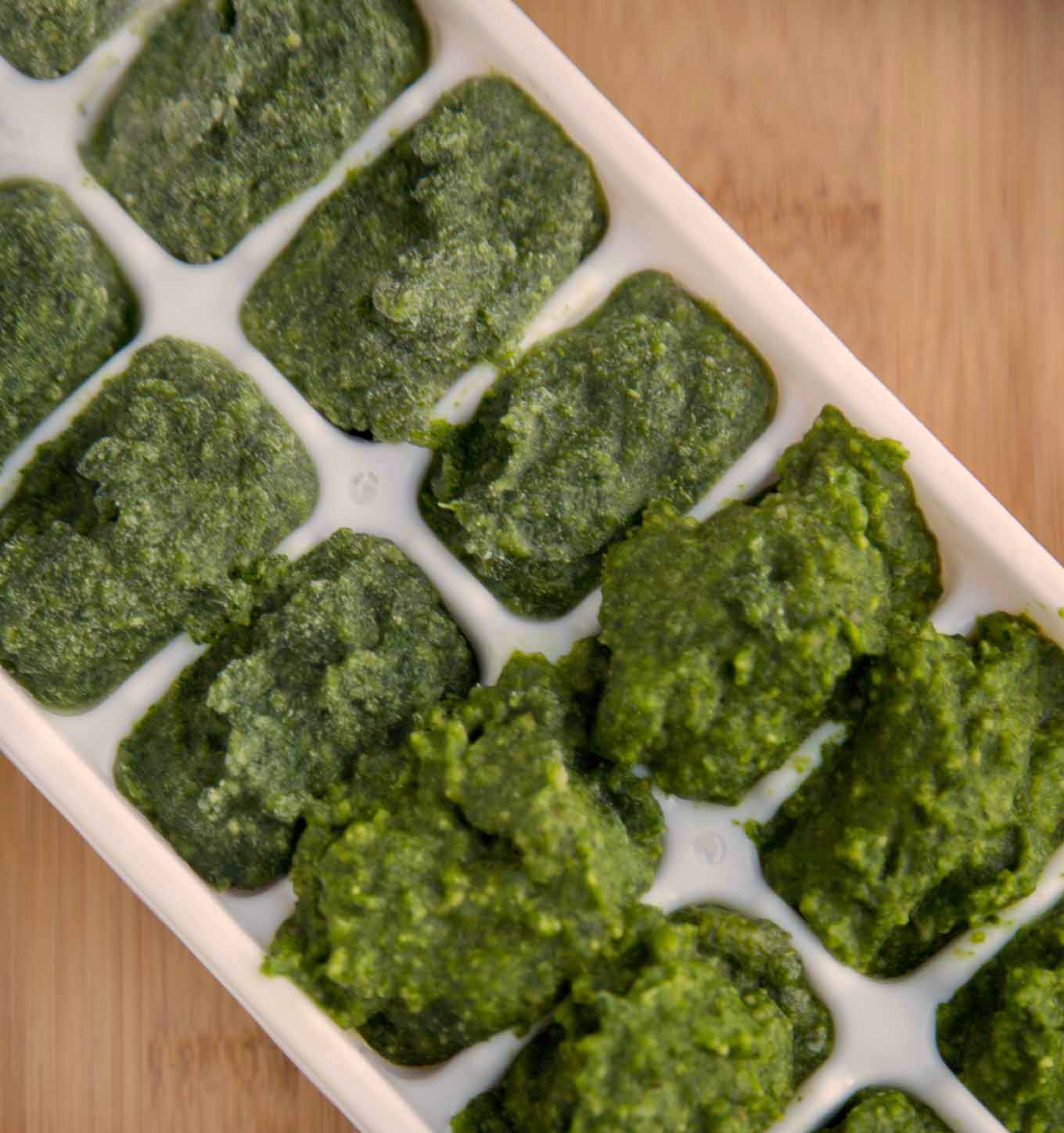 One of my favorite ways to save pesto is to freeze it in an ice cube tray. I pop out the frozen pesto cubes and save them in a ziplock bag for when I need them.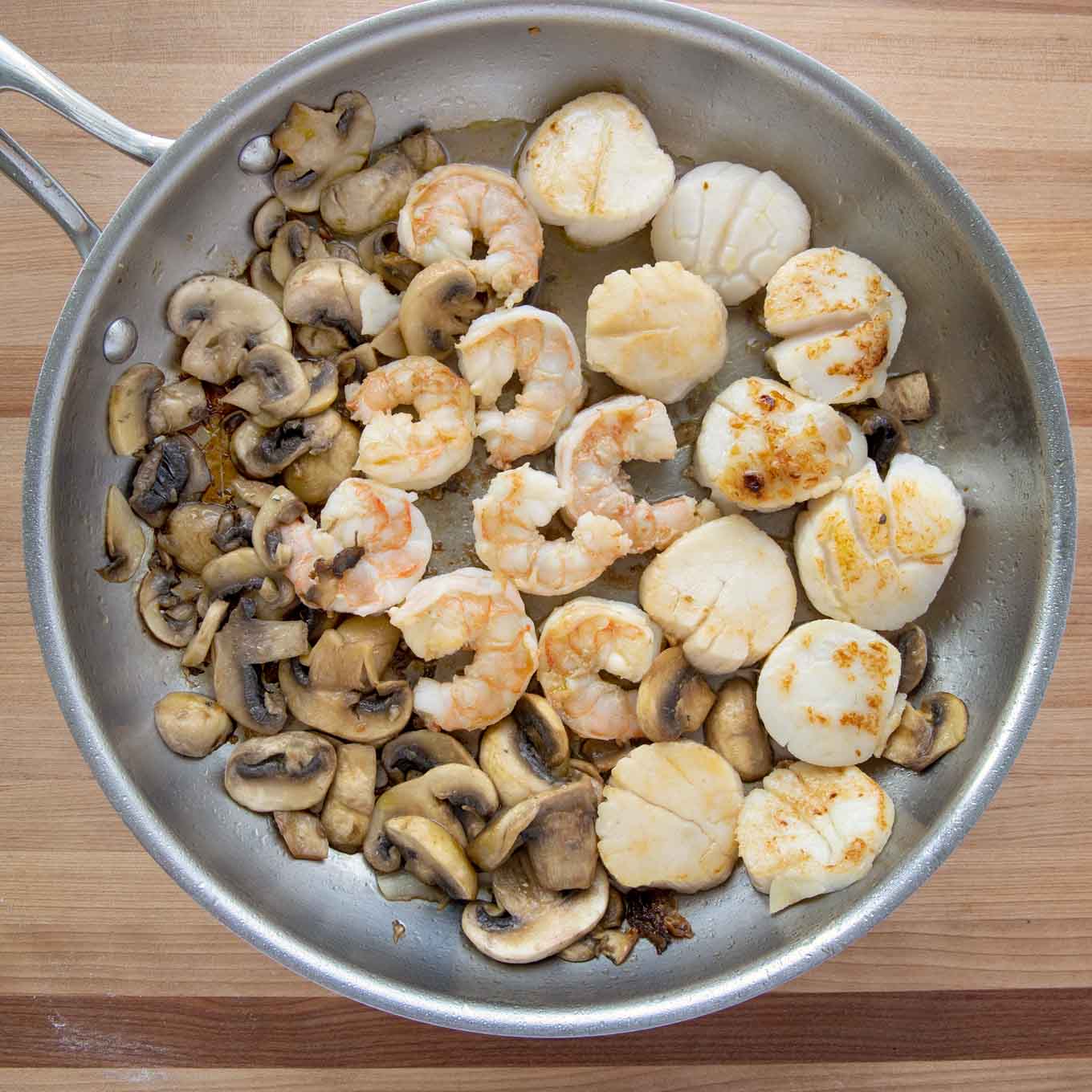 Let's start making the Seafood Riviera. The first step is to saute the scallops and mushrooms in olive oil. Cook the scallops for two minutes then add the shrimp to the pan.
Continue cooking the ingredients until the shrimp are barely cooked.
**If you have a bottle of white wine open you can add a splash of wine to deglaze the pan and stop the cooking process.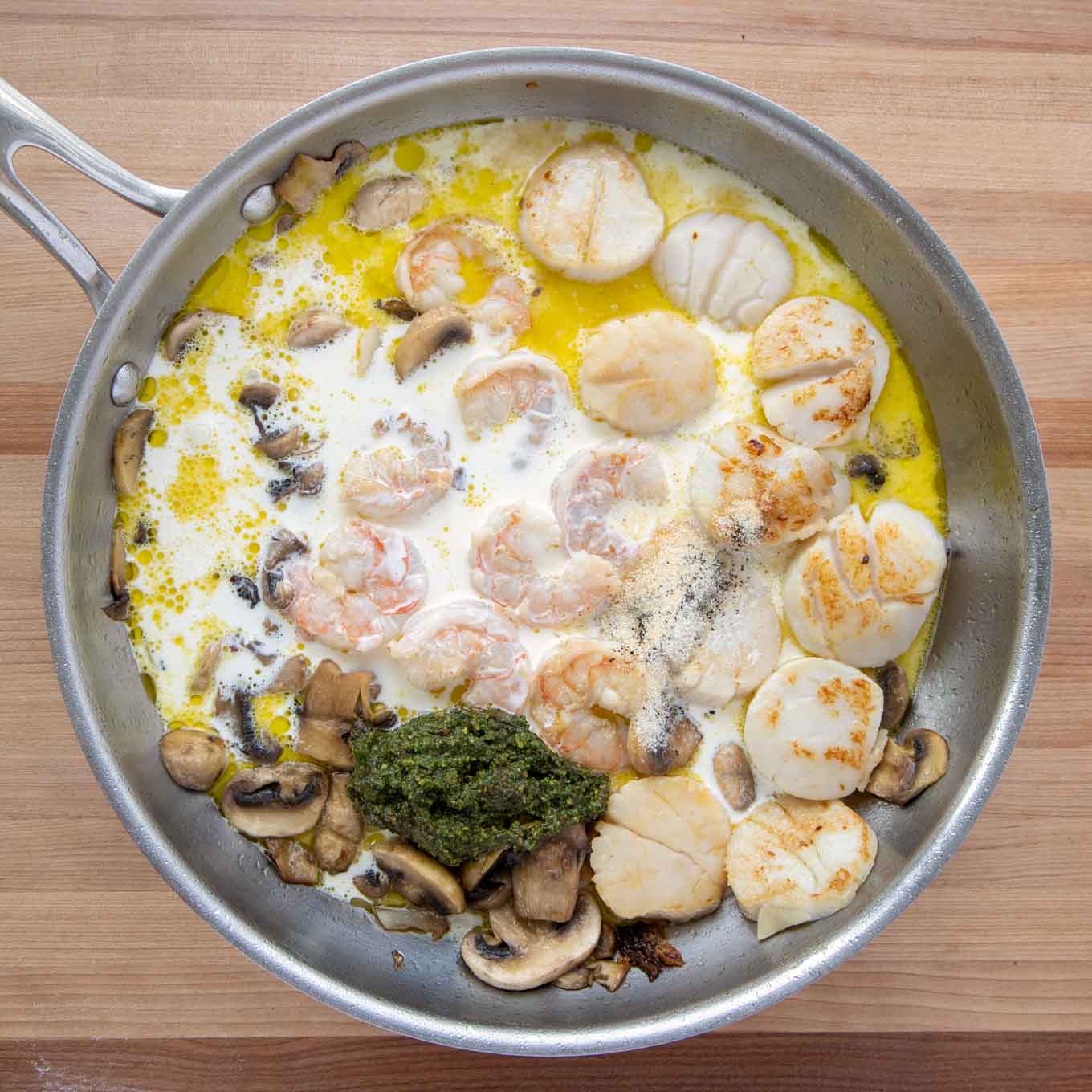 Add the stock, heavy cream, pesto and seasonings to the pan and mix the sauce together off the heat.
**This is about the time you should start cooking your pasta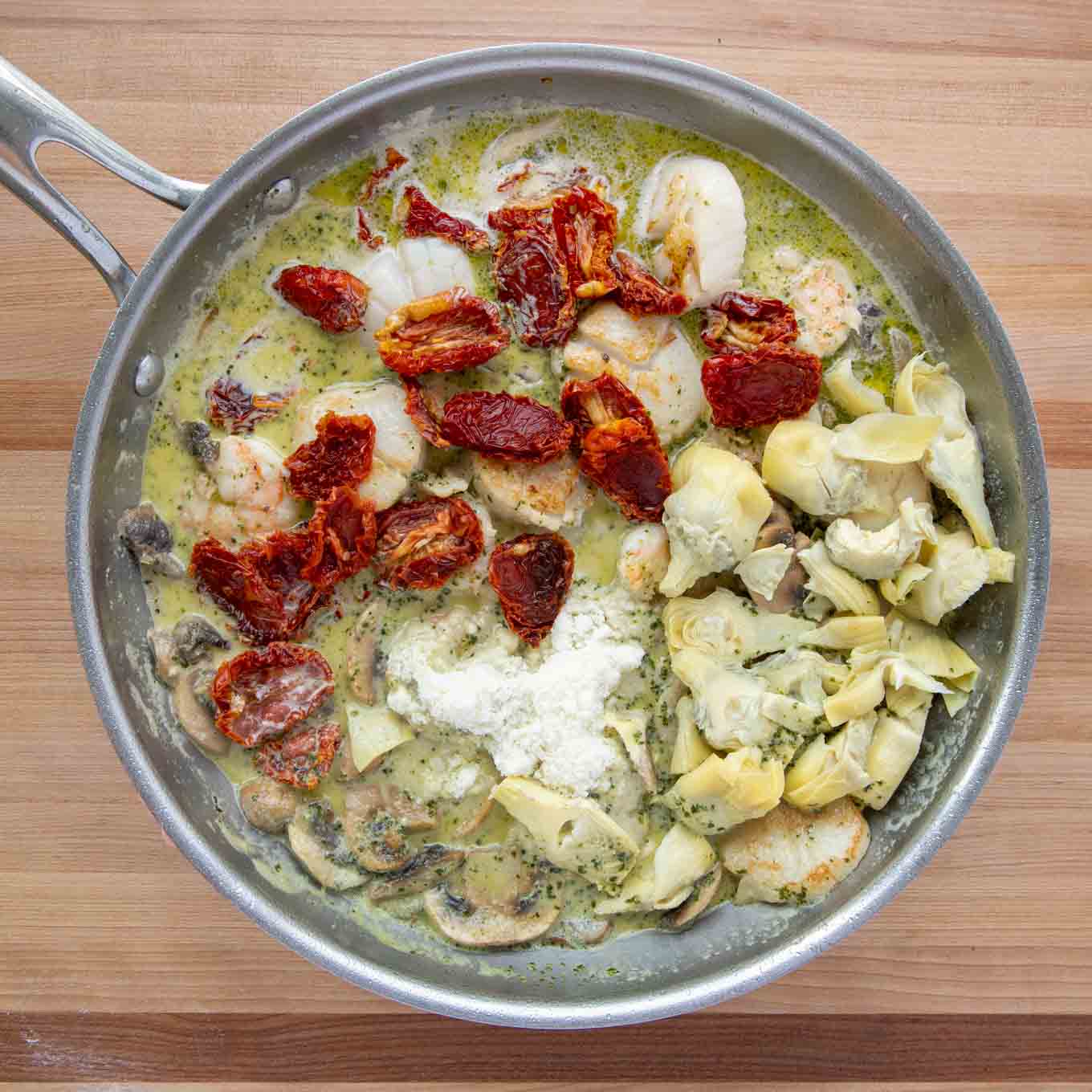 Add the sun-dried tomatoes, sliced artichoke hearts and grated Romano cheese to the pan and allow to cook for 1 minute.
Add the butter rolled in flour to thicken the sauce. Reduce the heat to medium and allow the sauce to reduce and thicken slightly.
Do I have to use Mushrooms, Artichokes and Sun-Dried Tomatoes in my Seafood Riviera?
No you don't, that's the way I make this dish, but it doesn't mean you can't adapt it to use ingredients you enjoy eating.
I do always recommend trying recipes the way they were meant to be made, but if you've got an allergy or serious aversion to an ingredient it can be left out. Here are some of my replacement ideas.
grape tomatoes cut in half instead of sun-dried tomatoes.
zucchini (half circle cut) instead of artichokes
small broccoli florets instead of mushrooms
Other additions or replacement ingredients are roasted red peppers, spinach and sliced kalamata or black olives.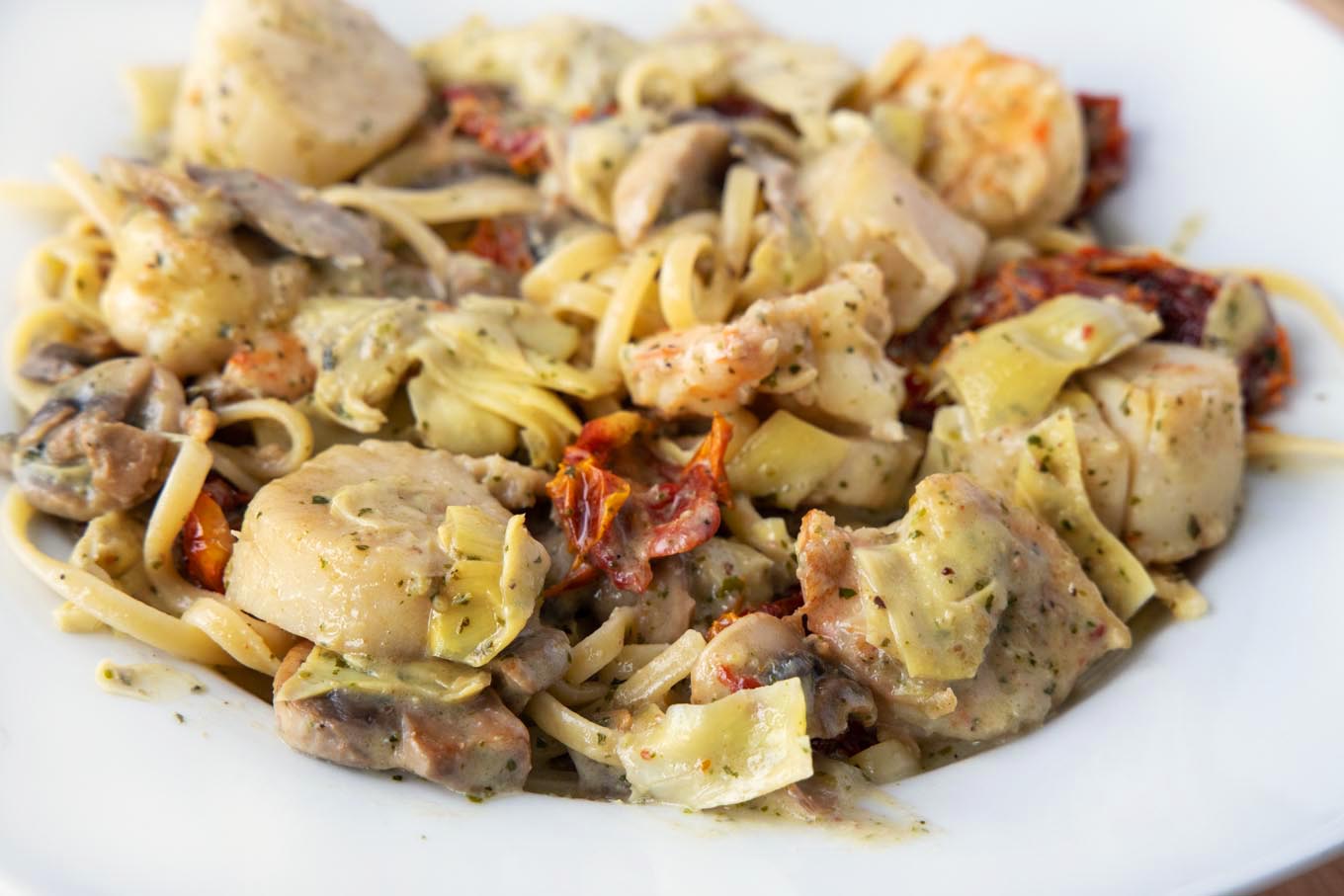 If you timed the cooking process right the pasta should be done about the time the Seafood Riviera is finished.
If you haven't timed things perfectly don't worry, you can always precook the pasta, or remove the Riviera from the heat until the pasta is finished cooking.
What other pastas can I use for Seafood Riviera?
I like wider noodles for this dish but that doesn't mean you can't use your favorite pasta shapes. These are some of the types of pasta shapes that I recommend.
Pappardelle
Tagliatelle
Fettuccine
Bucatini
Penne
Recipe FAQ's:
What is seafood riviera?
Seafood riviera is a combination of seafood, in a light pesto sauce with mushrooms, sundried tomatoes, artichoke hearts and sometimes olives. It's served over linguine, pappardelle, tagliatelle, fettuccine, or bucatini.
What kind of seafood can I use to make Seafood Riviera?
Shrimp, scallops, calamari, clams or mussels (out of the shell) and your favorite fish can be used to make seafood riviera.
Do you have to use heavy cream to make seafood riviera?
No, you don't. You can leave it out altogether or use Greek yogurt, light cream, half and half, or your favorite non-dairy milk as a substitute.
More Seafood Recipes You'll Love!