My baked artichoke hearts with seasoned breadcrumbs are not just for artichoke lovers. They're the perfect accompaniment for many of your favorite dishes. These garlicky little chokes topped with a seasoned parmesan breadcrumbs couldn't be easier to make with just a few simple steps.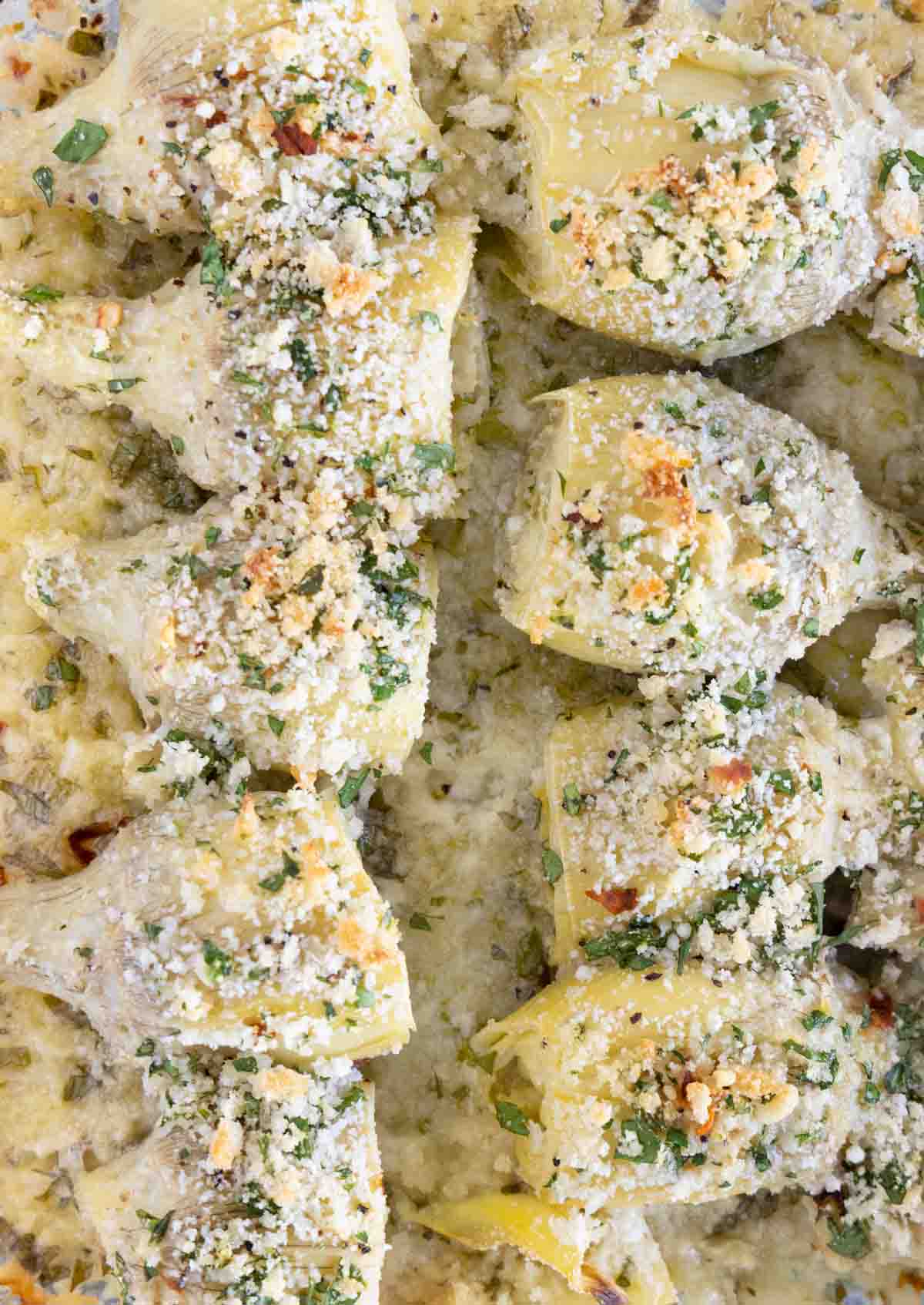 My easy recipe for baked artichoke hearts doesn't is made with six simple pantry ingredients. This healthy side dish is perfect for your holiday tables, game day or for a healthy snack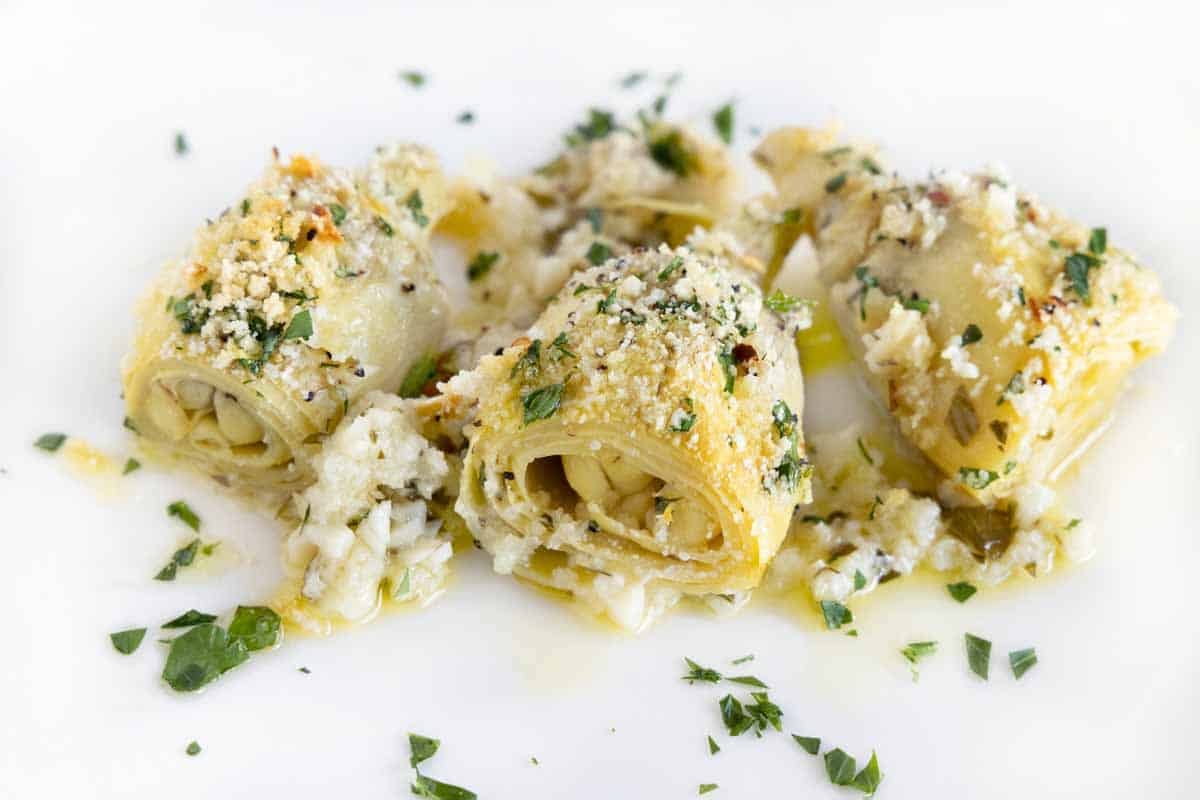 Baked artichoke hearts make an easy side dish for weeknight dinners or a delicious appetizer for your next dinner party.
I don't have many artichoke hearts recipes but I love including them in many of the dishes I make. You can find them in my easy Chicken Piccata and Shrimp and Broccoli.
Ingredients to make Baked Artichoke Hearts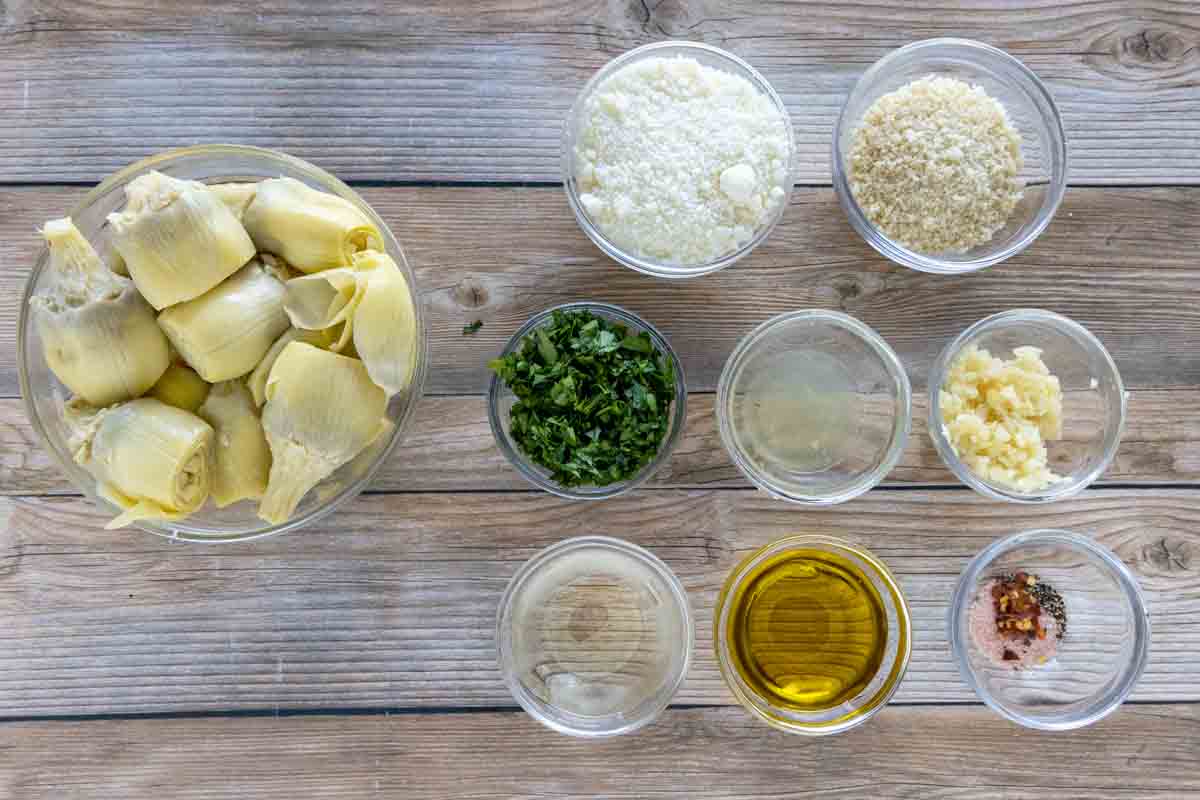 Let's start by gathering the ingredients we need to make Baked Artichoke Hearts. In Chef Speak, this is called the "Mise en Place," which translates to "Everything in its Place."
Not only does setting up your ingredients ahead of time speed up the cooking process, it also helps ensure you have everything you need to make the dish.
Made with simple ingredients
canned artichoke hearts (whole)
Panko bread crumbs
Pecorino romano cheese (or parmesan cheese)
Italian parsley
Extra virgin olive oil
Fresh garlic
I prefer using fresh garlic for , but you can use garlic powder if you don't have fresh garlic. You can also add onion powder, cayenne pepper or your favorite herbs to the bread crumbs.
You can find whole artichoke hearts in the vegetable aisle or Italian section of your favorite grocery store.
*This is not a recipe for fresh artichokes, it will only work with hearts.
What do Artichoke Hearts taste like?
Artichoke hearts have a unique, slightly nutty taste with a tender soft texture. Baking or cooking intensifies their natural flavor, and they pair well with many seasonings, garlic and lemon.
How to make Baked Artichoke Hearts
Preheat oven to 375 degrees F.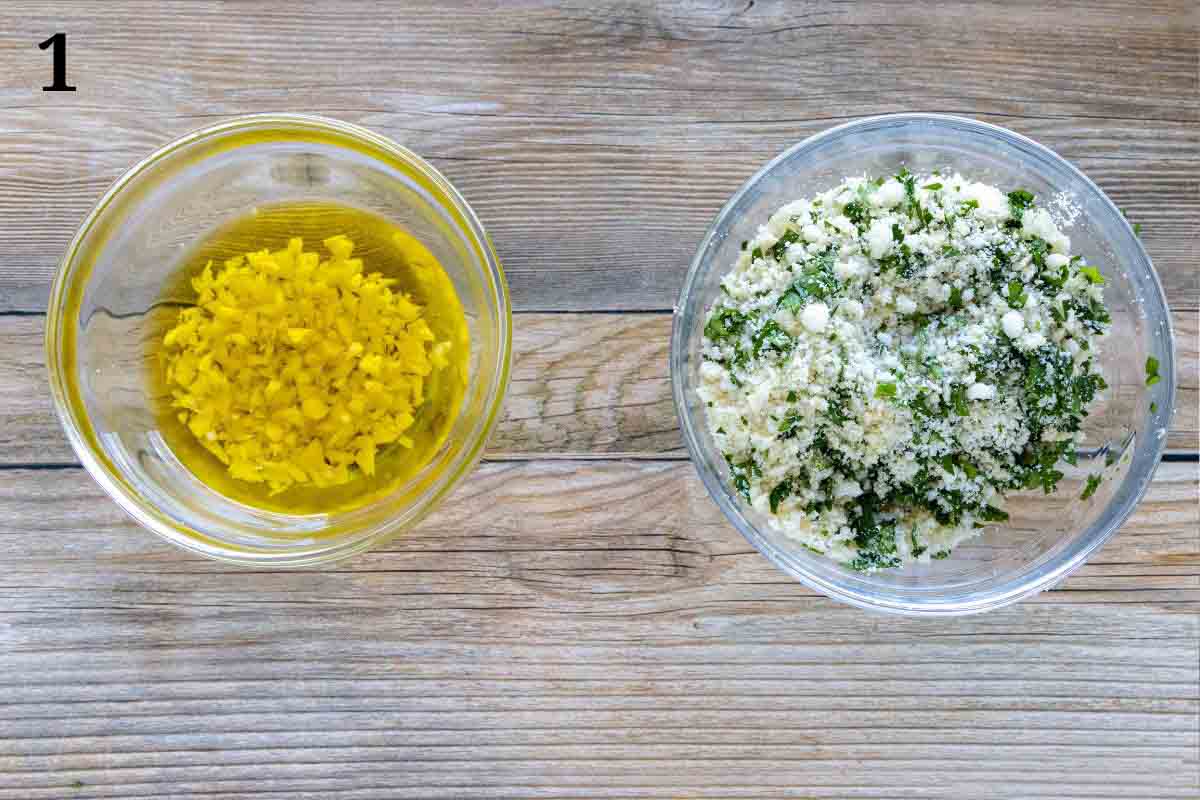 Add the chopped garlic and olive oil to a small bowl and mix to combine.
Add the panko bread crumbs, grated cheese, and chopped parsley to a small bowl and mix well to combine.Set aside until needed.
Add half of the garlic oil mixture into an 8 x 8 baking dish, spreading it around the bottom of the baking dish.
Place the artichoke hearts in a single layer in a baking dish, then add the white wine to the dish. Top them with the remaining garlic oil mixture. Drizzle with a little more olive oil if needed.
Season the artichokes with salt, black pepper, and red pepper flakes to taste.
Sprinkle breadcrumb mixture over the top of the artichoke hearts. I sprinkled the remainder of the bread crumbs in the pan.
You can also add a little fresh lemon juice, or lemon zest before baking, or serve the baked artichoke hearts with lemon wedges.
Place the baking dish on the center rack of the preheated oven and bake for 30-35 minutes or until the bread crumbs begin to get golden brown.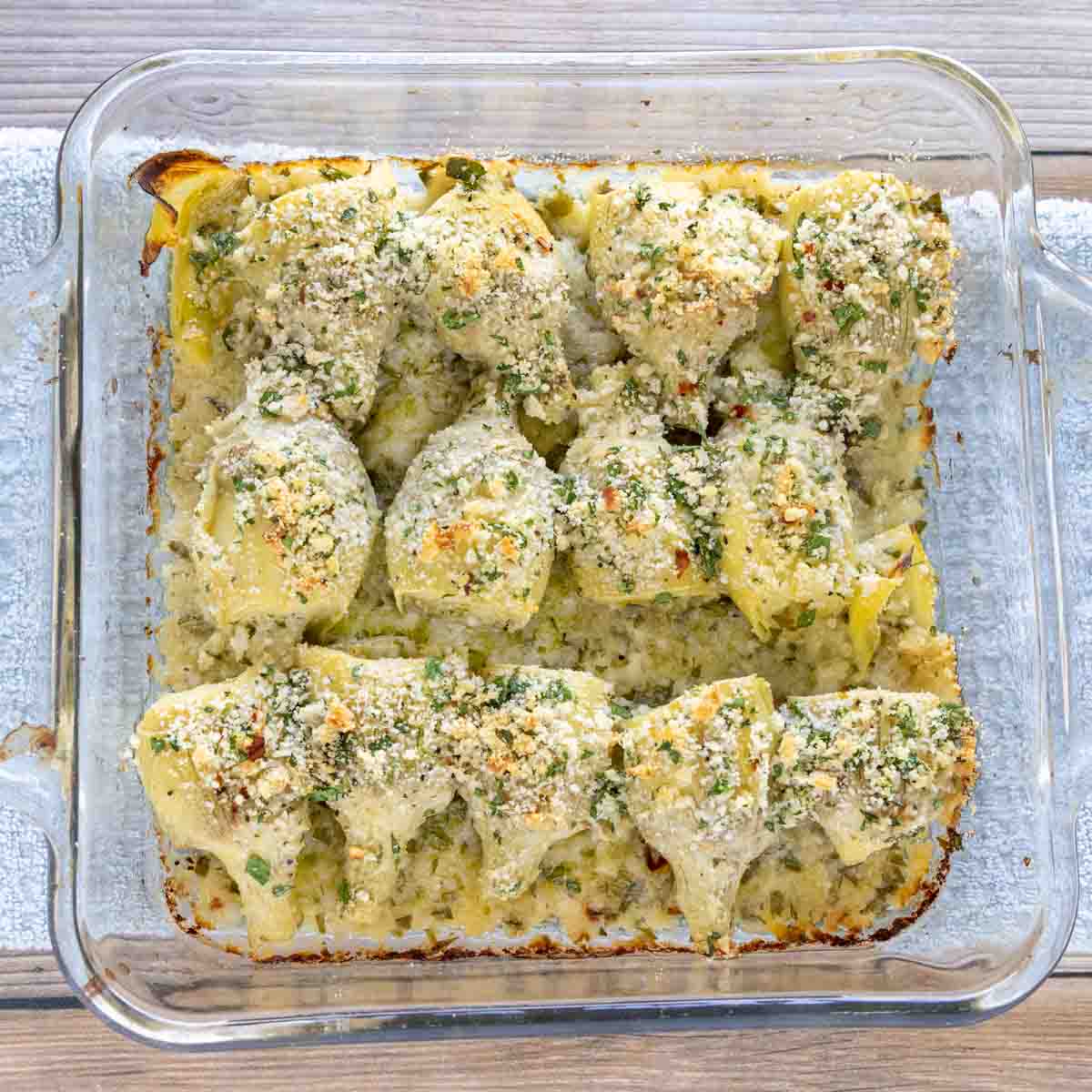 For extra crispy artichoke hearts, place the roasted artichoke hearts under the broiler for a few minutes. Just make sure to keep an eye on them so they don't burn.
Next time you make them, for change of pace and great flavor, bake them in marinara sauce. I know you'll agree a can of artichoke hearts never tasted so good!
You can also make my artichoke recipe in an air fryer
Preheat your air fryer to 390 degrees F.
Toss the artichoke hearts in the garlic oil.
Arrange artichoke hearts in an air fryer basket in a single layer
Top the chokes with the seasoned bread crumbs.
Place the basket in the preheated air fryer and cook for 10 minutes or until golden brown.
Enjoy the delicious air-fried artichoke hearts!
Recipe FAQ's
Do you have to cook canned artichoke hearts?
No, you don't. Frozen, canned, or jarred artichoke hearts are cooked and ready to eat.
What are baked artichoke hearts?
Baked artichoke hearts are the tender, edible center of the artichoke, which have been seasoned and baked until golden. They can be eaten as a side dish, appetizer, or used in various recipes.
What seasonings go best with artichoke hearts?
Olive oil, garlic, lemon juice, salt, pepper, and fresh herbs like rosemary, Italian parsley, or thyme are commonly used. Parmesan cheese and panko bread crumbs also add a nice flavor and texture to the chokes.
More Recipes You'll Love!