My Roasted Red Pepper Soup is kicked up to the next level by adding roasted corn and pulled chicken. The sweet red peppers make the base of this very flavorful soup which goes perfectly with the chicken and added corn.
Made with simple ingredients and garnished with Greek yogurt and chopped cilantro creates a symphony of flavors that will wow your tastebuds!
This bold and flavorful creation has always been one of my favorite soups. When I first started making my roasted red pepper soup, it was a much plainer version of this soup. The original version was delicious, but the corn and chicken really took the soup to a whole new level of deliciousness.
I tried different variations of ingredients before finalizing my roasted red pepper soup recipe, but feel free to add or detract ingredients to make this soup your own.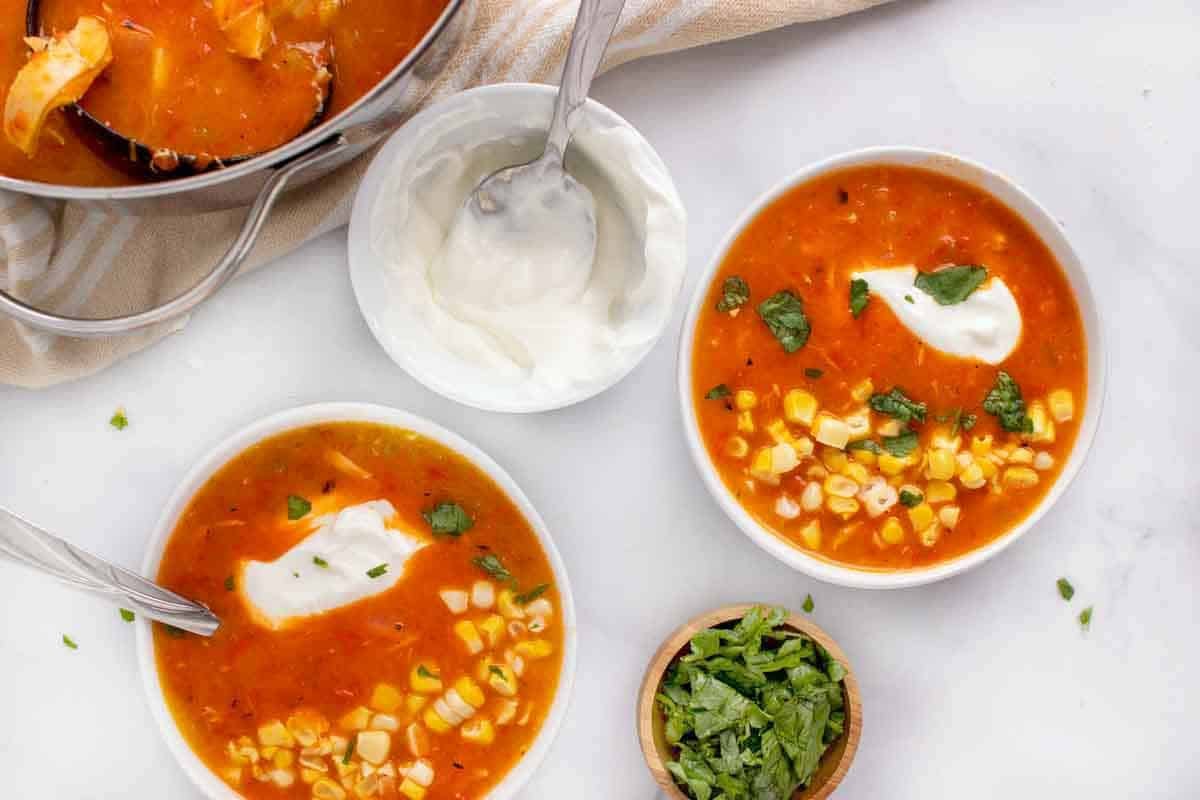 My roasted red pepper soup is the perfect accompaniment for a grilled cheese sandwich or just about any sandwich you'd like to serve it with. You can also serve my roasted red pepper soup with a nice side salad for a light, delicious dinner.
This isn't your grandmother's bell pepper soup!
Ingredients to make Roasted Pepper Soup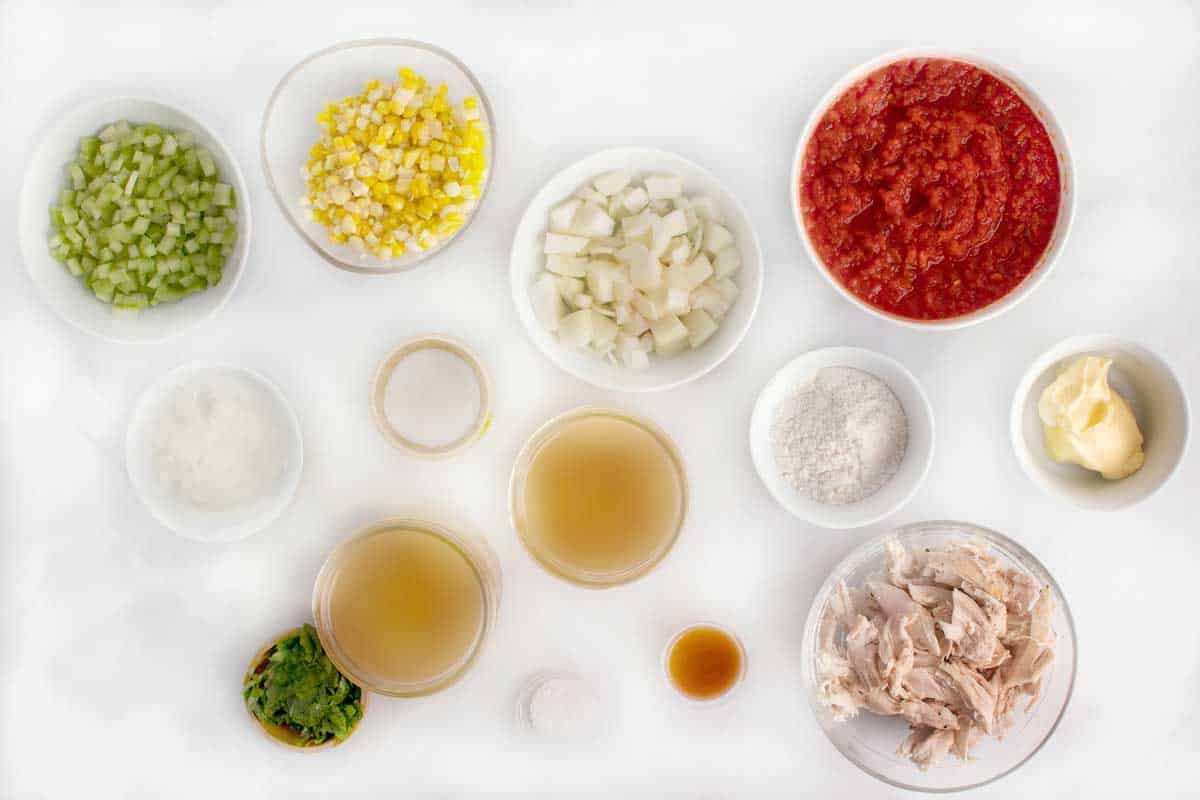 Let's start by gathering the ingredients we need to make Roasted Red Pepper Soup. In Chef Speak, this is called the "Mise en Place," which translates to "Everything in its Place."
Not only does setting up your ingredients ahead of time speed up the cooking process, it also helps ensure you have everything you need to make the dish.
*You can make your own roasted bell peppers for the soup, but I prefer using the canned variety to make my creamy roasted red pepper soup.
*I used chicken stock to make my soup, but if you'd like to keep it vegetarian, use vegetable stock instead.
How to make Roasted Red Pepper Soup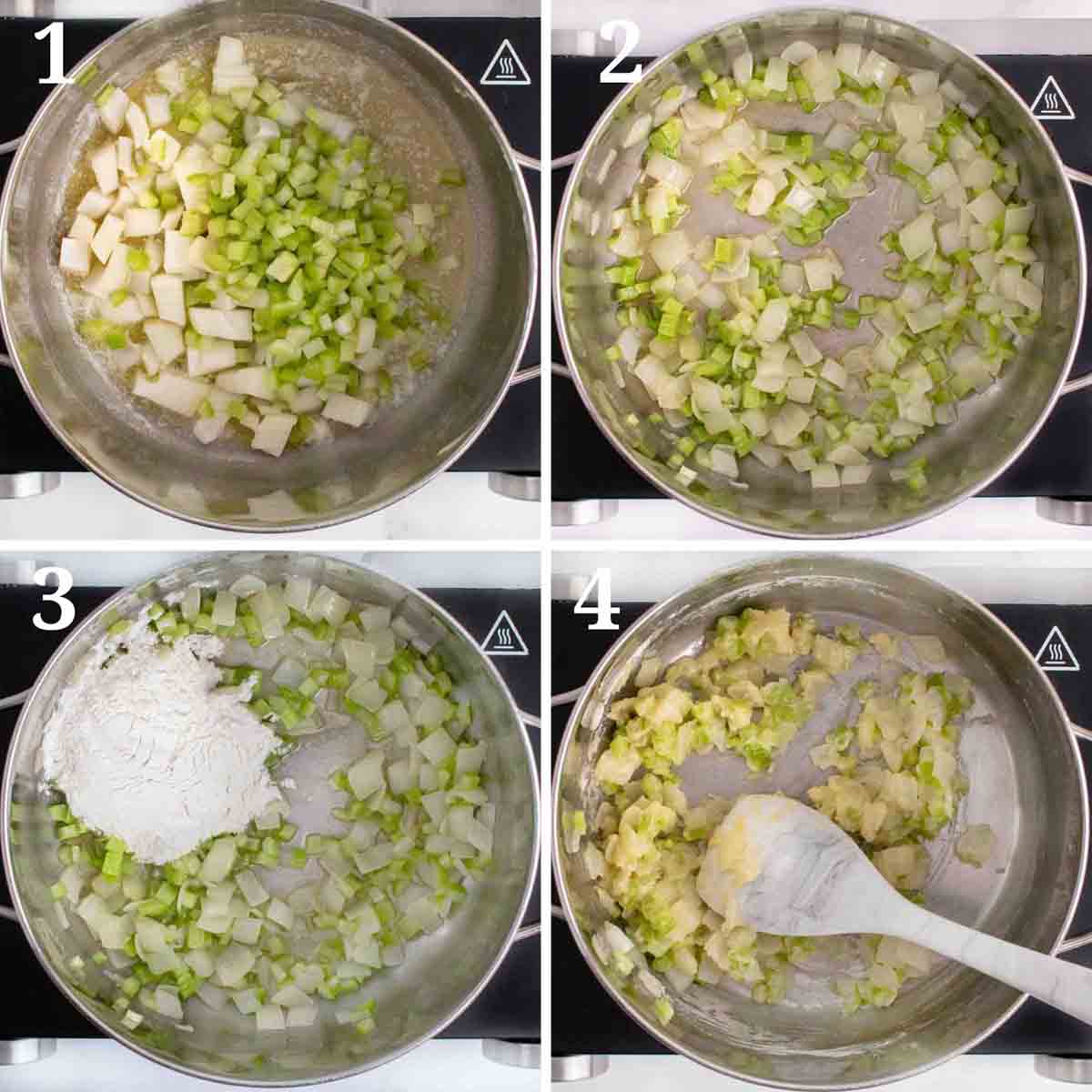 Melt the butter in a large saucepan over medium-high heat. Then add the diced celery and onions to the pan.
Cook the veggies for 3-5 minutes.
Add the flour to the cooked veggies.
Mix the flour into the butter/vegetable mixture to make the roux to thicken the soup. Reduce the heat to low.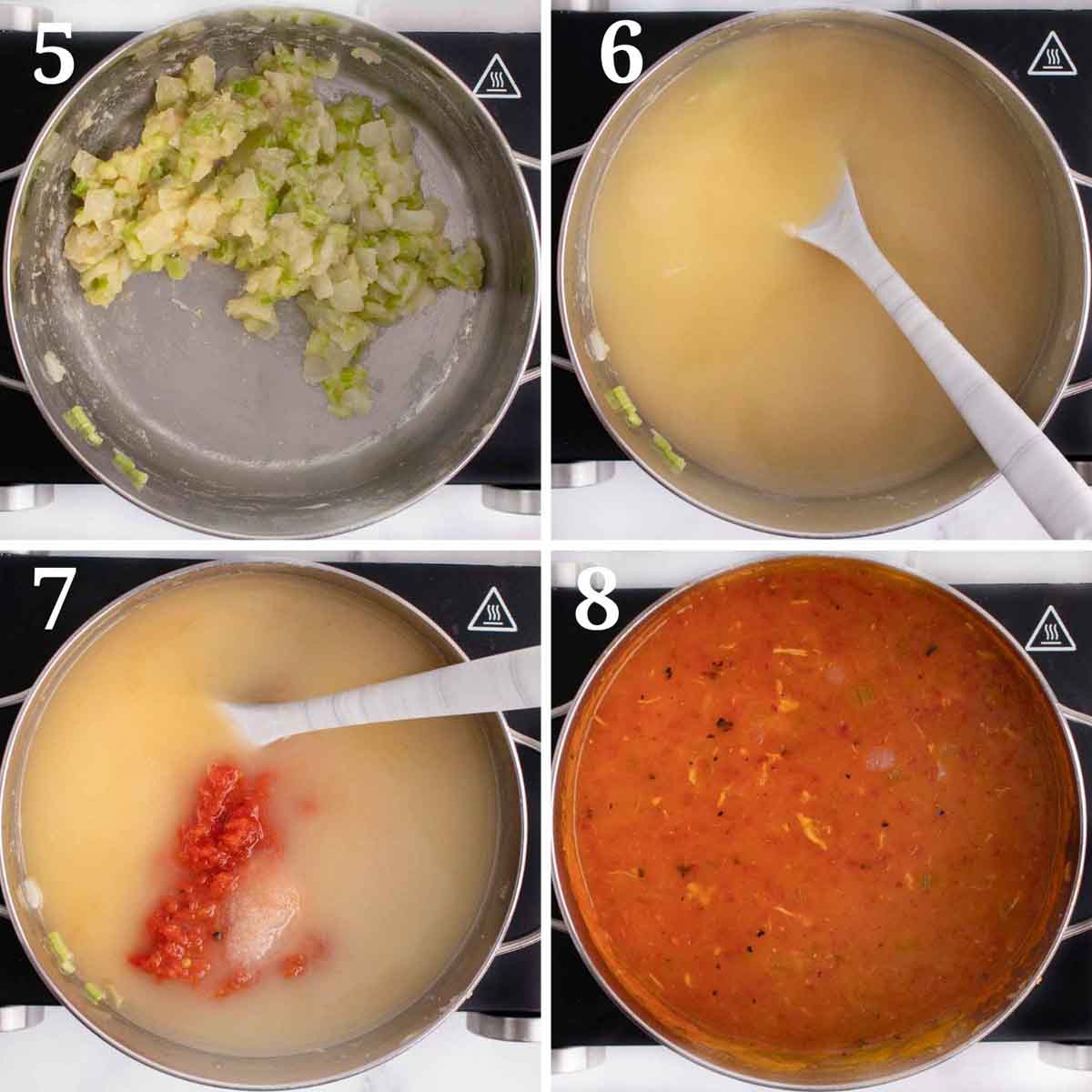 let the roux cook for 4-5 minutes to get the raw taste out of the flour.
Add the chicken broth to the roux and whisk together to completely blend together. Let the mixture simmer for 3-5 minutes on low heat.
Add the pureed roasted red peppers, hot sauce, granulated sugar, and shredded chicken. Stir to blend the ingredients together.
Season with salt to taste, and if the soup seems a little bitter, add another teaspoon of sugar. Continue to simmer for 20 minutes.
*Puree the roasted peppers using an immersion blender or food processor.
*I used hot sauce to add a little bite to the soup, but you can leave it out or use red pepper flakes instead of the hot sauce. It's entirely up to your personal taste.
*You can either add the corn directly to the soup at this point or add it to the soup as part of the garnish.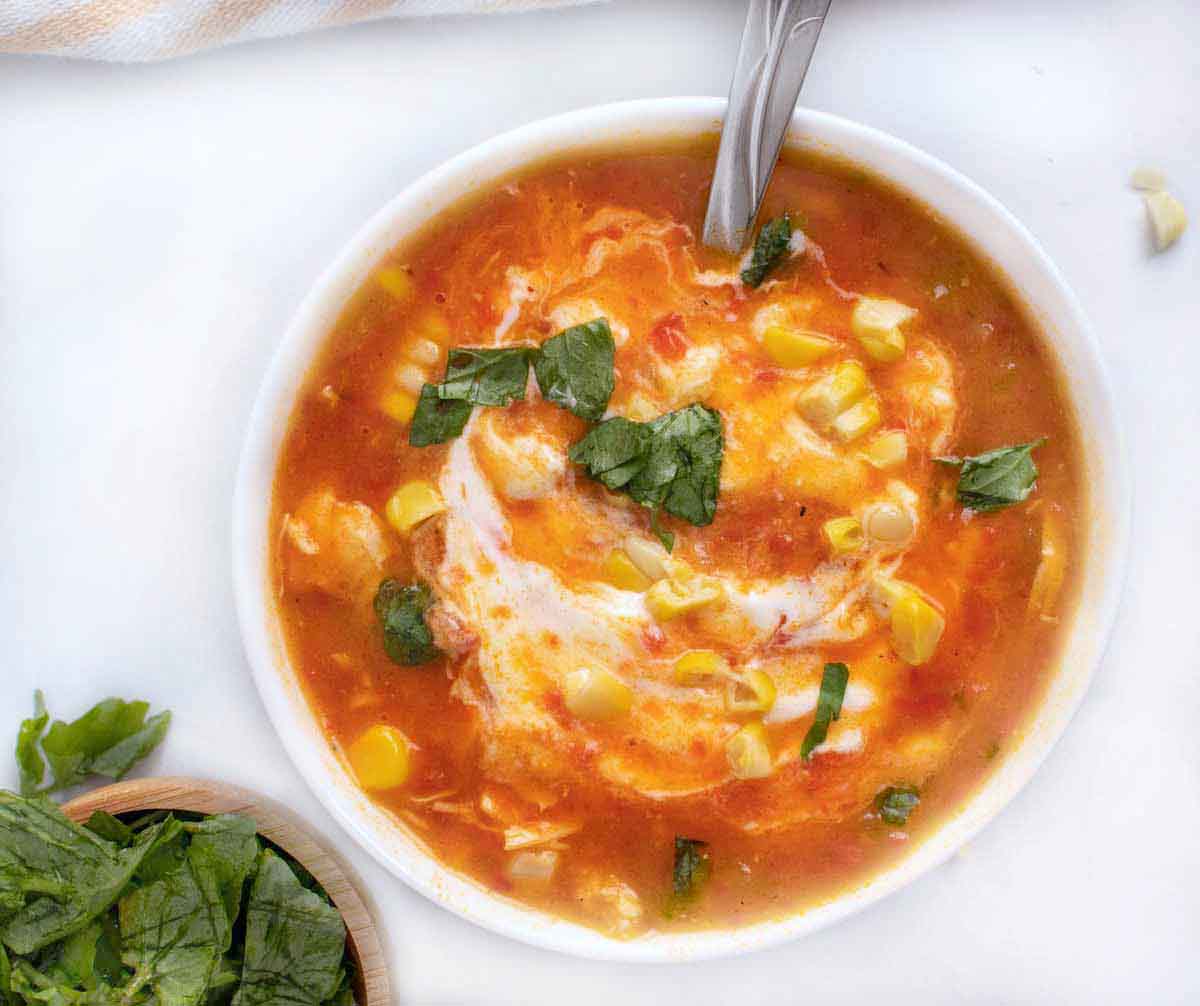 Garnish soup with a dollop of Greek yogurt (or sour cream), roasted corn, and chopped cilantro. The creamy texture and abundance of flavors make will make this soup one that you'll enjoy making time and time again. It really is that good.
Recipe FAQ's
Can I freeze roasted red pepper soup?
You can easily freeze this soup in an airtight container, and it can stay frozen for up to three months. For short-term freezing (one month), a zip lock bag is a good way to freeze soups and stews.
How do you make roasted red pepper soup less bitter?
A little sugar will always help take the bitterness out of a soup or sauce. Butter and cream will also help cut back bitter flavors. In the case of this soup, the Greek yogurt and sweet corn also help tame the bitterness.
More Recipes You'll Love!