My homemade Tzatziki Sauce recipe is a delicious accompaniment to anything your planning on cooking up this summer! Tangy, rich, and creamy with a hint of mint, this yogurt cucumber sauce is perfect for dipping and as a sauce for grilled meats and pita bread.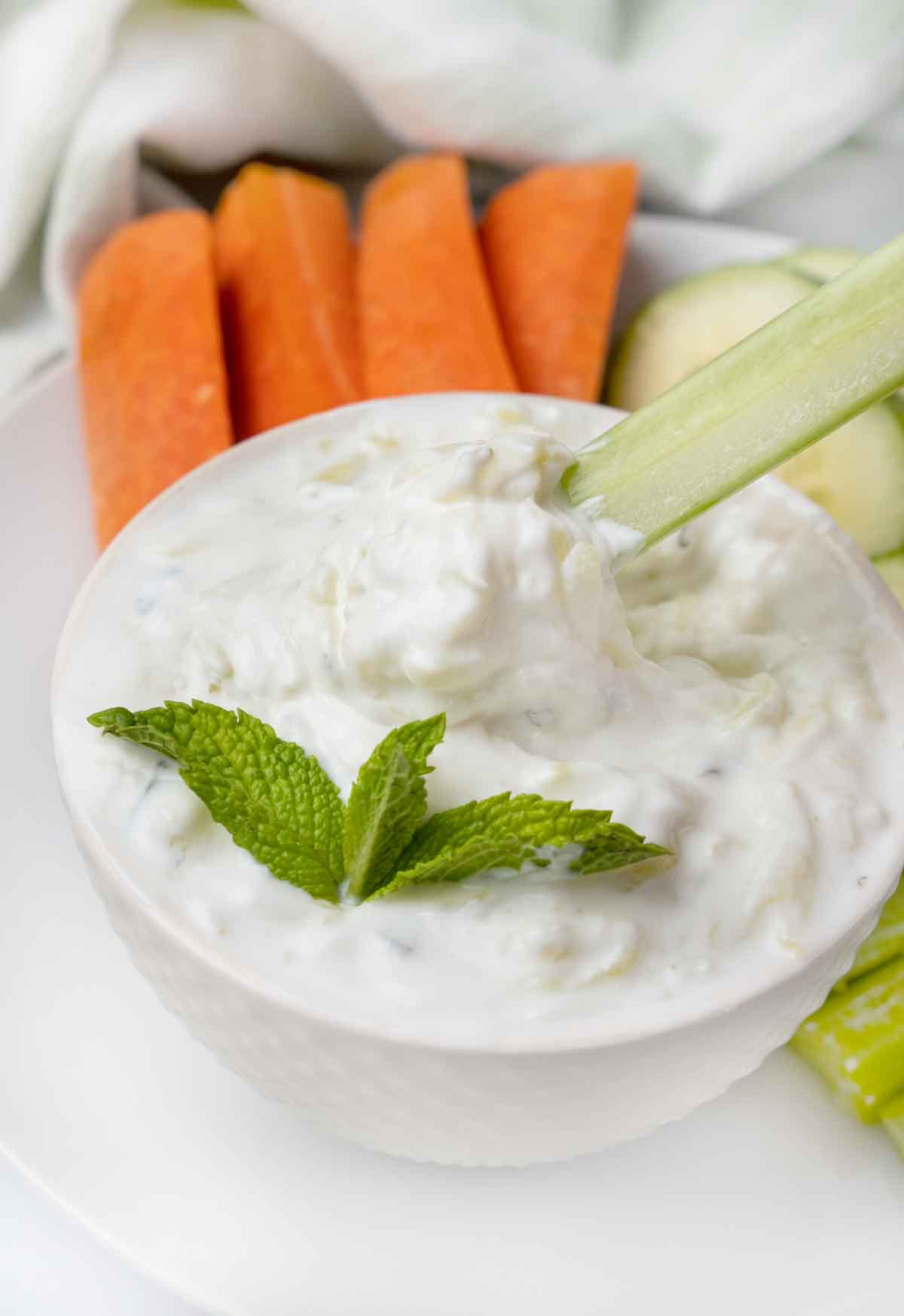 This authentic tzatziki sauce recipe was shared with me at at little restaurant in Nafplio where I was fortunate enough to dine with friends from the area. This creamy sauce made with thick Greek yogurt was served along side of all the delicious Greek food we enjoyed that evening.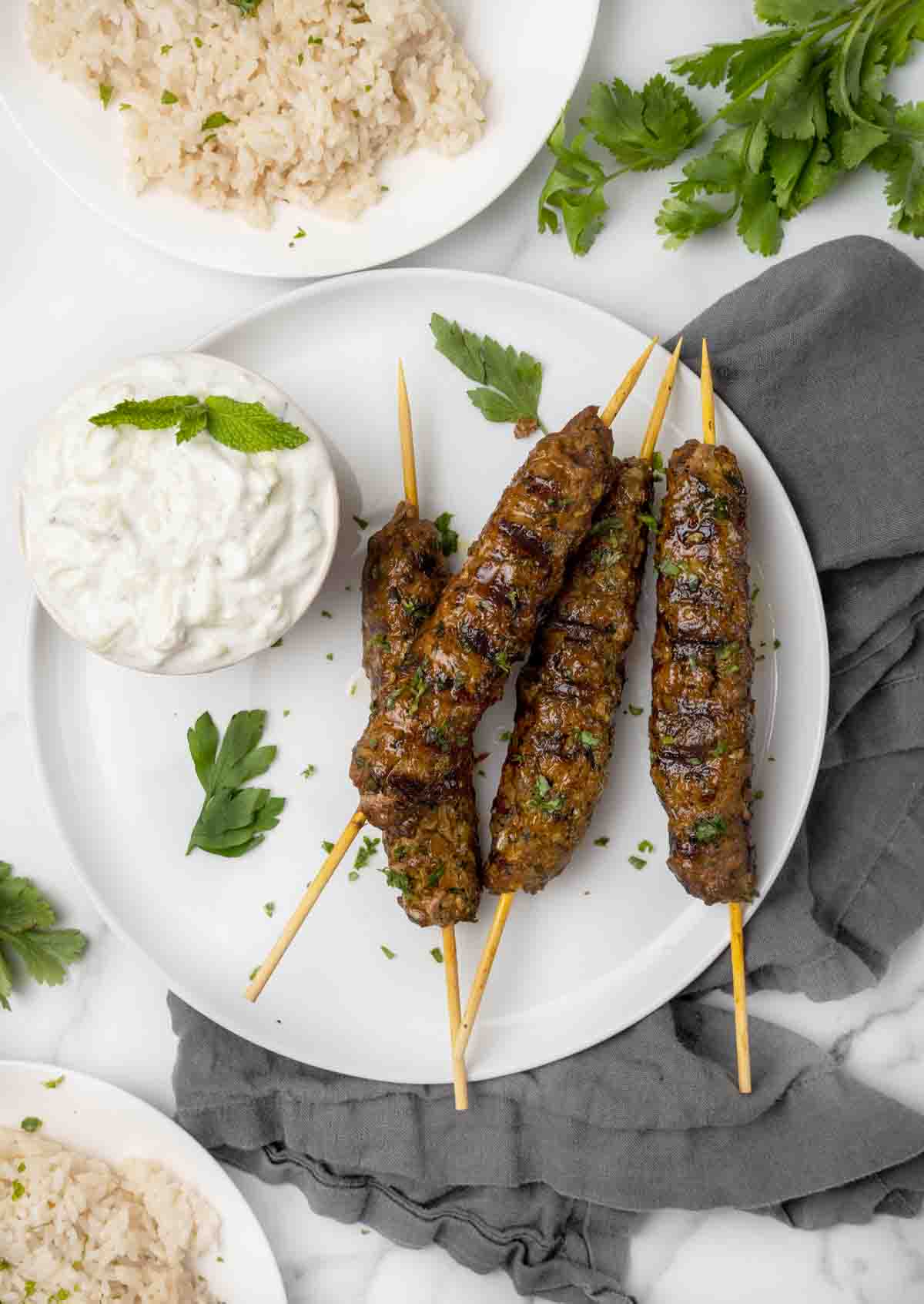 This Greek Tzatziki sauce recipe also goes perfectly with beef, chicken or lamb gyros but is equally delicious with your favorite Middle East or Mediterranean recipes like my Beef Kofta Kabobs.
Ingredients to make Tzatziki Sauce
Let's start by gathering the ingredients we need to make Tzatziki Sauce. In Chef Speak, this is called the "Mise en Place," which translates to "Everything in its Place."
Not only does setting up your ingredients ahead of time speed up the cooking process, it also helps ensure you have everything you need to make the dish.
Made with simple ingredients
Plain Greek Yogurt
grated cucumber
fresh lemon juice
fresh mint
garlic
salt
For the best flavor, I suggest using full-fat Greek yogurt. You can use low-fat Greek yogurt, but the Tzatziki sauce just won't be as thick and creamy. If your grocery store doesn't stock Greek yogurt, you can use regular plain yogurt, just make sure to strain the regular yogurt to remove the excess water. I don't advise using sour cream, but it can be used if you'd rather not use yogurt to make the cucumber sauce.
I used regular cucumbers to make my tzatziki dip, but you can use English cucumbers if you prefer. Use a box grater to shred the cucumbers and squeeze out as much moisture as possible, using paper towels to dry out the cucumber.
How to make Tzatziki Sauce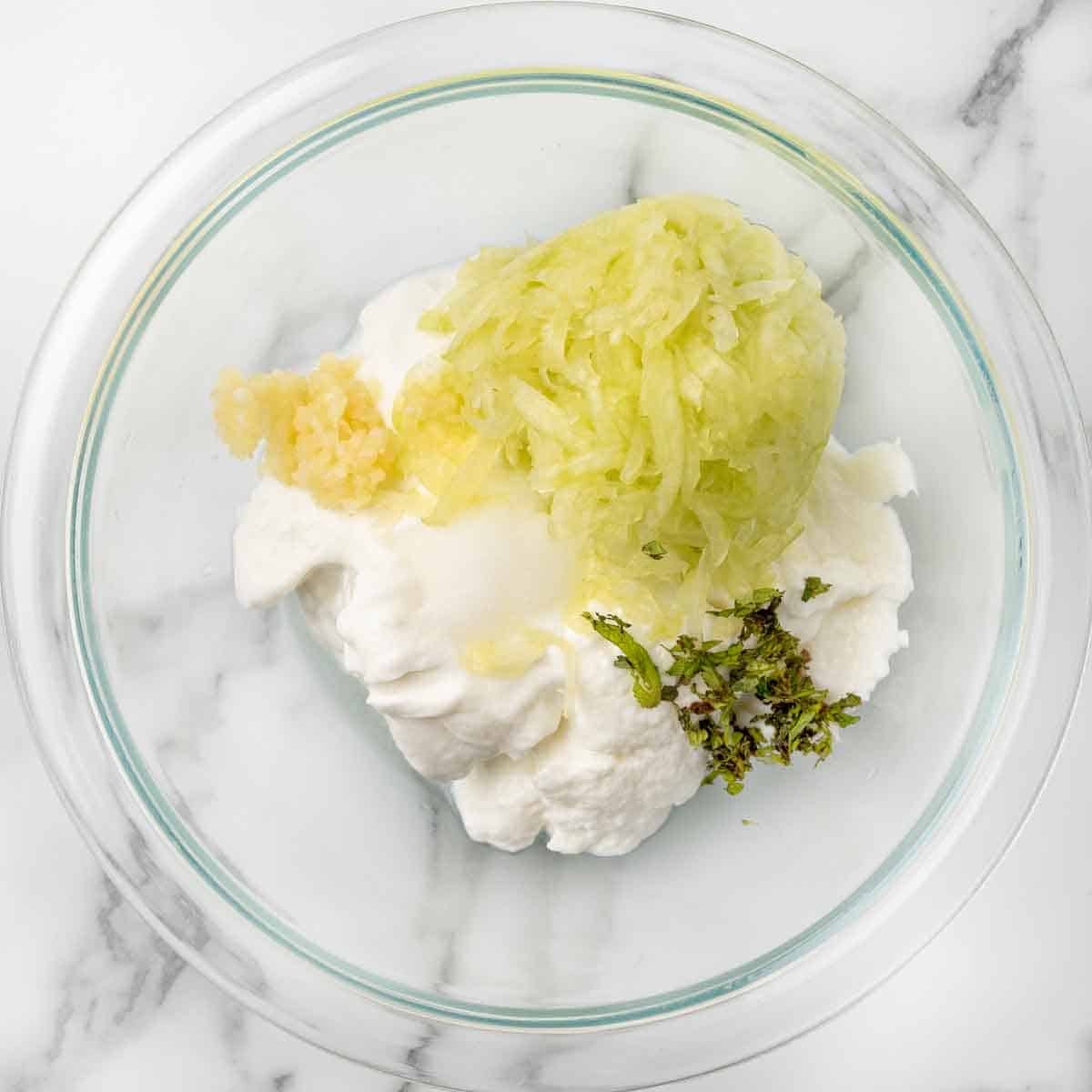 Add the plain Greek yogurt, grated cucumber, fresh minced garlic, lemon juice, and fresh mint to a medium bowl.
Whisk the ingredients to fully combine and season with salt to taste. Let the Tzatziki sauce chill for 2 – 4 hours before serving. The flavors will build as it sits.
My classic Greek tzatziki sauce makes a great dip for fresh veggies and pita chips. You can even thin it out a little with milk, buttermilk .
Your whole family is going to love my Tzatziki Sauce and I Know that after tasting it, you'll agree that it's the best tzatziki recipe you've ever made!
Recipe Faq's
What ingredients are used for traditional tzatziki sauce?
Tzatziki is made from simple ingredients, including Greek yogurt, cucumbers, garlic, lemon juice, mint, and salt. Originally it was made from strained sheep or goat's milk yogurt, but these days it's almost always made with full-fat Greek yogurt.
What can Tzatziki sauce be used for?
Tzatziki sauce is commonly used as a dip for pita bread or vegetables, as a sauce for gyro sandwiches, or as a condiment for grilled meats and vegetables. It's a versatile sauce and can be used in a variety of Mediterranean and Middle Eastern dishes. The cool yogurt sauce is a compliment to spicy dishes.
What does Tzatziki sauce taste like?
Tzatziki sauce has a tangy, fresh, and slightly garlicky flavor. The cucumber adds a light and refreshing taste, the yogurt provides creaminess and tang, and the mint adds a punch of fresh flavor.
More Recipes You'll Love!