You don't have to wait for autumn to enjoy creamy Mashed Sweet Potatoes, they're delightfully delicious any time of the year. Their smooth consistency and rich taste make them the perfect side dish for grilled or roasted meats and many of your other favorite dishes.
Although mashed sweet potatoes are the perfect side dish for your autumn and winter holiday meals, they also make a delicious side dish all year long and are a nice change of pace from regular mashed potatoes.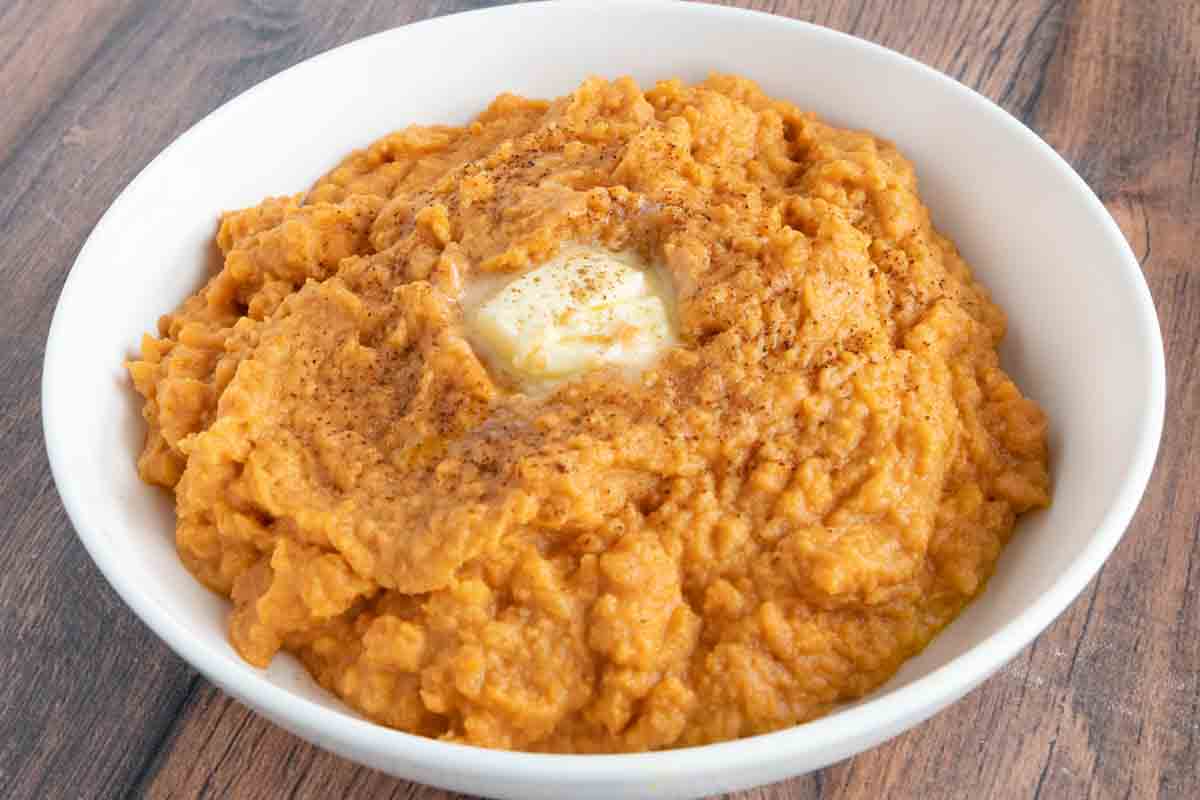 You'll see lots of recipes adding pecans and marshmallows, but I don't add them to my simple mashed sweet potato recipe letting the sweet potatoes be the star of this recipe.
Adding cinnamon and nutmeg adds a little flair to the flavor, reminding me of fall and the holidays we enjoy.
Ingredients to make Mashed Sweet Potatoes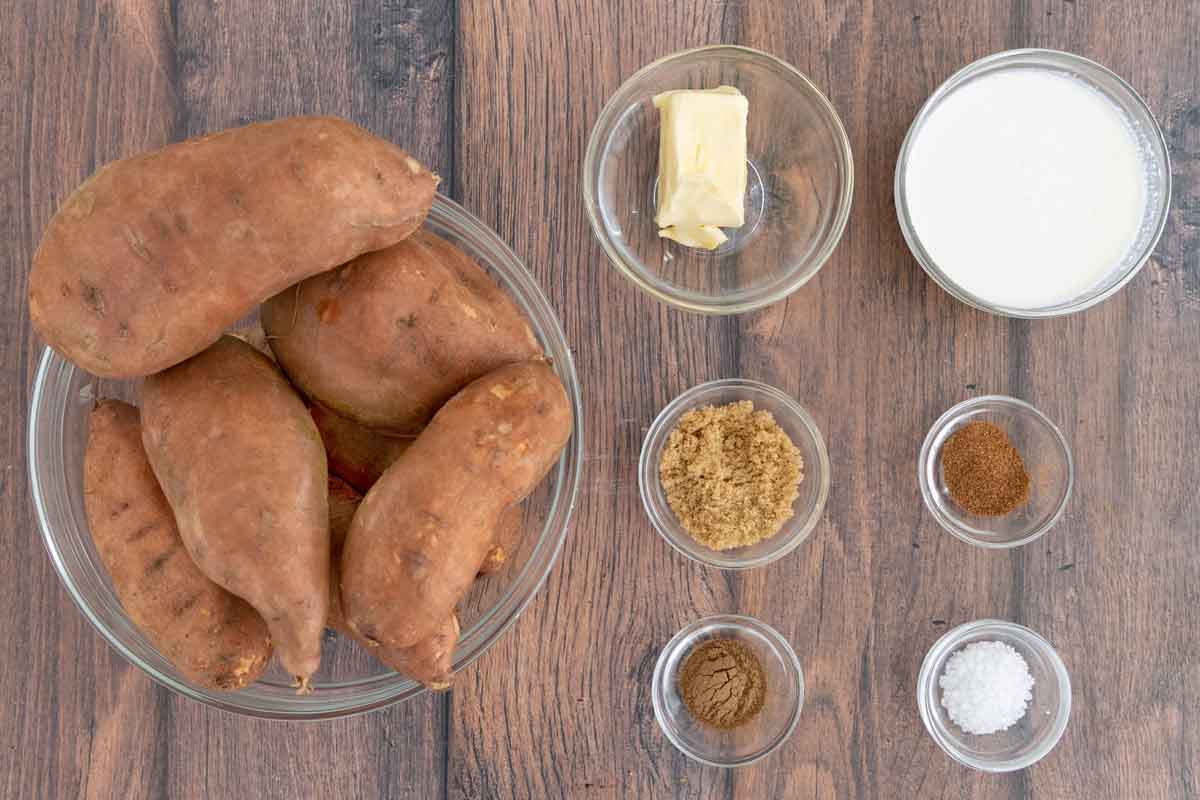 Let's start by gathering the ingredients we need to make my easy mashed sweet potatoes recipe. In Chef Speak, this is called the "Mise en Place," which translates to "Everything in its Place."
Not only does setting up your ingredients ahead of time speed up the cooking process, it also helps ensure you have everything you need to make the dish.
Made with simple ingredients
Sweet potatoes
Unsalted butter
Heavy cream or whole milk
Brown sugar
Cinnamon
Nutmeg
Kosher salt or table salt
Can I add other ingredients to mashed sweet potatoes?
Yes, you can. Some of the commonly added ingredients are vanilla extract and orange zest. Orange or lemon zest will add a bright citrusy note that will help balance the sweetness.
Fresh herbs like rosemary or fresh thyme are a nice addition and will add a savory flavor and earthy element to the side dish.
For a bit of heat, add a pinch of cayenne pepper, and for a spicy smoky taste add a little smoked paprika.
Instead of brown sugar, try adding maple syrup or honey to sweeten the dish.
Cream or milk, along with butter is used to make the mashed sweets creamy. But you can also add a little cream cheese or sour cream to the mixture to make them even creamier.
To make a sweet potato casserole, add a layer of mini marshmallows on top of the mashed sweets, then add a layer of a pecan brown sugar topping.
Do I have to boil the sweet potatoes?
No, you don't. Roasting the sweet potatoes is another great way to prepare them and will add another layer of flavor to the dish. You can also steam them by using a steamer basket inserted into a large pot.
How to make Mashed Sweet Potatoes
Wash and thoroughly clean the sweet potatoes using a scrubbing brush
Peel the sweet potatoes.
Then cut the whole potatoes in half and then in half again two more times.
Place the cut potatoes in cool water while you finish cutting them.
Drain the potatoes and place them in a saucepan. Fill the pan with cold water one inch above the cut sweet potatoes. Add a dash of salt to the water and place a cover on the pan.
Place the saucepan over medium-high heat, and bring the water to a boil.
Boil the sweet potatoes for 15 to 20 minutes, until they are fork tender.
Carefully drain and place them into a large bowl, adding the butter and heavy cream to the bowl with the drained sweet potatoes.
Using an electric mixer (potato masher or food processor) whip the ingredients together until smooth.
Add the brown sugar, nutmeg, and cinnamon to the mixture and continue to mix until they have a smooth and fluffy consistency.
*Add a little whole milk to the mixture if needed to get the desired consistency.
You can peel and cut the potatoes ahead of time and store them in water covered with plastic wrap until ready to cook. Let the potatoes come to room temperature before cooking so they cook more evenly.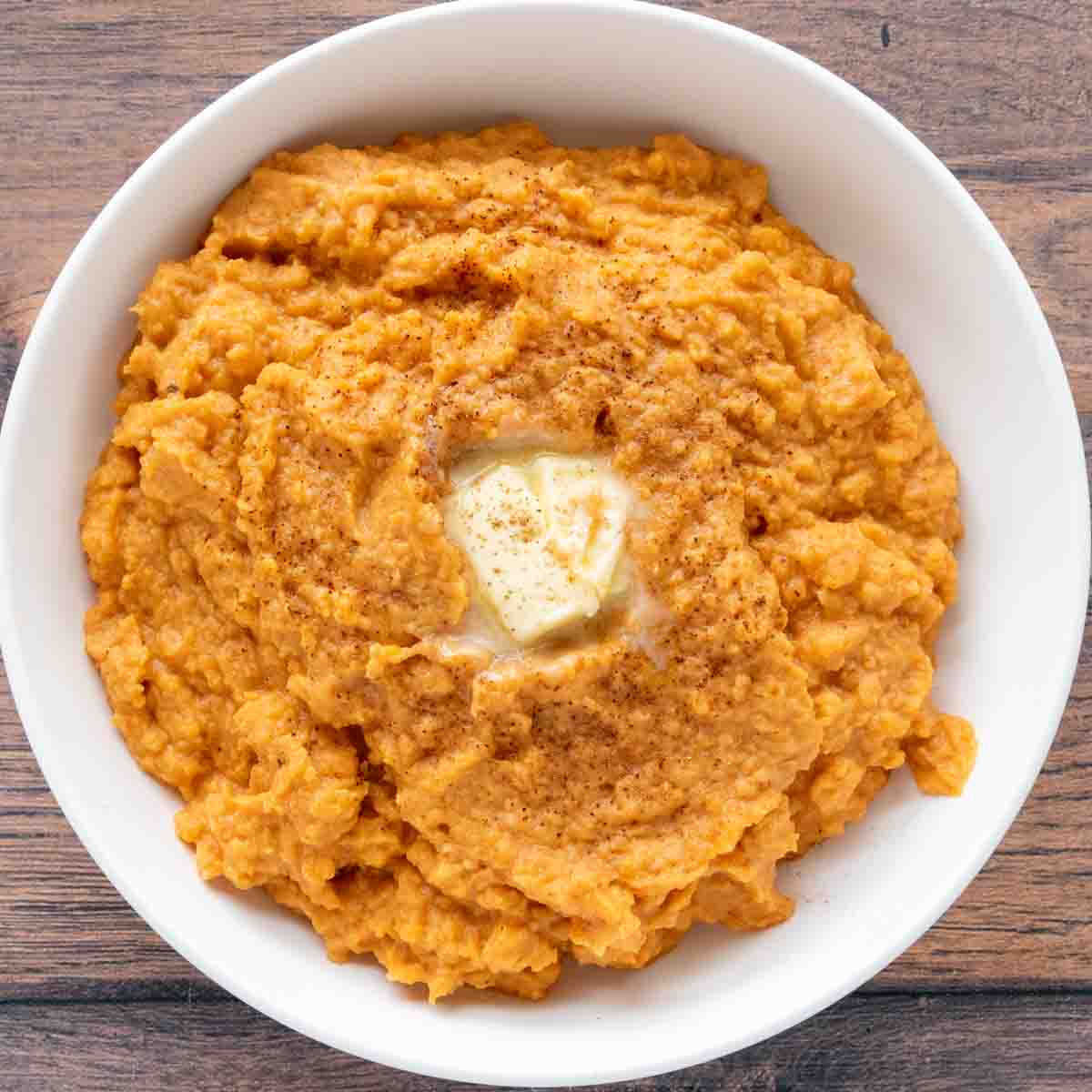 Top the sweet potatoes with a pat of butter and enjoy! Just wait until you see the smiles around your dinner table, and I know you'll agree that this was the best mashed sweet potatoes recipe you ever made,
Store leftover mashed sweet potatoes refrigerated in an airtight container.
Recipe FAQ's
Can I leave the skin on when making mashed sweet potatoes?
Yes, you can. Leaving the skin on is a personal choice. You can leave the skin on for a more rustic texture and added nutrition. Just make sure to wash and scrub the sweet potatoes thoroughly before boiling.
What seasonings can I use in mashed sweet potatoes?
Common seasonings for mashed sweet potatoes include butter, salt, pepper, cinnamon, nutmeg, and brown sugar. You can also experiment with herbs like rosemary or thyme for a savory twist.
How do I reheat mashed sweet potatoes without them becoming dry?
To reheat mashed sweet potatoes add a little butter and milk (or cream), and gently heat them on the stove over low heat, stirring frequently.
More Recipes You'll Love!