Do you love Crispy Fried Shrimp? When it comes to cooking shrimp, frying will always be my favorite way to prepare those delicious little morsels. Bubba Blue from Forrest Gump was right when he called shrimp, the fruit of the sea.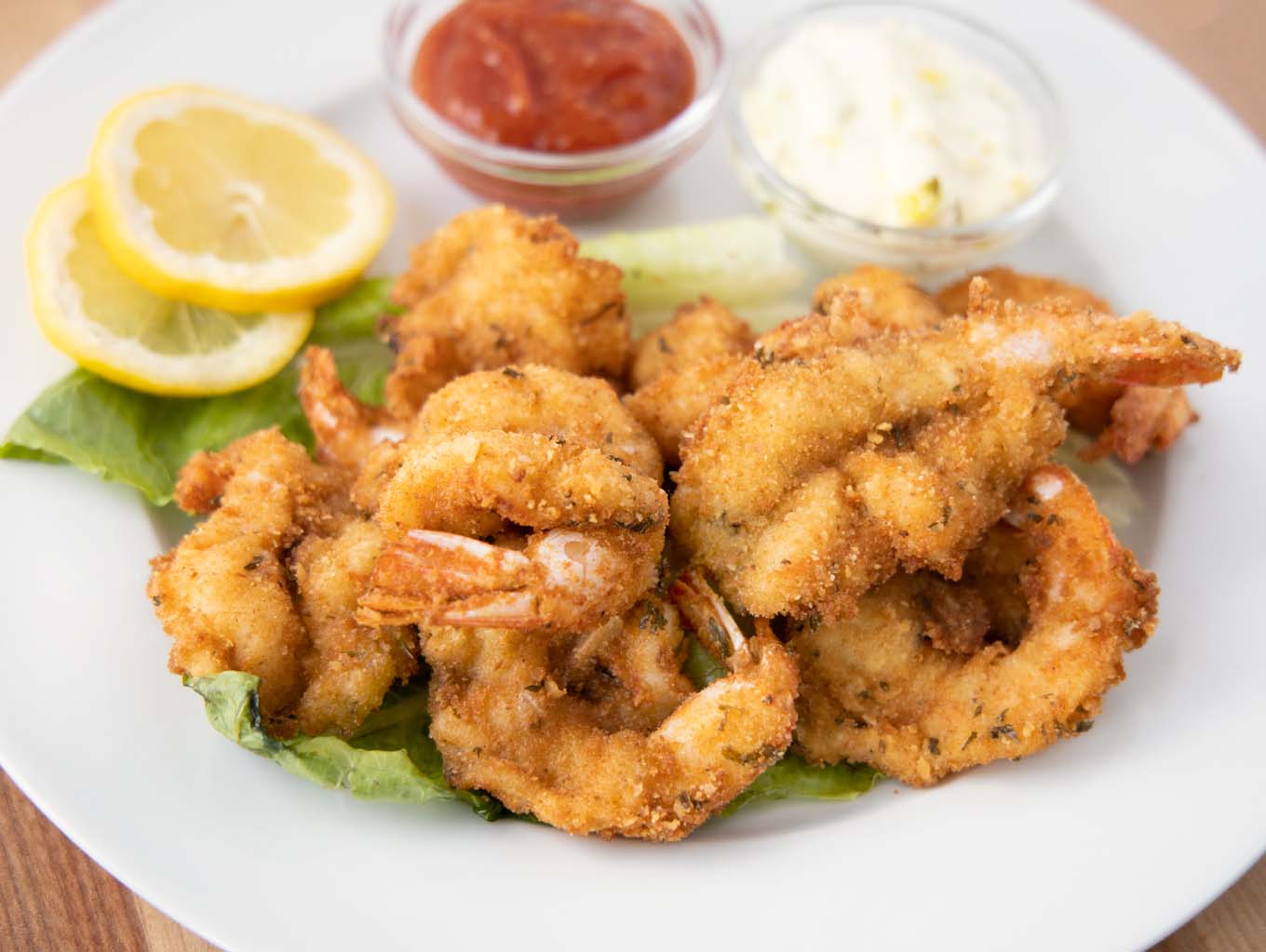 One of my fondest memories of growing up was my father frying up a bunch of shrimp. My father had been stationed at Fort Polk in Louisiana (where I was born). In Louisiana, he learned to love shrimp, which he passed on to me.
I remember my mother buying a five-pound box of shrimp for around 5 dollars. In the sixties that was a lot of money for food, so shrimp were still a luxury for us.
Shrimp have definitely come a long way and are readily available in most local supermarkets.
What type of shrimp should I buy?
I am a true believer when it comes to shrimp, and only buy Gulf or Pacific Shrimp produced by American or Mexican companies. As for size, 16-20 Jumbo Shrimp (count per pound) are my first choice. I also splurge on U-15 when they are priced right, and occasionally 26- 30 for shrimp salad. I don't recommend buying anything smaller than 26-30 count shrimp.
You'll find a lot of farmed shrimp in the market from Asian and Indian waters, and I have to tell you, I don't trust them. Those waters are questionable and we have no idea how those shrimp are processed. So when you think you're getting a bargain, you might want to rethink what your buying.
What ingredients do I need to make restaurant-style fried shrimp?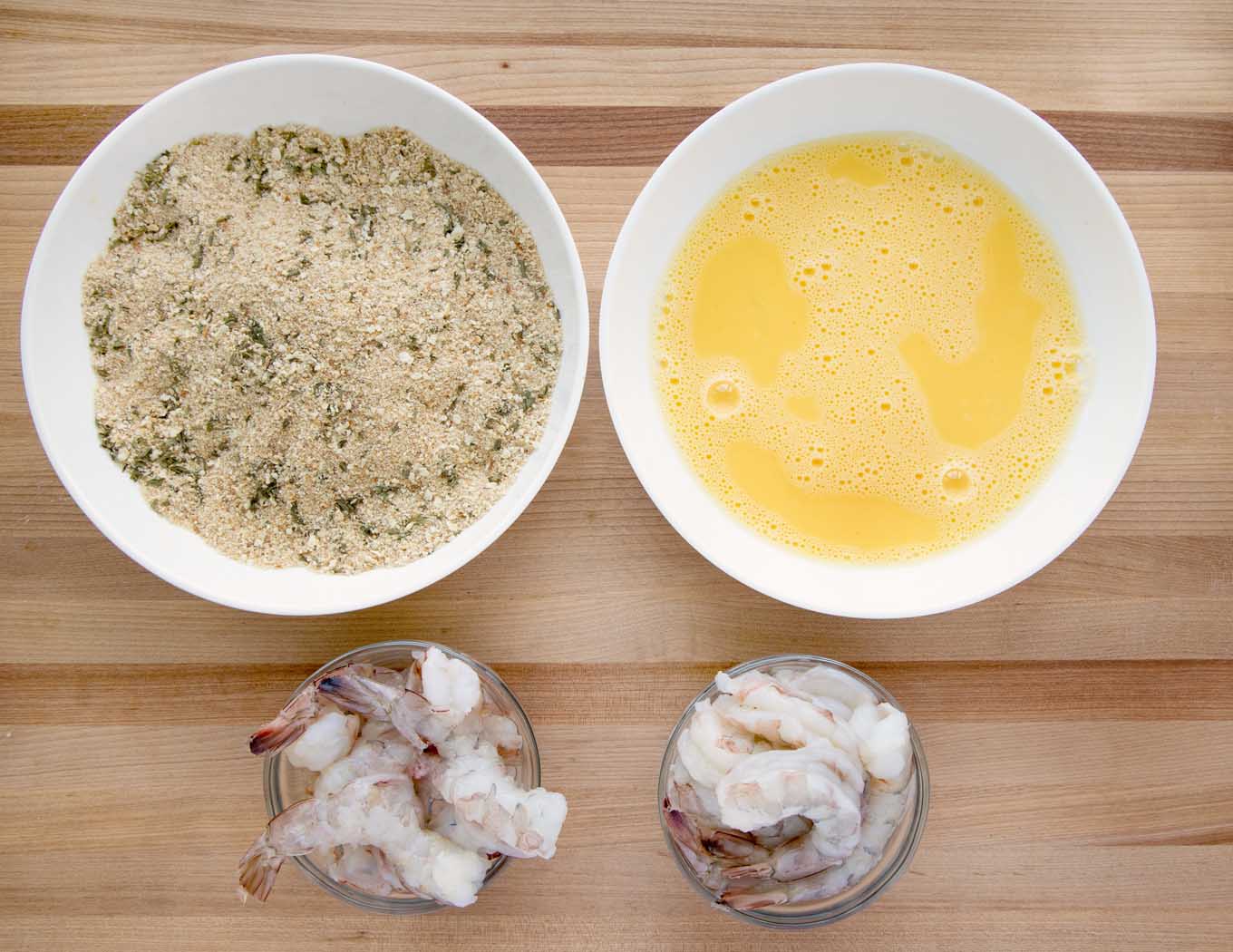 Let's start by gathering the ingredients we need to make Restaurant Style Crispy Fried Shrimp. In Chef Speak this is called the Mise en Place which translates into Everything in its Place.
Not only does setting your ingredients up ahead of time speed the cooking process, but it also helps ensure you have everything you need to make the dish.
Should I butterfly the Shrimp?
This is a matter of personal preference. In restaurants, shrimp are often butterflied to make them look bigger. The trade-off is that they cook faster and the time it takes to get them that perfect golden brown might just overcook the shrimp a little.
When you're served shrimp that aren't butterflied, you've found a restaurant that is more concerned with preserving the natural sweetness of the shrimp. And trust me, that's a good thing.
How do I make Restaurant-Style Crispy Fried Shrimp?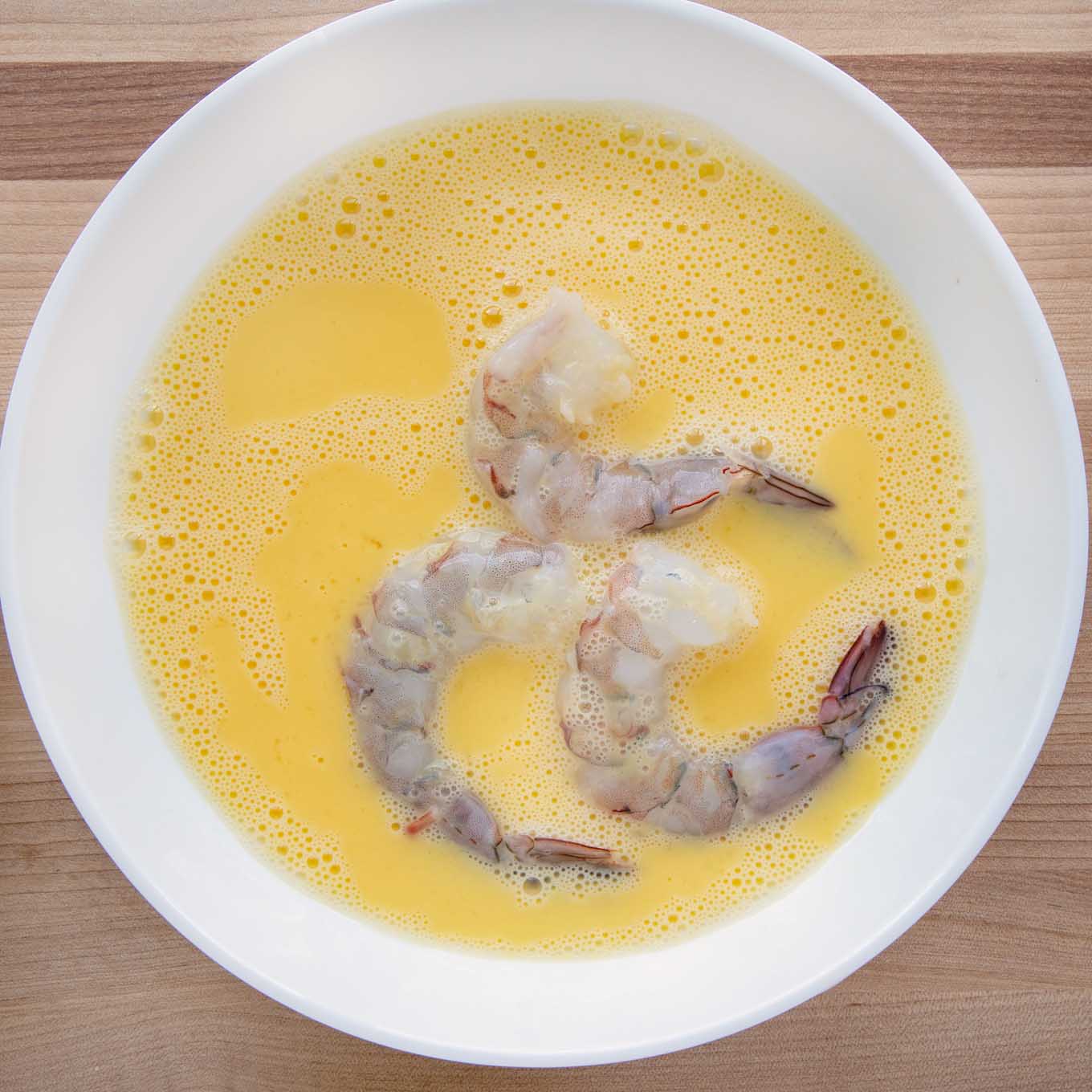 The first step in making restaurant-style fried shrimp is dipping the peeled and cleaned shrimp in an egg wash.
How do I make an egg wash?
You can make an egg wash many different ways and there is no right way or wrong way as long as whatever you're frying gets completely immersed in your choice of egg wash.
eggs and buttermilk
eggs and milk
eggs and cream
eggs and water
just eggs
Use about 1 ounce of liquid for every egg used. A little extra liquid won't hurt the mixture you just don't want to water it down too much.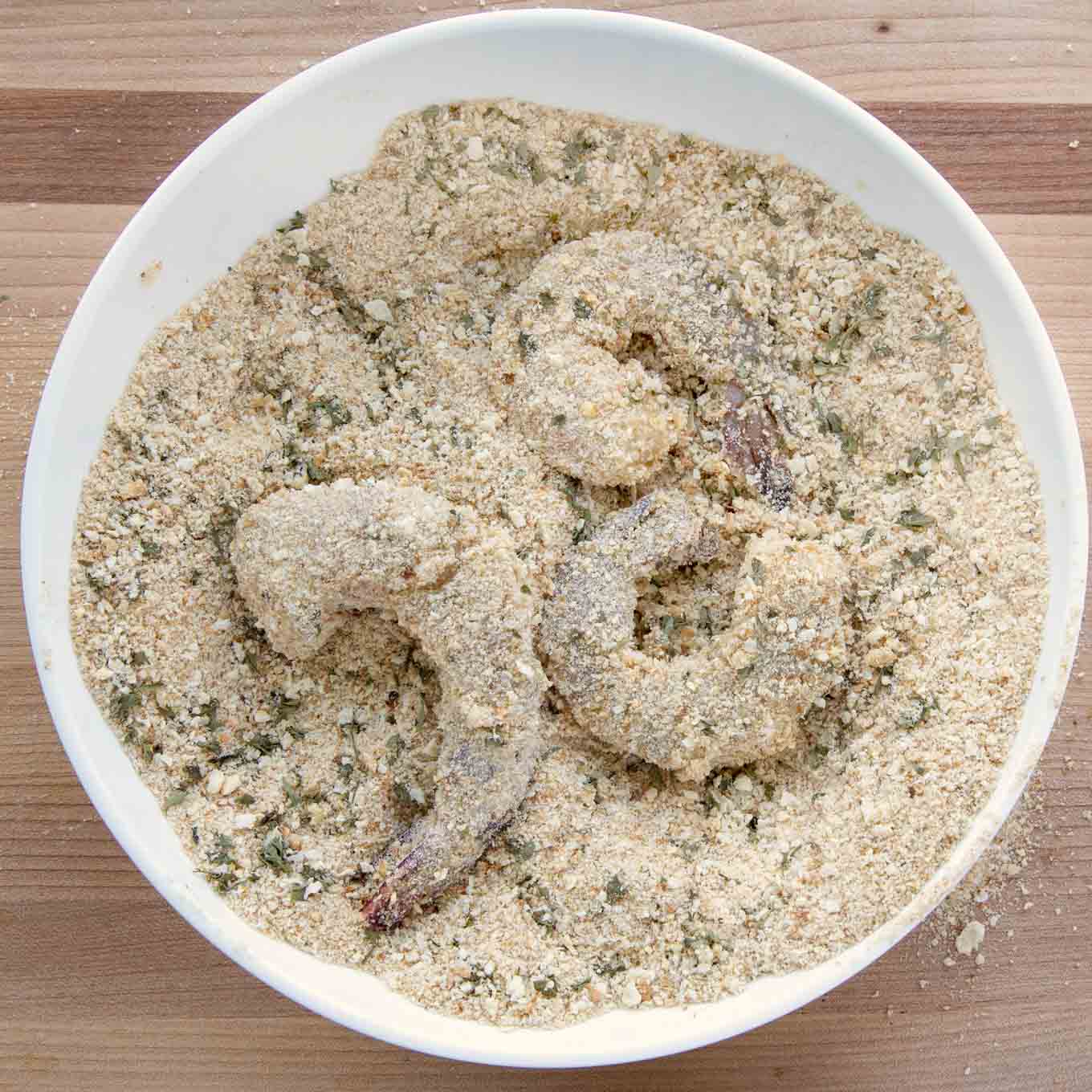 After the egg wash, place the shrimp in seasoned bread crumbs. You can use any type that you prefer for this step, including panko, just be sure to get a good coating on the outside, covering the entire shrimp.
Do I have to use seasoned breadcrumbs?
No, you do not. You can use any of these options for your fried shrimp or any food you'd like to fry.
Plain bread crumbs. (you can add your own seasonings if you like)
Panko bread crumbs (seasoned or unseasoned)
Cracker meal
Gluten-Free bread crumbs of any style
If you want to season your own bread crumbs, you can choose your favorite seasoning. I like to keep the seasoning on the mild side and let the sweetness of the shrimp shine through.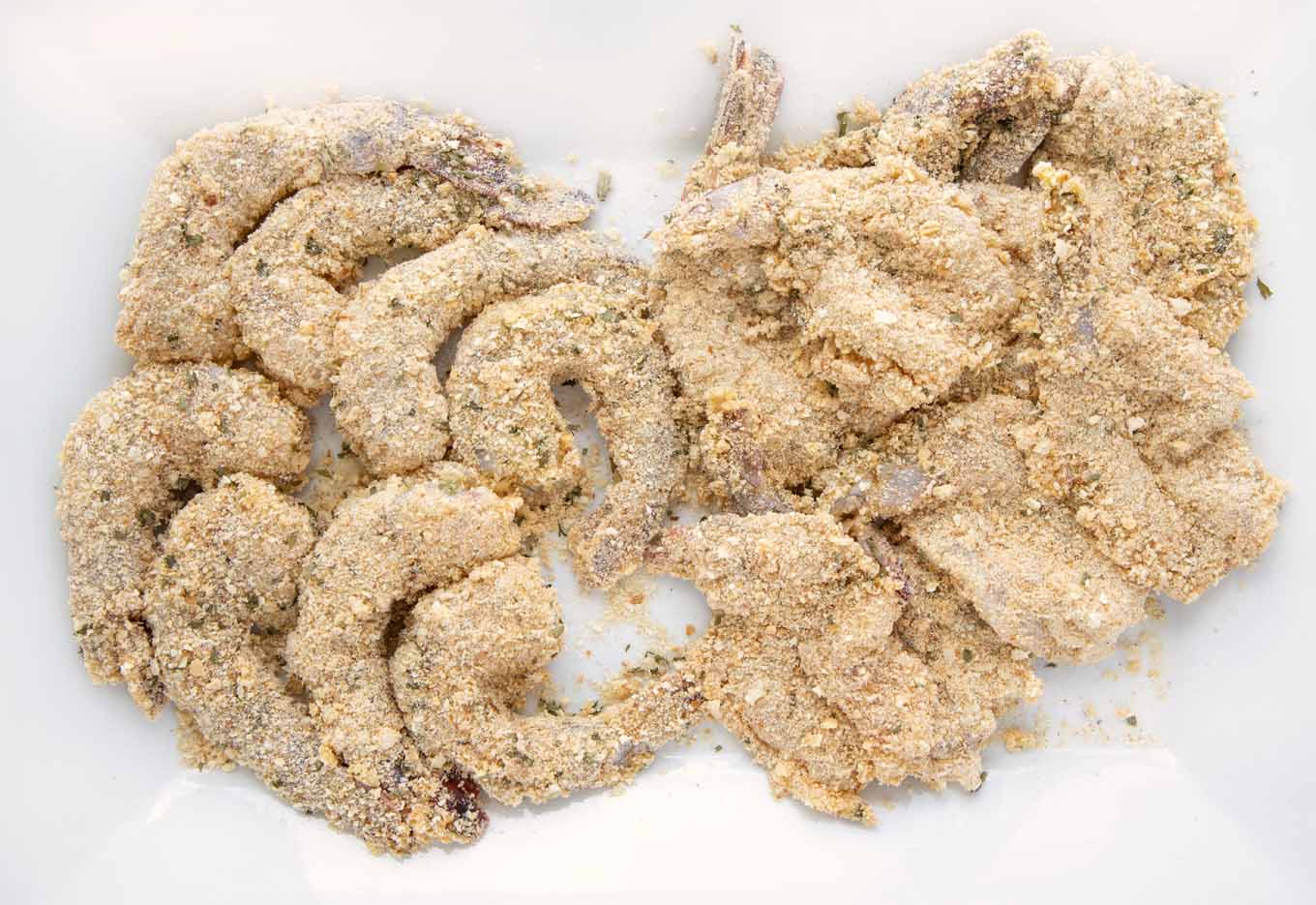 I breaded butterflied and just cleaned (round) shrimp to show you the difference.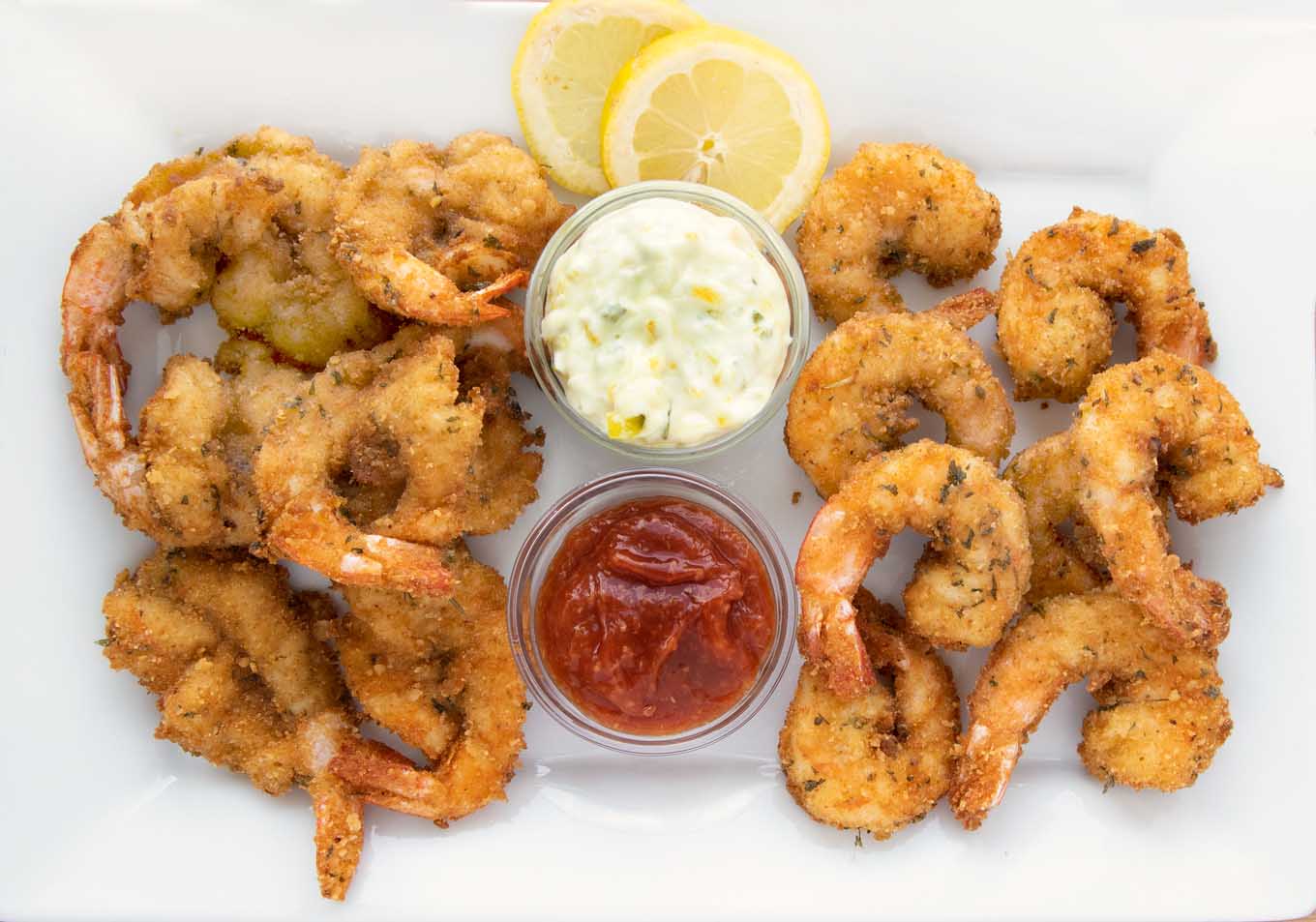 Then it's time to fry the shrimp to a beautiful golden brown. Here you can see that the butterflied shrimp look bigger.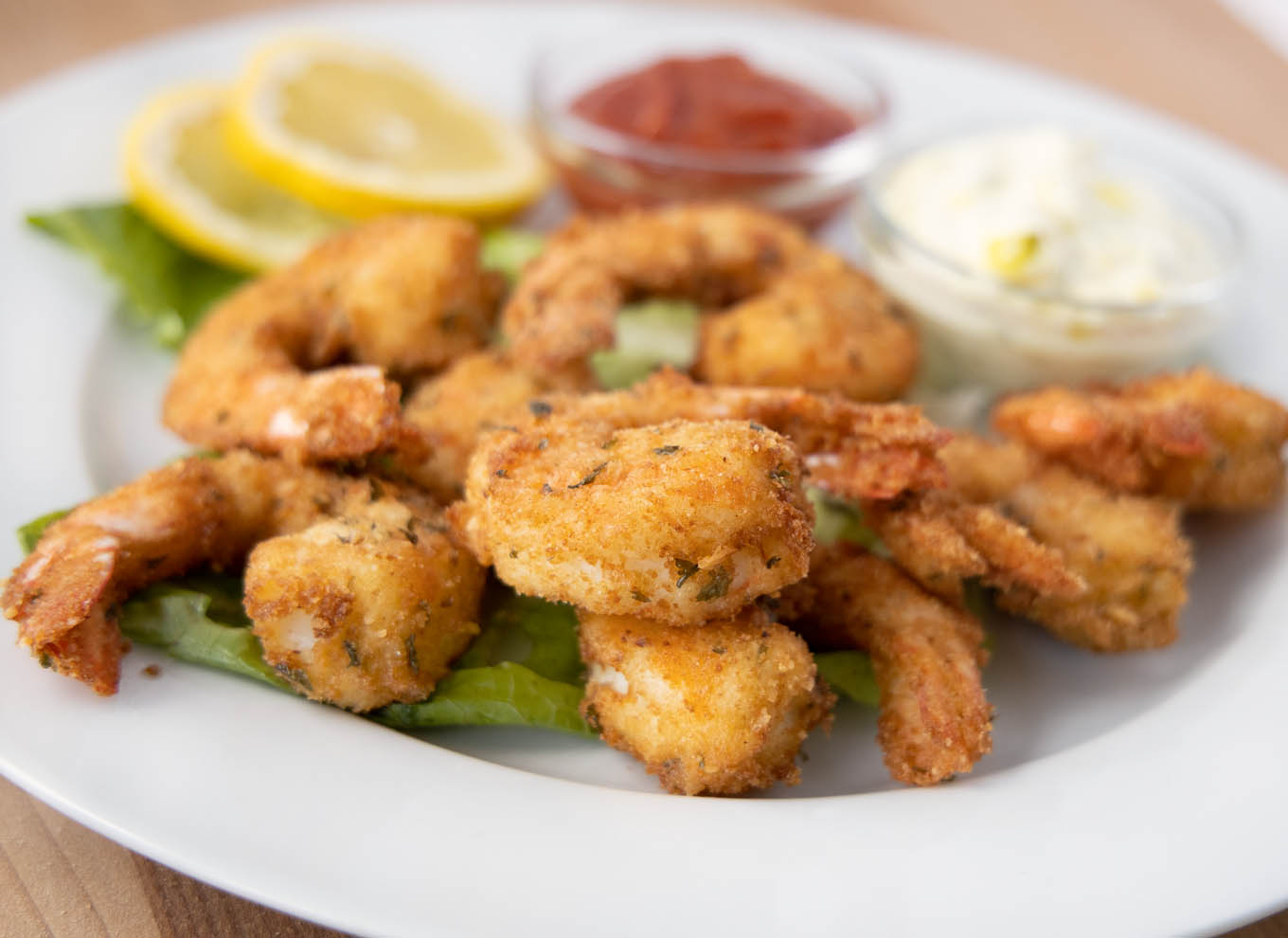 Honestly, both types of my crispy fried shrimp were absolutely sweet and delicious, but the un-butterflied shrimp would still be my first choice.
Chef Dennis tip for home frying
When you fry foods the oils you use need to have a high smoking point. *Smoking point is the temperature it takes for the oil to start to break down and smoke.
The oils I recommend for frying foods are peanut oil, canola oil, sunflower oil, safflower oil, corn oil or vegetable oil. My oil of choice is corn oil for home frying and canola in professional kitchens.
Make sure you have enough oil in the pot to fully submerge the food you are frying. Leave enough room for the food you're frying with an extra few inches at the top for safety. The oil will bubble and you don't want to get burned or have a mess to clean up.
Never add liquid to the fryer and keep a Kitchen fire extinguisher (rated for oil) nearby.
For most deep-fried recipes, you'll want to heat your oil to 350 – 375 degrees F. Use a long stem thermometer to check the temperature of the oil. If you're cooking in batches make sure to give the oil time to recover before adding more food.
Drain the fried food on baking racks over sheet pans (or baking sheets). Allowing fried food to drain removes much of the fat associated with deep-frying. Most of the fat will not penetrate the food, staying only on the outer layer (as long as the oil is hot enough)
This half sheet pan with a wire rack is perfect for draining fried foods.
You can reuse the oil if you filter it, cleaning out the residue that sinks to the bottom of the oil. Using big coffee filters in a stainless steel strainer will work. Just make sure the oil has cooled to a temperature you can safely handle it at.
If you're serious about home frying I suggest the T-Fal Deep Fryer. It's the one I use at home for any deep-fried foods.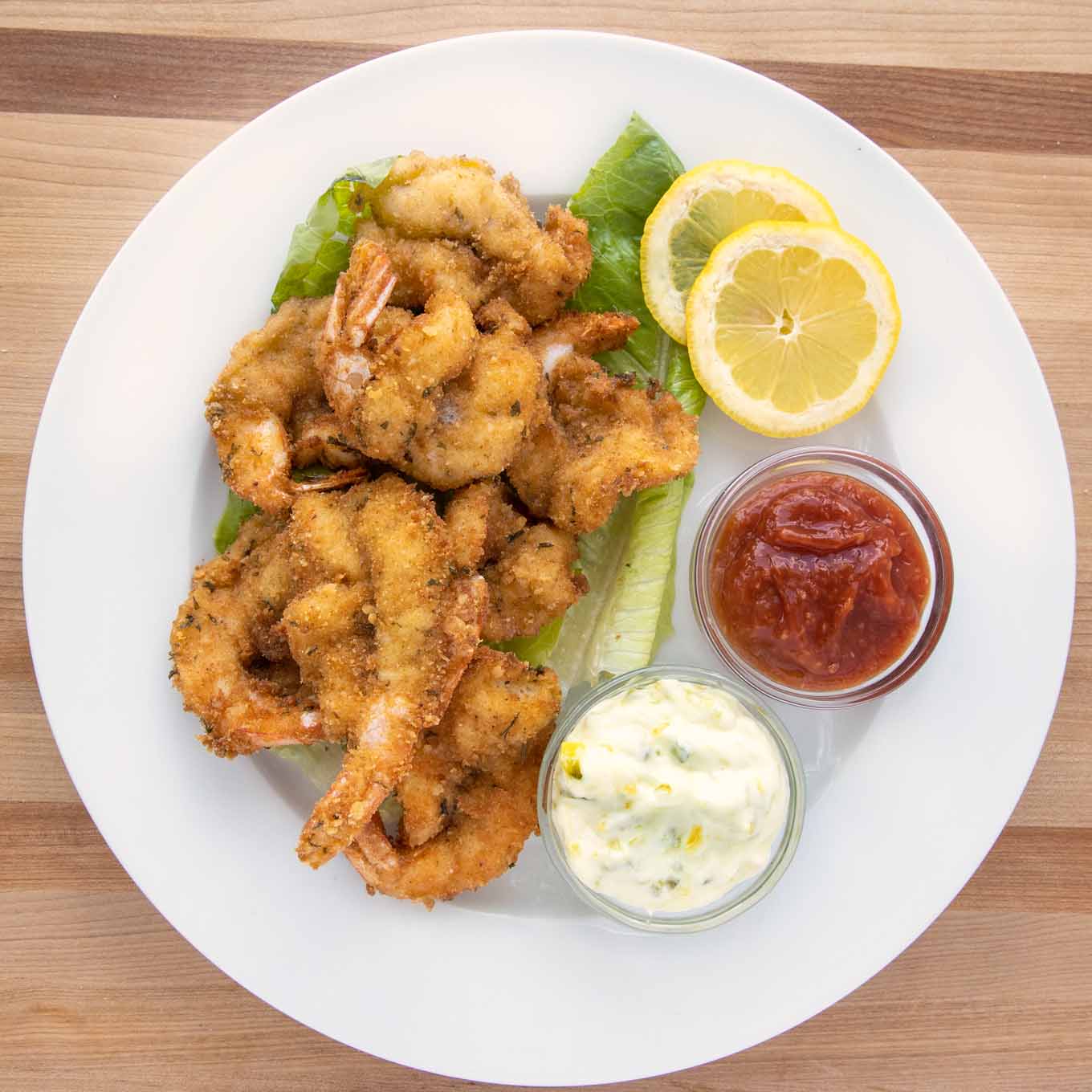 But the best part of my Restaurant-Style Crispy Fried Shrimp is eating them! Serve them with tartar sauce, cocktail sauce, and lemon wedges. Then watch the smiles around your dinner table.
Recipe FAQ's
Can I freeze breaded shrimp?
Yes, you can. Layout your breaded shrimp on a sheet pan or flat pan and place it in the freezer. Once the breaded food has completely frozen, place it into ziplock bags until you're ready to fry.
*When you do fry the shrimp, do not defrost them first. Fry while still completely frozen. They will take about 5 minutes to fully cook.
Can I bread the shrimp ahead of time?
Yes, you can. The only problem you'll run into is that while sitting, prebreaded foods begin to get wet as the moisture from the food releases.
To overcome this you would need to place the shrimp back in the breadcrumbs before frying.
How far in advance can I bread the shrimp?
If you do need to bread ahead of time, try not to let the breaded product sit for more than 4 hours.
How long do I fry shrimp for?
Fry shrimp for 2 to 3 minutes, depending on the size of shrimp. They should be golden brown and crispy on the outside and opaque in the center.
More recipes you'll love