I love Peel and Eat Shrimp! It's one of my favorite appetizers to order when I'm at the shore. And it's one of the easiest appetizers I make at home for friends and family.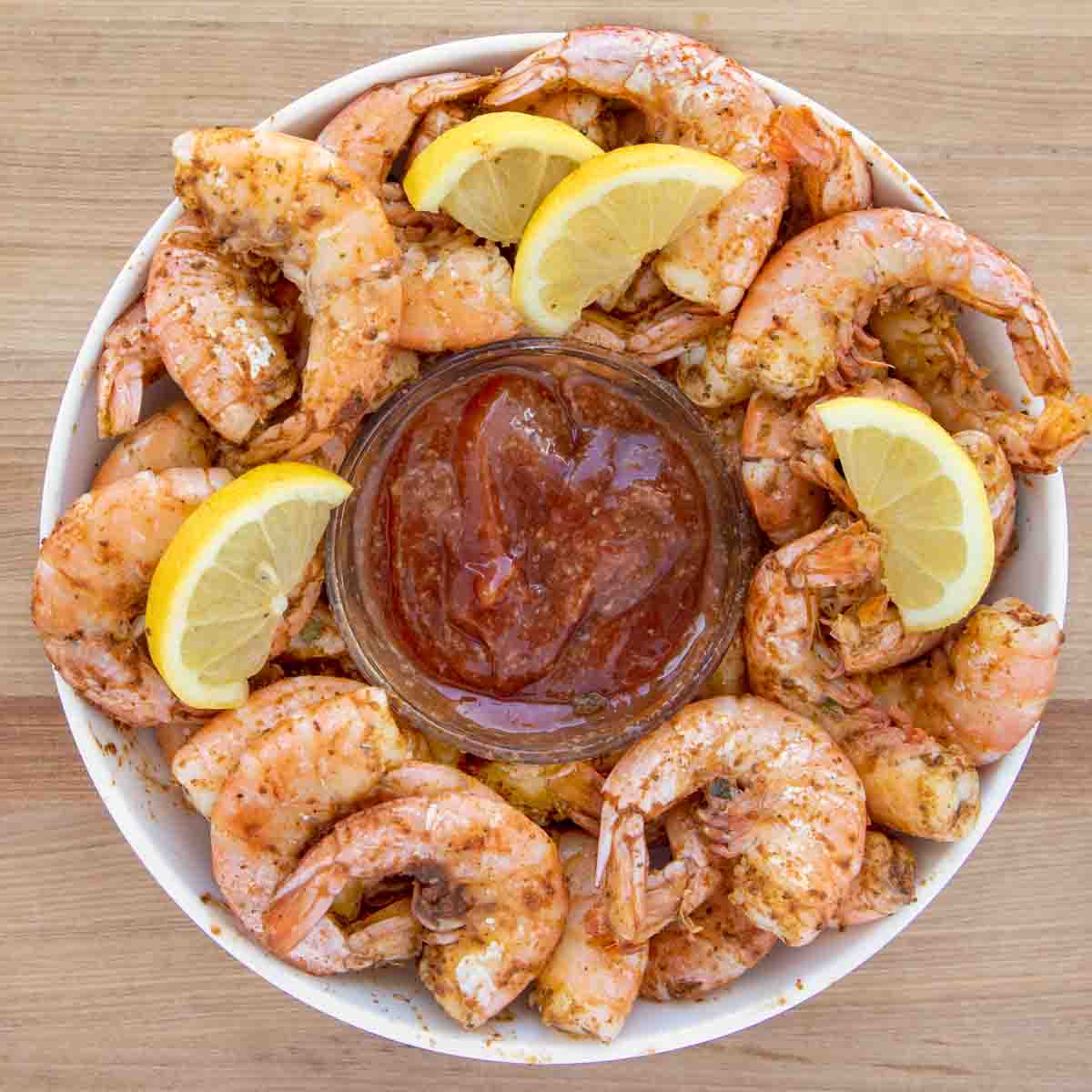 There is something magical about shrimp and everyone's eyes light up at the mention of having shrimp for dinner. And one of the easiest ways to wow your friends and family is to serve up a platter of Peel and Eat Shrimp.
Whether you serve them warm or cold they'll definitely be a crowd pleaser and will more than likely be better than those you get at your favorite tavern or restaurant.
What Ingredients do I need to make Restaurant Style Peel and Eat Shrimp?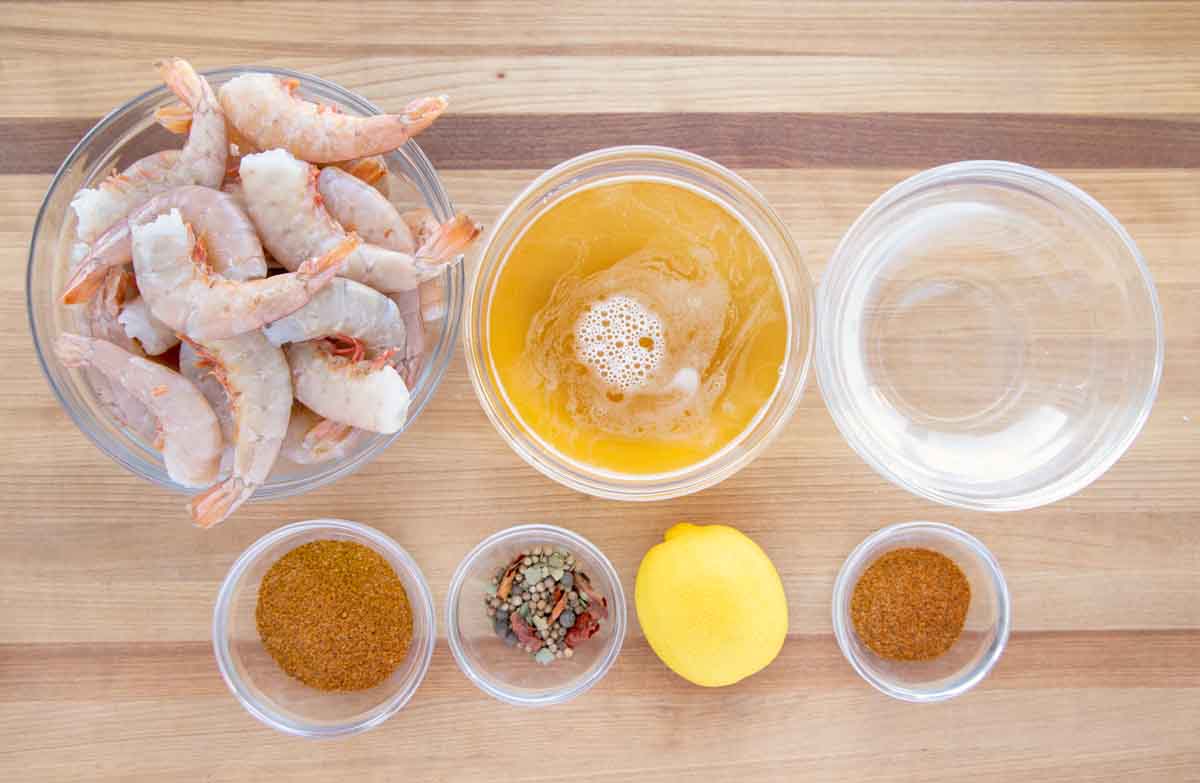 Let's start by gathering the ingredients we need to make my Skillet Chicken Gumbo. In Chef Speak this is called the "Mise en Place" which translates to "Everything in its Place".
Not only does setting your ingredients up ahead of time speed up the cooking process, it also helps ensure you have everything you need to make the dish.
WHAT KIND OF SHRIMP SHOULD I USE TO MAKE SHRIMP COCKTAIL?
The biggest issue with making a really outstanding peel and eat shrimp at home and at restaurants is the type of shrimp that are used.
The best shrimp to use for peel and eat shrimp are wild-caught in the Gulf of Mexico, the Atlantic Ocean on the east coast or the Pacific Coast of the United States. You can get amazing shrimp from Australian waters and from parts of the European Union, but they're not readily available in the US.
I'm not a fan of farmed shrimp and definitely stay away from shrimp coming from Asian or Indian waters.
For Peel and Eat Shrimp I like to use 21-25 count (per pound) or 26-30 count (per pound) shrimp. Any smaller and it's really not worth the effort.
How Do I make Peel and Eat Shrimp?
Peel and Eat Shrimp aka U-Peel Shrimp couldn't be easier to make and really comes down to using a few ingredients to take shrimp from simply good to Ah-mazing.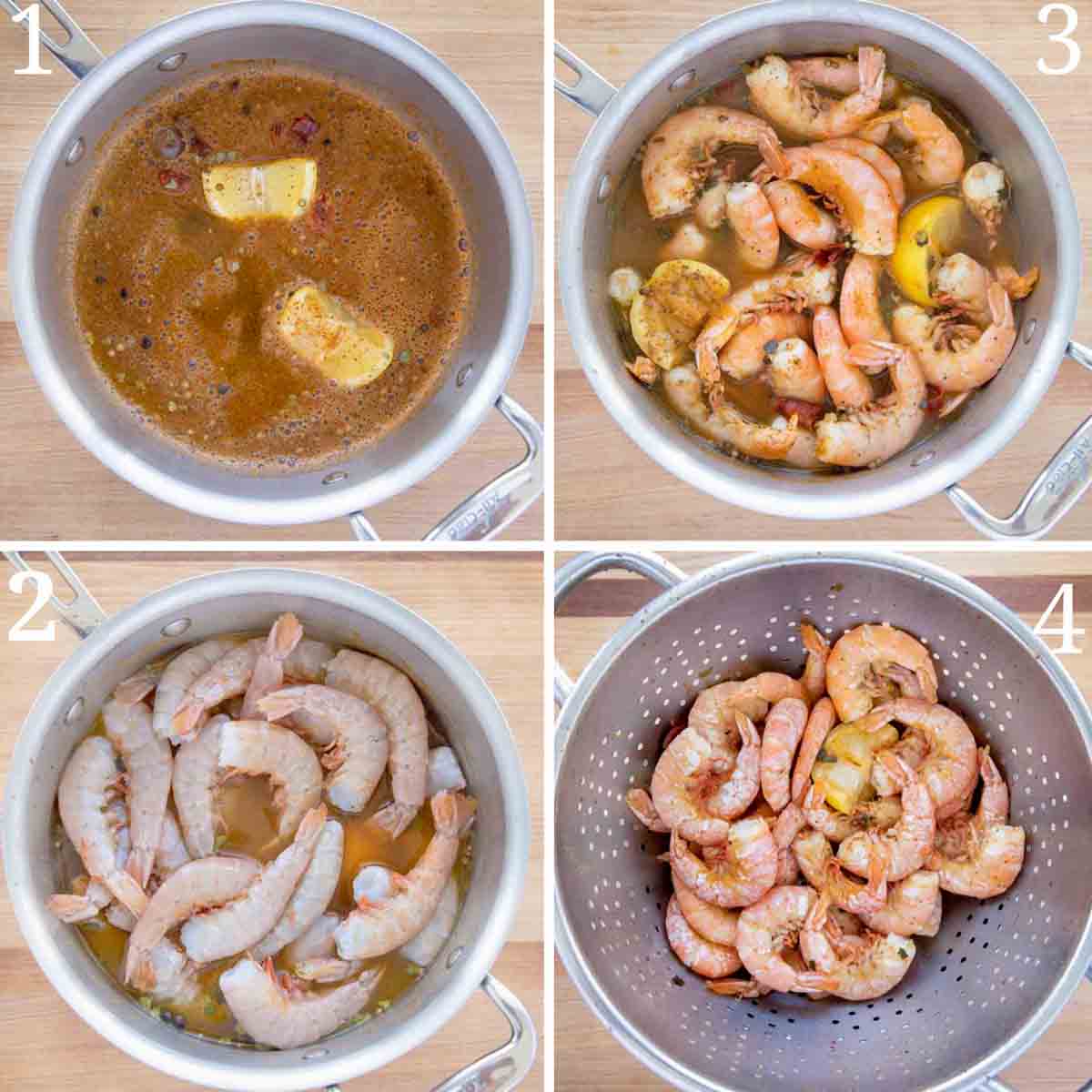 The first step in preparing delicious restaurant-style peel and eat shrimp is preparing the liquid you're going to cook the shrimp in. The right cooking liquid makes all the difference when it comes to creating perfectly delicious peel and eat shrimp.
Add the seasonings, lemon and beer to the water.
Bring the liquid to a boil and add the shrimp.
Cook the shrimp until they the color turns into a vibrant shade of pink (2-4 minutes depending upon the size and quantity of shrimp you cook)
Drain the shrimp in a colander, discard the lemons.
But if you'd rather have just okay shrimp by all means, just use plain water.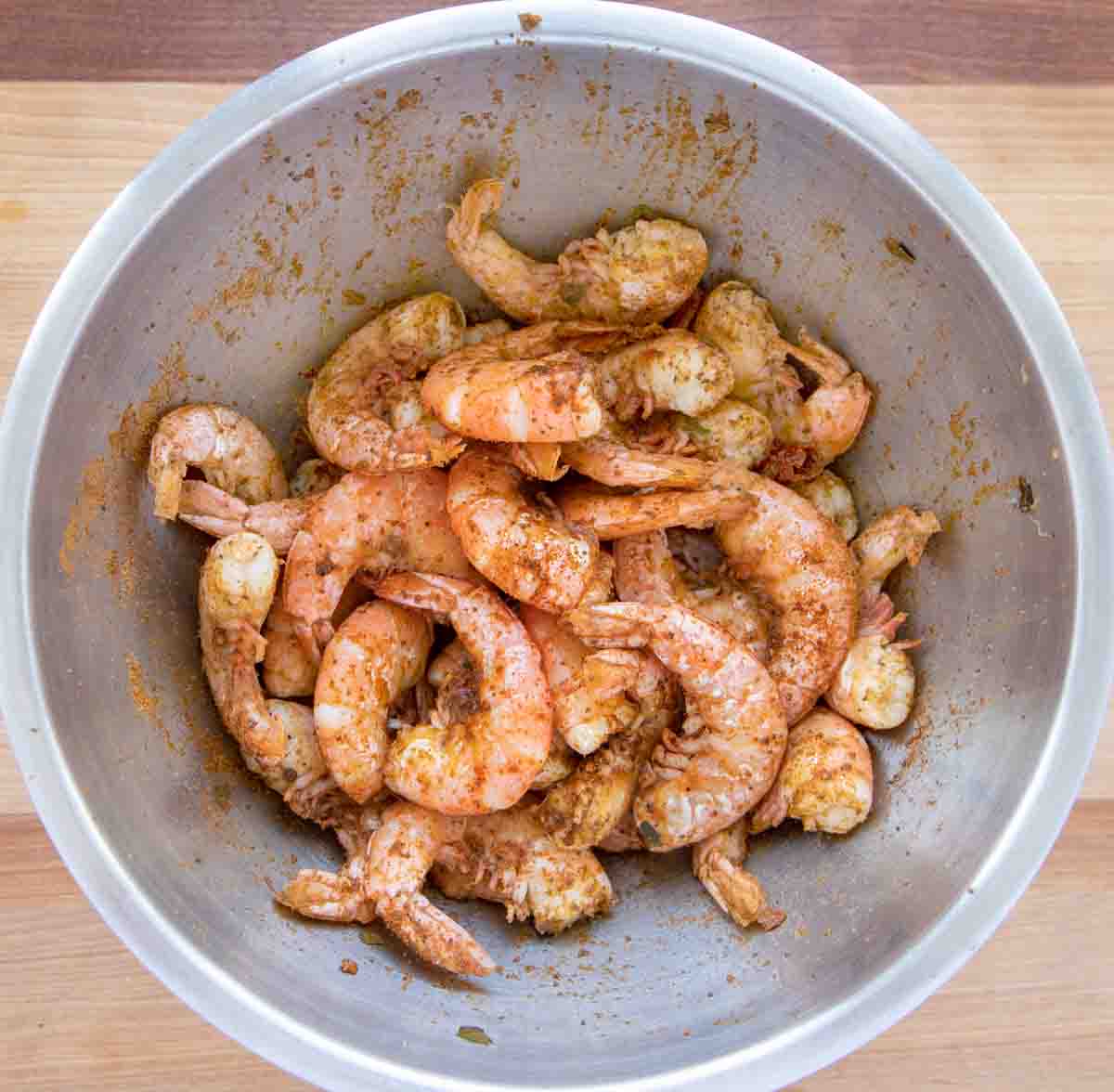 The last step before serving is to re-season the shrimp by tossing them in a little more Old Bay seasoning.
How do I make Old Bay Seasoning?
If you live in the part of the world that doesn't have Old Bay Seasoning, you can make your own. It won't be quite as good as the original but it will let you enjoy the seasoning that most East Coast Americans love (even on french fries).
1 tablespoon ground dried bay leaves
2 teaspoons celery salt
1 ½ teaspoons dry mustard
1 teaspoon ground black pepper
1 teaspoon white pepper
1 teaspoon smoked or sweet paprika
1 teaspoon ground celery seeds
½ teaspoon ground nutmeg
½ teaspoon ground ginger
¼ teaspoon crushed red pepper flakes
⅛ teaspoon ground cloves
⅛ teaspoon ground mace
⅛ teaspoon ground cardamom
⅛ teaspoon ground allspice
Mix all the seasonings well (pulsing a few times in a food processor if possible). Store in an airtight container for up to 6 months.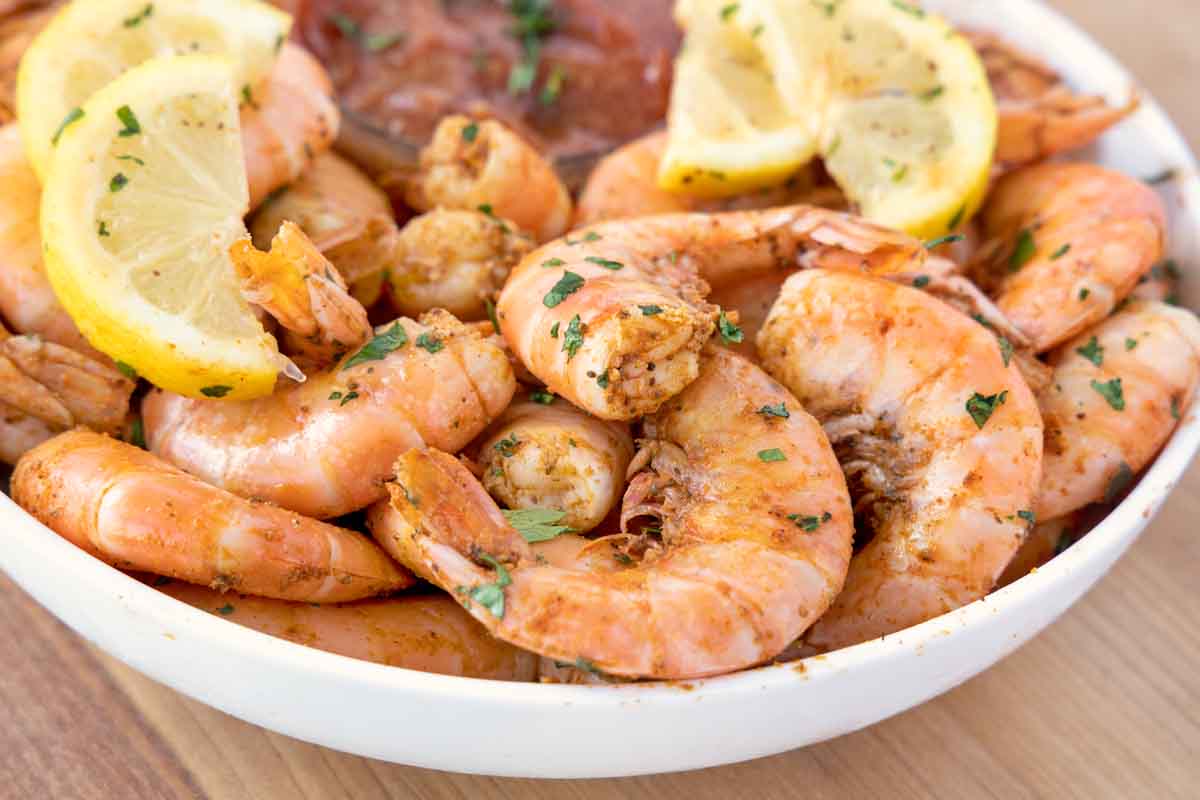 That's really all there is to making your own restaurant-style peel and eat shrimp.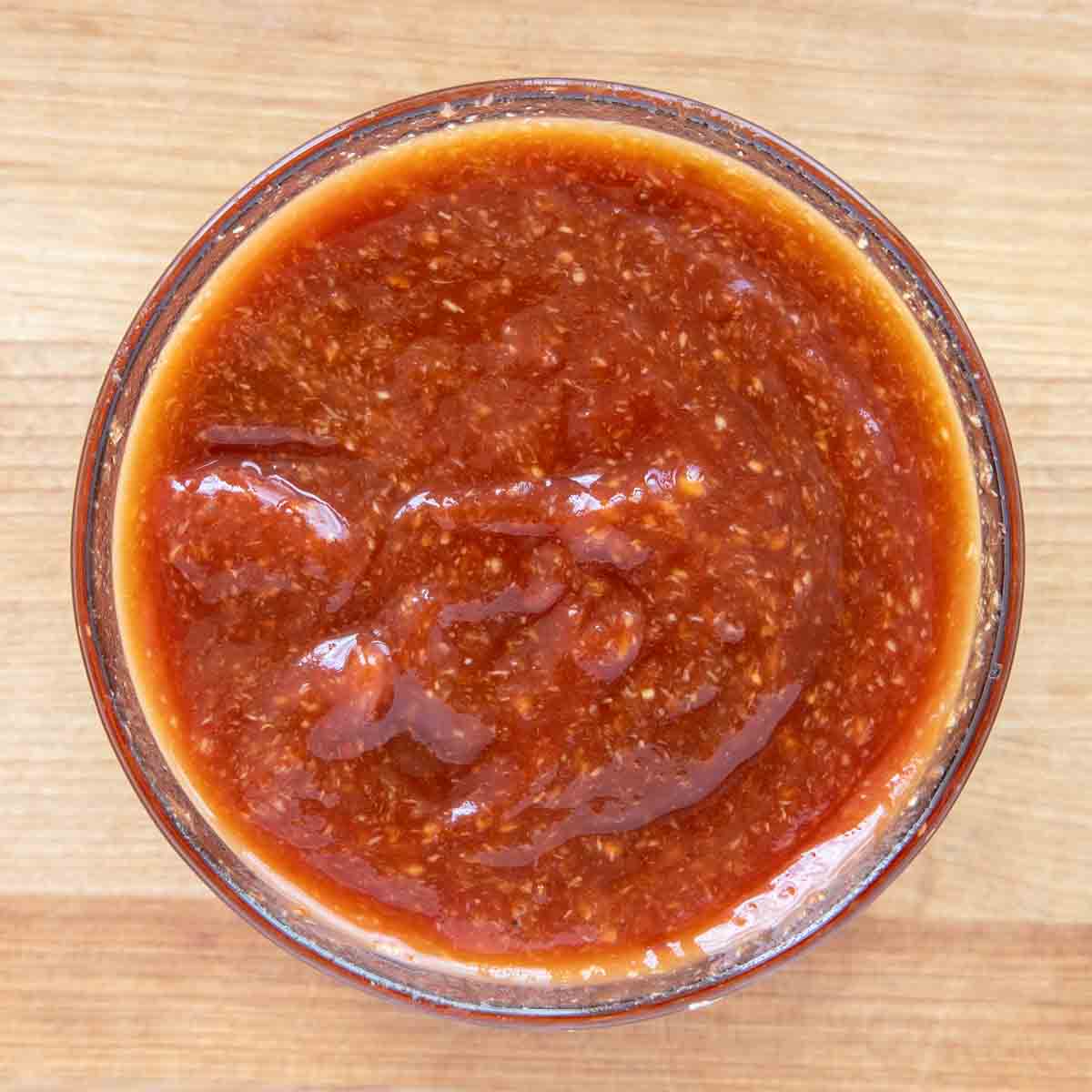 But if you want to make legendary peel and eat shrimp, you'll also need to make your own cocktail sauce. And the secret is the Heinz Chili Sauce…..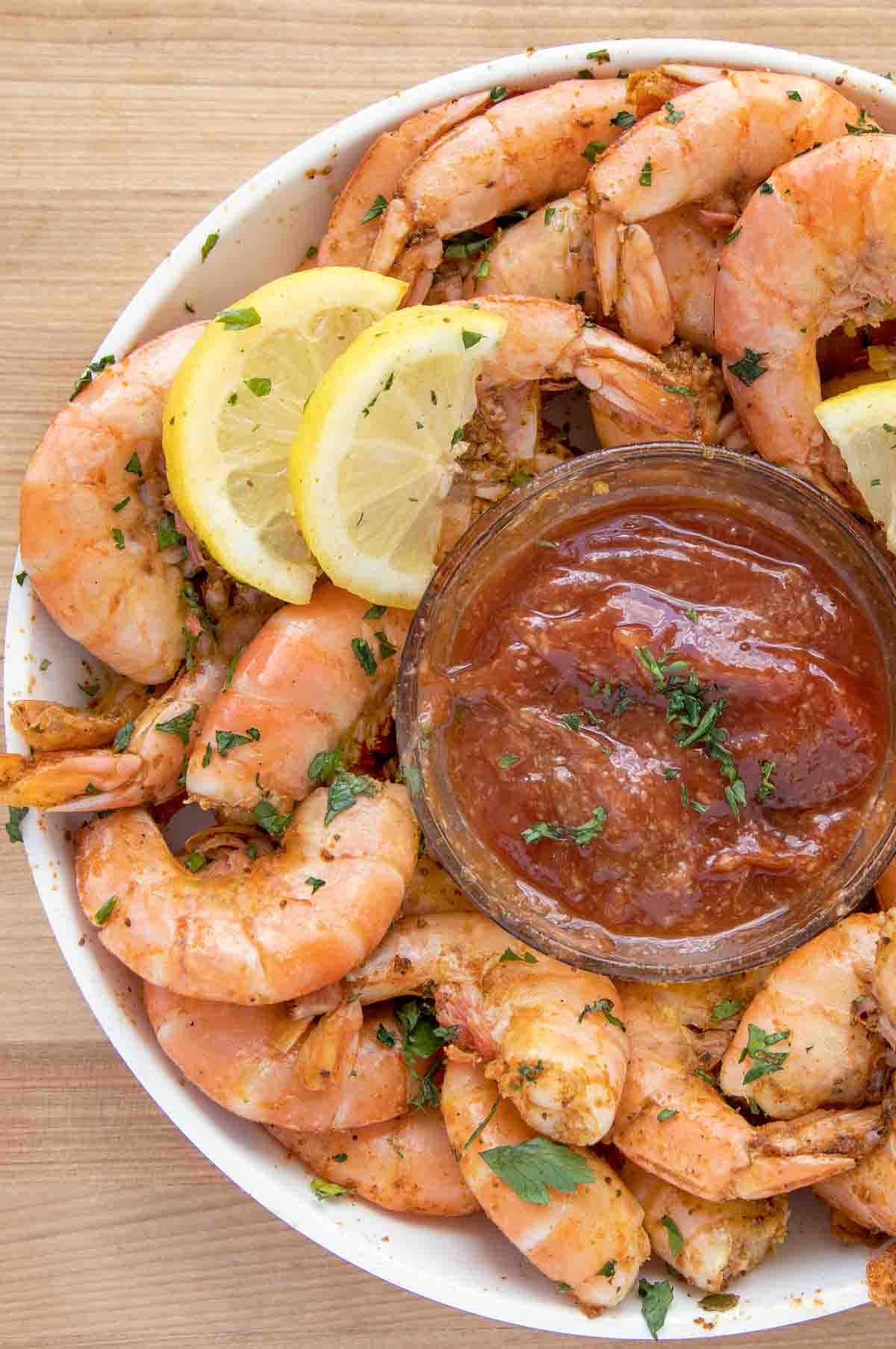 Should I serve the Peel and Eat Shrimp Hot or Cold?
If you'd rather chill the shrimp you can place them on ice in the fridge until they're cold. I like them both ways so it's up to you how you want to serve them, they're delicious both ways.
More Shrimp Recipes You'll Love!