When it comes to restaurant appetizers I don't think anything is ordered more often than Shrimp Cocktail.
And nothing is more disappointing than getting a sad imitation of this easy to make restaurant classic.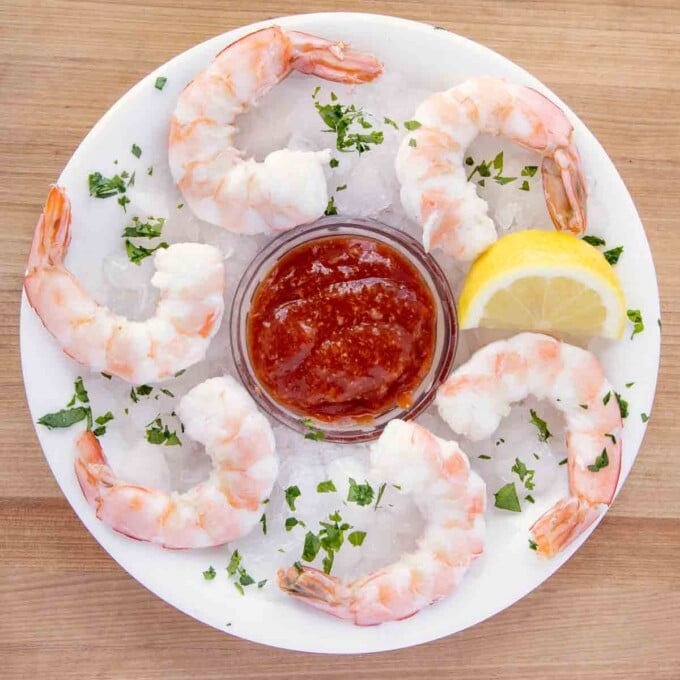 With my tips and techniques, you'll be making the best shrimp cocktail and cocktail sauce at home, saving lots of money and enjoying a better quality shrimp cocktail.
Chef Dennis Tip
Did you know that appetizers, desserts and drinks are where restaurants really make their money? That's why the servers are always trying to upsell those items.
Everyone goes into a restaurant for dinner, but it's the add-ons that drive the check up and also increase the tip to the server.
What ingredients do I need to make shrimp cocktail?
Let's start by gathering the ingredients we need to make a Restaurant Style Shrimp Cocktail. In Chef Speak this is called the "Mise en Place" which translates to "Everything in its Place".
Not only does setting your ingredients up ahead of time speed the up cooking process, but it also helps ensure you have everything you need to make the dish.
What kind of Shrimp should I use to make shrimp cocktail?
The biggest issue with making a really outstanding shrimp cocktail at home and at restaurants is the type of shrimp that are used.
Believe it or not many restaurants use a precooked, shelled and deveined frozen shrimp for their shrimp cocktail. And without even mentioning the quality issues, the real problem comes in when they defrost the already cooked shrimp.
For a precooked frozen shrimp to be edible, it has to be served within minutes of thawing. The longer it sits, the worse the texture gets and the lack of flavor becomes more noticeable.
If you can't taste the shrimp because of all the cocktail sauce you put on it, don't waste your money.
The best shrimp to use for shrimp cocktail will be caught in the Gulf of Mexico, the Atlantic Ocean on the east coast of the US or the Pacific Coast of the US. You can get amazing shrimp from Australian waters and from parts of the European Union.
The shrimp you need to avoid like the plague will be originating in Asian, Indonesian and Indian waters. And for the most part, any shrimp that's farmed is not a good choice.
As with everything, there will be exceptions to the rule, but for the most part, these are not the shrimp you want to eat.
What size Shrimp should I use for shrimp cocktail?
The bigger the better (within reason). I usually make shrimp cocktail out of 16-20 count shrimp. That means that you'll get 16-20 shrimp per pound. And that includes the shell in the weight. If you can find them and want to splurge U-15 shrimp (under 15 to a pound) are the best choice. Any larger than that and they start to get a little tough.
Pink or White shrimp are preferable for shrimp cocktail. Brown shrimp are okay as they will cook up pink, but they can have a higher iodine content and more minerally taste. Not enough that most would notice, but it's always something to be aware of.
Brown shrimp are usually used in spicier dishes or dishes with sauces.
How do I make Shrimp Cocktail?
For my recipe I used a 3 quart saucepan to cook the shrimp. The water was seasoned with Old Bay, pickling spice and a half a lemon with the juice squeezed into the water.
Bring the water to a boil and add the shrimp.
Chef Dennis Tip
Always cook the shrimp with the shells on and not deveined.
Cook the shrimp for 3-4 minutes depending upon their size. I cooked my shrimp for 3 minutes and they were perfectly done.
If the pan is overcrowded it could take longer. I usually let the water come back to a boil and let the shrimp cook for 1-2 minutes longer. A cooked shrimp should feel firm, not soft.
When the shrimp have finished cooking, drain them in a colander. DO NOT cool them in ice water! Ice water may chill them quickly, but it will also negatively affect the flavor.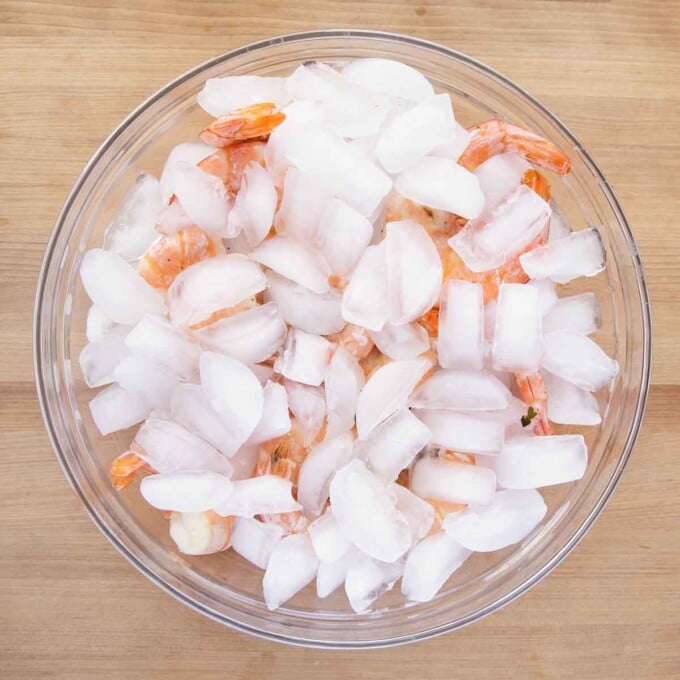 Instead, add ice to a large bowl and toss the shrimp in the ice, allowing them to quickly chill. You can also use the colander for this process if it's large enough.
After the shrimp have chilled, peel and devein the shrimp. Serve the Shrimp Cocktail on crushed ice with cocktail sauce and a lemon wedge. And get ready for rave reviews.
How do I make Restaurant Style Cocktail Sauce?
You only need a few ingredients to make cocktail sauce like your favorite seafood restaurant. And one of them is something you might never have thought to add.
Chili Sauce is the secret ingredient, and not just any chili sauce will do. Heinz Chili sauce is what turns a good cocktail sauce into an amazing cocktail sauce. If you've wondered why the cocktail sauce you make at home is never quite as good as when you dine out, now you know.
Mix all the ingredients together and chill for an hour or two to let the flavors develop.
*You don't have to use chili sauce in your cocktail sauce, it will still be good without it.
More Seafood Appetizers You'll Love!