What could be better than crispy fried lobster tails? Golden brown, succulent and oh-so-delicious!
During my restaurant days, Fried Lobster Tails was one of the more popular specials I ran on my selections of daily specials. Served with cocktail or tartar sauce or if you're throwing caution to the wind, melted butter.
Lobster is a favorite with many people and frying those sweet little tails is a delicious way to enjoy them.
Ingredients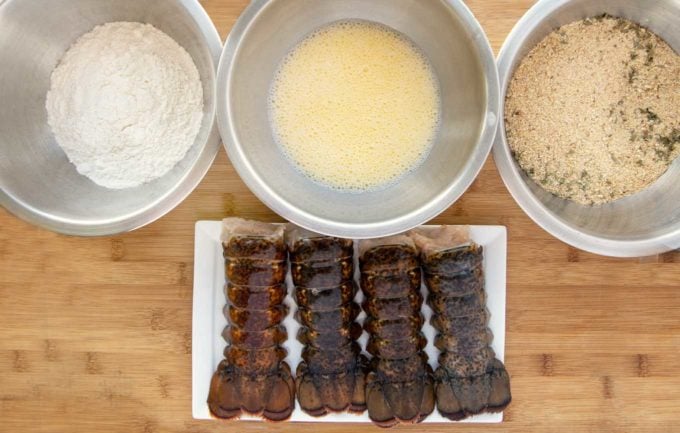 Let's start by gathering the simple ingredients we need to make my Fried Lobster Tail Recipe. In Chef Speak this is called the Mise en Place which translates into Everything in its Place.
Not only does setting your ingredients up ahead of time speed the cooking process, but it also helps ensure you have everything you need to make the dish.
When looking for lobster tails, cold-water lobster is always preferable to warm water lobsters. Cold water lobster has more flavor, is sweeter and more tender.
The first step is defrosting the lobster tails and then carefully splitting them in half using a chef's knife or kitchen shears.
You don't have to break the bank when it comes to a Chef's Knife. If you're looking for a good everyday knife, my choice is Misen.
Chef's Choice
Misen 8 inch Chef's Knife
Kitchen knives are the most important tool in your kitchen. This one of the Misen knives that I use in my home kitchens. It's comfortable and has a great edge that stays sharp.
Check Price at Misen
This post includes affiliate links. I earn from qualifying purchases.
Start by dredging the split lobster tails (including the shell) in the flour mixture.
**Season the all purpose flour with sea salt and black pepper. You can add onion powder, garlic powder, or Old Bay seasoning to the flour to add additional flavor.
Do I have to Fry the Lobster Shell?
No, you don't. You could freeze the uncooked shells to use the next time you make seafood stock or lobster sauce and just bread and fry the lobster meat.
The reason I include the shells is simply for the visual impact. Lobster meat by itself is small and isn't as impressive without the shell. Remember that people eat with their eyes so looking good is as important as tasting good.
Next dip lobster tails into the egg wash. Completely coating the lobster and shell in the liquid.
How do I make an Egg Wash?
You can make an egg wash many different ways, and there is no right way or wrong way as long as whatever you're frying gets completely immersed in your choice of egg wash.
just eggs – well-beaten
eggs and milk
eggs and cream
eggs and water
Use about 1 ounce of liquid for every egg used. A little extra liquid won't hurt the mixture you just don't want to water it down too much.
The last step before frying is to place the lobster tails in a seasoned breadcrumb mixture. Make sure to completely cover the lobster and shells with the bread crumbs.
What type of breadcrumbs should I use?
I like using seasoned regular breadcrumbs, but that's just a personal choice. You can use any of these options for your fried lobster tails or any food you'd like to fry.
Plain breadcrumbs. (you can add your own seasonings if you like)
Panko breadcrumbs (seasoned or unseasoned)
Cracker meal
Gluten-free breadcrumbs of any style
With the exception of fried chicken, you can forgo the flour step of the breading process. It does add a little more of a crust to the fried food, so if you like a lighter appearance and taste, just use the egg wash and bread crumbs.
When all the split lobster tails have been breaded, you're ready to begin the frying process.
Chef Dennis Tips for Home Frying
When you fry foods, the oils you use need to have a high smoking point. *Smoking point is the temperature it takes for the oil to start to break down and smoke.
The oils I recommend for frying foods are peanut oil, canola oil, sunflower oil, safflower oil, corn oil, or vegetable oil. My oil of choice is corn oil for home frying and canola in professional kitchens.
Make sure you have enough oil in the pot to fully submerge the food you are frying. Leave enough room for the food you're frying with an extra few inches at the top for safety. The hot oil will bubble, and you don't want to get burned or have a mess to clean up.
Never add liquid to the fryer, and keep a Kitchen fire extinguisher (rated for oil) nearby.
For most deep-fried recipes, you'll want to heat your oil to 350 – 375 degrees F. Use a long-stem thermometer to check the temperature of the oil. If you're cooking in batches, make sure to give the oil time to recover before adding more food.
Chef's Choice
Chef's Choice
Chef's Choice
Drain the fried food on baking racks over sheet pans (or baking sheets) or on a paper towel. Allowing fried food to drain removes much of the fat associated with deep-frying. Most of the fat will not penetrate the food, staying only on the outer layer (as long as the oil is hot enough)
You can reuse the oil if you filter it, cleaning out the residue that sinks to the bottom of the oil. Using big coffee filters in a stainless steel strainer will work. Just make sure the oil has cooled to a temperature you can safely handle it at.
If you're serious about home frying, I suggest the T-Fal Deep Fryer. It's the one I use at home for any deep-fried foods.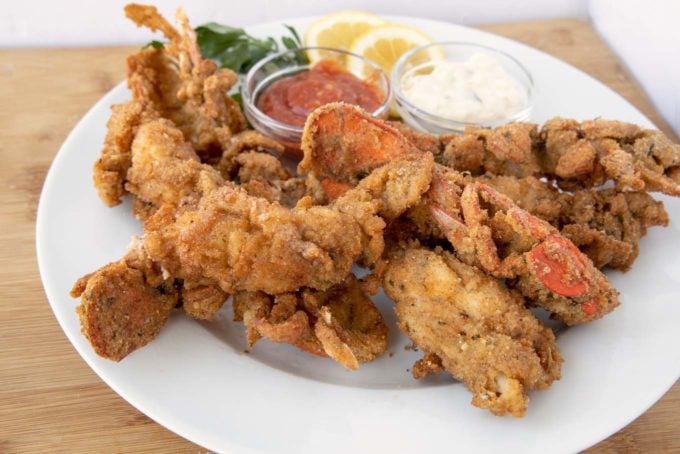 Now that's a plate full of deliciousness! And definitely a show-stopper. Wouldn't you like to sit down to a plateful of these fried lobster tails?
Can I fry other seafood using this method?
Yes, you can. Here are some other of my favorite seafood that would be perfect for frying:
Oysters
Shrimp
Scallops
Flounder
Calamari
Recipe FAQ's
Can I freeze breaded seafood?
Yes, you can. Lay out your breaded seafood on a sheet pan or flat pan and place it in the freezer. Once the breaded food has completely frozen, place it into ziplock bags until you're ready to fry.
***When you do fry the food, do not defrost it first. Fry while still completely frozen.
Can I bread lobster tails or other seafood ahead of time?
Yes, you can. The only problem you'll run into is that while sitting any prebreaded foods begin to get wet as the moisture from the food releases.
To overcome this you would need a quick trip back into more breadcrumbs. This will add to the coating. You will also be losing moisture from the food making it dryer and less flavorful.
If you do need to bread ahead of time, try not to let the breaded product sit for more than 4 hours.
More fried seafood recipes