When it came to creating delicious special for my restaurant menu my Shrimp Scampi Ravioli was a customer favorite. My job as a chef was to create mouth-watering dishes that were cost-effective, giving my customers a taste of higher-end ingredients without breaking the bank.
And my Ravioli Scampi is a prime example of an inexpensive restaurant-style dish that you can easily prepare in your kitchen in less than 30 minutes.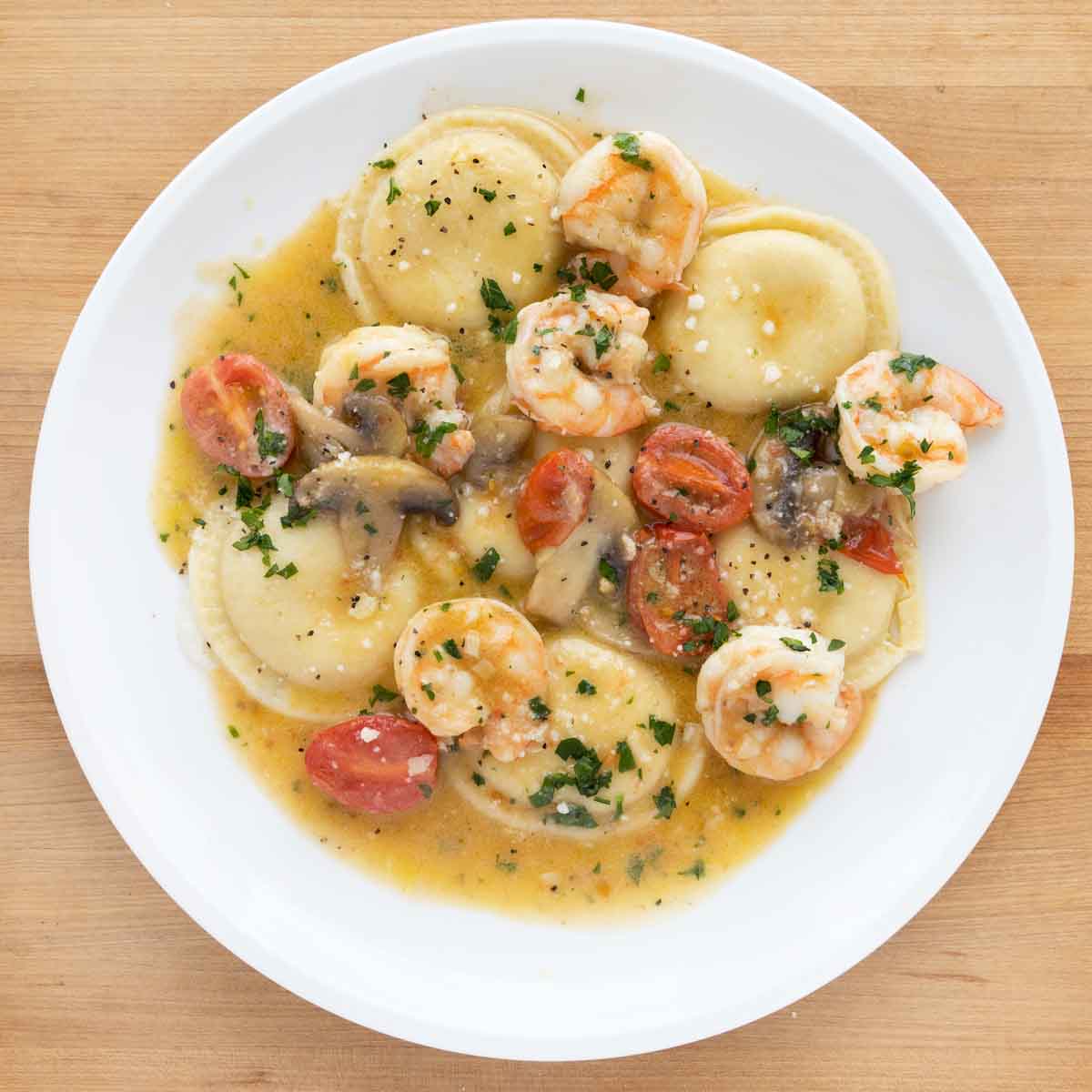 I was lucky enough to have access to a small company hand made cheese ravioli, tortellini and other hand-made pasta. It saved me the time and effort of making these and helped keep the costs down. Time is money and time is something we never seem to have enough of.
These days you can find fresh pasta including ravioli at most grocery stores. You'll usually find them in the dairy section. They're about as close to homemade as you can get, and even some of the frozen ravioli (which I used) are pretty darn good and less expensive.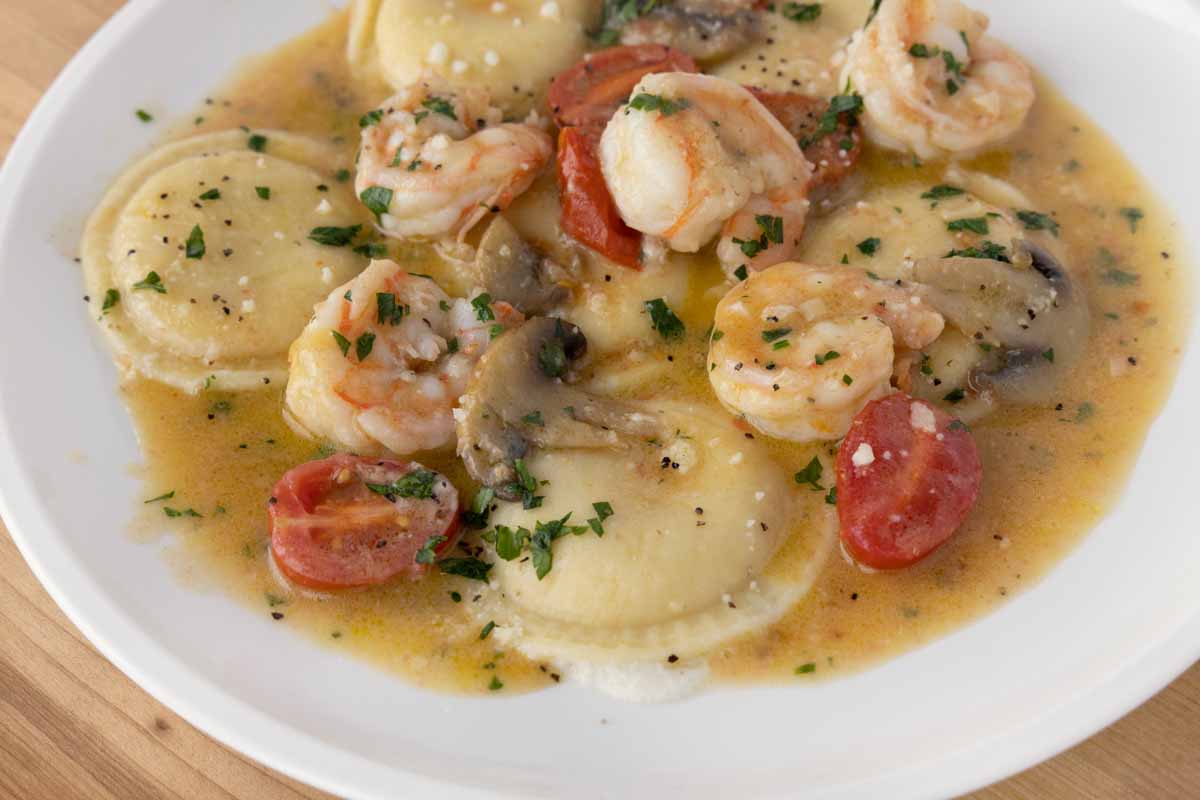 What Ingredients do I need to make Ravioli and Shrimp Scampi?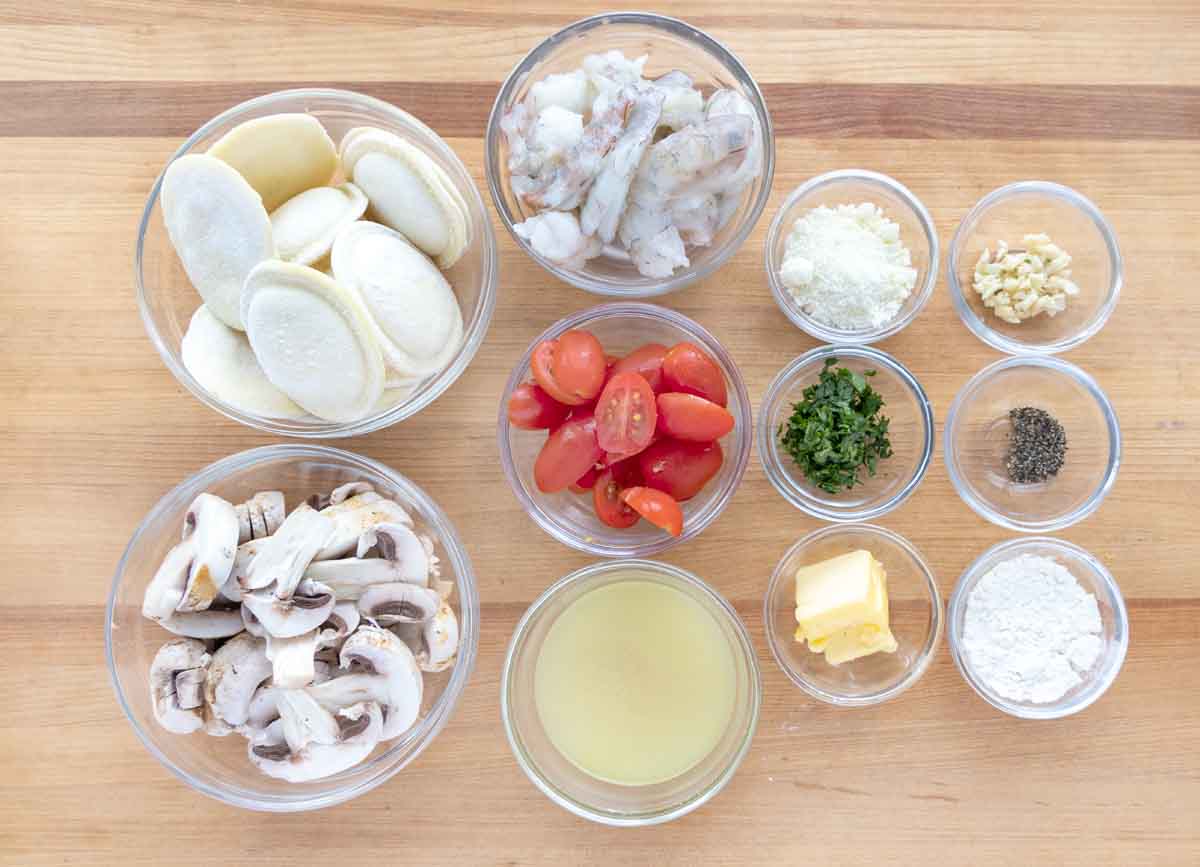 Let's start by gathering the ingredients we need to make Ravioli and Shrimp Scampi. In Chef Speak this is called the "Mise en Place" which translates to "Everything in its Place".
Not only does setting your ingredients up ahead of time speed up the cooking process, it also helps ensure you have everything you need to make the dish.
Do I have to use mushrooms in my sauce?
No, you don't. You can also leave out the tomatoes. Both are added to increase the volume of the dish, add some flavor and add color and texture. If you prefer a simple garlic sauce, it's all up to you.
How do I make Ravioli Shrimp Scampi?
The shrimp scampi will take 8-10 minutes to cook. Have your salted boiling water ready to cook the ravioli so both are done about the same time.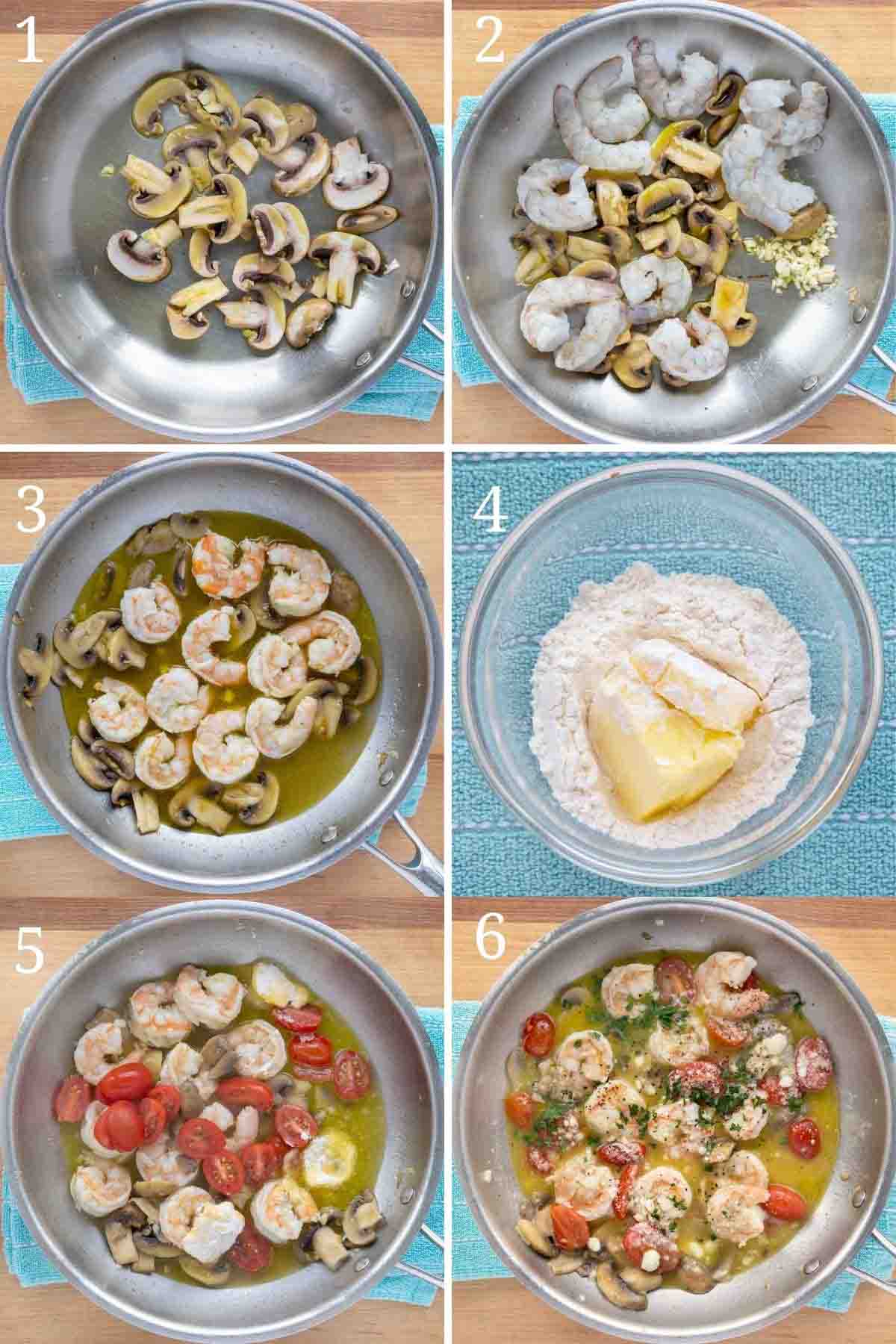 Over medium high heat place a large sauté pan, add the olive oil and sliced mushrooms. Saute the mushrooms until they are half way cooked.
Add the shrimp and garlic to the pan and continue to saute the ingredients. Add more olive oil if needed. Cook the shrimp till about half way done.
Add the chicken stock and stir the ingredients to remove any bits stuck to the pan..
Press the butter into the flour getting as much flour pressed in as you can. (this is called a beurre manie) place this into the hot stock with the tomatoes and mix together. This will thicken the stock. Bring to a boil, then reduce the heat to low.
Add the grated Romano cheese, chopped parsely and black pepper. Mix well.
Serve the shrimp scampi over the cooked ravioli and garnish with additional chopped parsley and grated cheese.
Can I use wine in my scampi sauce?
A dry white wine is often added to a scampi sauce and would be added before the chicken stock. The wine will add a little flavor and deglaze the pan.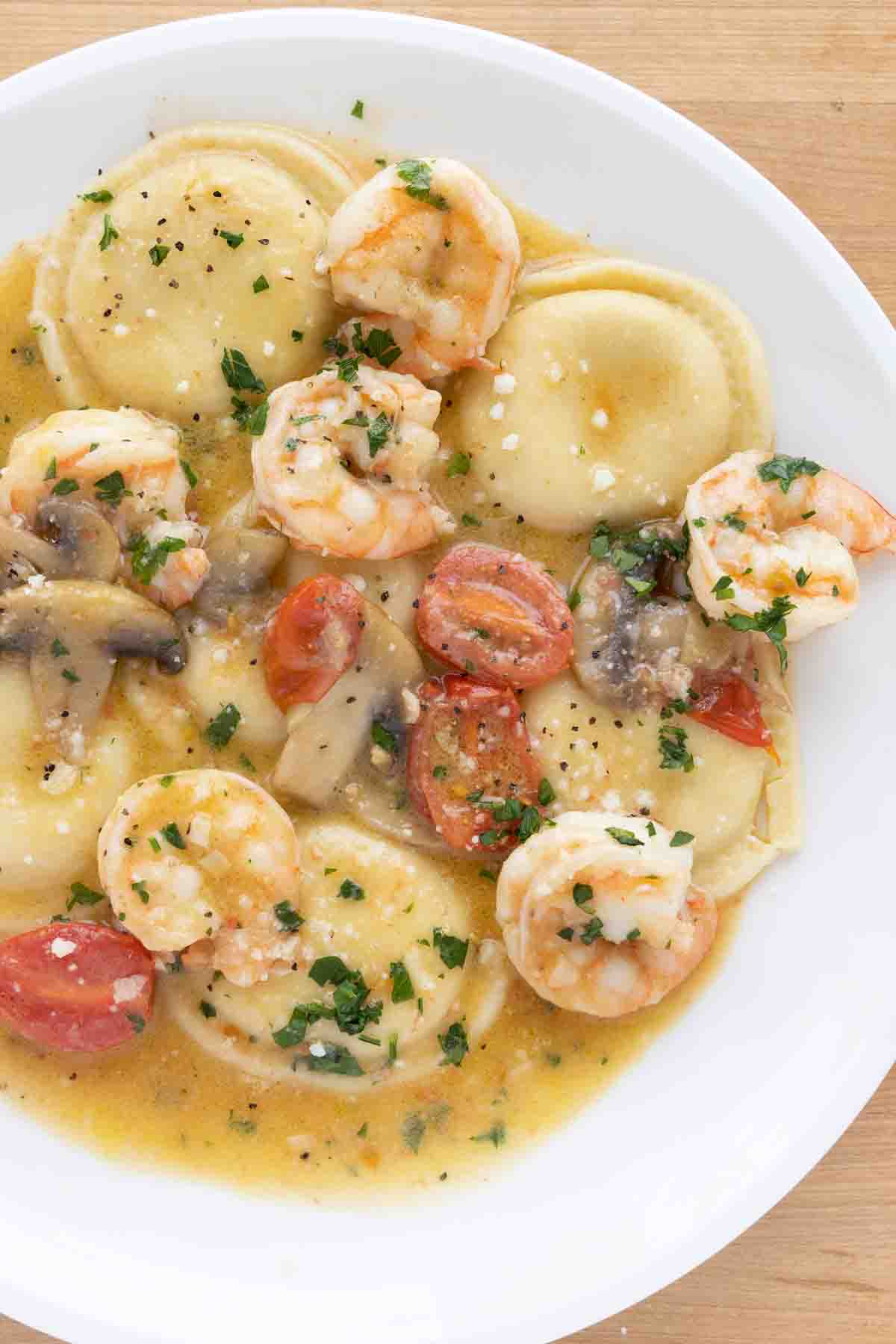 Just think, this amazing Ravioli Scampi costs less to make per person than the price of most fast-food value meals and takes minutes to prepare.
Staying home for dinner doesn't have to be boring, and not only do you save money, but you eat better. I hope you give this meal a try, just add a loaf of good Italian bread and a salad and you'll be in heaven.
Recipe FAQ's
What is shrimp scampi sauce?
Classical Shrimp scampi is made with a simple sauce of garlic, butter, and white wine and can contain many different added ingredients. You'll often find capers and lemon juice added for one variety of scampi sauce, while mine includes tomatoes and mushrooms. It's all about personal tastes and your creativity.
How do you thicken a shrimp scampi sauce?
Rolling softened butter in flour is the best way to thicken any pan sauce including a scampi sauce. The butter makes the sauce richer and is a much better option than cornstarch.
Why are my shrimp tough and rubbery?
If your shrimp come out tough and rubbery, you have cooked them too long. If you're afraid of overcooking the shrimp, remove them from the pan when they are almost done. When the dish is complete add the shrimp back into the pan to finish cooking.
More Shrimp Recipes You'll Love!