There are no shortcuts when it comes to making a Classic Peanut Butter Cookie. The best peanut butter cookies are made from simple pantry ingredients and time-tested recipes.
Don't bother with trendy recipes using 3 or 4 ingredients, you'll be disappointed.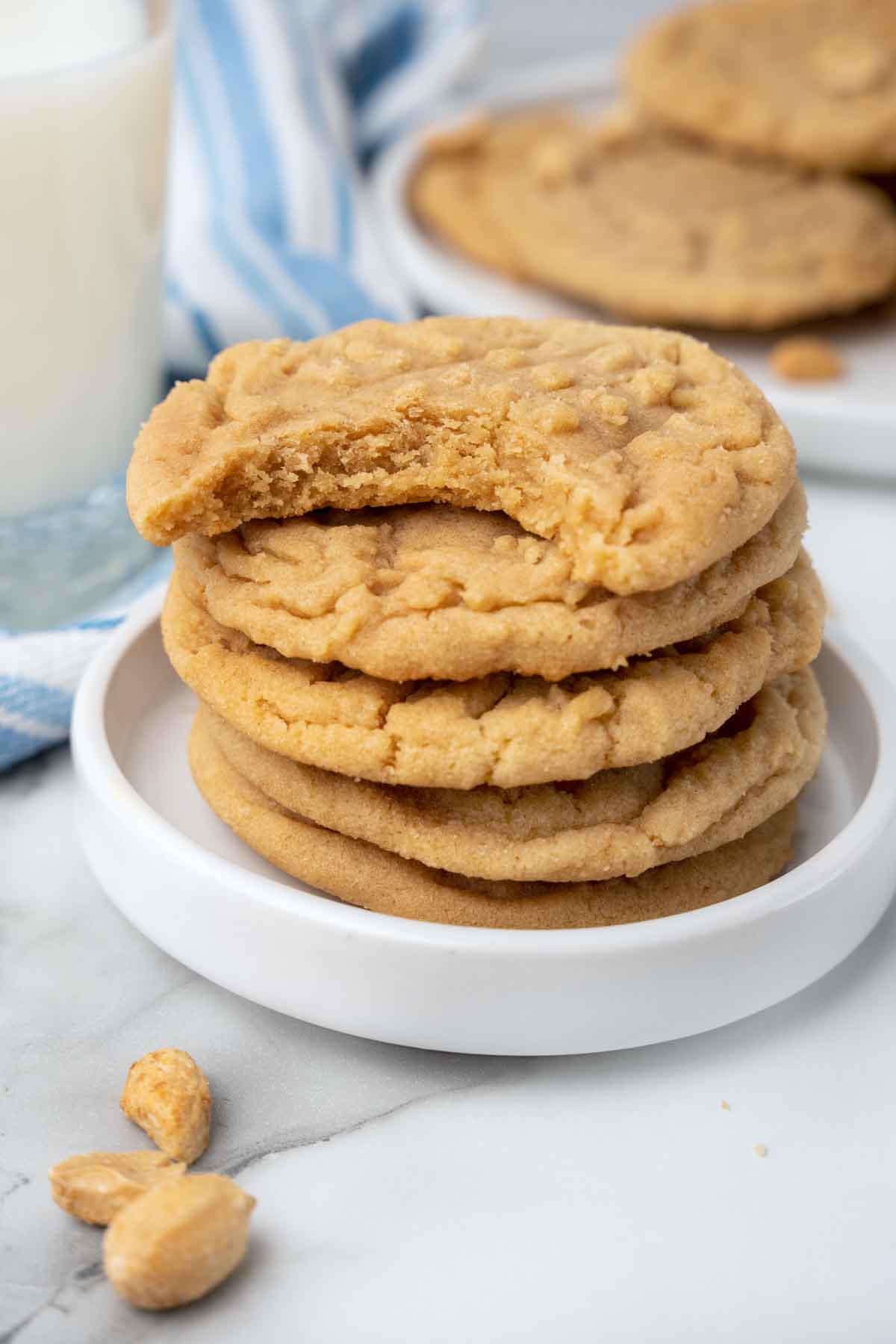 Homemade peanut butter cookies warm from the oven with the aroma of deliciousness permeating throughout the house is a wonderful thing. It's one of my favorite easy cookie recipes that can be made in minutes and provide a lifetime of memories for those enjoying these delicious bites of peanut butter heaven.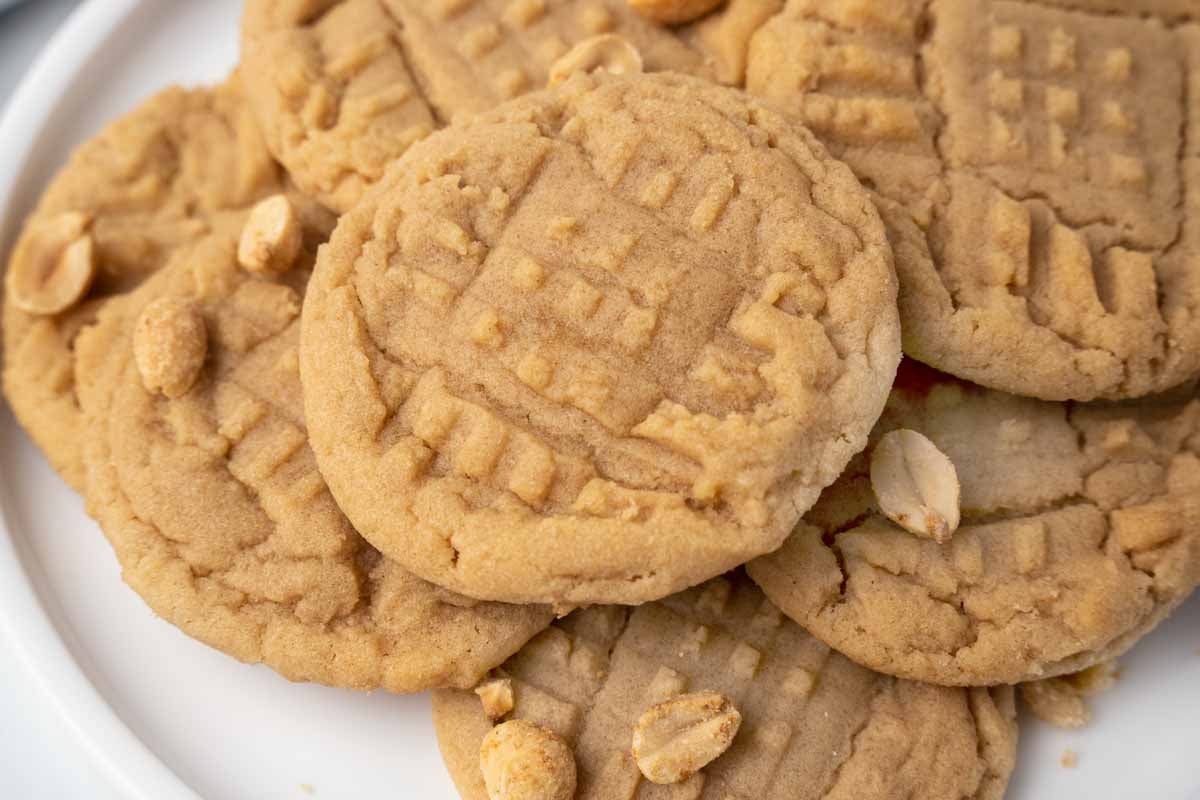 Peanut butter cookies aren't just for peanut butter lovers. This cookie has been made by families in the United States for generations and will continue to be one of the country's most loved cookies.
Made with simple ingredients allowing the natural peanut butter flavor to be the star of these classic cookies.
If you're a peanut butter lover my Peanut Butter Pie is another recipe you're gonna love!
Ingredients to make Peanut Butter Cookies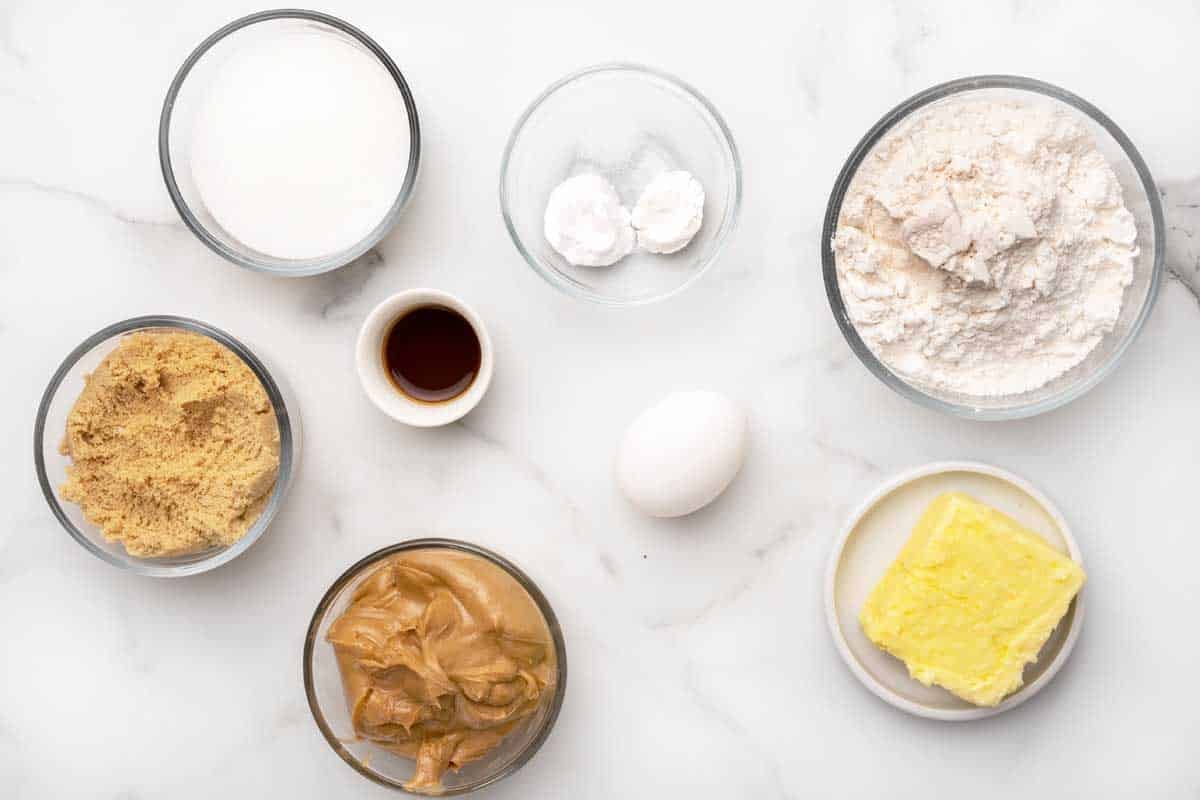 Let's start by gathering the ingredients we need to make Peanut Butter Cookies. In Chef Speak this is called the "Mise en Place" which translates to "Everything in its Place".
Not only does setting your ingredients up ahead of time speed up the cooking process, it also helps ensure you have everything you need to make the dish.
Can I use Crunchy Peanut Butter to make the cookies?
You sure can. I will make a little to no difference in the texture of the cookie.
How to make the Best Peanut Butter Cookie
Preheat the oven to 350 degrees F.
Line two 18 by 13-inch baking sheets with parchment paper.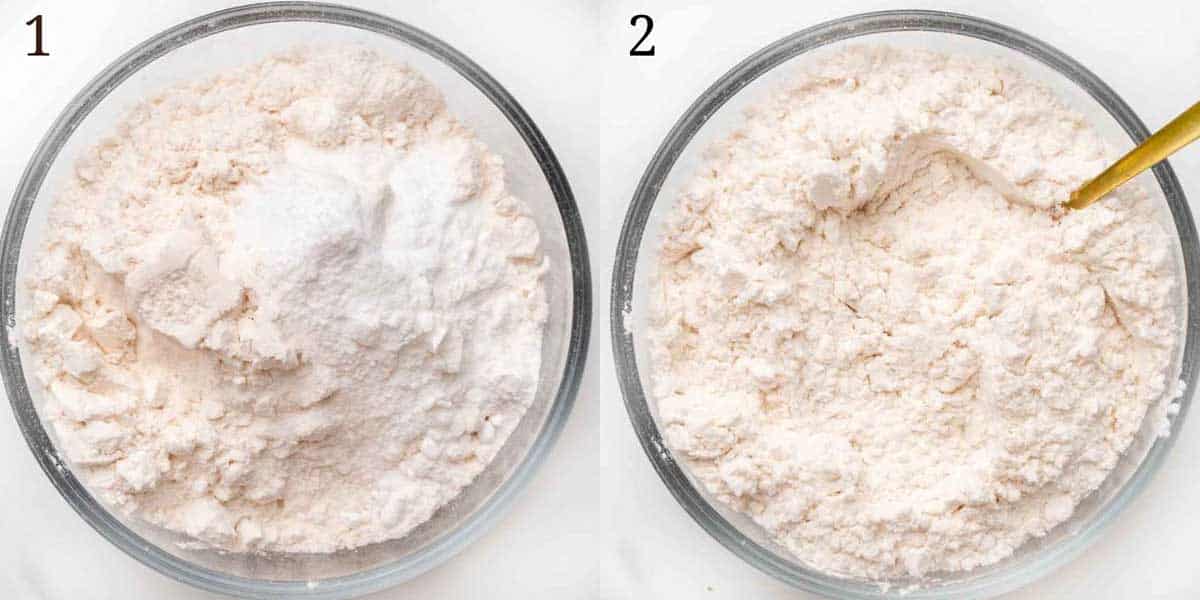 Add the flour, baking soda, baking powder, and salt to a medium mixing bowl.
Whisk the dry ingredients together until well combined.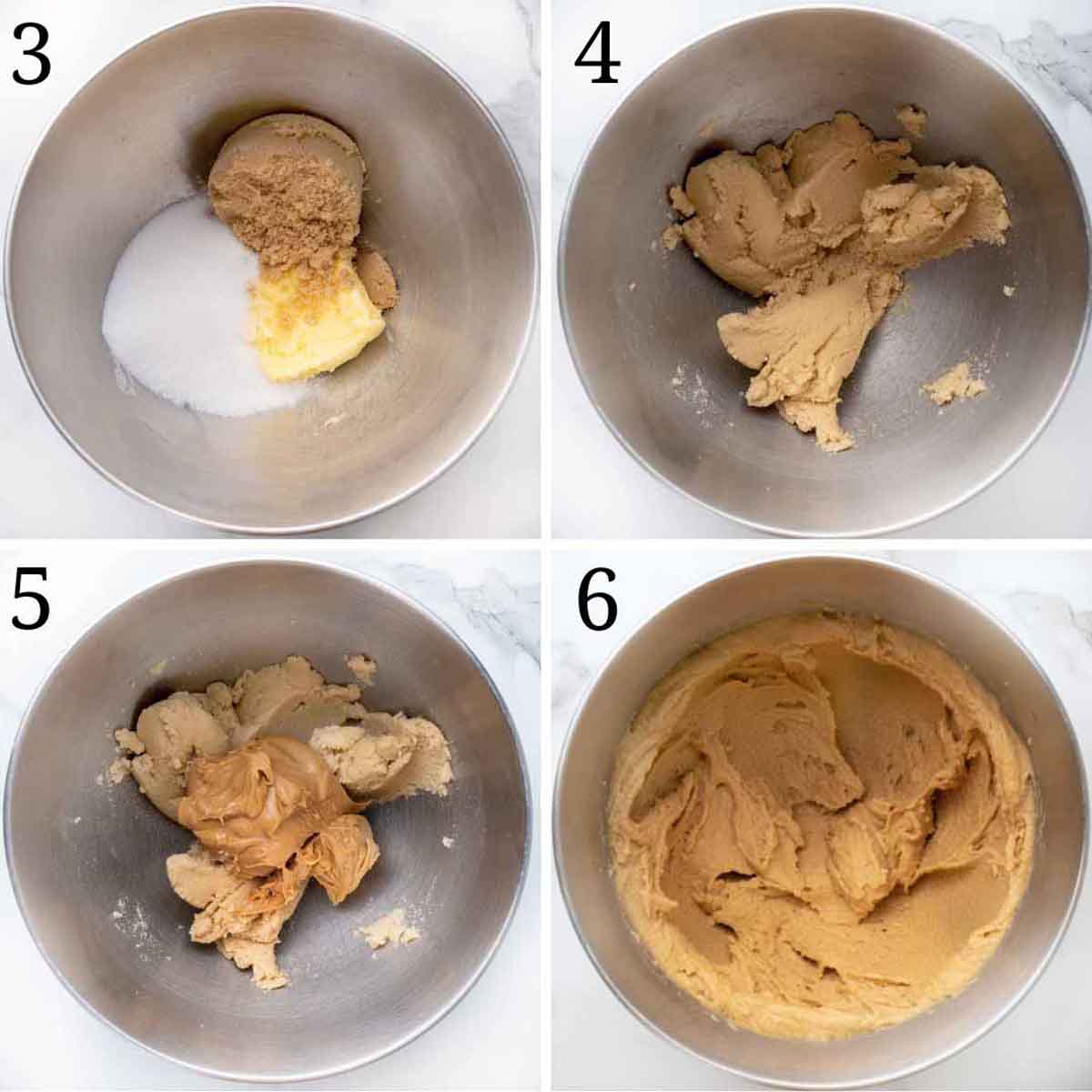 Add the butter, white sugar, and brown sugar to the bowl of a stand mixer (or large mixing bowl with an electric mixer)
Using the paddle attachment cream butter and sugars until light and fluffy.
Add the peanut butter to the creamed butter and sugar.
Mix until creamy.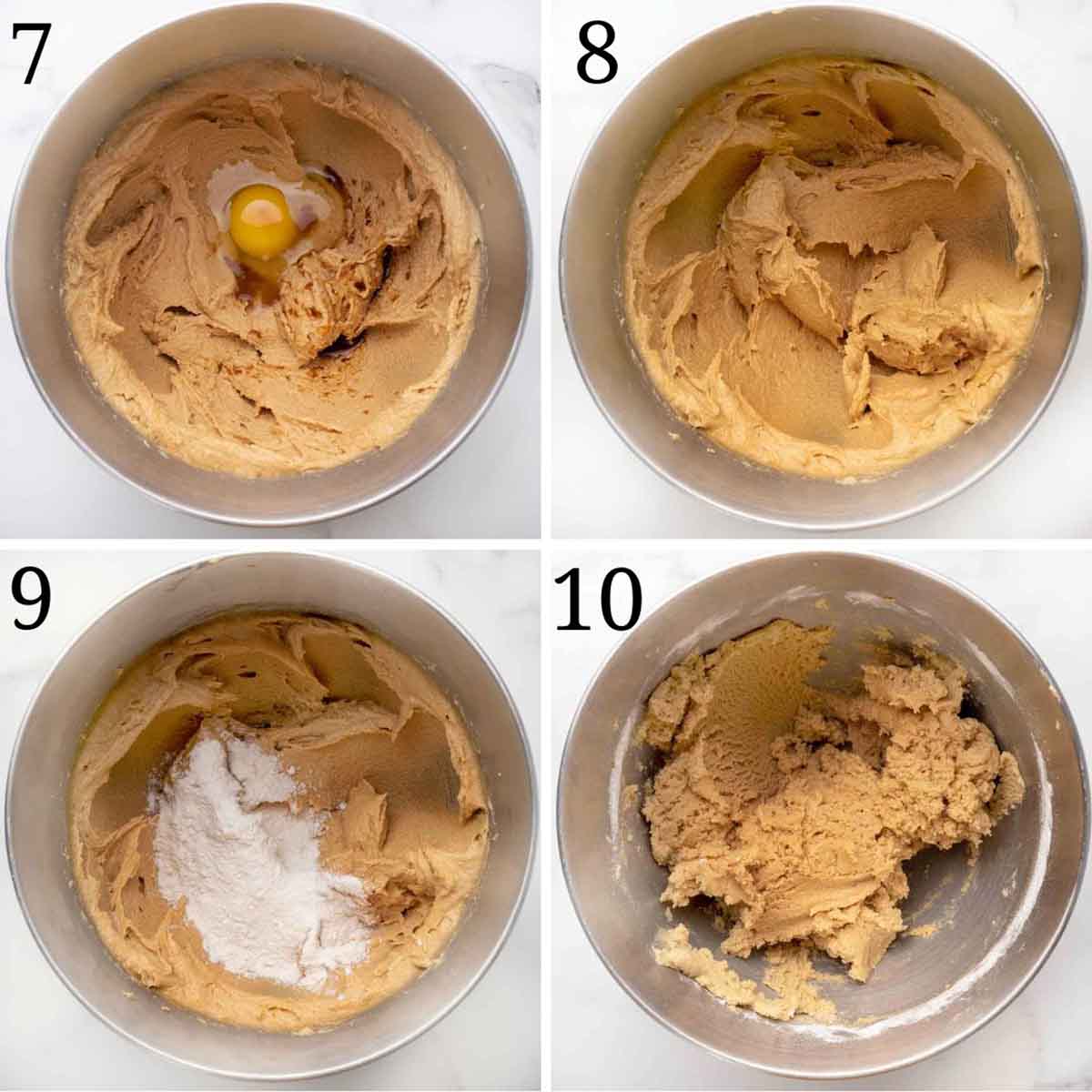 Add the egg and vanilla to the peanut butter mixture.
Mix until well blended.
Set the mixer on low speed and slowly add in the flour mixture to the peanut butter mixture.
Mix the flour into the peanut butter mixture until just combined. Don't overmix!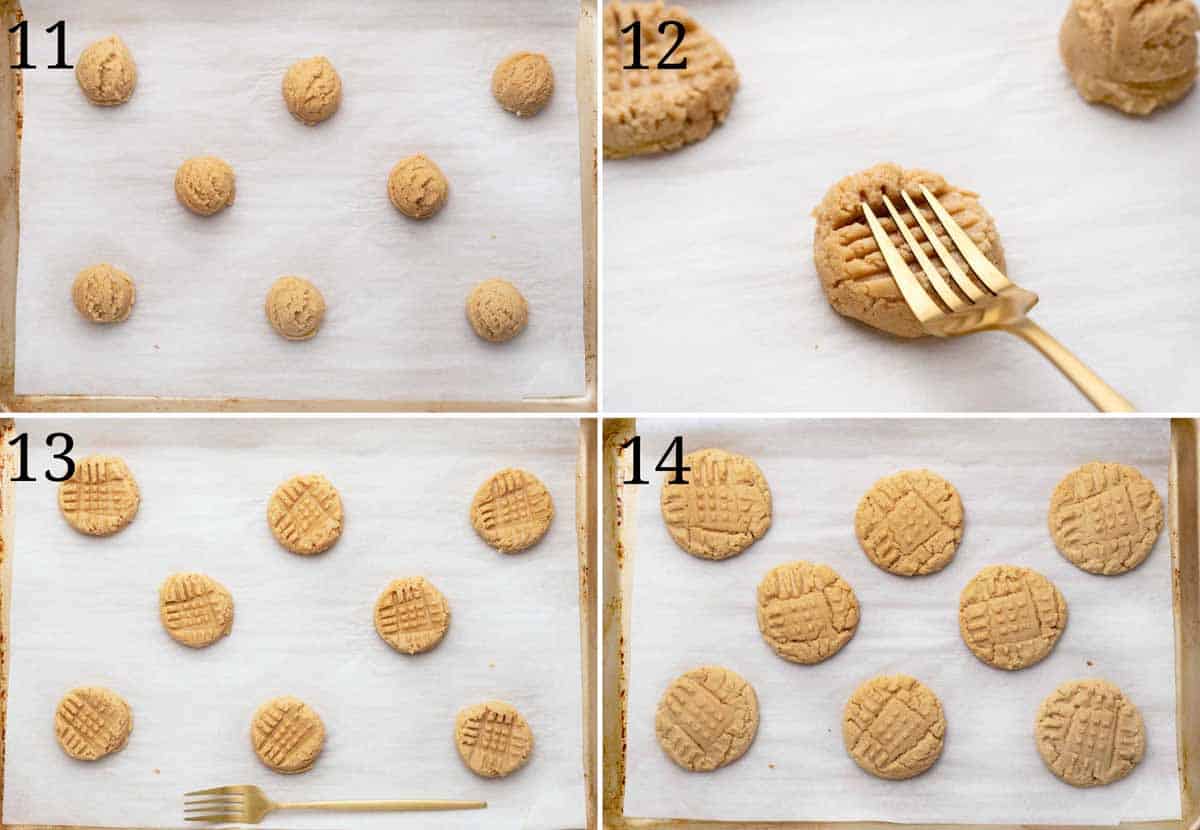 Scoop out the dough and shape into balls using a #40 cookie scoop or your hands (about 2 tablespoon each). Place the balls on the baking sheets about 2 inches apart.
Using a dinner fork flatten the cookies slightly, then turn the fork going in the opposite direction and flatten just slightly again. This will give you the classic criss-cross pattern.
Place the baking sheets on two center racks of the preheated oven. Bake for 9 -10 minutes. The cookies will appear pale and slightly under-baked, which is okay. They will continue to form and harden a bit as they cool.
Let the cookies cool on the baking sheet for 5 minutes and then transfer them to a wire rack to let them cool completely.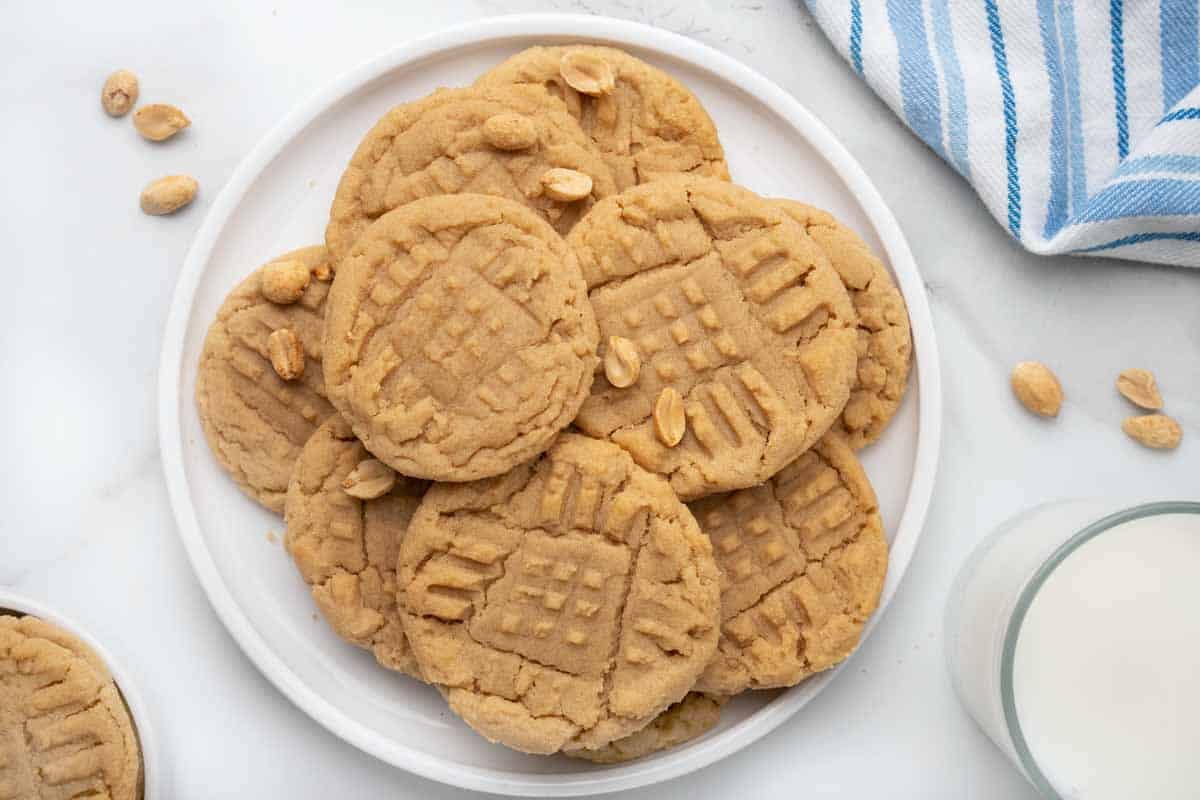 Trust me, when it comes to cookies this chef knows his stuff. And my Peanut Butter Cookie will not disappoint. Just grab a cold glass of milk and a plateful of these cookies and your day will suddenly become better.
Recipe FAQ's
Why do you make fork marks on peanut butter cookies?
Peanut butter is very dense. Making the crisscross pattern with a fork helps the cookie bake more evenly.

This gives the cookies a crispy exterior around the edges and that chewy texture we love in a peanut butter cookie.
Can I use Natural Peanut Butter to make these cookies?
Well, you can, but the quality of the cookie will not be the same. Natural peanut butter causes has a higher oil content and will cause the cookie to spread more during the baking process making it flatter and crisper. Baking times would also need to be shortened if natural peanut butter is used.
Can I use other nut butter to make these cookies?
You cannot substitute other nut butter using this recipe, they are not equal substitutions. If you have peanut allergy concerns, look for cookie recipes specifically designed using other nut butters.
More Cookie Recipes You'll Love!