When you want a sandwich that will rock the house try my Pepperoni Pizza Grilled Cheese. Just make sure you enough for seconds!
This post includes affiliate links. As an Amazon Associate I earn from qualifying purchases.
Can you say Pepperoni Pizza Grilled Cheese?
I've always loved a good grilled cheese sandwich, and I've always used a variety of cheese and bread to make this classic sammie. But up to a few years ago I never thought of adding anything other than the standard ham, bacon or tomato to my sandwich and brother was I missing out!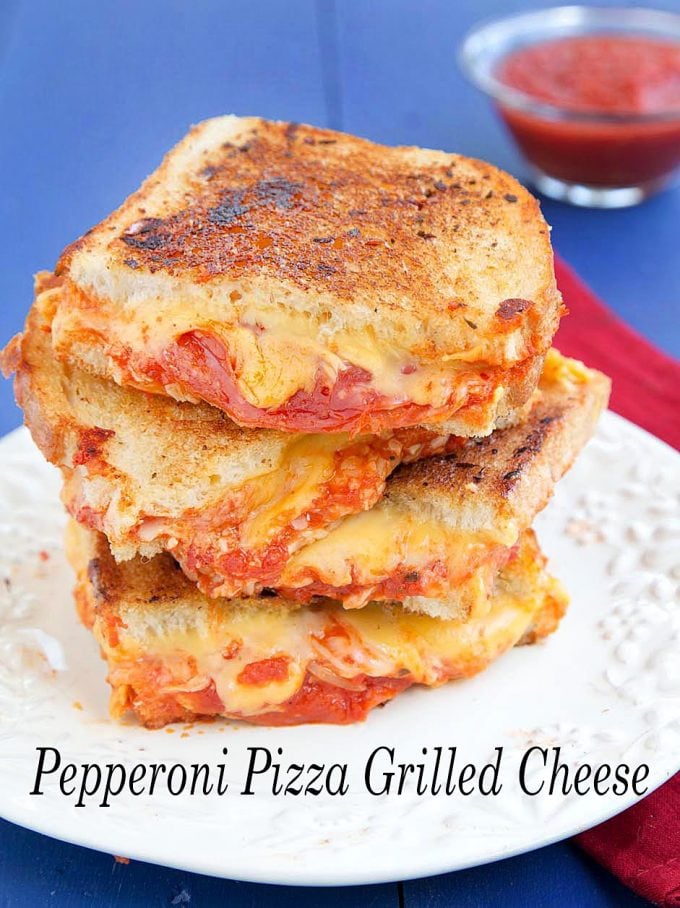 These days you can find just about anything in my grilled cheese sandwich which makes my wife absolutely crazy, because she doesn't like anything in her grilled cheese but cheese!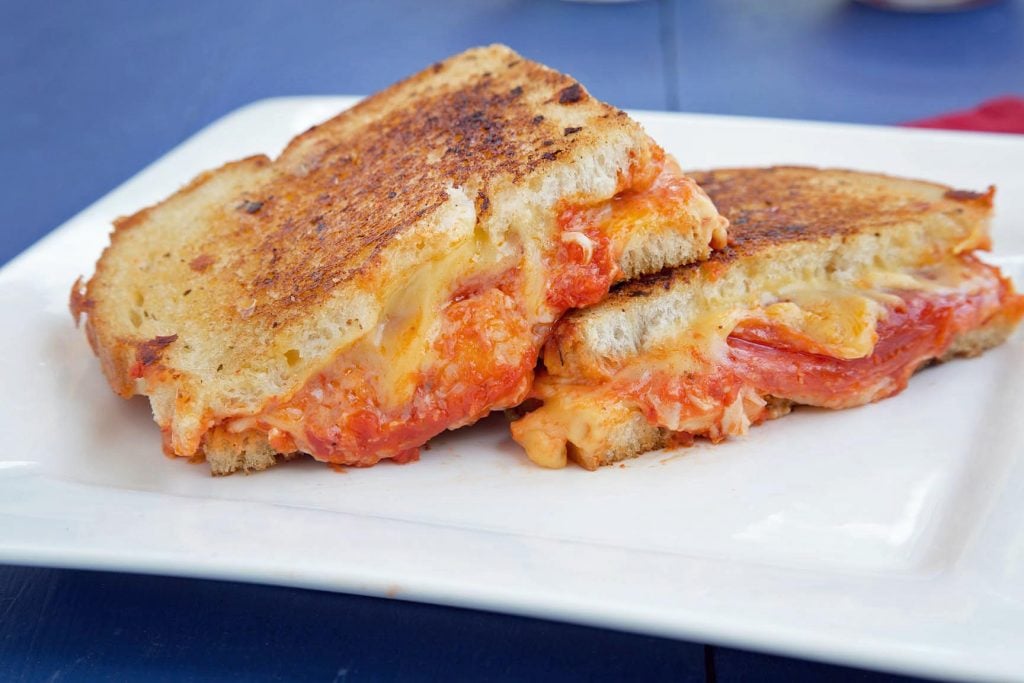 While I've been indulging in adventurous deliciousness with my adaptations my wife is sticking with the basic cheese only model. Of course, it makes her crazy when she see's me enjoying any of the combinations of flavors I've come up with on my grilled cheese.
For that very reason, I waited until Lisa was spending the day at the beach with her family to make these ooey, gooey, ah-mazing pepperoni pizza grilled cheese sandwiches. And I won't even try to make you believe that I shared these heavenly sammies with anyone because the truth of the matter is I devoured both of those ah-mazingly delicious sandwiches myself.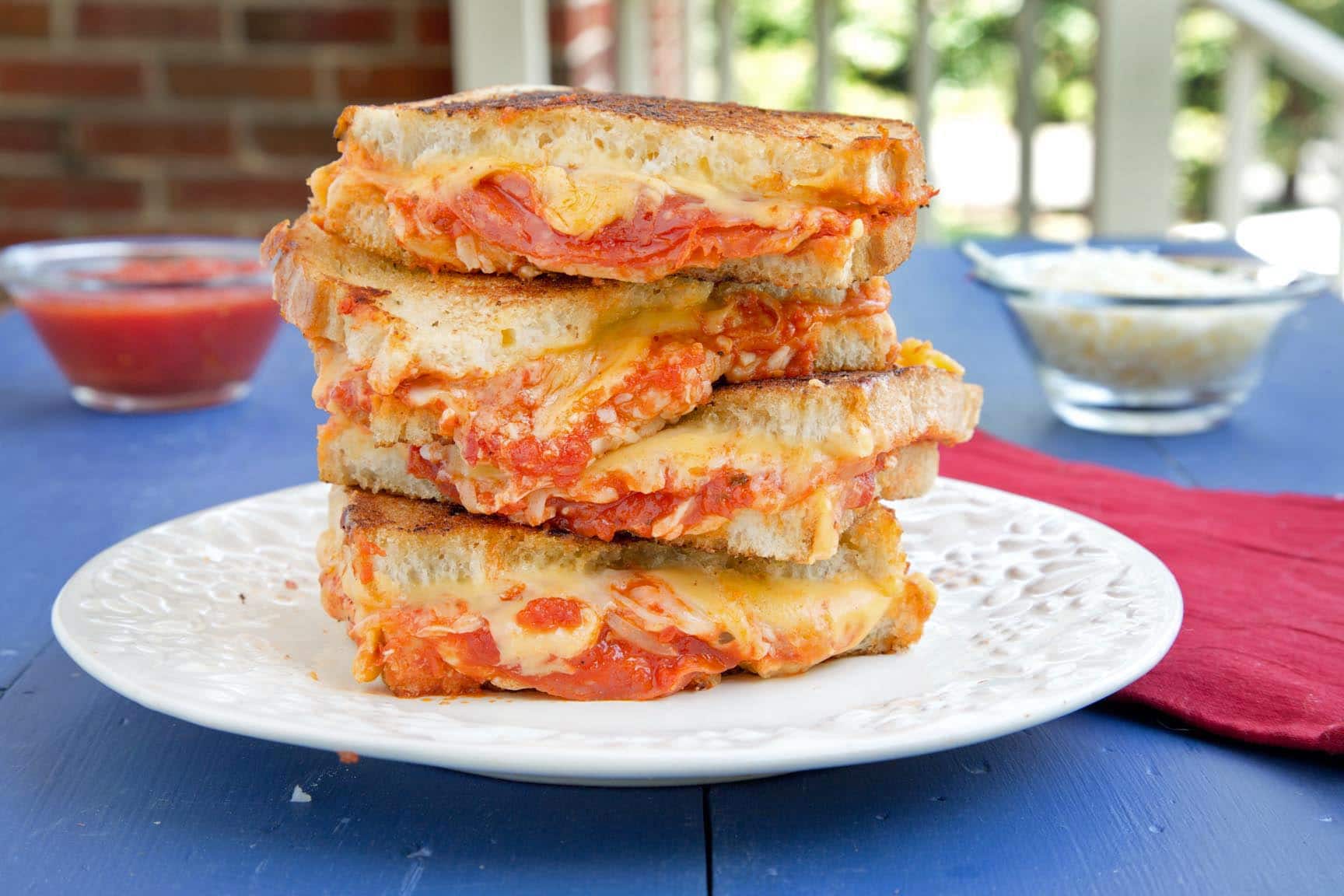 As far as Sandwiches go, this was too good. I should have had some self-control and not eaten them both, but the combination of flavors and the way the cheese was melting and oozing out the side the sandwiches made it impossible to resist! These sandwiches would be perfect for an after-school snack, or a fast and easy dinner. Just serve them up with a side salad or a bowl of soup and you have a meal worth remembering!
If you're a sandwich lover you're going to love these recipes: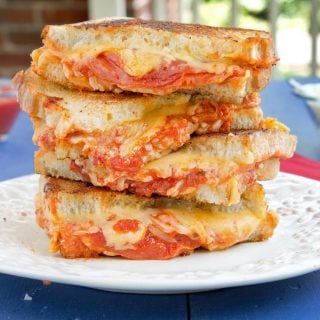 Print Recipe
Pepperoni Pizza Grilled Cheese
When you want a sandwich that will rock the house try my Pepperoni Pizza Grilled Cheese. Just make sure you enough for seconds!
Ingredients
4

slices

of sourdough bread thickly sliced from a wide loaf.

1/2 pound

thick cut yellow American cheese

2

ounces

shredded mozzarella cheese

16

slices

of slicing pepperoni

thinly sliced

2

ounces

of pizza sauce

4

ounces

unsalted butter melted
Instructions
Start building your sandwiches by placing four slices of sourdough bread on the counter Cover each slice of bread with a total of 4 cheese slices on each slice of bread. ( 2 to cover the bread, and two deep)

Place 8 slices of the pepperoni on top of the american cheese on each of the bottom slices of the sourdough.

spread about 1 ounce of pizza sauce on top of the pepperoni on each sandwich

Place half the mozzarella on top of the pizza sauce on each sandwich.

Top the two finished sandwiches halves, with the other piece of sourdough that you have cheese already on, with the cheese facing the pepperoni (You should have a total of 8 slices of cheese on each sandwich, 4 on the bottom and 4 on the top)

Melt the butter in a small pan over low heat, then using a pastry brush, brush one side of each of the sandwiches liberally with the melted butter

Heat your pan on the stove top until it is hot enough to toast the bread.

Place the buttered side down on the pan.

Turn heat down to medium, and cover the sandwich with a pot lid to keep the heat in and help the cheese to melt. After about 3-4 minutes check the bread on the pan to see how the color is. It should be toasted a dark golden brown.

Brush butter on the side that is up, then turn it over to repeat the process of toasting the bread. (Use the pot lid again to help melt the cheese) After 3-4 minutes check that side, to see how the color is.

If the cheese is not fully melted, turn the heat down to low and keep the lid covering the sandwich until the cheese has melted. Just be careful not to burn the bread.

Place sandwich on plate, cut in half, serve and enjoy!
Nutrition
Calories:
947
kcal
|
Carbohydrates:
74
g
|
Protein:
25
g
|
Fat:
61
g
|
Saturated Fat:
35
g
|
Cholesterol:
161
mg
|
Sodium:
1270
mg
|
Potassium:
323
mg
|
Fiber:
3
g
|
Sugar:
4
g
|
Vitamin A:
1730
IU
|
Vitamin C:
2
mg
|
Calcium:
213
mg
|
Iron:
5.3
mg