Wouldn't you love to sit down to a plateful of my Smothered Cube Steak with onion gravy? When it comes to heartwarming, soul-pleasing dishes, you can count on Southern cuisine to satisfy on all counts, where even the lowly cubed steak gets elevated to a whole new level of deliciousness.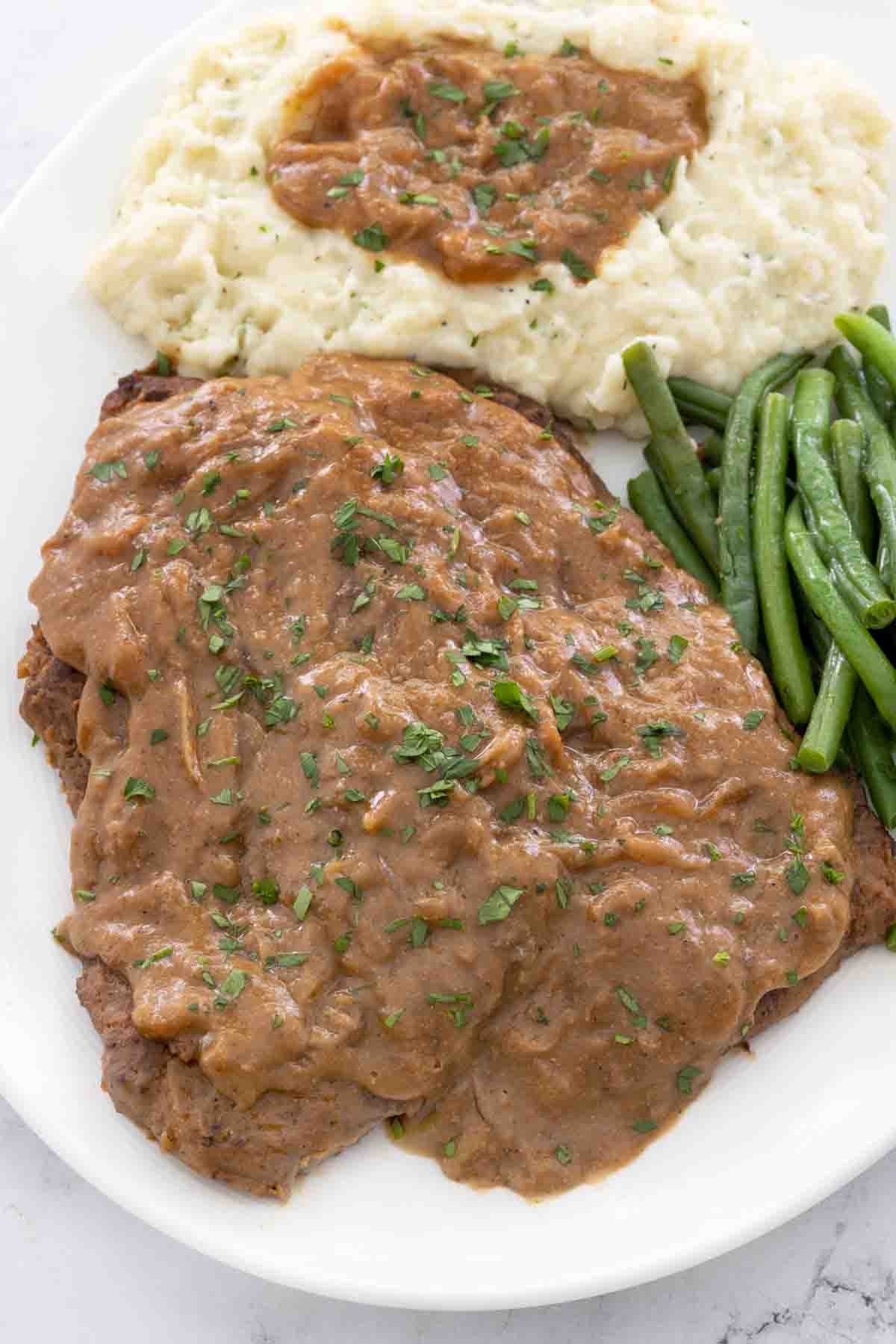 The term "smothered" in Southern cooking typically refers to a dish that's simmered in a rich, flavorful gravy until tender.
My easy cube steak recipe made with tender cube steak and a rich onion gravy will not disappoint and is guaranteed to become a family favorite. It's classic comfort food, Southern style.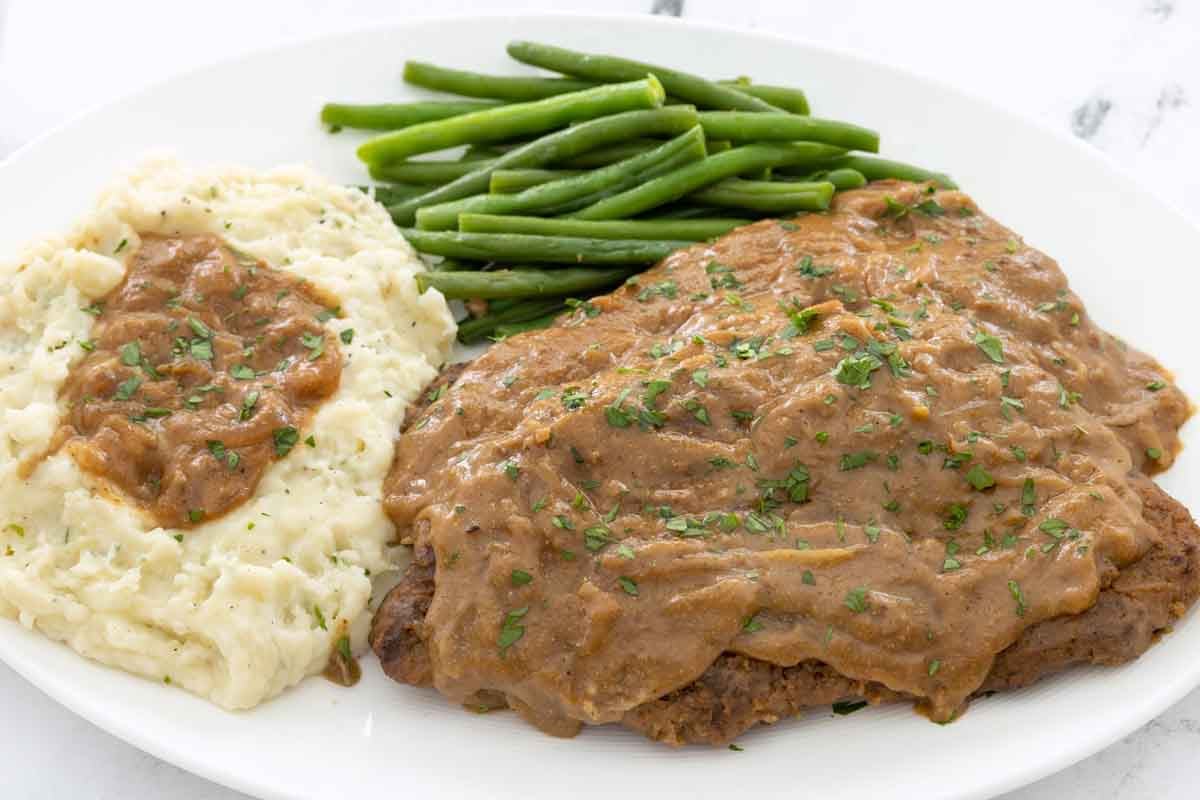 I've tried a lot of smothered steak recipes in my career as a chef, and I have to tell you that this is the best smothered cube steak recipe I've ever made. And the best part is, my smothered cube steak is made with simple ingredients found in your home pantry.
If you love smothered dishes, make sure to try my Smothered Pork Chops. They are not to be missed!
Ingredients to make Smothered Cube Steak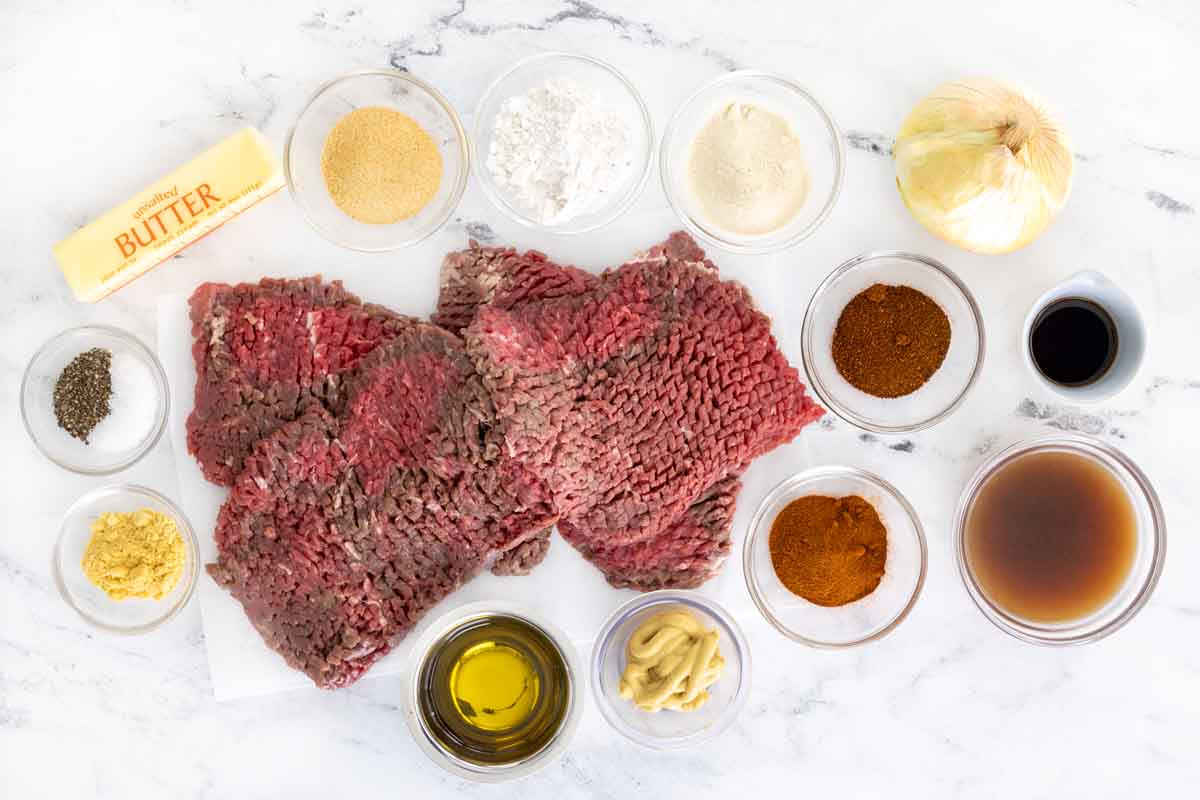 Let's start by gathering the ingredients we need to make Smothered Cube Steak with Onion Gravy. In Chef Speak, this is called the "Mise en Place," which translates to "Everything in its Place."
Not only does setting up your ingredients ahead of time speed up the cooking process, it also helps ensure you have everything you need to make the dish.
What is cube steak?
Cube steak, also known as minute steak (because it cooks quickly), hamburger steak, and Swiss steak, is a cut of beef that usually comes from the top round or top sirloin. This cut of beef is tenderized through a process of being pounded or run through an electric meat tenderizer. The name "cube" comes from the indentations or cubical shapes (little cubes) left by the tenderizing process, not from the shape of the meat.
You can often find cubed steak at your local grocery store already tenderized and ready to cook. However, if you have a cut of meat at home and you want to make your own cube steak, you can do so by pounding it with a meat mallet until it's about ½ inch thick and has the characteristic "cubed" indentations.
Cube steak is used to make Chicken Fried Steak, but don't it with Salisbury steak, which is made with ground beef.
How to make Smothered Cube Steak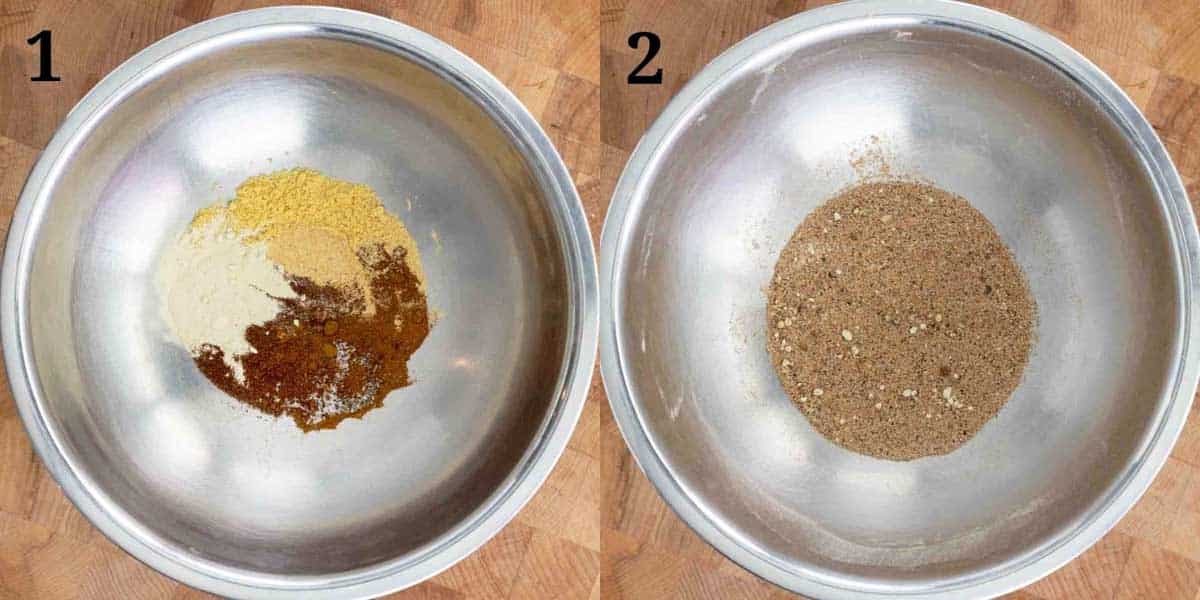 Add the salt, garlic powder, onion powder, paprika, dry mustard, chili powder, and black pepper to a small bowl.
Whisk the spices to combine, and set aside until needed.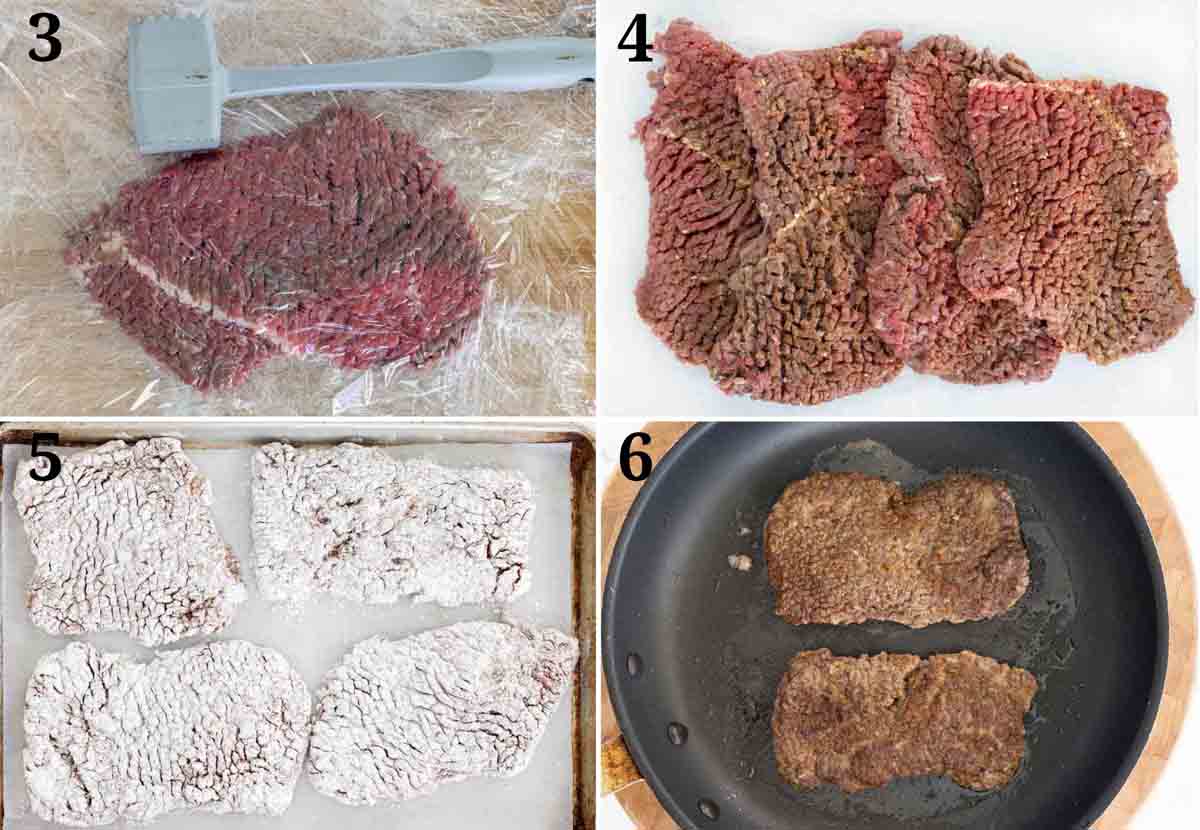 Cover a cutting board with plastic wrap and place the cubed steaks on top of the plastic-wrapped board. Then, cover them with another sheet of plastic wrap. Use a meat mallet to pound the meat to a thickness of ½ inch.
Rub the seasoning blend on both sides of each steak.
Dredge the seasoned cube steaks in the all-purpose flour, shaking off any excess flour.
Add olive oil to a large skillet (or cast iron pan) over medium-high heat, and when the pan is hot, add the floured seasoned steaks to the pan and sear the beef for 2- 3 minutes per side.
*Letting the beef come to room temperature before pan frying will help it cook more evenly.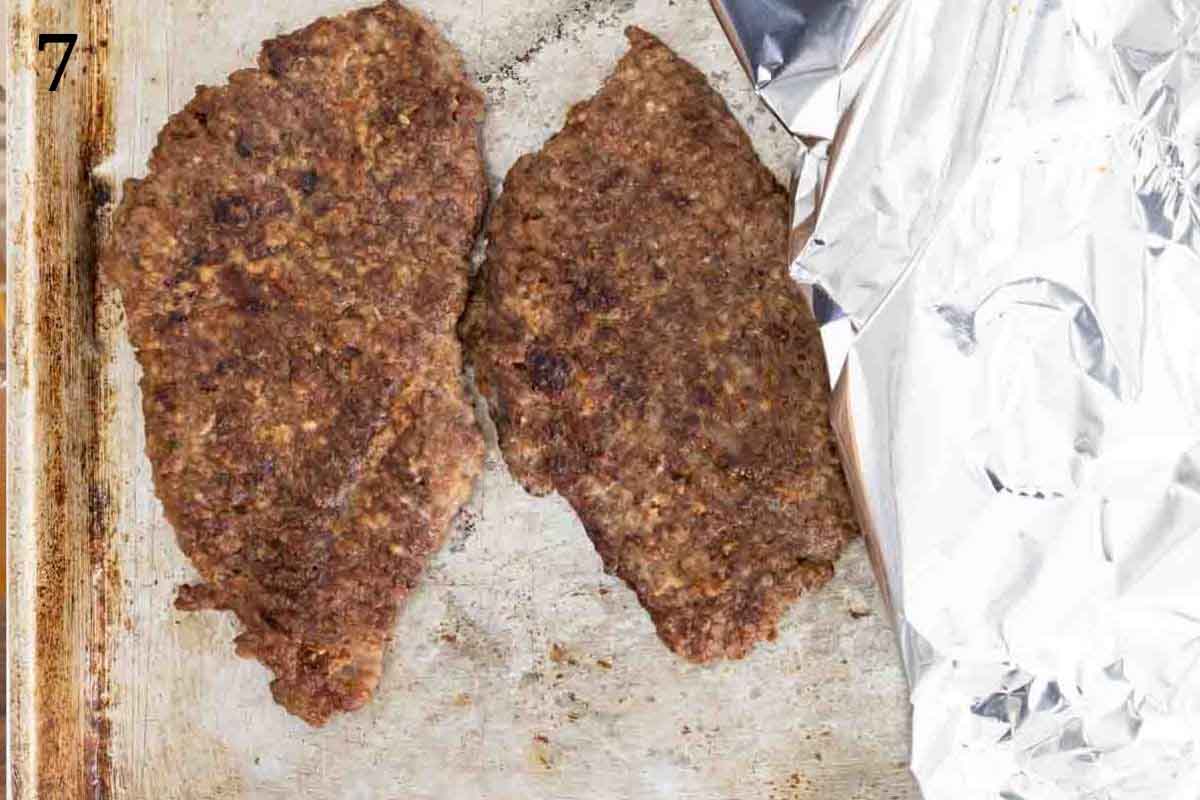 Remove the cooked steaks from the hot oil, and place them on a sheet pan or plate, and tent with foil to keep warm while you make the gravy.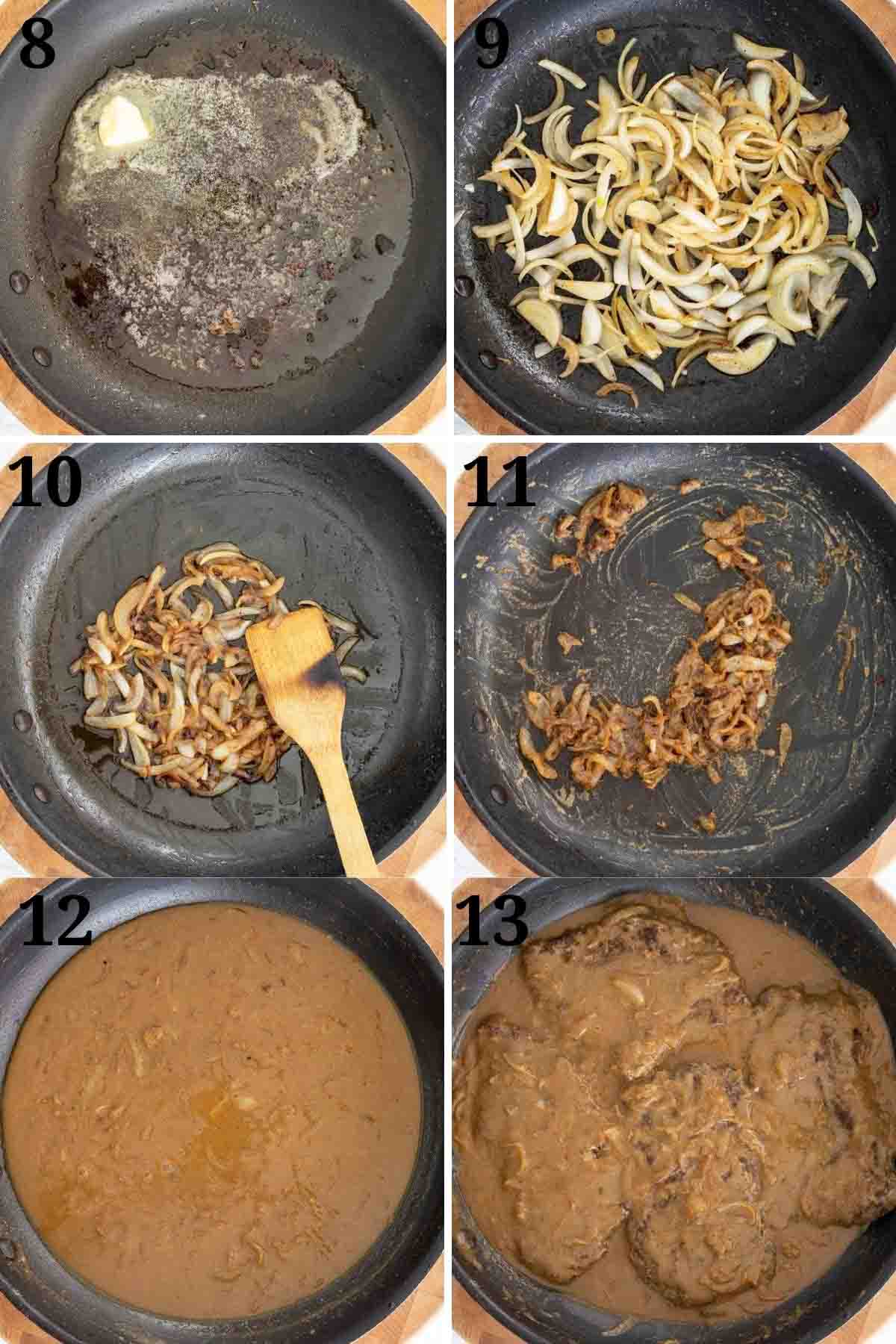 Reduce the stove top to medium heat and add two tablespoons of butter to the pan. Leave the pan drippings in the pan.
Add the sliced onions to the pan with the melted butter and toss to coat the onions. Cook the onions for 15-18 minutes until the onions are golden brown and caramelized. Don't let the onions burn!
Reduce the temperature to low, and add the flour to the onions. Stir to mix the flour into the onions and let the onion mixture cook for 2-3 minutes.
Add the beef broth, Worcestershire sauce, mustard, and seasonings to the pan and mix to combine with the onions to make the flavorful gravy. Simmer until the gravy begins to thicken.
Add the steaks and any juices back to the pan and spoon some onion gravy on the top of each steak. Simmer the smothered steaks uncovered for 5 minutes or until the gravy has thickened and the beef is cooked to your desired temperature. *If the gravy is too thick, add a little water to get the desired consistency.
*Use an instant-read thermometer to check the internal temperature of the cooked cube steak.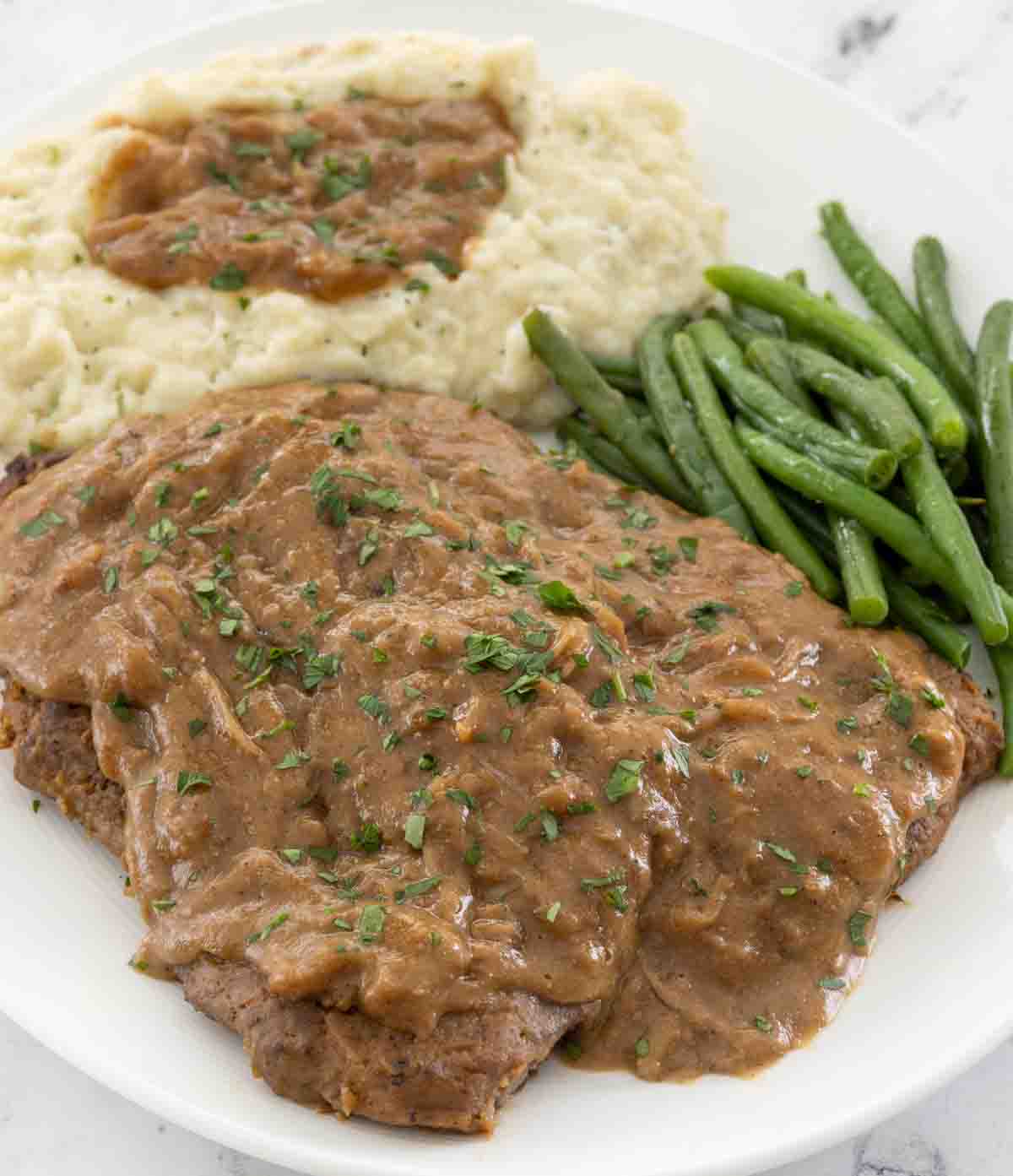 Serve my smothered cube steak with mashed potatoes so you can scoop up every last drop of that delectable pan gravy. Add a side of green beans or collard greens, and you'll put a delicious meal on your dinner table that your whole family will love.
Store leftover cube steak in an airtight container for 3-4 days. It can be kept frozen in a freezer-safe container for up to three months.
Recipe FAQ's
What is smothered cube steak?
Smothered cube steak is a traditional Southern dish. The beef is pan-fried and then simmered in a flavorful gravy until tender. The "smothering" refers to cooking it in the gravy, which adds moisture and flavor.
How do you cook a cube steak so it's not tough?
Using a meat mallet to pound the steak and to break down the muscle fibers will help make it more tender. You can also marinate the steak in buttermilk or vinegar-based marinade. Just be careful not to marinate the meat longer than 12 hours, or the meat will get mushy.

Can I use a different but of beef for smothered cube steak?
Yes, you can. Cube steak is traditionally used and is the best choice because of its tenderness after cooking. You can use other cuts of beef like round steak or even chuck steak, but, even marinating and pounding the steak, it will still be considerably tougher.
A preformed hamburger patty will work with this recipe.
More Recipes You'll Love!