The Best ooey gooey black bottom praline brownie bars are here for you to enjoy and share with your friends and family!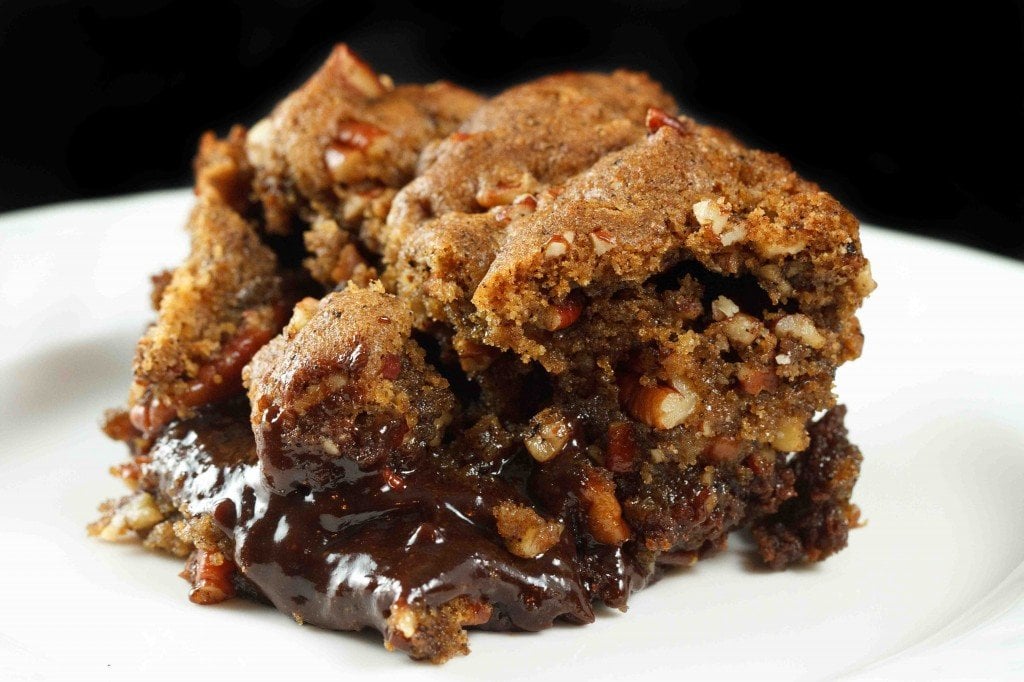 It's been a crazy week, I think I actually broke the 80-hour mark on Sunday.  It's like old times…..sigh, my restaurant days all over again!  Luckily this week will wind down to about 60 hours and after next week we should be back to my normal 50 hour week.
The bad news is I didn't have a post ready….sigh
Now the official message for my opening picture is have patience…….let it cool……and read the recipe thoroughly before you bake it.   I used the wrong sized pan for my brownies and needless to say had to almost double the time, which of course put me behind schedule which of course meant cut the brownies hot…..
Mr. Murphy and his law have been a constant companion since this school year started, I'm just hoping he gets it all out of his system by the end of next week……I need a little normalcy…sigh, well as normal as I can get.   Now in my defense I will say, this ooey gooey chocolate mess was so good, I just wanted to rub one of them all over my body! , Wow the flavor was intense, and I'm sure in the morning after an night in the fridge they will be a very fudgy delicious brownie, at least I'm counting on it!  Fudgy brownies and black coffee for breakfast, if that doesn't get me moving nothing will!
I borrowed this recipe from one of my favorite chefs, Alice Medrich the Queen of Chocolate,   and I will make this black bottom praline brown bar recipe again because it's just too delicious not to give it another go (with the right size pan of course).   Please do give it a try, I know you're going to love it!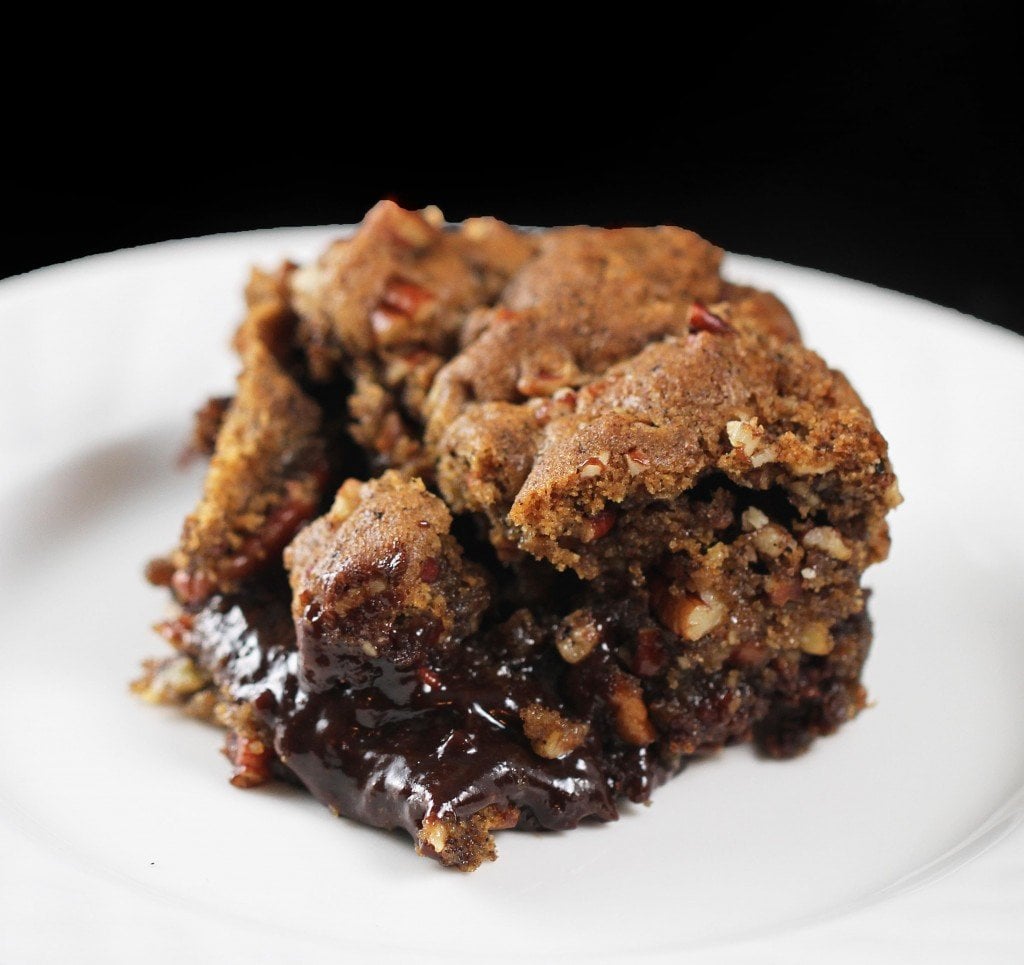 Black Bottom Pecan Praline Bars
Author:
Alice Medrich The Queen of Chocolate
Ingredients
Brownie Layer
8 tbsp unsalted butter
6½ ounces semi-sweet chocolate
¾ cup plus 2 tbsp Sugar (6.125 oz)
1 tsp pure vanilla extract
¼ tsp. salt
2 large eggs (cold)
½ cup all-purpose flour (2.25 oz)
Pecan Topping
½ cup all-purpose flour (2.25 oz)
½ tsp baking soda
8 tbsp. unsalted butter-melted
¾ cup packed brown sugar (5.25 oz)
½ tsp. salt
2 large egg yolks
1 tsp. pure vanilla extract
2½ cups coarsely chopped pecans or walnuts (8.75 oz)*
Instructions
Preheat oven to 350 degrees
line a 9x13 metal baking pan , bottom and all four sides with foil
Brownie Layer
place chopped chocolate and butter in a metal pan over a pot of simmering water and allow chocolate to melt, stir until completely melted and smooth. Remove from heat.
Stir in Sugar, vanilla, and salt with a wooden spoon.
Add the eggs and mix well
Add in the flour and beat vigorously until batter is smooth and glossy and begins to come away from the sides of the pan.
Scrape batter into prepared pan and set aside.
Pecan Topping
Combine flour and baking soda in a small bowl and mix well using a fork
Combine the melted butter with the brown sugar and salt
Add in the egg yolks and vanilla
Add in flour mixture and then the pecans, mix well
drop by spoonfuls on top of the brownie layer, it will spread and cover the brownies during baking.
Bake for 20-25 minutes or until the top is completely brown and cracked*
Allow to cool completely on wire rack, then remove by lifting the ends of the foil and removing from pan.
Cut into squares*
Notes
*Turn pan front to back halfway through the baking time to ensure even baking *May be kept in an airtight container for 2-3 days * half of my Pecans were coffee pecans, substitute 1 tsp of espresso powder if you like the coffee flavor