One of my favorite memories of growing up in New Jersey was going out to eat at one of the many diners in the area. And Turkey Croquettes was always at the top of my list of dishes I would order when we stopped for dinner.
Although I wasn't born in New Jersey, we moved here when I was pretty young and at the height of New Jersey's love affair with Diners.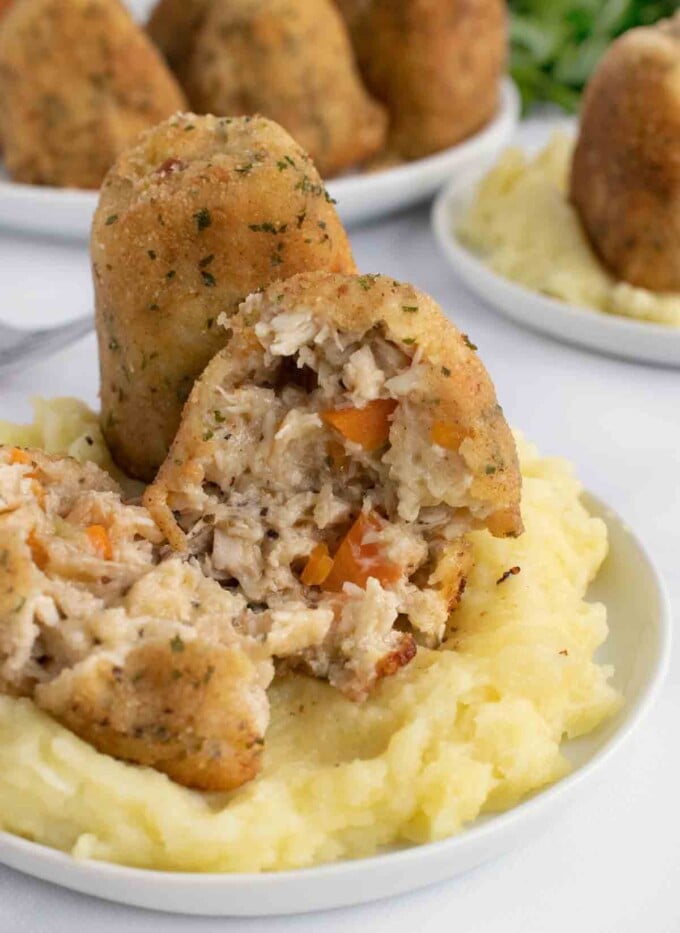 Turkey Croquettes was a dish that was rarely made at home. But at diner that serves turkey every day, it was the perfect way to use the leftover turkey.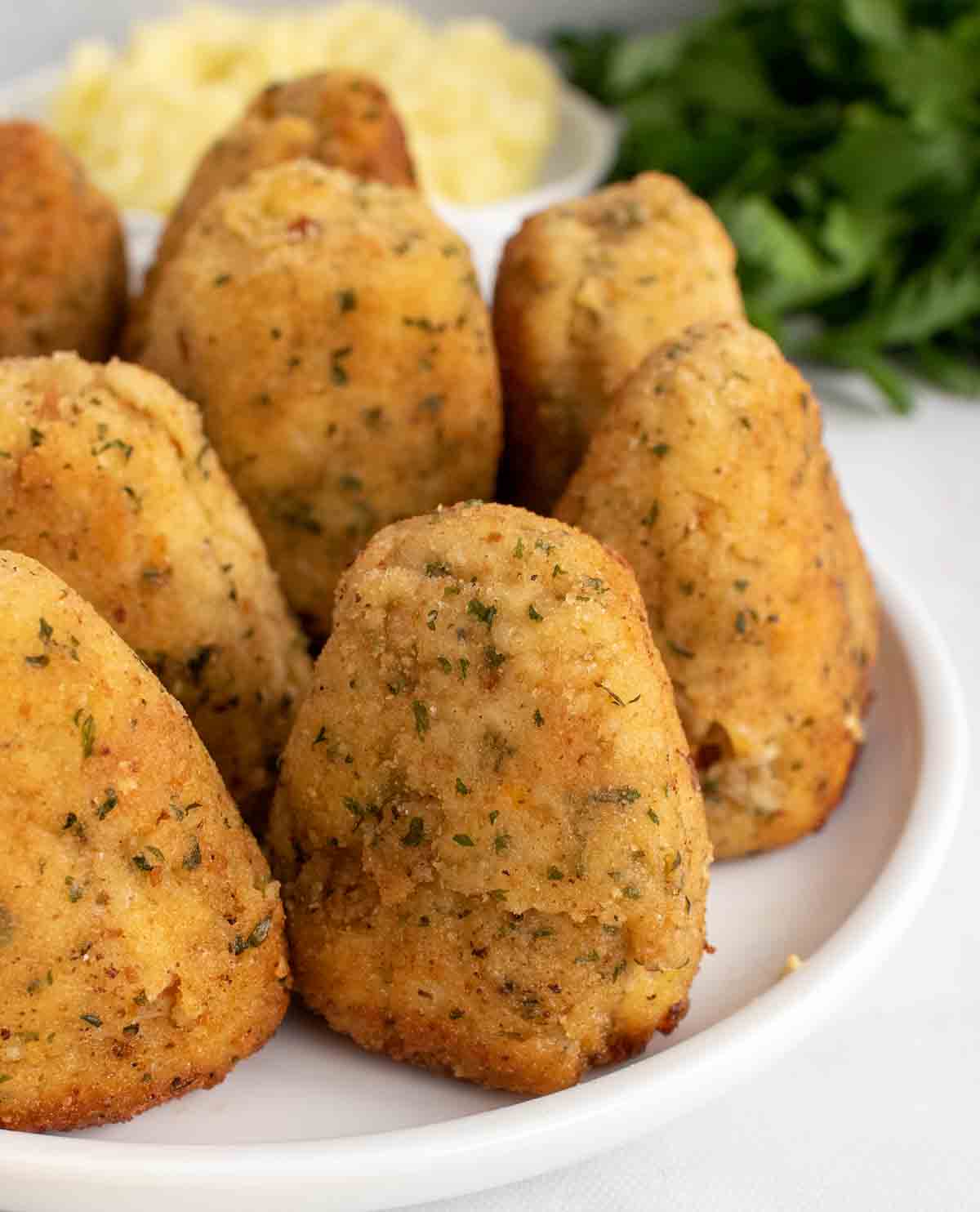 It never fails that every time I roast a turkey, I always have more turkey than we can eat before we get tired of it. I re-use the leftovers just about every way you can think of, but a good portion always ends up in the freezer and never gets used.
That's why I started making Turkey Croquettes, it's a delicious way to use up the leftover turkey. And they freeze well too, that way you've got more ready to heat up for dinners for those days you don't feel like cooking.
What is a Croquette?
"A Croquette is a small breadcrumbed fried food roll containing, usually as main ingredients, ground meat (veal, beef, chicken, or turkey), shellfish, fish, ham, cheese, mashed potatoes or vegetables, and mixed with béchamel or brown sauce, and soaked white bread, egg, onion, spices and herbs, wine, milk, beer, or some combination, sometimes with a filling, such as sautéed onions, mushrooms, or boiled eggs.
The croquette is usually shaped into a cylinder, disk, or oval shape, and then deep-fried. The croquette (from the French croquer, "to crunch") has gained worldwide popularity, both as a delicacy and as fast food."
How do I make Turkey Croquettes?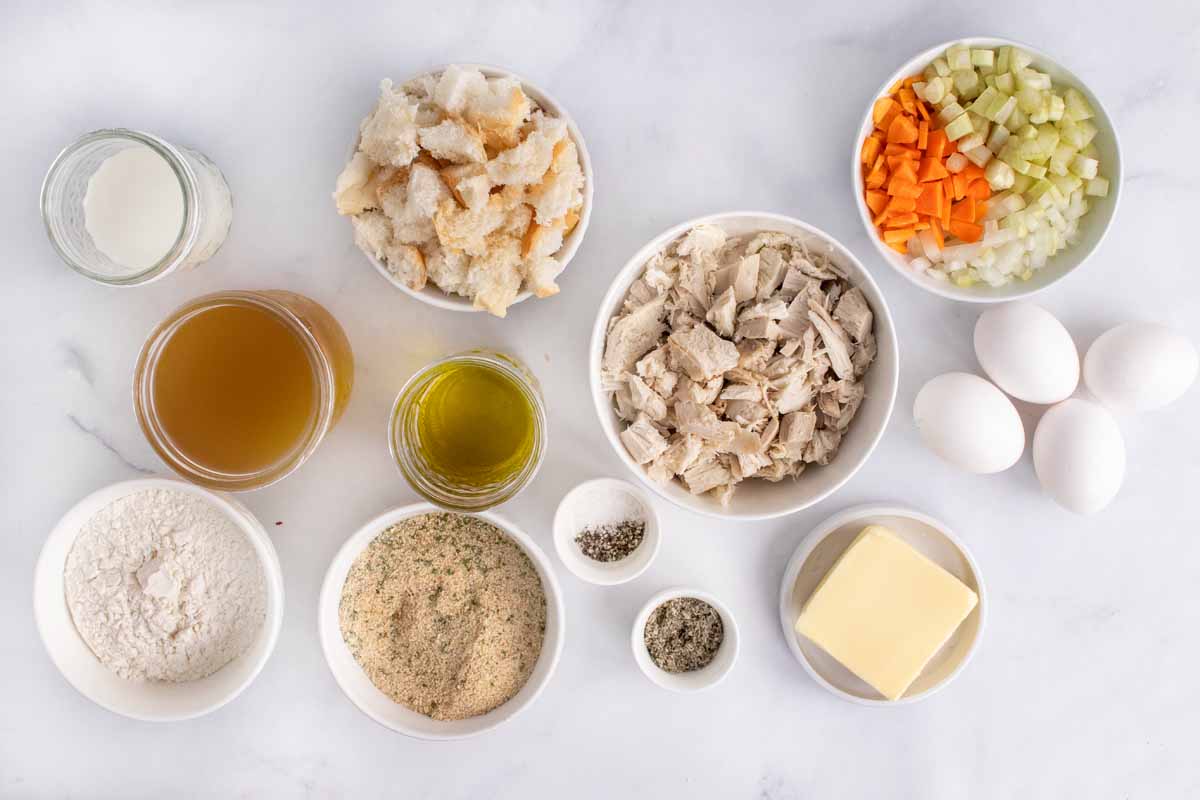 Not only does setting your ingredients up ahead of time speed up the cooking process, it also helps ensure you have everything you need to make the dish.
Let's start by gathering the ingredients we need to make Turkey Croquettes. In Chef Speak this is called the "Mise en Place" which translates to "Everything in its Place".
In your food processor, add celery, carrots and onion and pulse till finely minced. Repeat the process with the turkey.
*You can pulse the veggies to a finer consistency if you'd rather not see the bigger pieces in the croquette.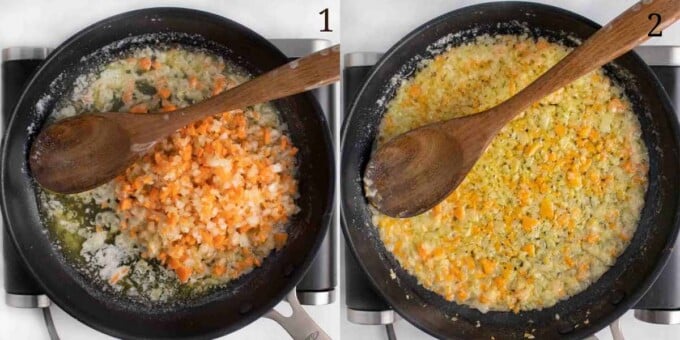 In a saute pan, melt butter and add finely minced celery, carrots, and onion. Saute until softened (3-5 minutes) Allow the mixture to cool.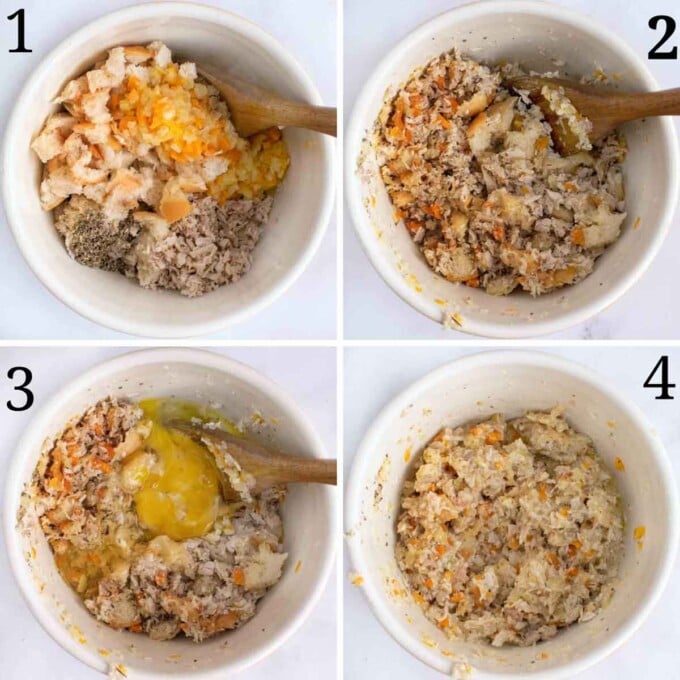 In a large mixing bowl, add turkey, stuffing cubes, sauteed celery, onions, carrots, and poultry seasoning. Mix all the ingredients together.
Add 1 cup of chicken stock and two lightly beaten eggs and mix together. Gradually add more chicken stock as needed. You want the mixture to resemble a stuffing consistency. **Don't let it get too wet. It will continue to absorb the liquid as it sits in your refrigerator setting up but it still needs to be shaped, so it needs to have a formable consistency.
Season to taste with sea salt and black pepper.
After mixing all ingredients together fully, refrigerate for 2-3 hours to allow mix to set up.
After the mix has set up, form the mixture into cone-shaped croquettes.
*If you prefer another shape, go for it. Traditionally croquettes were cone-shaped.
If you like using your Instant Pot, this is a delicious Instant Pot Ground Turkey Recipe.
Set up a Breading Station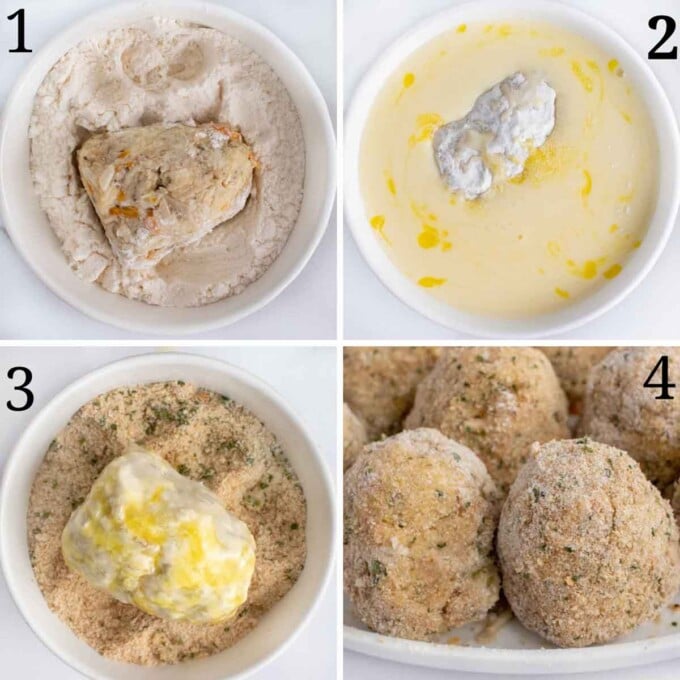 Dredge the croquettes in flour seasoned with salt and pepper.
Then dip the floured croquette into the egg wash (egg and milk).
Finally, coat the egged croquette with seasoned bread crumbs.
Saute the Turkey Croquettes
Saute the turkey croquettes in olive oil (or your choice of oil), turning until all sides have been lightly browned.
Place the croquettes you are going to serve into a 350-degree oven for 15-20 minutes until fully heated. (minimum 165 degrees)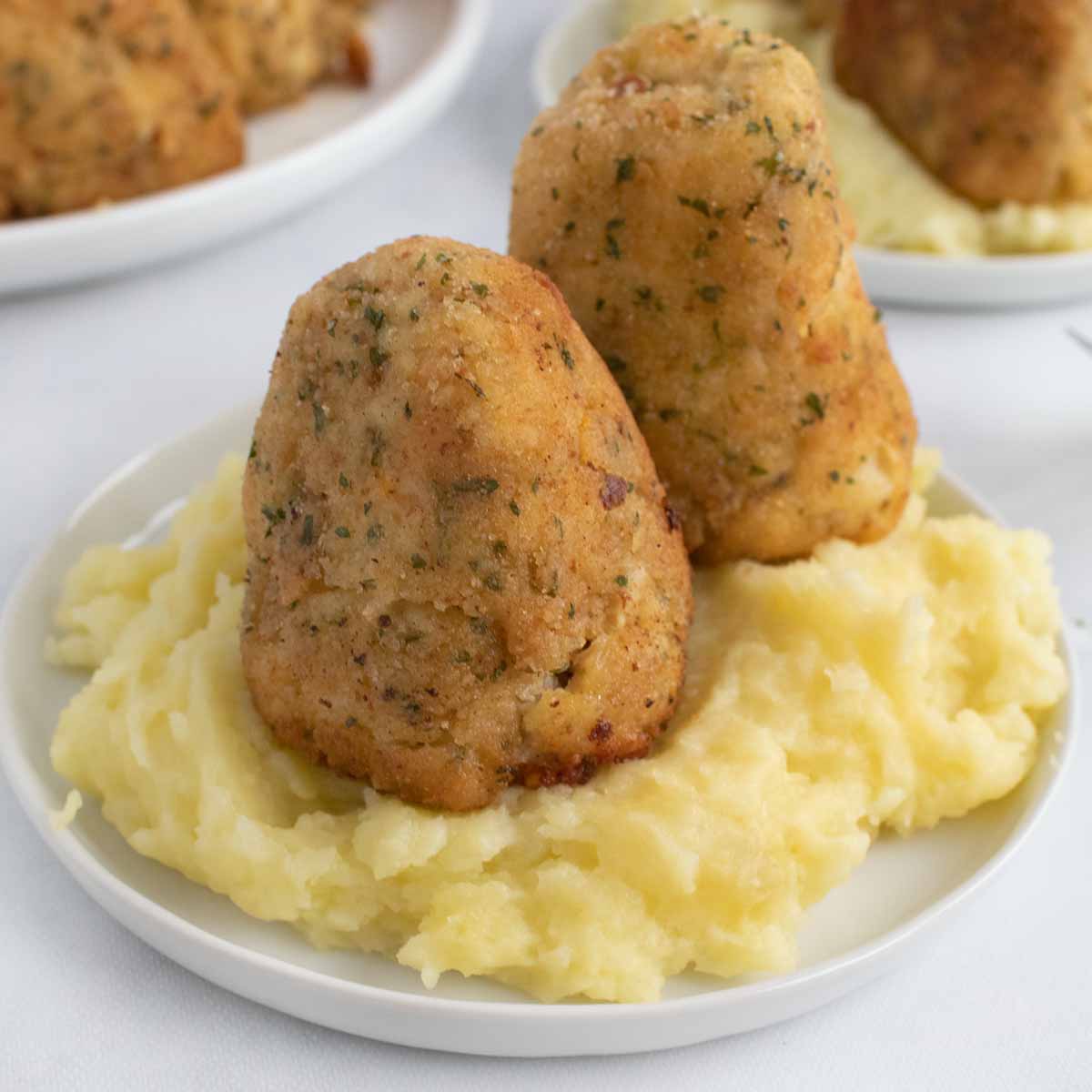 Not only is this a great way to use up leftover turkey, but it's also a wonderful way to introduce a new generation to the joys of true Diner Food. Enjoy these croquettes with a salad, soup, or indulge with a side of mashed potatoes and lots of turkey gravy!
You'll find different views on how to make turkey croquettes, some folks use mashed potatoes and others use stuffing. I've always found that stuffing makes a lighter tastier croquette that doesn't sink like a lead weight in your stomach. I promise you'll like my stuffing version better!
But any way you make them, you're making a New Jersey Diner Classic!
More Delicious Recipes You'll Love!