You don't have to wait for Thanksgiving dinner to enjoy delicious crispy smoked turkey thighs. With my easy recipe you can enjoy juicy, perfectly seasoned turkey thighs any time of the year.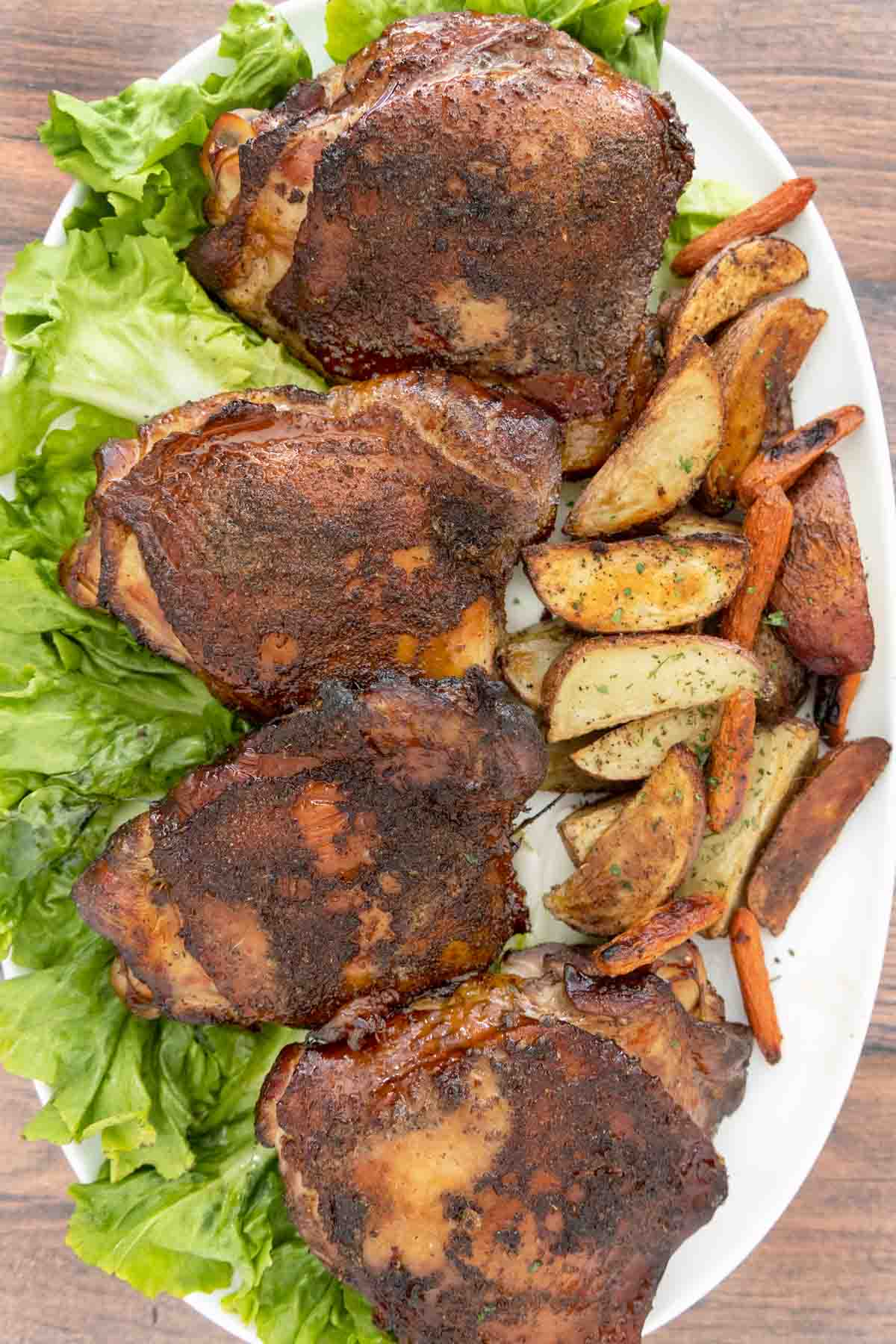 There is no reason to wait for the holiday season to enjoy delicious smoked turkey thighs. The turkey meat is juicy and tender with an incredible smoky flavor that your whole family will love!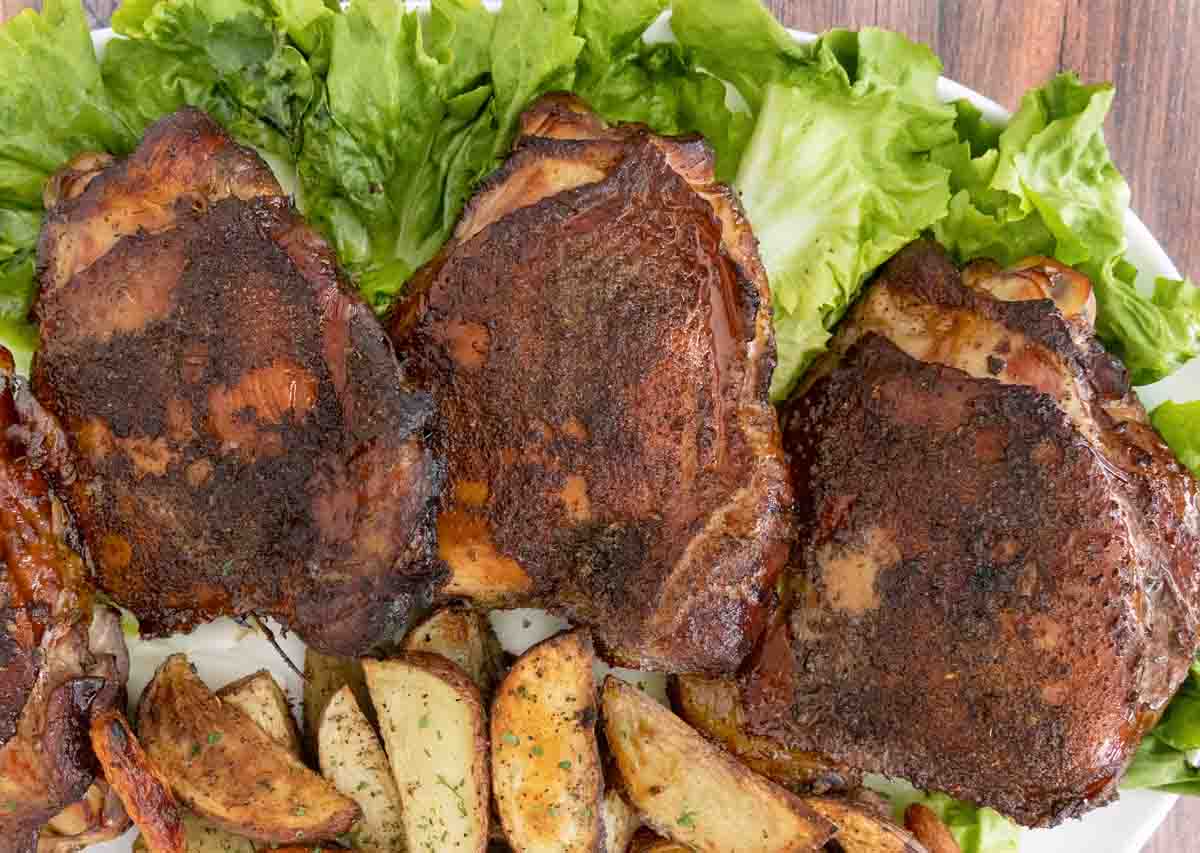 The smoking process adds a lot of flavor the thighs and I'm sure after one bite you'll agree that this is the best smoked turkey thigh recipe you've ever tried!
If you love turkey make sure to try my smoked turkey legs, smoked turkey wings, and smoked turkey breast.
Ingredients for Smoked Turkey Thighs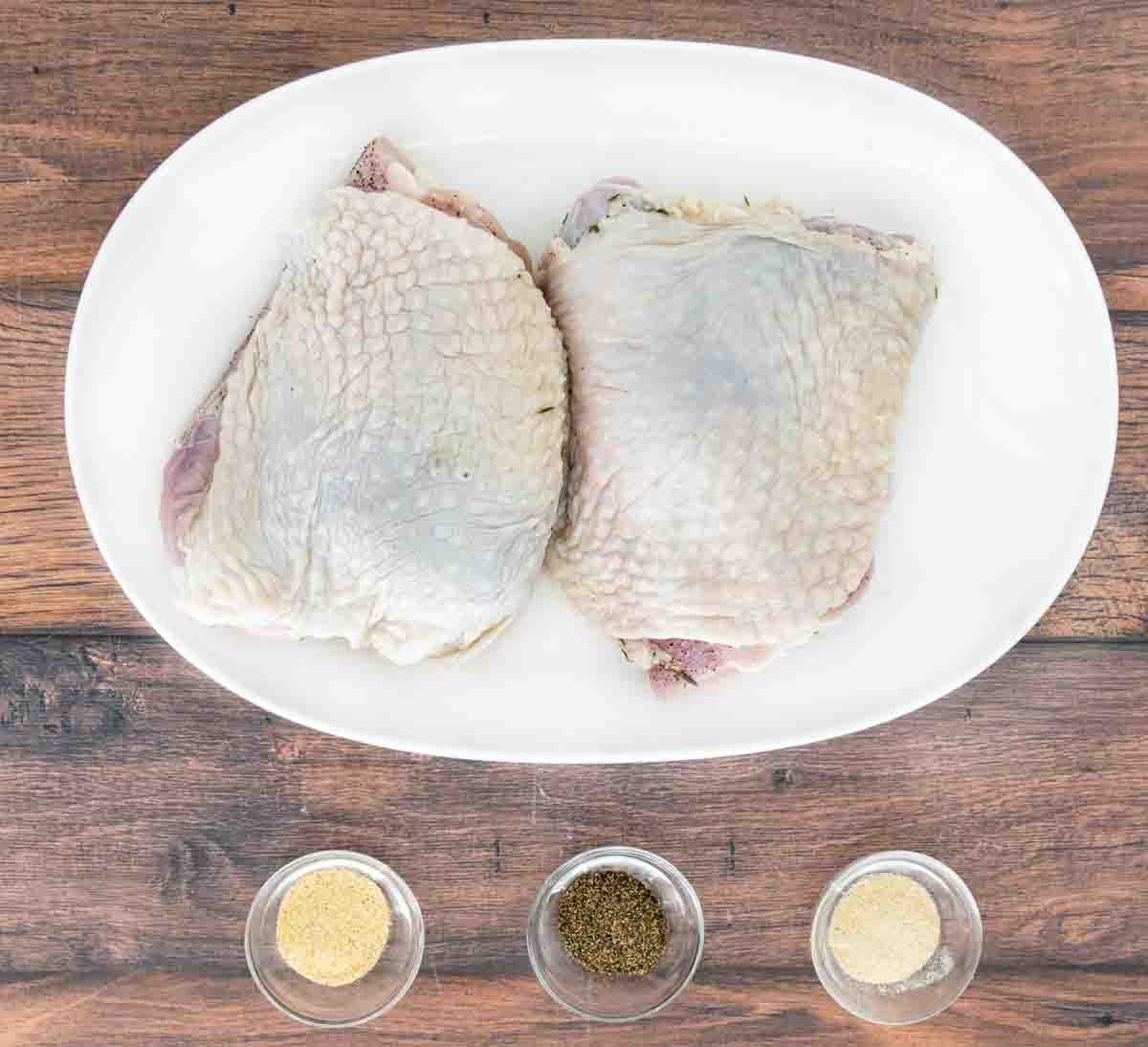 Let's start by gathering the ingredients we need to make Smoked Turkey Thighs. In Chef Speak, this is called the "Mise en Place," which translates to "Everything in its Place."
Not only does setting up your ingredients ahead of time speed up the cooking process, it also helps ensure you have everything you need to make the dish.
Turkey thighs are typically available at your local grocery stores from September through December. Check with your the manager of the meat department or a local butcher to order them during the rest of the year.
Made with simple ingredients
I didn't use a lot of seasonings for the dry rub, just black pepper, onion powder, and garlic powder. Most of the flavor will come from the wet brine.
Feel free to add your favorite seasonings to the dry rub. Sweet paprika, and poultry seasoning would make nice additions. For a touch of sweetness, add a little brown sugar, and for a touch of heat add a little bit of cayenne pepper.
How to make a Wet Brine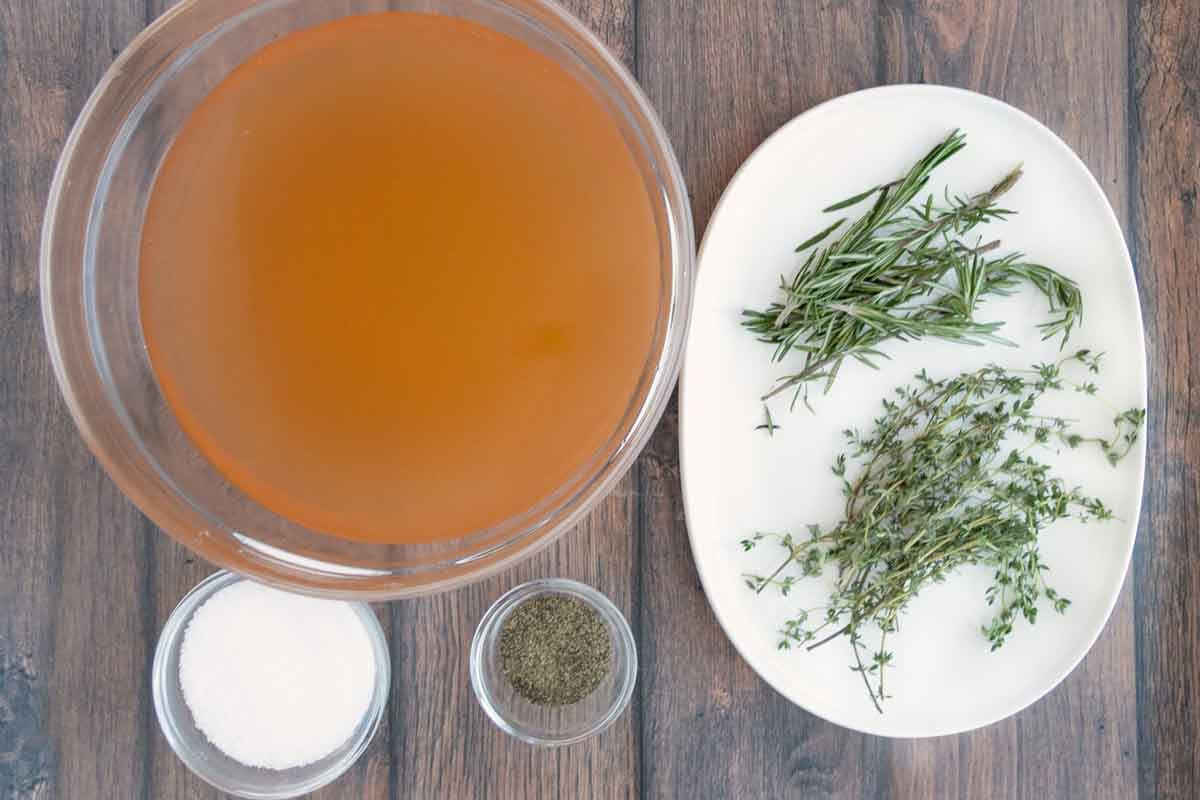 Add the vegetable stock and seasonings to a sauce pan and bring the brine ingredients to a boil (make sure all the kosher salt has dissolved). Remove from the heat.
Let the brining mixture cool for 15 minutes.
Add the ice to the mixture and pour into a container large enough to hold the turkey thighs (that will fit in your fridge). A large ziplock bag will work nicely.
For additional flavor you can add your favorite herbs and aromatics to my simple brine. Bay leaves, sage, cut orange wedges or lemon wedges would be good additions to the wet brine.
How to Smoke Turkey Thighs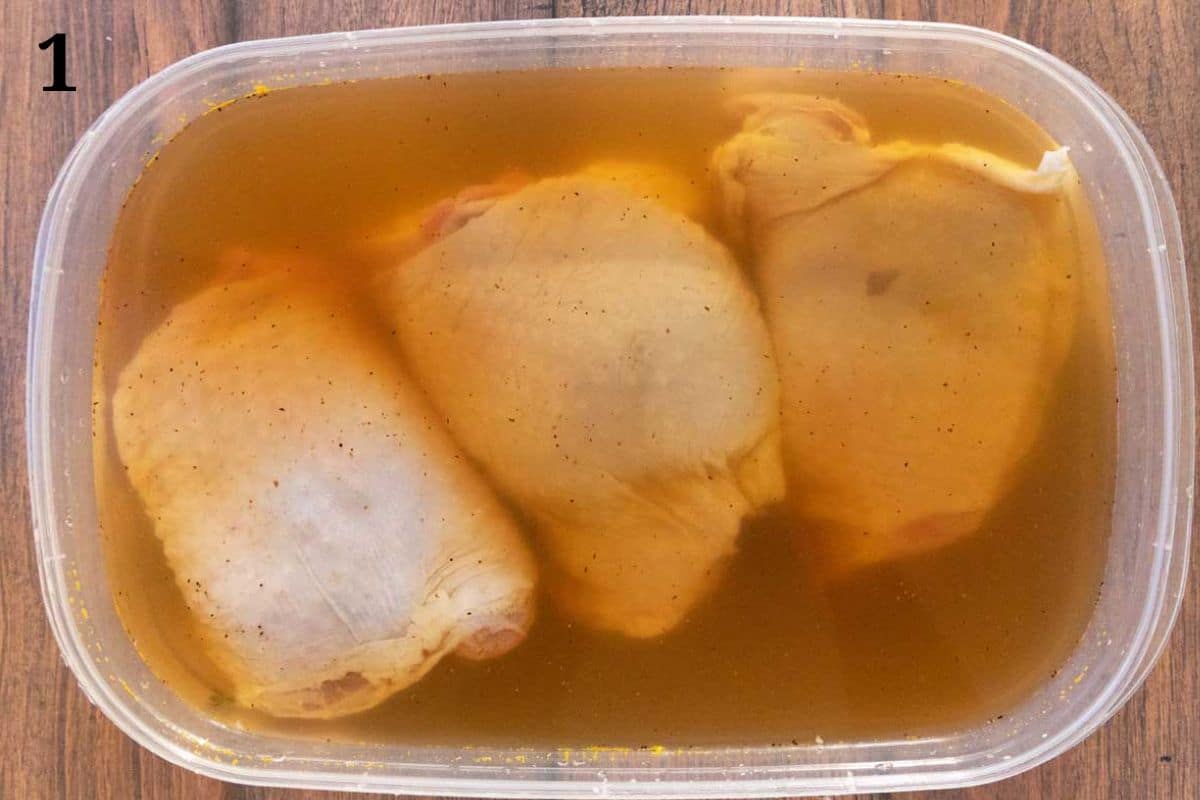 Add the turkey to the brine solution, then add enough cold water to cover the thighs.
Cover the container with cling wrap and place in the refrigerator for at least four hours (overnight is best).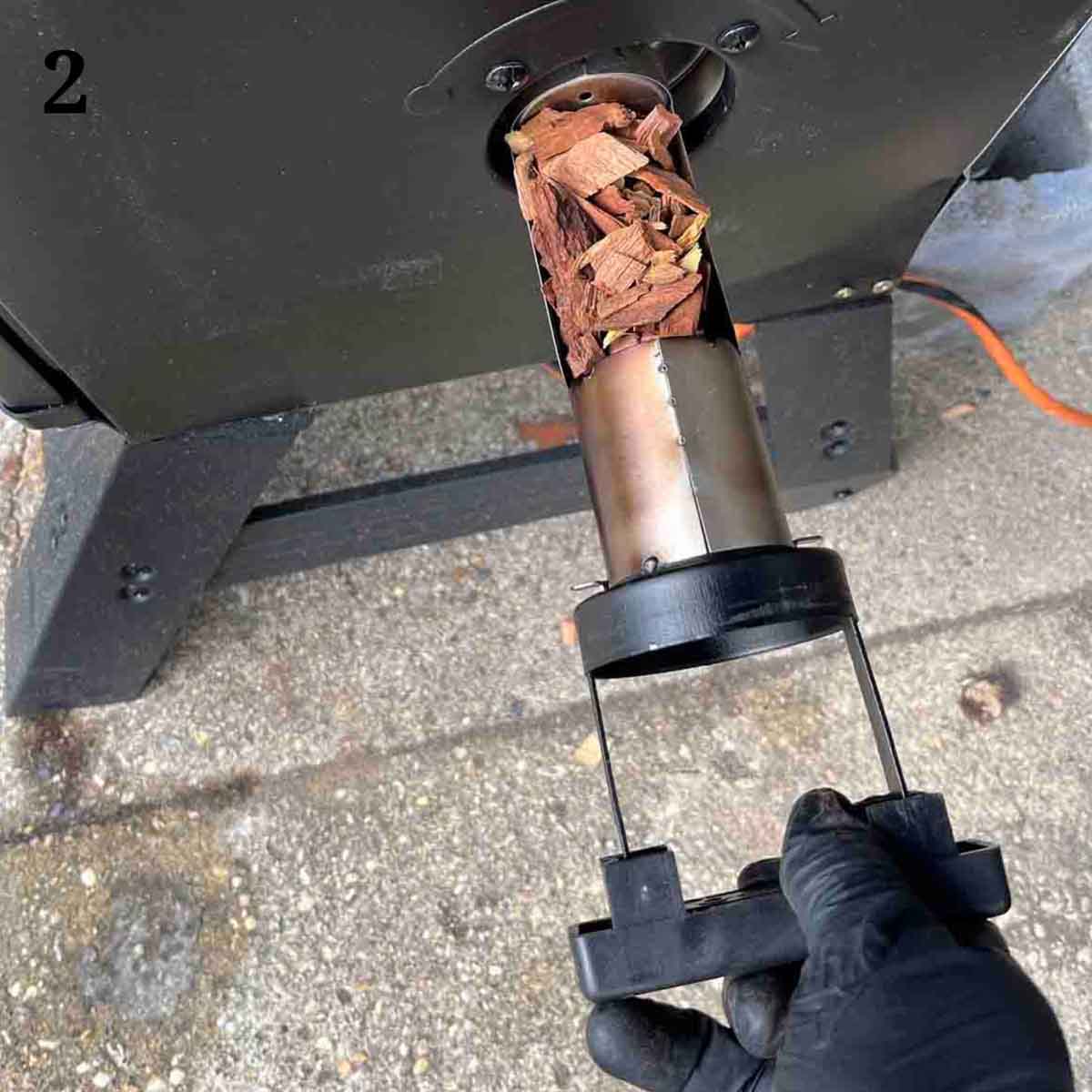 Preheat your smoker to 275 degrees. Let the thighs come to room temperature while the smoker preheats. This will help them cook more evenly.
When the smoker has reached 275 degree F. add your favorite wood chips to the smoker tube. I used cherry wood chips for this recipe.
I use an electric smoker for smoking meats and seafood, it's easy to use and takes all the work out of using a smoker.
If you don't have a smoker, you can use a pellet grill, charcoal grill, or propane grill to make my smoked turkey thighs. Place the turkey thighs directly on the grill grate and use indirect heat to smoke the meat. Just make sure the grill temperature reads 275 Degrees, high heat is not your friend.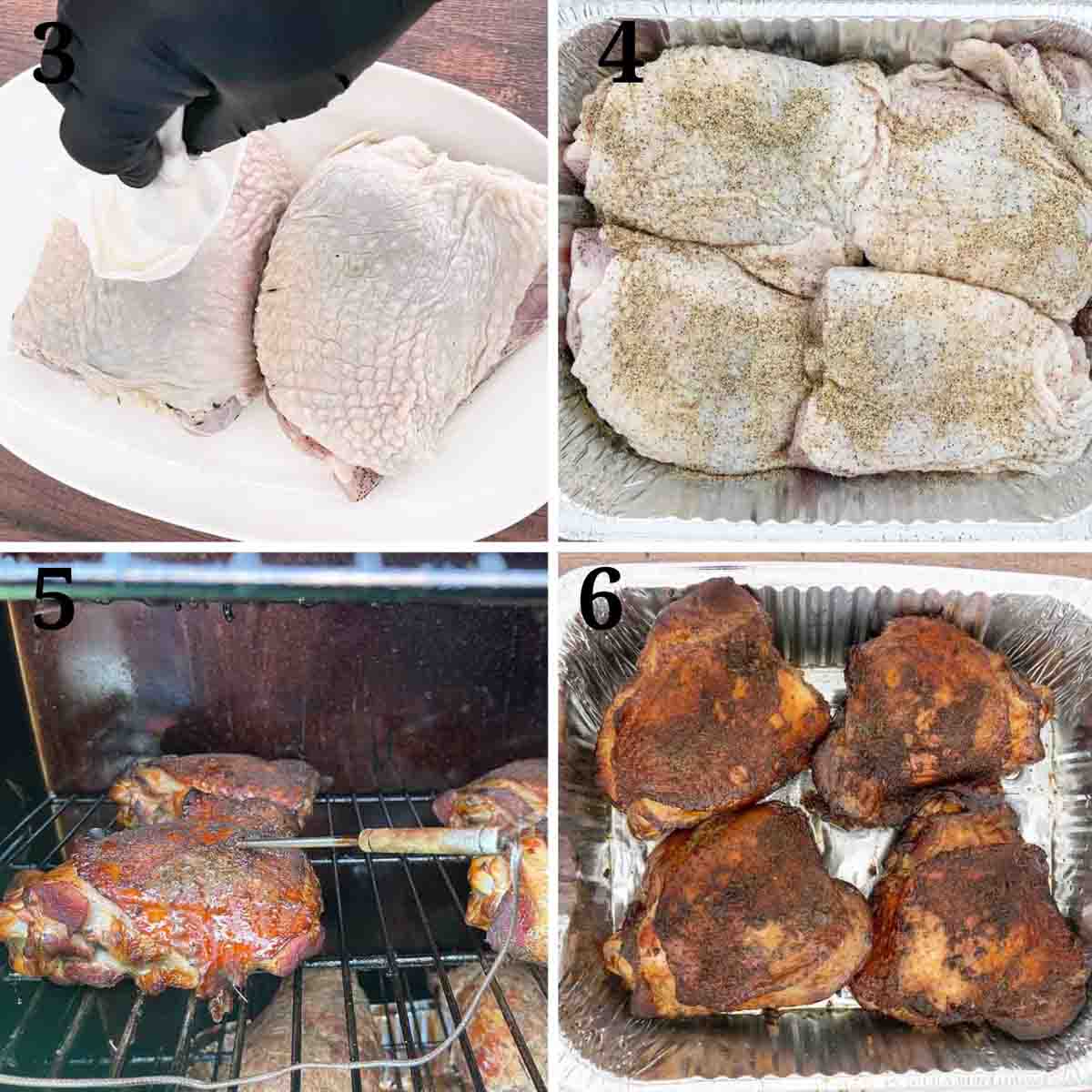 Remove the turkey from the brine making sure to get rid of any excess liquid. Pat the thighs dry uring paper towels.
Mix the seasonings in a small bowl, then season the thighs on both sides with the dry seasoning mixture. I didn't use a lot spice rub for the seasoning, the brine will give most of the flavor to the turkey, but the dry seasoning will add additional flavor.
Place the turkey thighs, skin side up, directly on the smoker rack with a drip pan underneath to catch all the drippings from the thighs. Place a temperature probe in the thickest part of the thighs.
When the internal temperature of the smoked turkey thighs has reached 165 degrees F. remove them from the smoker.
*Remember we are cooking for an internal temperature of 165 degrees, cook times will vary depending on the size of the turkey and type of smoker. Dark meat turkey can cook up to 180 degrees, the higher temperature will break down the connective tissues of the dark meat.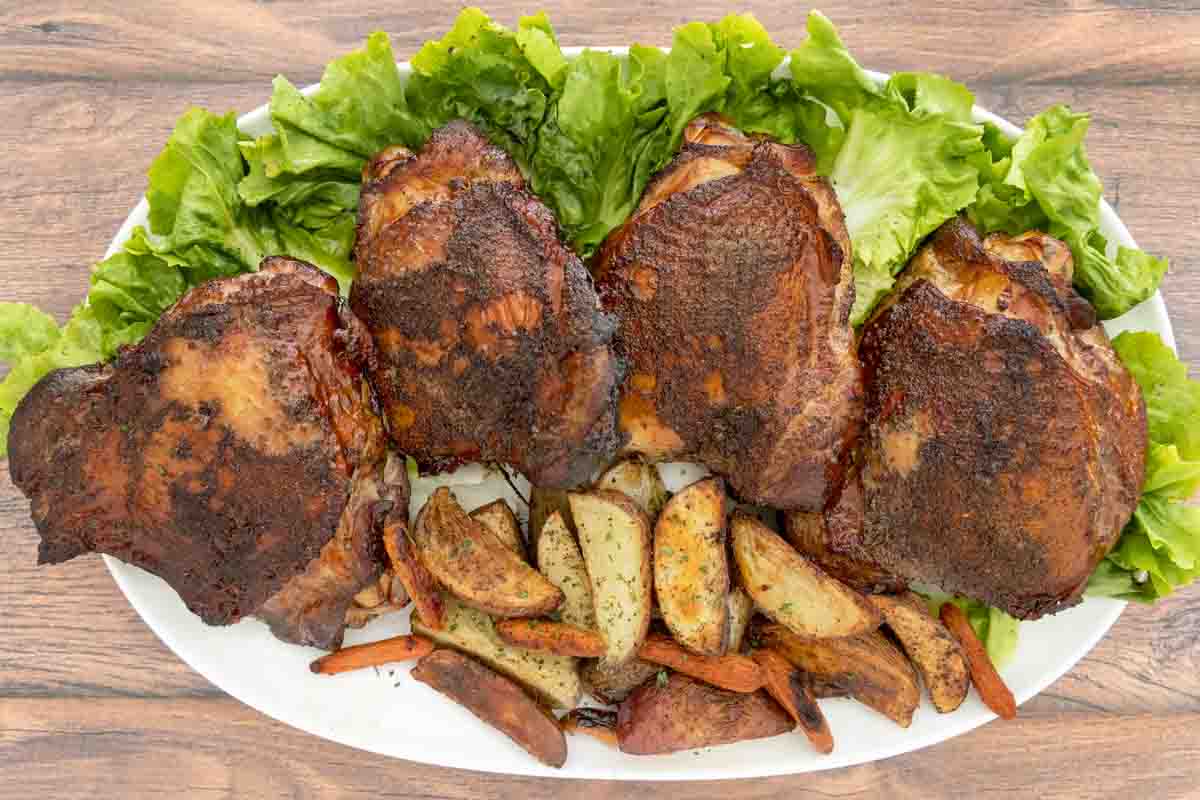 Let the thighs rest for 15-30 minutes before serving to give the juice time to redistribute throughout the flavorful meat.
Serve the Smoked Turkey Thighs with your choice of roasted potatoes, stuffing, green beans, turkey gravy, and cranberry sauce.
Store any leftover turkey in an airtight container refrigerated for up to 5 days or keep frozen, well sealed for 2-3 months.
Smoked Turkey Thighs Cooking Tips
Brine overnight: If time permits brine the turkey thighs overnight, but don't brine any longer than 24 hours or the turkey will get mushy.
Don't forget to thaw: Make sure the turkey thighs are completely thawed. before you start the brining process.
Let the meat come to room temperature: It's important to let the meat sit for 30 minutes at room temperature before cooking. It will help the meat to cook quicker and more evenly.
Use a digital thermometer: It's important to keep watch on the internal temperature of the meat and a wireless digital thermometer will make your life much easier. I like probe thermometers and most have apps for your phone which makes monitoring the internal temperature much easier.
Let the meat rest after cooking: Letting the smoked turkey thighs rest for at least 15 minutes will give the juice time to redistribute, giving you tender juicy thighs. Cutting them too soon will result in a puddle of juice on your plate and dry tough thighs.
Recipe FAQ's
What should the final internal temperature be? 
Turkey (and all poultry) is safe to eat at 165 degrees F. Dark meat can be cooked a little longer and is actually better when cooked to 175-180 degrees F. This extra time gives the connective tissue found in dark meat time to break down for more succulent meat. 
Meat will continue to cook after it's removed from the smoker (or oven) and increase the final temperature by 5-10 degrees.
What is the best wood for smoking turkey?
I love fruit woods for smoking poultry and cherry is one of my favorites. Hickory is another great choice as it gives the turkey a smoky, savory flavor. For a milder smoky flavor maple, pecan and apple are also good choices.
More Recipes You'll Love!
Chef's Choice
Masterbuilt 30-inch Digital Electric Smoker
An electric smoker takes all the work out of smoking your favorite meats and seafood. This is the smoker I use for all my recipes.
Buy On Amazon
This post includes affiliate links. As an Amazon Associate, I earn from qualifying purchases.
09/28/2023 03:58 pm GMT
Chef's Choice
ThermoPro Twin Wireless Meat Thermometer
I love the ThermoPro wireless meat thermometers. The easy to use app makes it easy to track the temperatures of the meats and seafood your cooking.
Buy On Amazon
This post includes affiliate links. As an Amazon Associate, I earn from qualifying purchases.
09/28/2023 04:18 pm GMT
Top Choice
Western BBQ Smoking Wood Chips Variety Pack
You get a great variety of wood chips with this starter pack. You get one bag of apple, cheery, mesquite, and hickory wood chips in each variety pack.
Buy On Amazon
This post includes affiliate links. As an Amazon Associate, I earn from qualifying purchases.
09/28/2023 04:08 pm GMT
Chef's Choice
Heat Resistant Oven Gloves & Grilling Gloves
These gloves take all the worry out of handling hot foods. These are perfect for grilling, smoking or removing pans from the oven.
Buy On Amazon
This post includes affiliate links. As an Amazon Associate, I earn from qualifying purchases.
09/28/2023 04:23 pm GMT