What would Turkey Day be without cranberry sauce?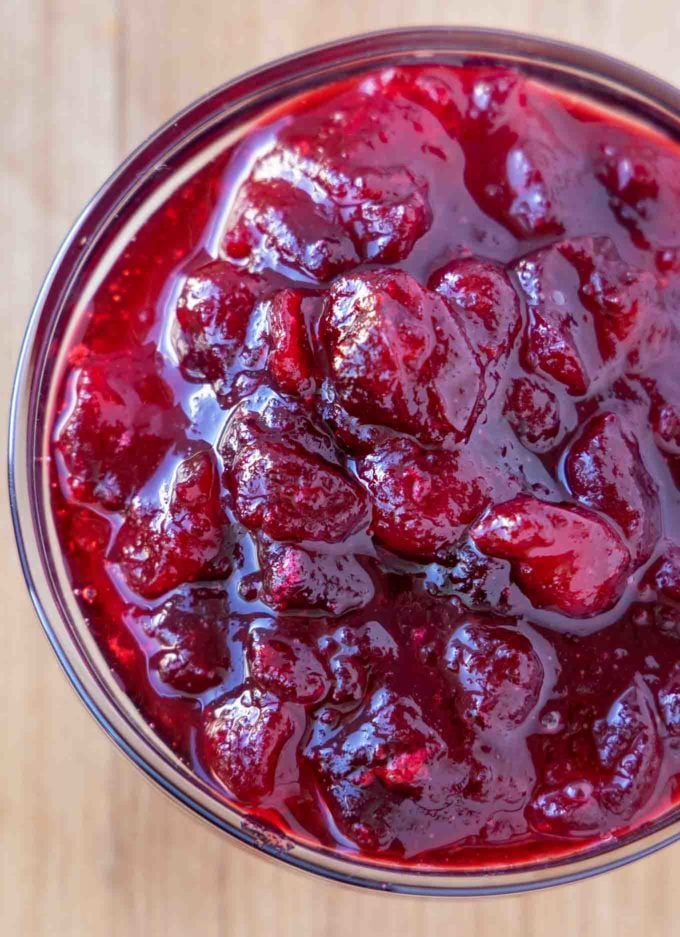 For years all I knew was Ocean Spray cranberry sauce. The elegant way it slid out of the can, accompanied by that distinctive sound….sigh. Not I'm not saying that I didn't enjoy that cranberry sauce; the truth is it's pretty tasty.
But once I started making cranberry sauce at home, I never bought another can of cranberry sauce. And although fresh cranberries aren't available all year long, you can almost always find frozen cranberries.
What do I need to make homemade cranberry sauce?
Let's start by gathering the ingredients we need to make Cranberry Sauce. In Chef Speak this is called the Mise en Place which translates into Everything in its Place.
Not only does setting your ingredients up ahead of time speed the cooking process, but it also helps ensure you have everything you need to make the dish.
How do I make Whole Berry Cranberry Sauce?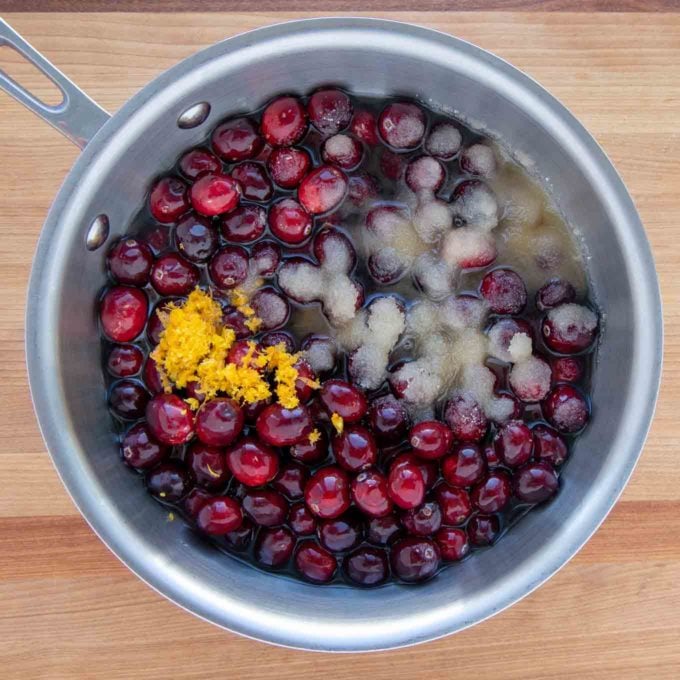 Making cranberry sauce is one of the easiest dishes you'll ever make. After you measure everything out, place all ingredients in a small saucepan and bring the mixture to a boil. Reduce the heat a little and let the mixture continue cooking at a slow boil for 5 minutes.
Reduce the heat and allow the. cranberry sauce to simmer for about 15 minutes. The sauce will continue to thicken as it simmers.
Let the cranberry sauce cool for about 20 minutes, then refrigerate overnight. The cranberry sauce will become jellied when fully chilled. It's okay for it to be a little loose.
How do I make Jellied Cranberry Sauce?
There is only one additional step to making Jellied Cranberry Sauce.
Pour the hot whole-berry cranberry sauce into a fine-mesh strainer over a heat-proof bowl.
Using a large spoon, mash the cranberries with the back of a spoon, frequently scraping the outside of the strainer, until no pulp is left.
Stir the cranberry sauce and pour the strained sauce into a smaller container. Allow to cool at room temperature, then cover and refrigerate.
Cranberry sauce isn't just for turkey; it goes well with roast chicken and roast pork. Can you imagine the smiles at your table when you serve homemade cranberry sauce with dinner?
More Recipes You'll Love!