When its time to celebrate the winter holidays nothing can compare to my Cannoli Cream Cake when it comes to bringing smiles to your table!
This post includes affiliate links. As an Amazon Associate I earn from qualifying purchases.
It's my Cannoli Cream Cake for your holiday table!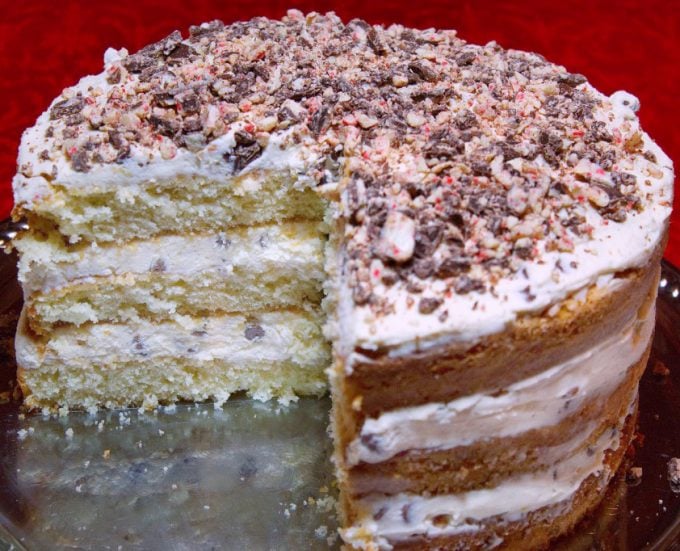 It's that time of year again, the happ, happiest time, that jingle bell time, that holiday season, and that can mean only one thing. Cakes, Cookies, Candies and Pies!!! Many years ago I was treated to a cannoli for the very first time. I had no idea what to expect and was even a bit confused. I mean, you make a dessert out of ricotta cheese, isn't that just for lasagna?
Mama Jeanette just shook her head and said: "Oh my, sonny boy you have so much to learn". Well, she was right. Not only did she teach me the joy of cannoli's but she introduced me to mascarpone. And the many ways to enjoy this delightful Italian cream cheese, but that's a story for another day.
Good cannoli cream is a wonderful thing, not too sweet, creamy and with just a hint of lemon. Over the years I have made many flavors, and varieties of cannoli but I always come back to the classic, time-honored filling.
Not only is this filling perfect for cannoli but it also makes a great filling for a cake. Now it's not going to be fancy, schmancy cake, but it's going to be a wonderful dessert. And a dessert your guests will talk about for years to come.
Sometimes the simplest desserts are the best. Just give me a double espresso and a slice of this cake, and I'm a happy boy.
You start with a nice yellow cake, a wonderful filling and finish it however you like. I happened to have some
Ghiradelli Peppermint Bark
and that found its way to the top of the cake. It's quick, it's easy, and most of all, it's delicious!
This is a cake that won't make you crazy, you can do a lot to make it your own, add a little liquor to a simple syrup and brush it on the layers for some added flavor. For variations, try adding a different liquor to the filling instead of vanilla.
Add 1/4 cocoa to the mixture along with Kahlua, for a chocolate filling.
Add candied fruit to the filling.
Just have fun with this simple cake, and make sure you have enough espresso in the house!
If you like this festive cake, you may also like these desserts: