This is one of the most delicious pound cakes I've ever made or tasted! It's perfect for the holiday season or anytime of the year.
Total Time:
1
hour
15
minutes
This post includes affiliate links. As an Amazon Associate I earn from qualifying purchases.
With the holiday's approaching, family recipes will be shared in kitchens all over the world. And in my kitchen this December, I'll be recreating Mama Jeanette's Famous Italian Cannoli Pound Cake with a white chocolate ganache.
Mama Jeanette's delicious cake is our holiday tradition. It's an old family recipe that I've been trusted with and one I wanted to share with my extended family of friends and followers across the internet.
Do you have a family recipe that you'll be making this holiday season to celebrate the season? If not think about adding this to your holiday traditions, I'm sure everyone at your house will be glad you did!
Let's gather our ingredients for this delicious Italian Cannoli Pound Cake (aka mise en place).
This cake comes together pretty quickly and has such a delicious blend of flavors your house will smell amazing as it bakes in your oven. Just make sure to keep the coffee ready as your neighbors come over to see what your baking!
Mama Jeanette's Cannoli Pound Cake was OMG delicious! Everyone that tasted it took home a copy of the recipe to make for their families' holiday party.
It's an easy cake to make and one that can become part of your holiday traditions for years to come.
Whether you have tried and true holiday dessert traditions or you're creating your own holiday traditions, just remember that recipes are guides and you can always add your own personal touch to make your family recipe to be passed on for generations.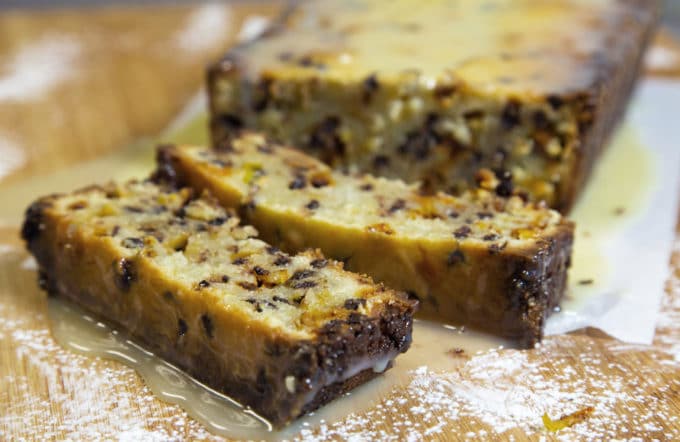 I used a Chicago Metallic 9-inch commercial loaf pan to bake my pound cake.
I used Hershey's Cinnamon Chips, Semi-Sweet Chocolate Chips and White Chocolate Chips to make my Cannoli Pound Cake.
If you love cake as much as I do, you might also like these delicious cake recipes: