If you've ever had the pleasure of eating a cannoli, then you know that famous movie phrase "Leave the gun. Take the cannoli" is an accurate portrayal of the love Italians have for this simple yet elegant dessert.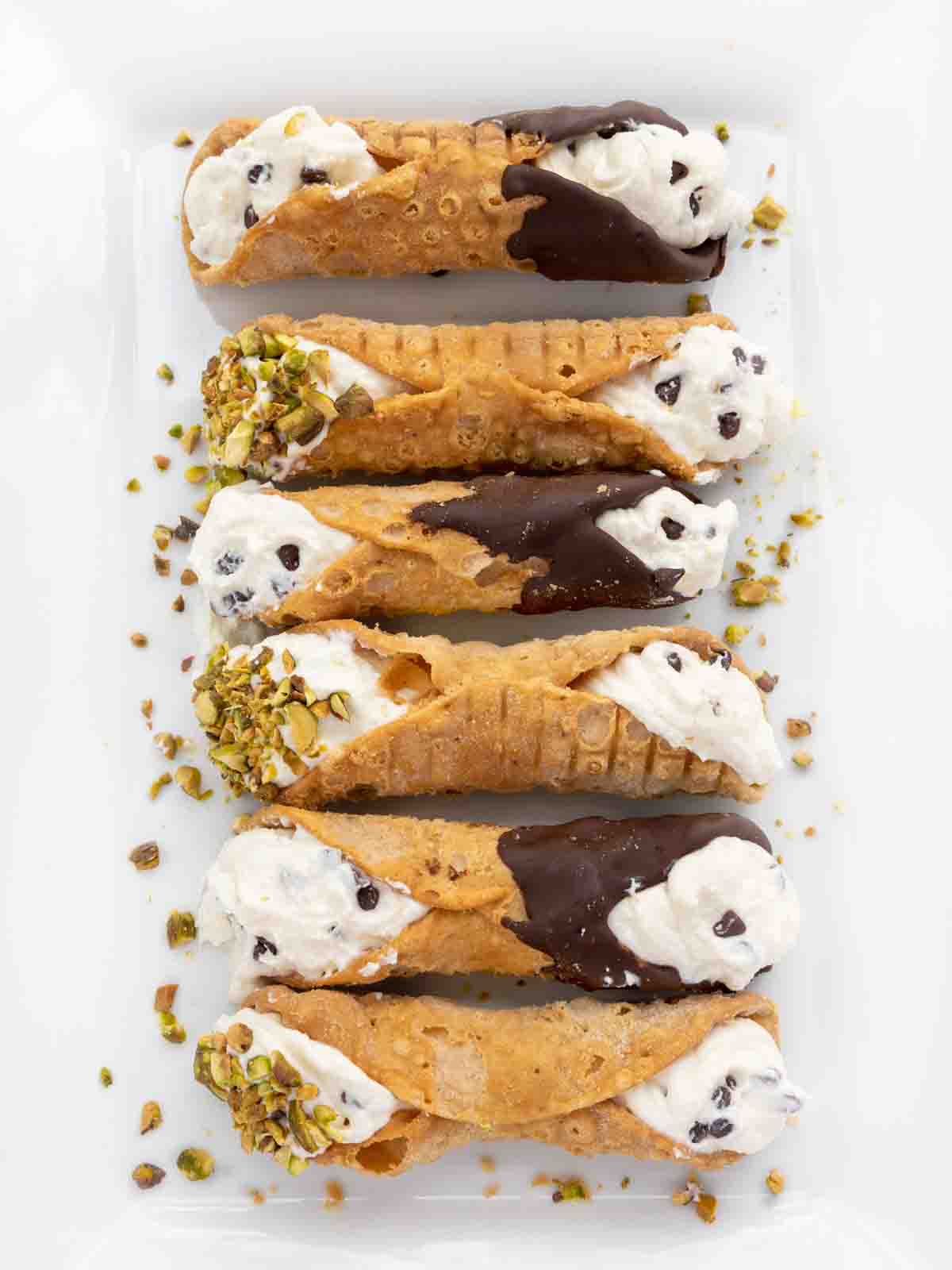 The traditional Italian cannoli recipe originated in Sicily, but it didn't take long for Italians all over the world to embrace this iconic dessert.
A cannoli filling recipe is most often made with just creamy ricotta cheese. But the best Cannoli recipes add mascarpone cheese to the ricotta cream mixture. This makes the cannoli filling extra smooth and creamy.
Sicilian cannoli often had candied fruit added to the cannoli cream, but as this Italian dessert moved north, little pieces of dark chocolate were added to the ricotta filling instead of the candied fruit.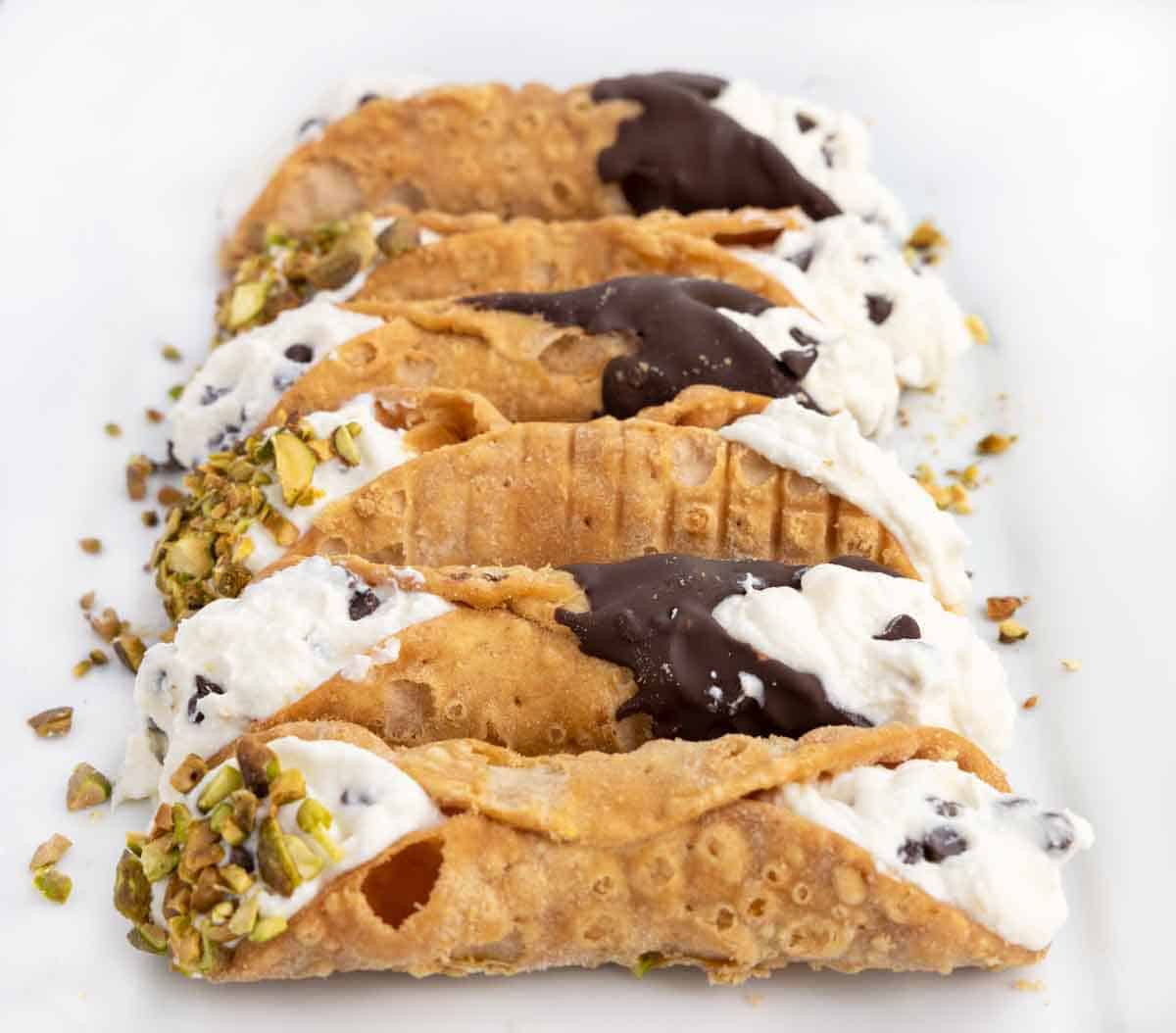 You can make your own shells, but check with your local grocery store to see if they stock cannoli shells. If you don't see them, ask the manager of the bakery department, they can sometimes order them or sell you the shells they have on hand. I usually buy store-bought shells.
If you love my cannolis, check out my Italian Cannoli Cake.
Ingredients to make Cannoli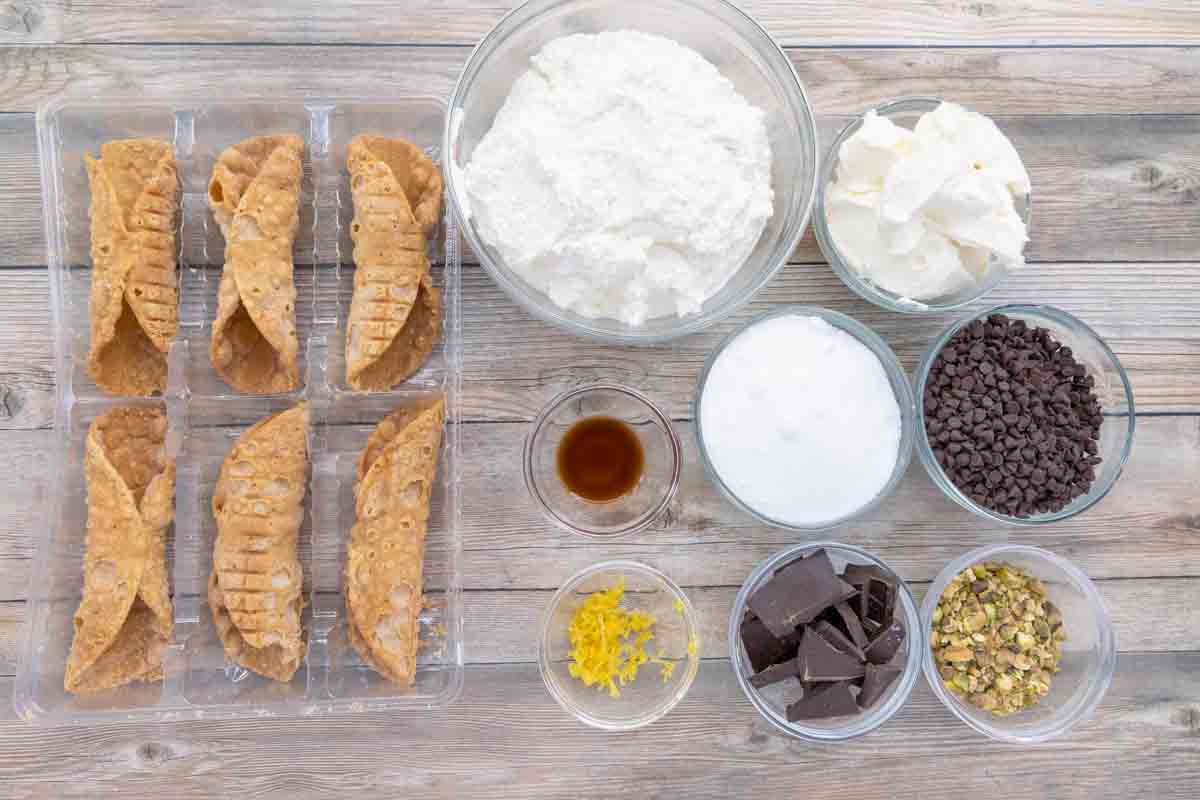 Let's start by gathering the ingredients we need to make Authentic Italian Cannoli. In Chef Speak, this is called the "Mise en Place," which translates to "Everything in its Place."
Not only does setting up your ingredients ahead of time speed up the cooking process, it also helps ensure you have everything you need to make the dish.
You can make the filling without mascarpone, using only ricotta cheese.
If the ricotta is loose, it should be strained overnight to remove the excess liquid.
How to make Cannoli Cream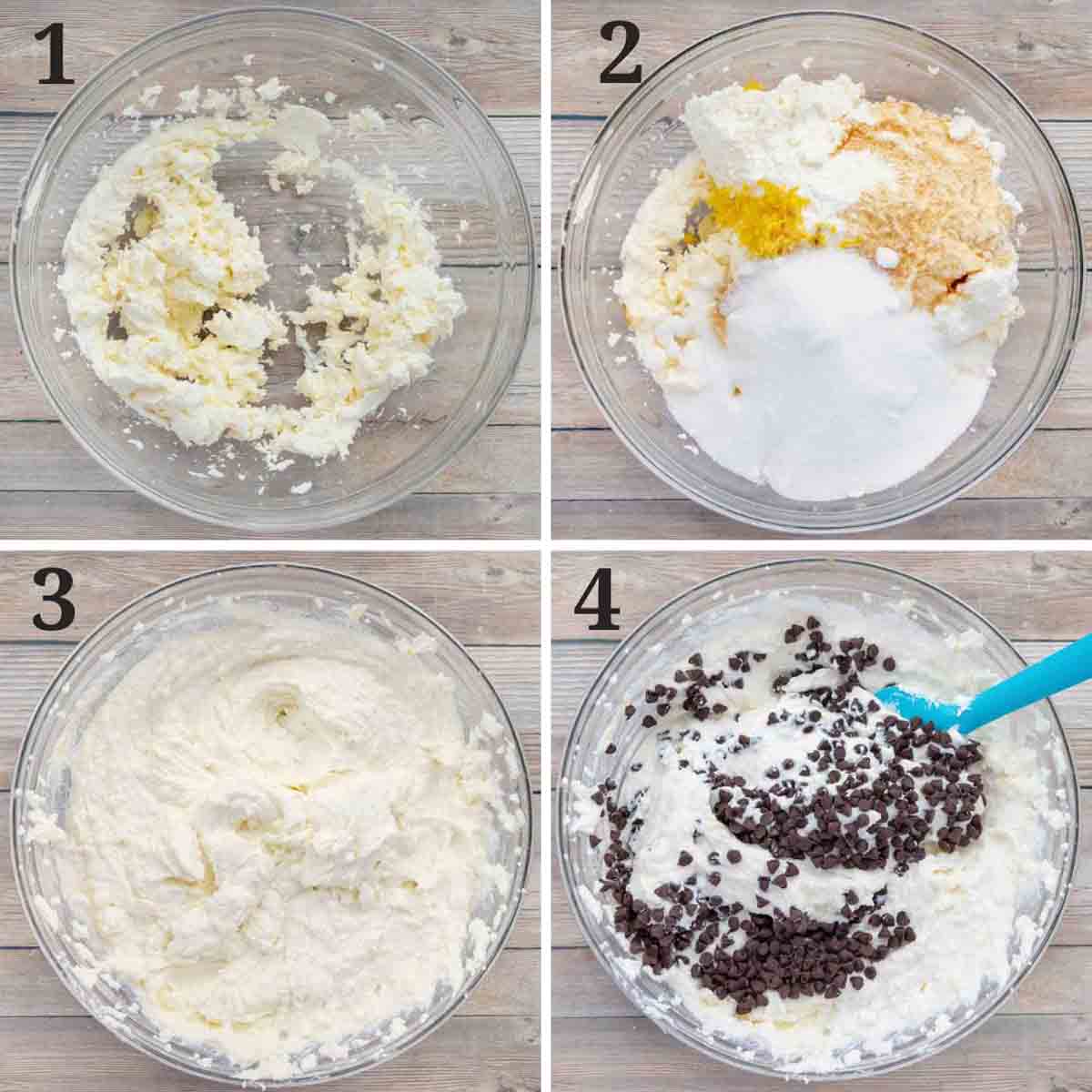 Using an electric mixer, whip the mascarpone in a large bowl until creamy (1-2 minutes).
Add the ricotta cheese, superfine granulated sugar (castor sugar), lemon zest (or orange zest), and vanilla extract to the mascarpone.
Mix by hand until well combined. Don't overmix.
Fold the mini chocolate chips into the ricotta mixture, mixing just enough to combine.
*The secret of good cannoli cream is using superfine sugar, not powdered sugar. And overmixing will only make the mixture loose, not thicker.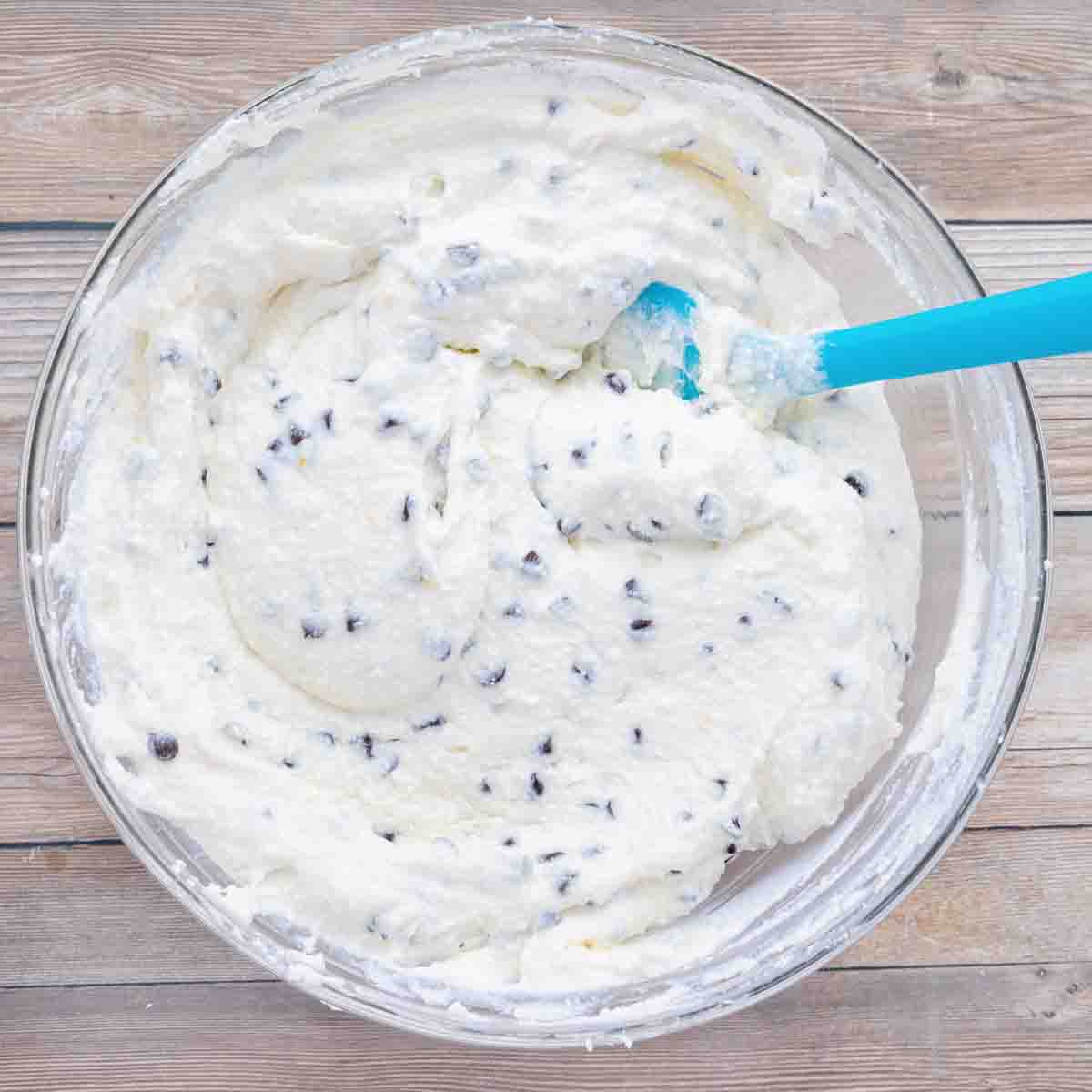 If you have time, cover the bowl with plastic wrap and refrigerate the finished cannoli cream for 4-6 hours to give it time to firm up a little more. It can be made a day ahead of time and kept well-sealed in the refrigerator.
This is a simple recipe. You may find others that contain candied fruits, rose water, and even cocoa powder. Try this recipe first, and if you want to add your own touch, you'll have a better idea of how to do it.
How to make Cannoli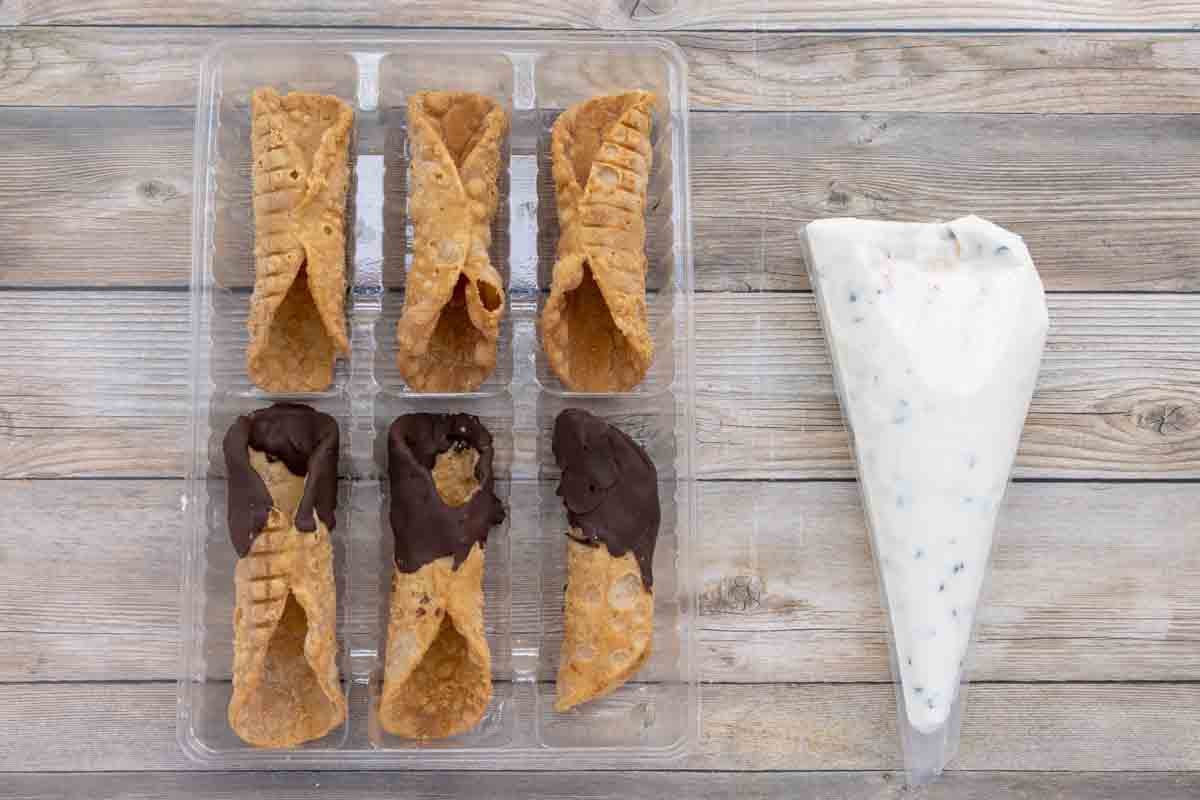 I like to dip my shells in melted chocolate. That is not something you need to do, but it makes them even more special. Melt the chocolate in the microwave or using a double boiler method.
Fill a pastry bag with the cannoli cream.
Pipe the cannoli filling in from each end, making sure to fill the entire shell. Don't leave the middle empty, it's very sad when you get a cannoli that isn't completely filled.
If you don't have a piping bag, use a spoon to fill the shells. I've done that on many occasions, but a pastry bag makes the process easy and neat.
At the restaurants I worked at, I would leave a pastry bag filled with the cream in the refrigerator and fill the shells to order. You can fill the shells and let them sit for a few hours, but after a while, the shell will get soggy, and no one wants a soggy cannoli. Again a very sad thing.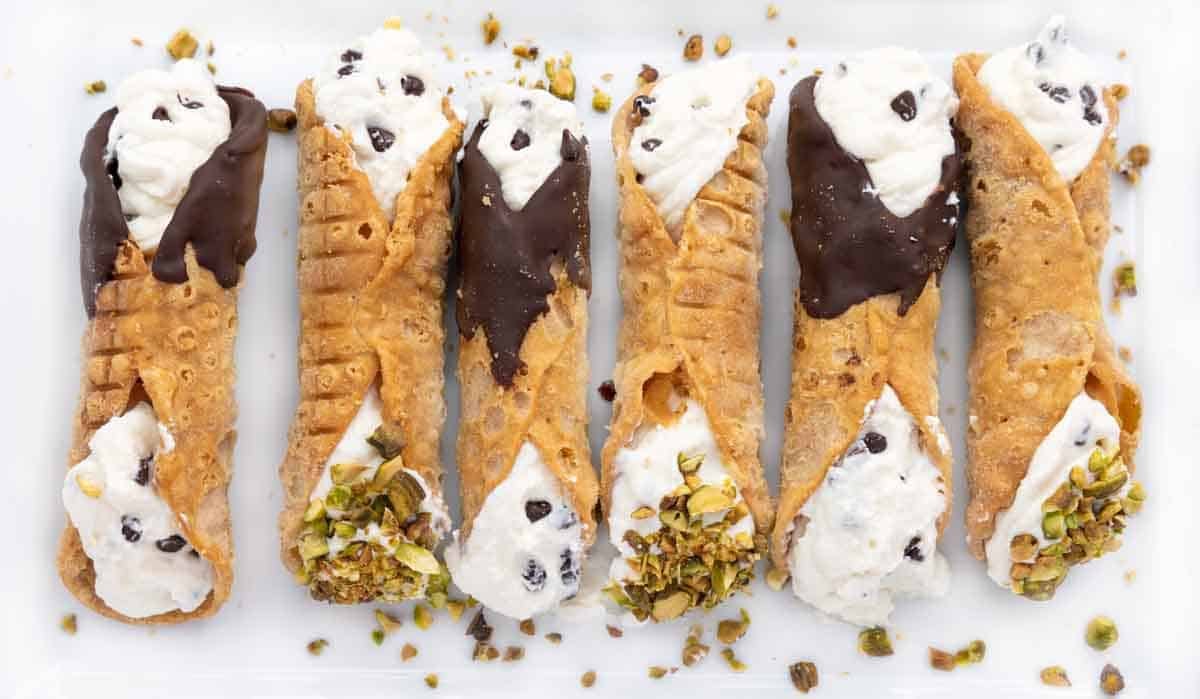 Everyone remembers their first cannoli. Some never want another, while those of us who love the flavor, texture, and creamy deliciousness will always be able to tell you where they had their first taste of this delicious Italian dessert.
I garnished the ends of my cannoli with chopped pistachios. It's not a deal breaker if you don't like pistachios or need them to be nut free. An easy and delicious way to serve them is by dusting the shells with confectioners sugar after filling them. Do this before serving for the best results.
This post includes affiliate links. As an Amazon Associate, I earn from qualifying purchases.
When I can't find the shells in the grocery store, I order them from Amazon.
Recipe FAQ's
What is cannoli filling made of?
Cannoli filling is made with ricotta cheese, mascarpone cheese, sugar, and lemon zest or orange zest. Additions to the creamy filling include dried fruit or small pieces of dark chocolate (mini chocolate chips).
The shell can be garnished with melted chocolate, and the cannoli cream sprinkled with chopped pistachios.
How long do cannoli last?
Refrigerated filled cannoli will last for 2-3 hours. After that, the shell starts to get soggy, and no one wants to eat a soggy cannoli.
The best method of filling the shells is to have the cream in a pastry bag with a large star tip and fill the cannoli a little before you're going to serve them. The filling will last up to 7 days refrigerated.
Should I strain the ricotta before making cannoli cream?
Most ricotta cheese you find in supermarkets is wet and loose. This ricotta should be placed in a strainer overnight, with a plate weighted down to help squeeze out some of the liquid from the ricotta.
If you're lucky enough to find a very dry, firm ricotta cheese, you can skip this step.
More Recipes You'll Love!