Vanilla Panna cotta is a traditional Italian dessert that has gained popularity worldwide for its rich, silky smooth, and creamy texture. It's a simple dessert made with only five ingredients, but its decadent flavor and silky texture make it a crowd-pleaser.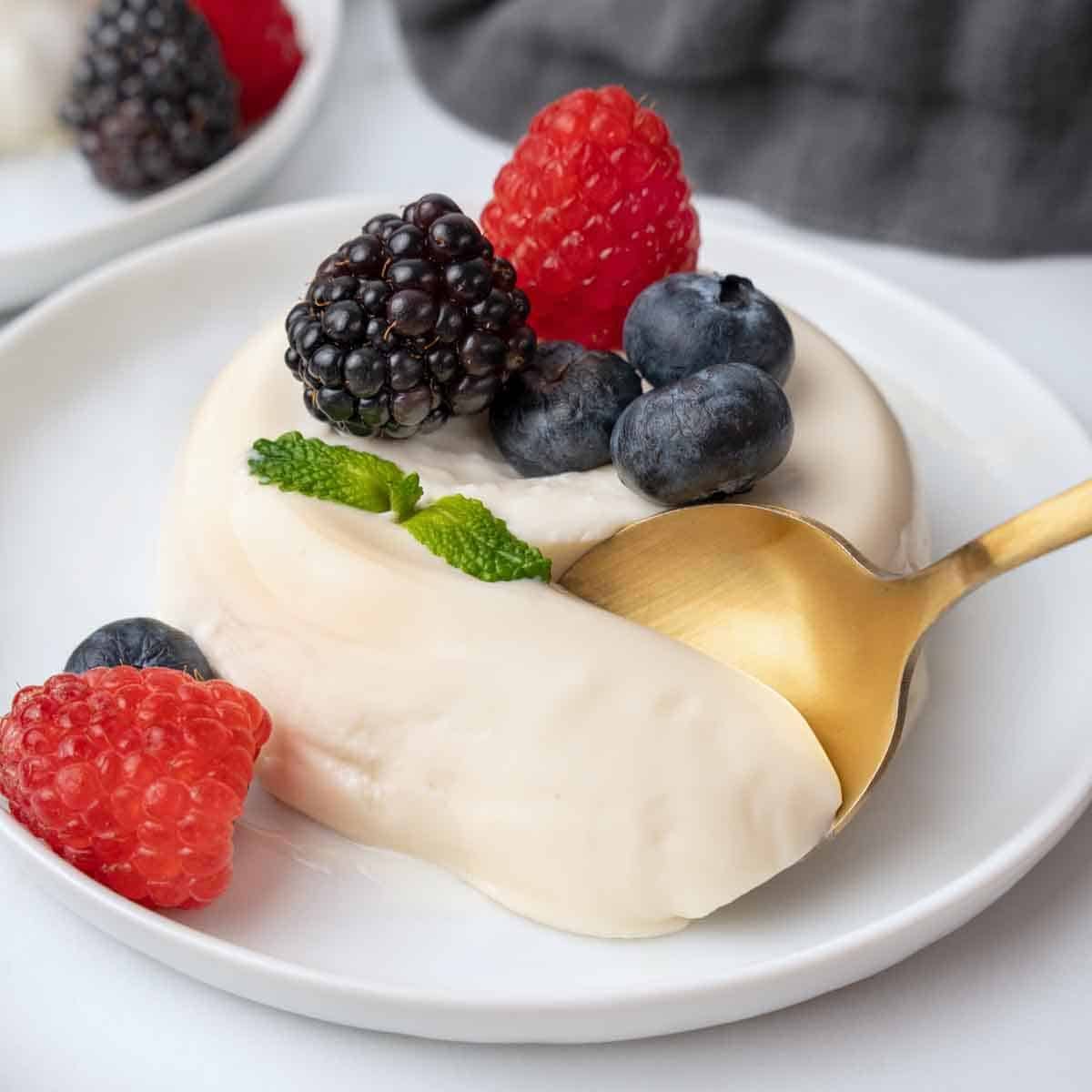 My panna cotta recipe is not only a creamy and delicious dessert, but it's also easy to make ahead of time. You can prepare this classic Italian dessert a day or two in advance and keep it refrigerated until it's ready to serve. This makes it a great dessert for dinner parties or other special occasions.
Panna cotta is a versatile dessert that you can customize to your liking. Try adding coffee, tea, chocolate, or spices to make flavor variations your friends and family will enjoy. White chocolate panna cotta and lemon panna cotta are two of my favorites.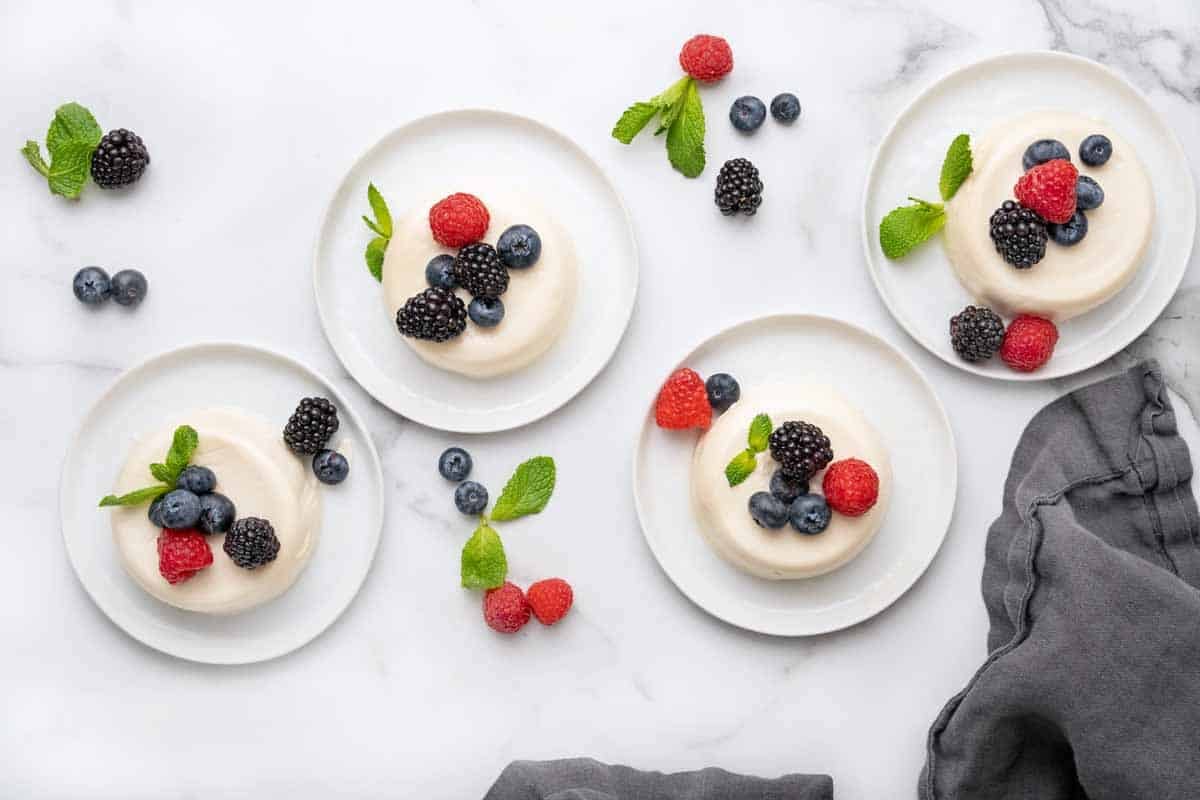 My creamy panna cotta is best served with fresh fruit, raspberry sauce, caramel sauce, or chocolate sauce.
If you love creamy desserts, check out my creme brulee recipe.
Ingredients to make panna cotta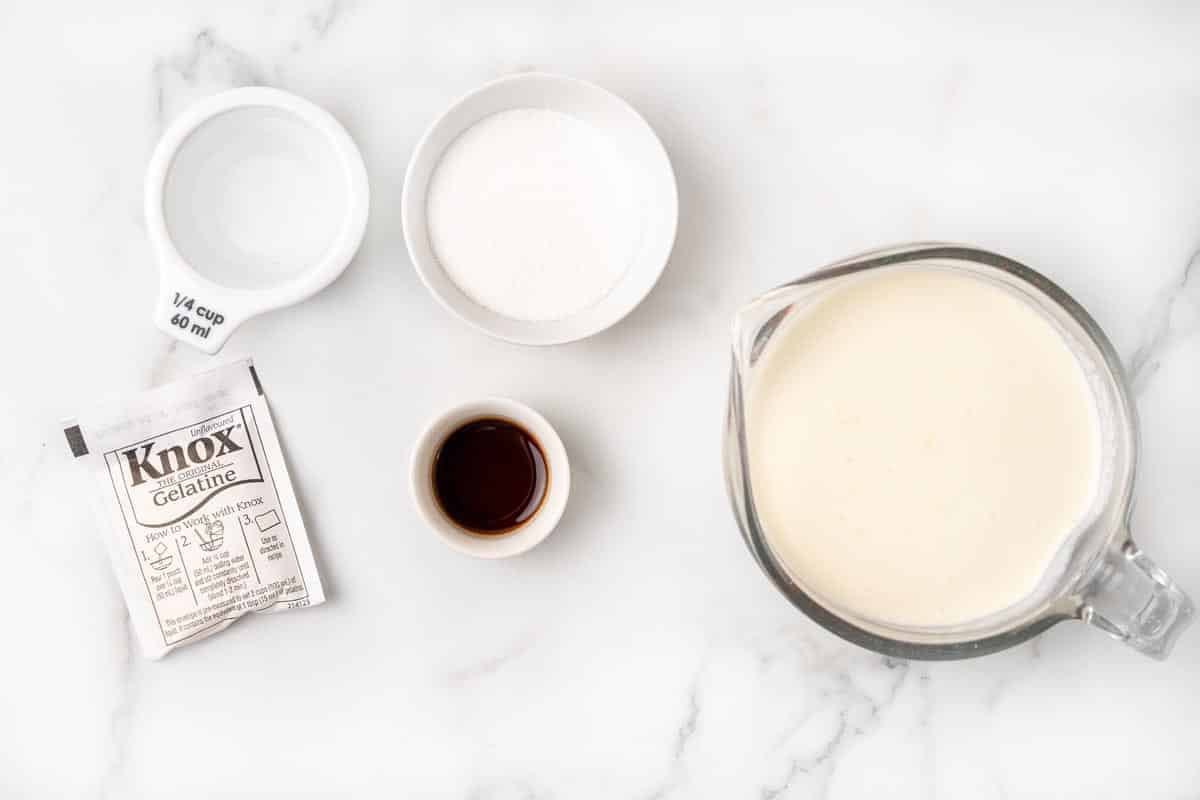 Let's start by gathering the ingredients we need to make Panna Cotta. In Chef Speak, this is called the "Mise en Place," which translates to "Everything in its Place."
Not only does setting up your ingredients ahead of time speed up the cooking process, it also helps ensure you have everything you need to make the dish.
Made with basic ingredients
heavy cream
granulated sugar
vanilla extract or split vanilla beans
unflavored gelatin
water
Can I substitute ingredients?
use honey or maple syrup instead of sugar to make this dessert.
whole milk, half and half, creme fraiche, coconut milk, almond milk, or any of your favorite milk substitutes can be used instead of heavy cream.
agar-agar powder or cornstarch can be used instead of gelatin.
How to make Panna Cotta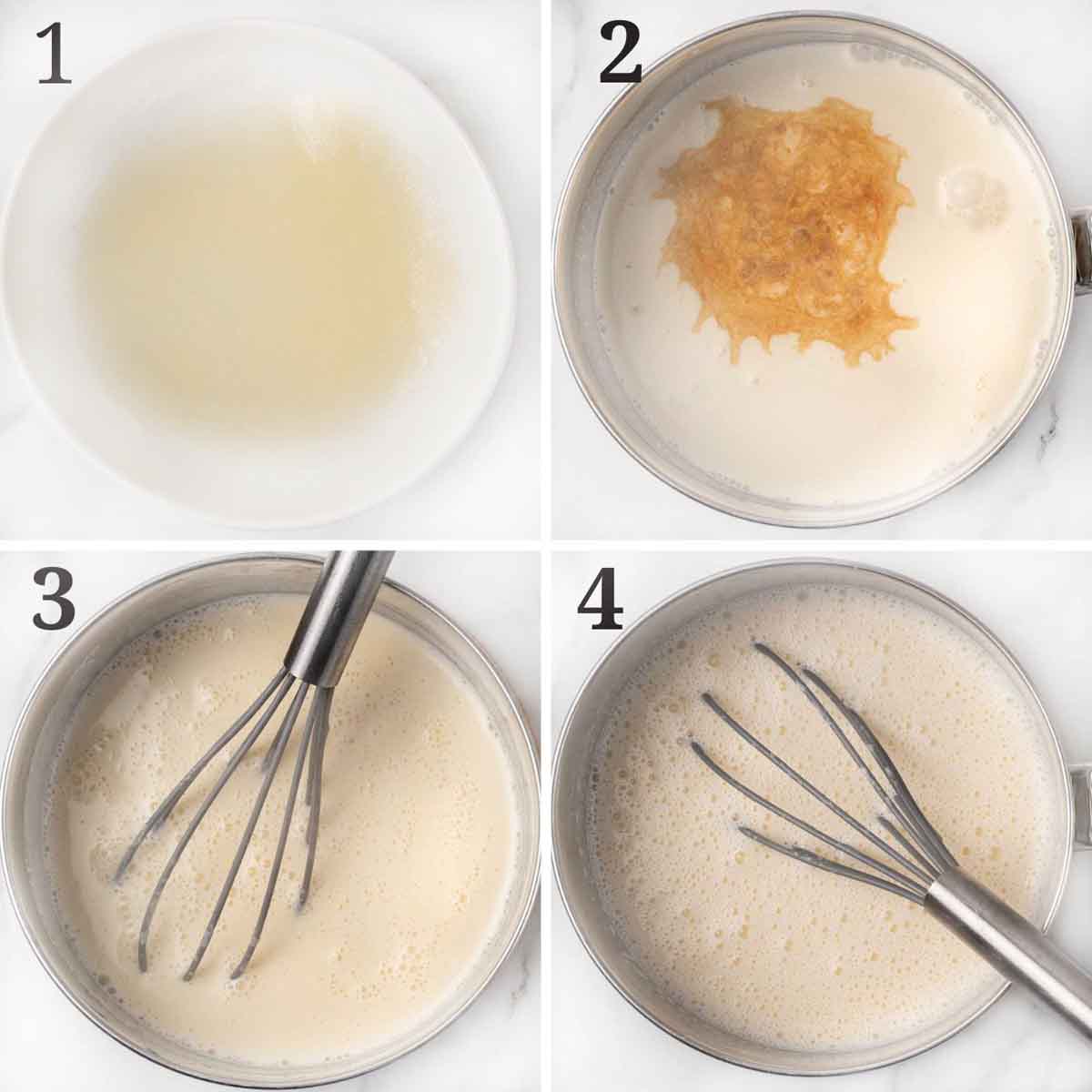 Pour the water into a small bowl and sprinkle the gelatin powder (or gelatin sheets) over the surface of the water in a single layer. The softened gelatin will dissolve and be ready to use in 5-10 minutes.
Add the cream, sugar, and vanilla extract to a small saucepan over medium heat and bring to a light boil to allow the sugar to dissolve. Remove the pan from the heat.
Stir in the gelatin mixture and immediately begin to whisk until the gelatin mixture is completely incorporated and the mixture is smooth. *If the gelatin hasn't fully dissolved, return the saucepan to the stove and heat gently over low heat. Stirring constantly, not allowing the mixture to boil.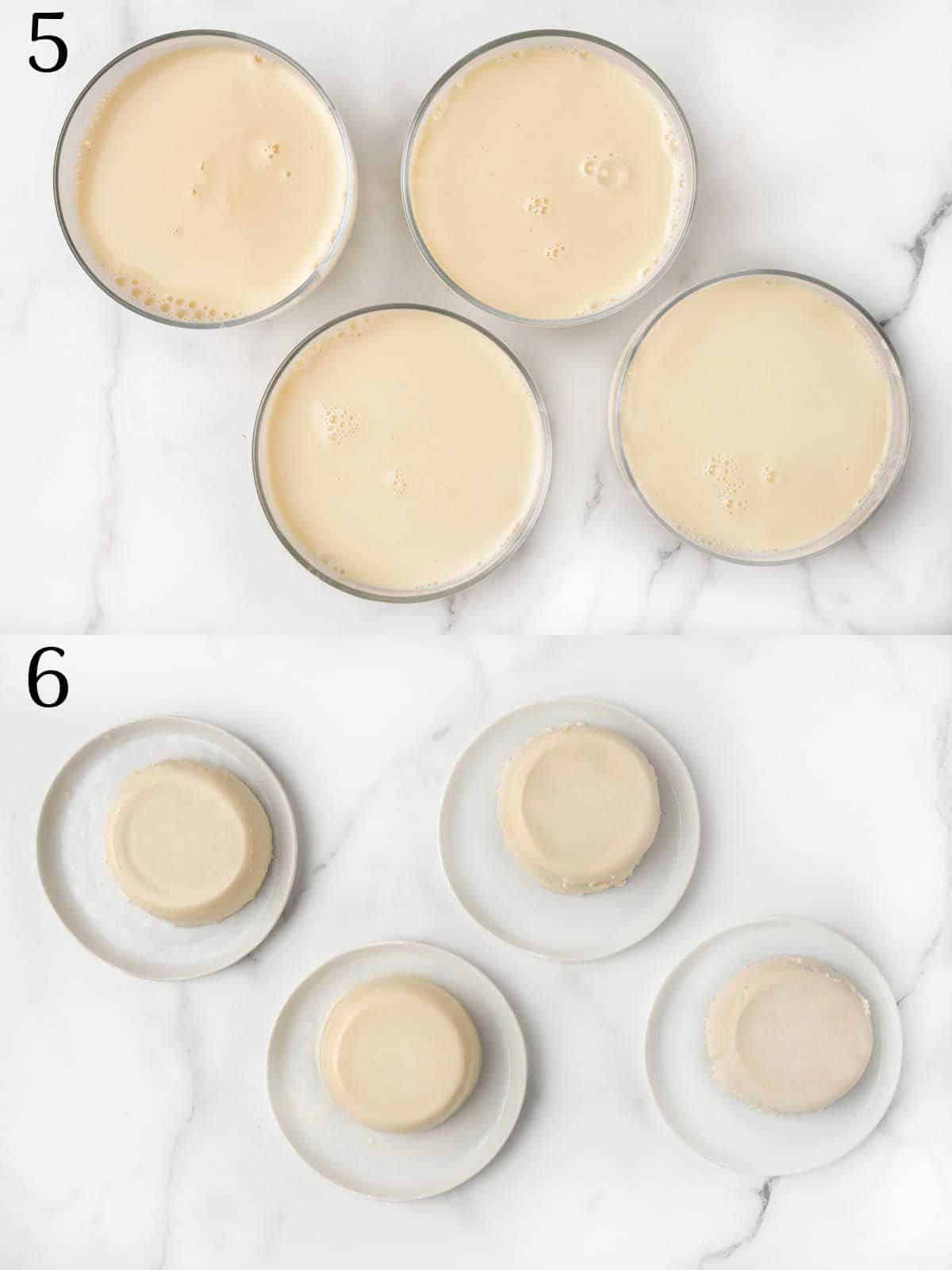 Pour the hot cream mixture into four serving dishes to make individual portions of this custard-like dessert.
For perfect results, refrigerate the dessert for at least 3 -4 hours to give the hot panna cotta time to cool and set up. Unmold the desserts after they have completely cooled.
*Using wine glasses is an elegant way to serve this classic dessert.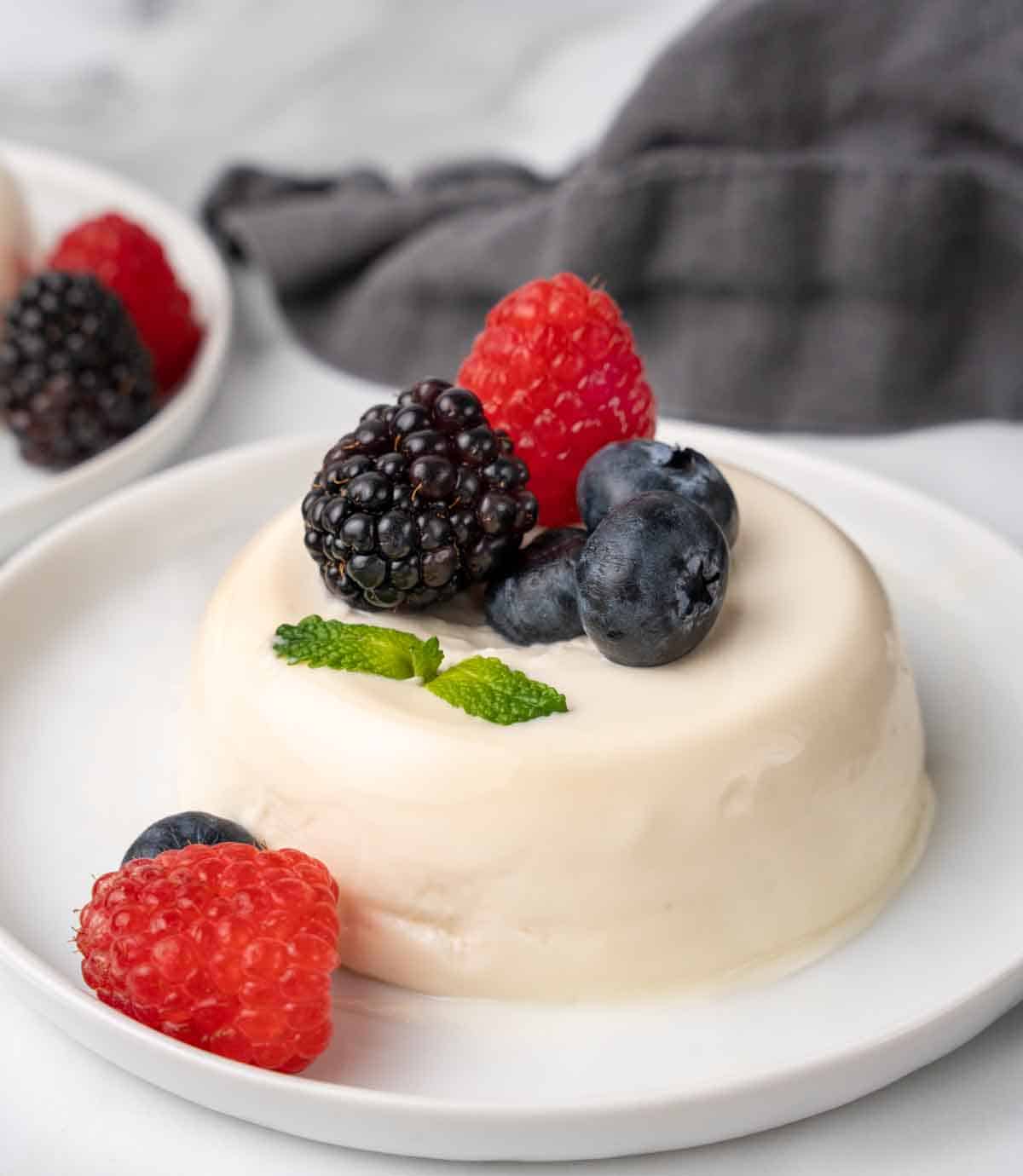 Serve with fresh berries and garnish with mint leaves for a simple yet elegant presentation.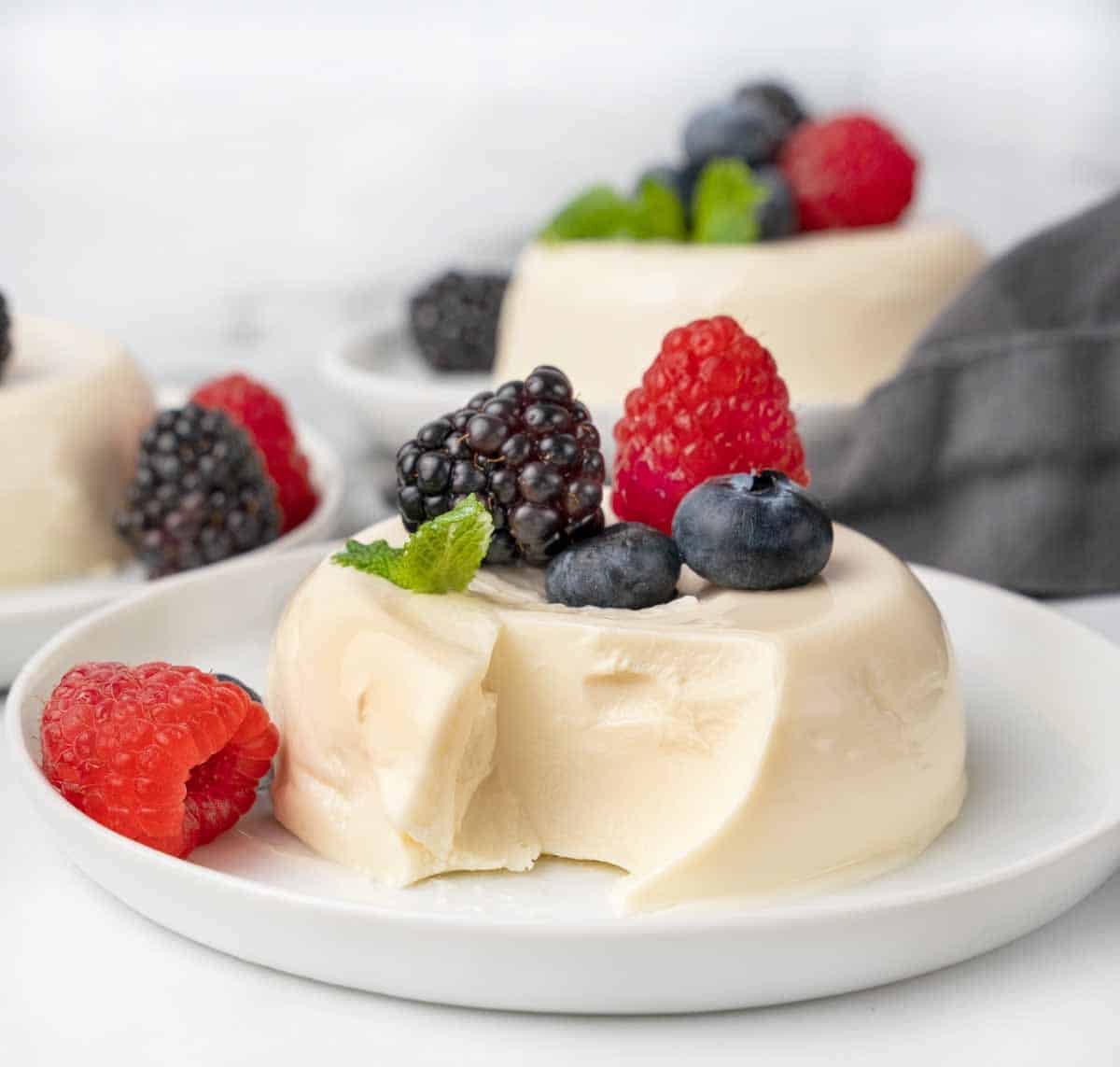 You're going to love the silky texture of this custard-like dessert, and I guarantee my panna cotta recipe will become a family favorite and a dessert you'll be making time and time again.
Recipe FAQ's
What is Panna Cotta?
Panna cotta is a traditional Italian dessert that translates to 'cooked cream.' This delicious dessert originated in the Piedmont region of Italy. It's a simple dessert consisting of a mixture of sweetened cream and gelatine.
What does panna cotta taste like?
This dessert has a silky, creamy texture and a sweet milky taste with hints of vanilla.
Can I use other types of milk to make panna cotta?
Yes, you can. While heavy cream is the traditional choice for this dessert, but you can use other milk types, like coconut or almond milk. However, keep in mind that the texture and flavor may be slightly different, and it won't be as rich as it would be using heavy cream.
More Recipes You'll Love!