Peach Tiramisu is a light and tasty version of my favorite dessert, I hope you enjoy it!
I want to share this delicious dessert I made to celebrate Labor Day. After making a small tiramisu for a friend, I had to decide what to do with the leftover cream.
The peaches this season have been so juicy and so sweet, and I knew right away that I wanted to incorporate those delicious peaches into my dessert. I also knew that it needed a little color, and as luck would have it I had a flat of perfect red raspberries in the fridge. It was a match made in heaven, sweet juicy peaches, red ripe raspberries and luscious Tiramisu cream!
Of course, I had to use a few ladyfingers just to make it official, but rather than place them in the layers, I thought a crumble with a bit of a crunch would be a nice touch!
I see so many Tiramisu recipes out there, and most of them are not really A Classical Tiramisu. It takes a little time to make this dessert properly, but the results are well worth the effort. I promise you a dessert that will put your favorite Italian restaurant to shame. If you would like to make the classical version of Tiramisu Click on this link for the Recipe.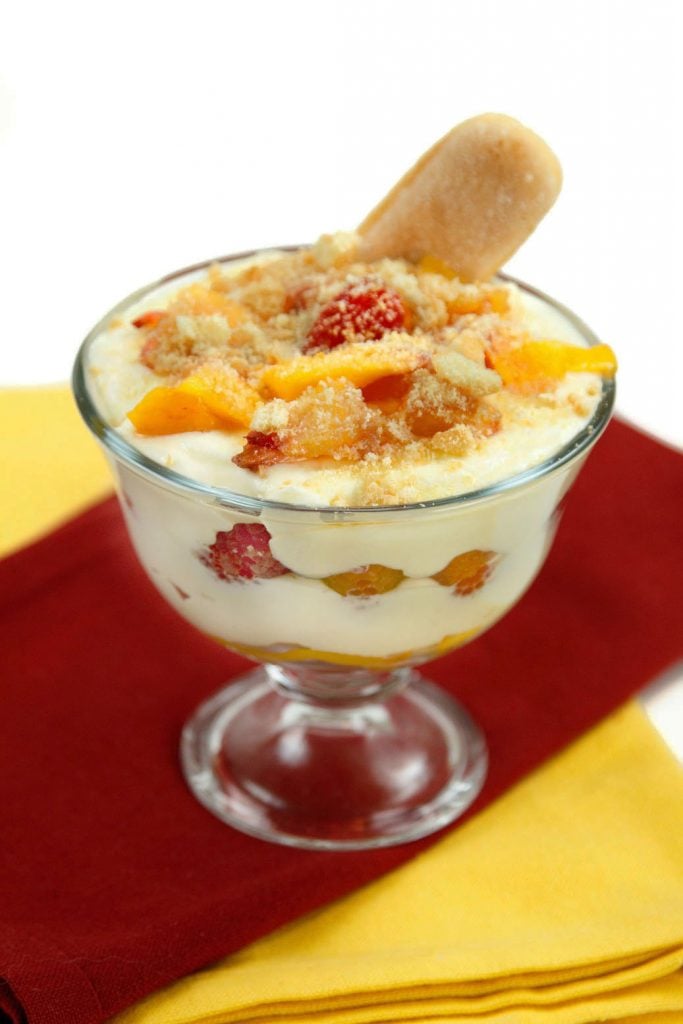 Although this is not a classical Tiramisu, it truly is a spectacular dessert. It would make a great dessert for your next dinner party or just to make any night a special occasion. Try it with blackberries and nectarines, or a mixture of fresh berries, but anyway you serve it, it will be delicious
If you've tried my Peach Tiramisu recipe or any other recipe on askchefdennis.com please don't forget to rate the recipe and let me know where you found it in the comments below, I love hearing from you! You can also FOLLOW ME on Instagram @chefdenniseats and @chefdennistravels, Twitter and Facebook