If you're looking for a delightful and refreshing dessert, my Italian Lemon Ricotta Cake is just what you're looking for.
Moist, delicious, and exploding with lemony flavor, my Italian lemon ricotta cake is a lemon lover's dream. And it's the perfect cake for any occasion, whether it's a summertime picnic or a cozy evening at home.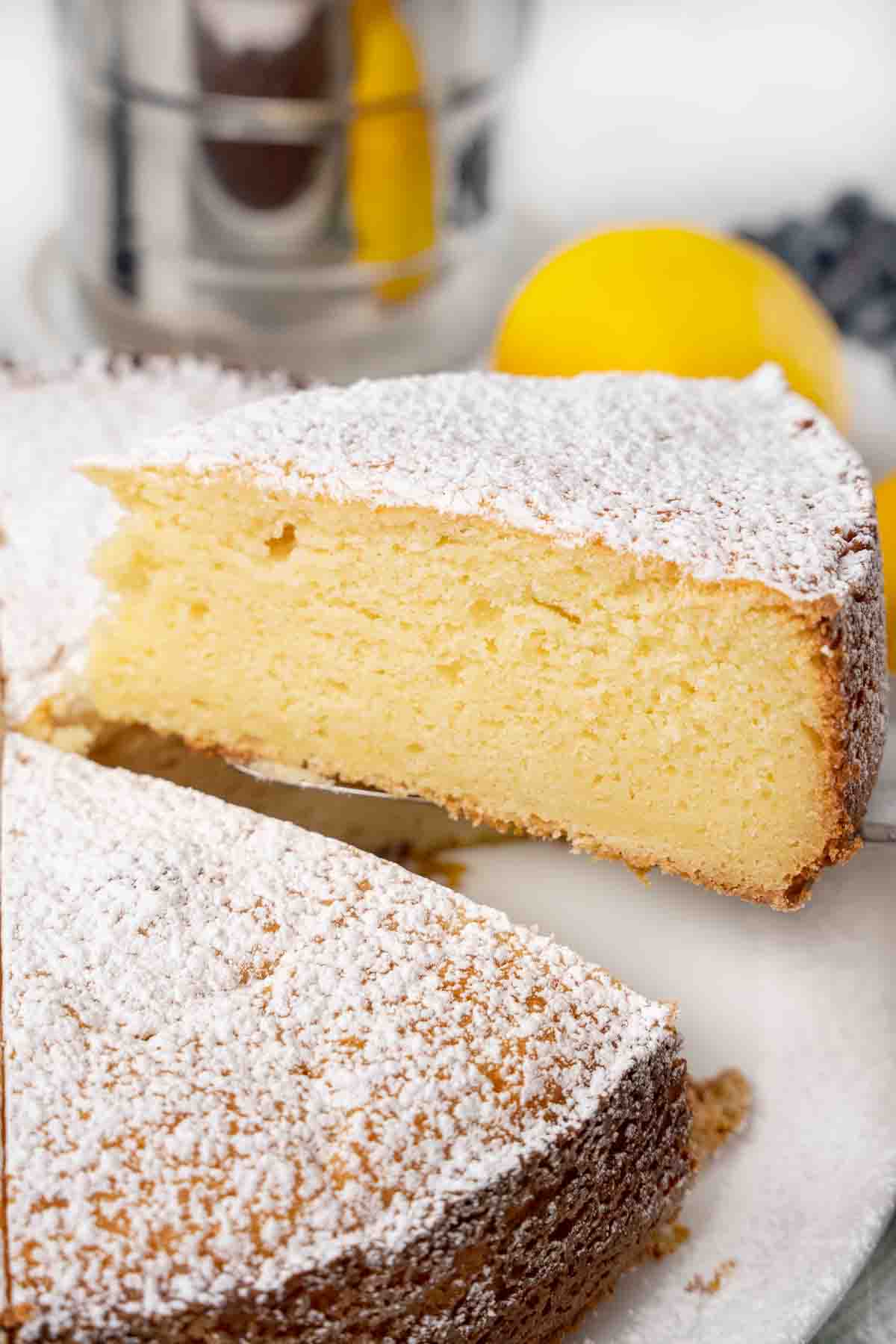 This rich, moist, flavorful cake, filled with lemon flavor and creamy ricotta, is made using simple ingredients. Italian lemon ricotta cake originated in Sicily. It has a dense yet fluffy texture and quickly became popular among Italian grandmothers, spreading across all of Italy.
Because of its popularity, you'll see many variations of easy lemon ricotta cake. But I guarantee this is the Best Lemon Ricotta Cake recipe you'll find!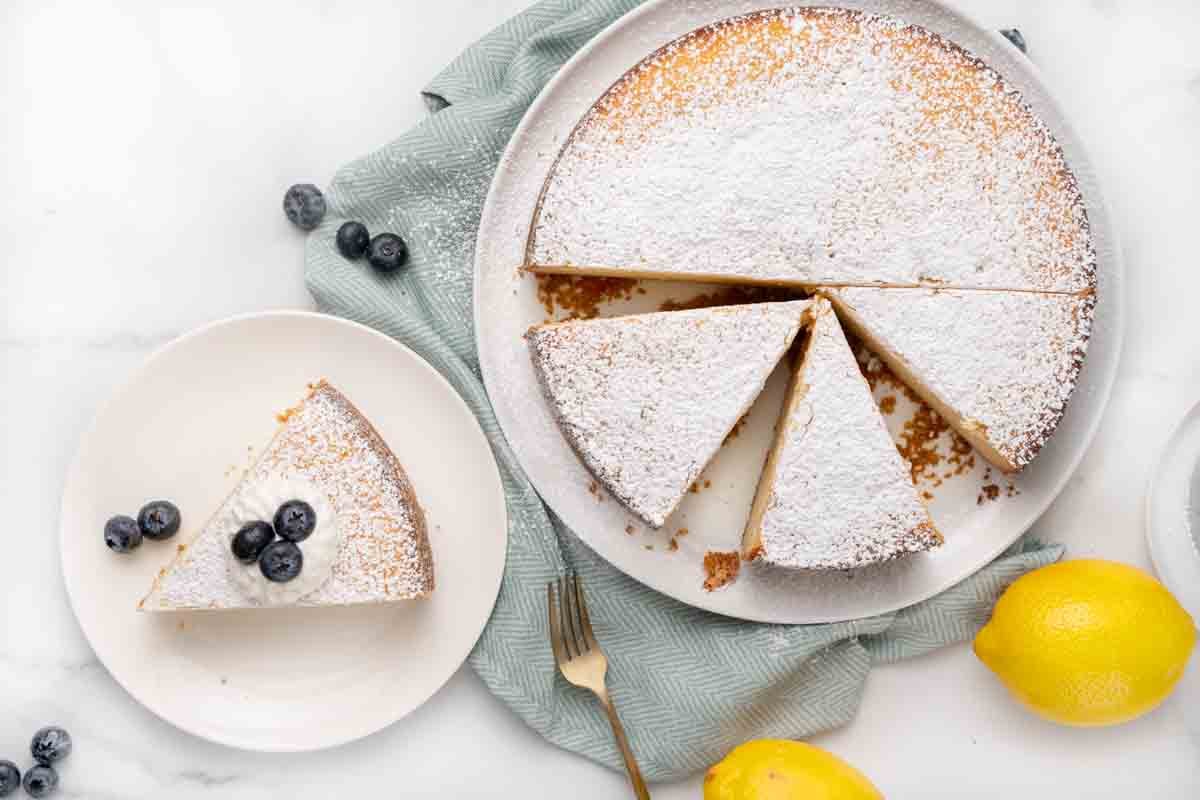 I love the vibrant, citrusy flavor of an Italian Lemon Ricotta cake. The perfect blend of ingredients creates a rich, moist, and refreshing dessert that your whole family will love.
If you love lemon desserts as much as I do, you're going to love my lemon cream pie.
Ingredients to make Lemon Ricotta Cake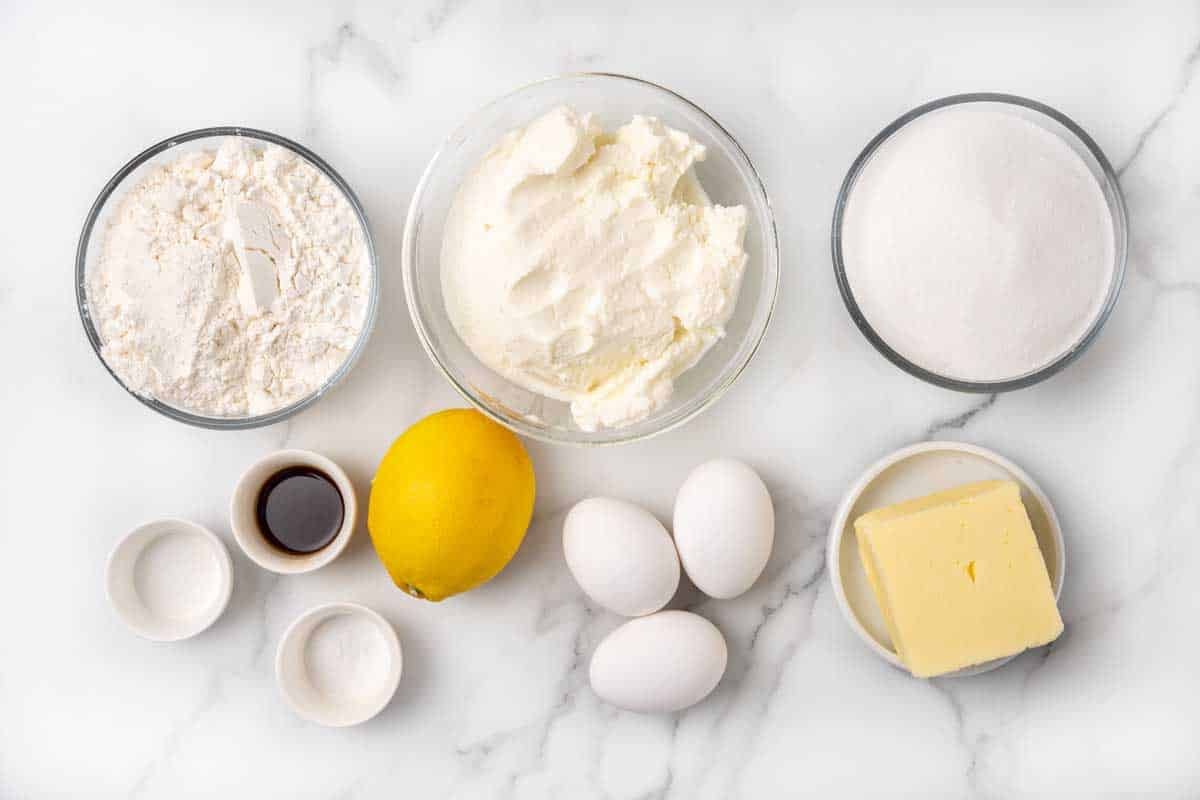 Let's start by gathering the ingredients we need to make my Lemon Ricotta Cake. In Chef Speak, this is called the "Mise en Place," which translates to "Everything in its Place."
Setting up your ingredients beforehand speeds up the cooking process. It also helps make sure you have all the necessary ingredients for the dish.
*Only use fresh lemons to make this cake; bottled lemon juice will ruin the flavor.
Chef's Choice
Chef's Choice
Chef's Choice
Chef's Choice
How to make Lemon Ricotta Cake
Preheat oven to 350 degrees. Grease a 9-inch springform pan using butter and powdered sugar and set aside until needed.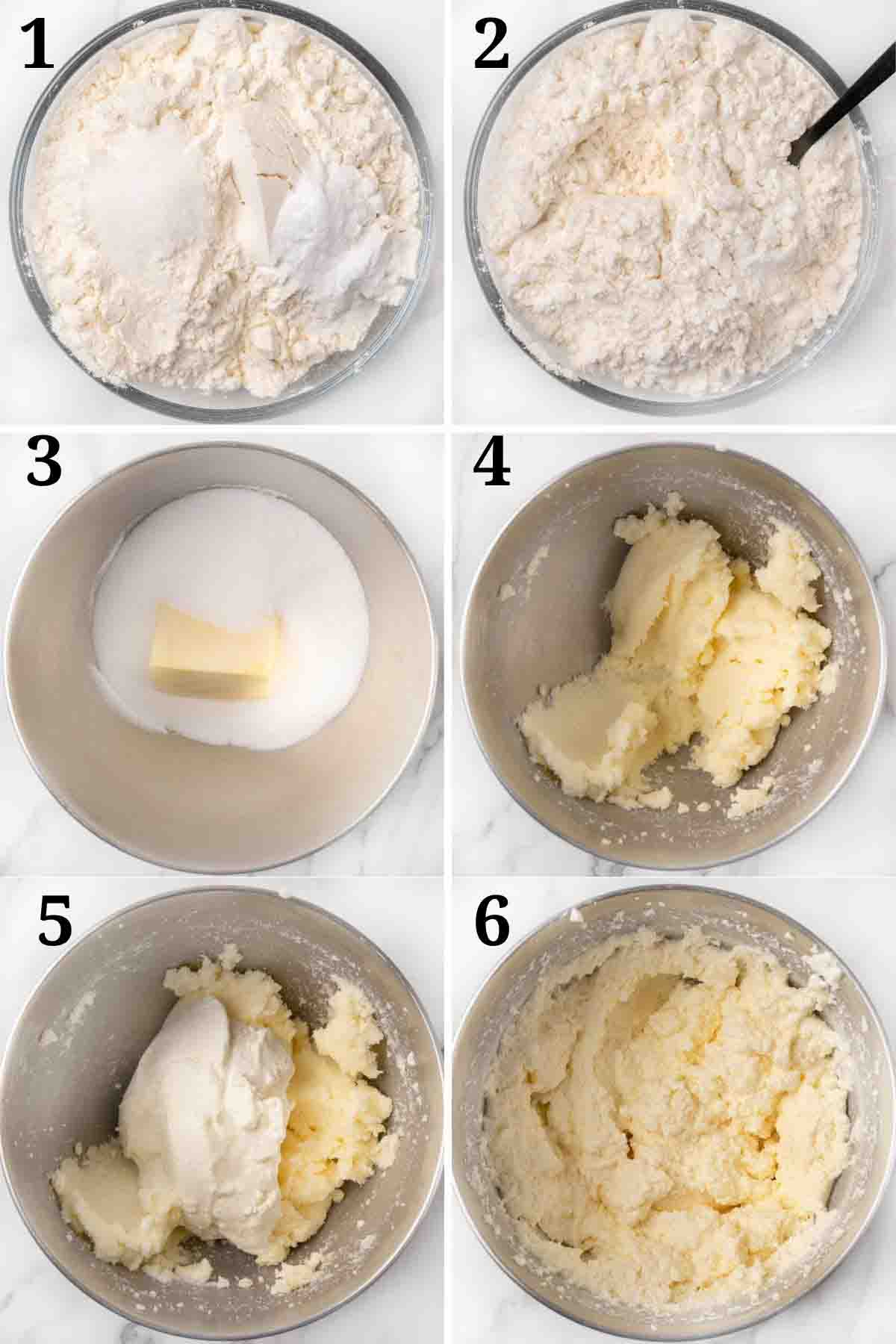 Mix the flour, baking soda, and salt in a small bowl.
Whisk the ingredients together until fully combined. Set aside until needed.
Add granulated sugar and unsalted butter to a bowl. Attach the bowl to a stand mixer fitted with a paddle attachment. Alternatively, use a large mixing bowl with an electric hand mixer.
Beat the sugar and butter together on high speed for 2 minutes until smooth and creamy. Scape the sides and bottom of the bowl as needed.
Add the ricotta cheese to the creamed butter.
Mix together until light and fluffy (4 to 5 minutes). Scape the sides and bottom of the bowl as needed.
I have a friend who uses cottage cheese to make this cake, and she swears no one can tell the difference. But I have never tried her method.
Chef's Choice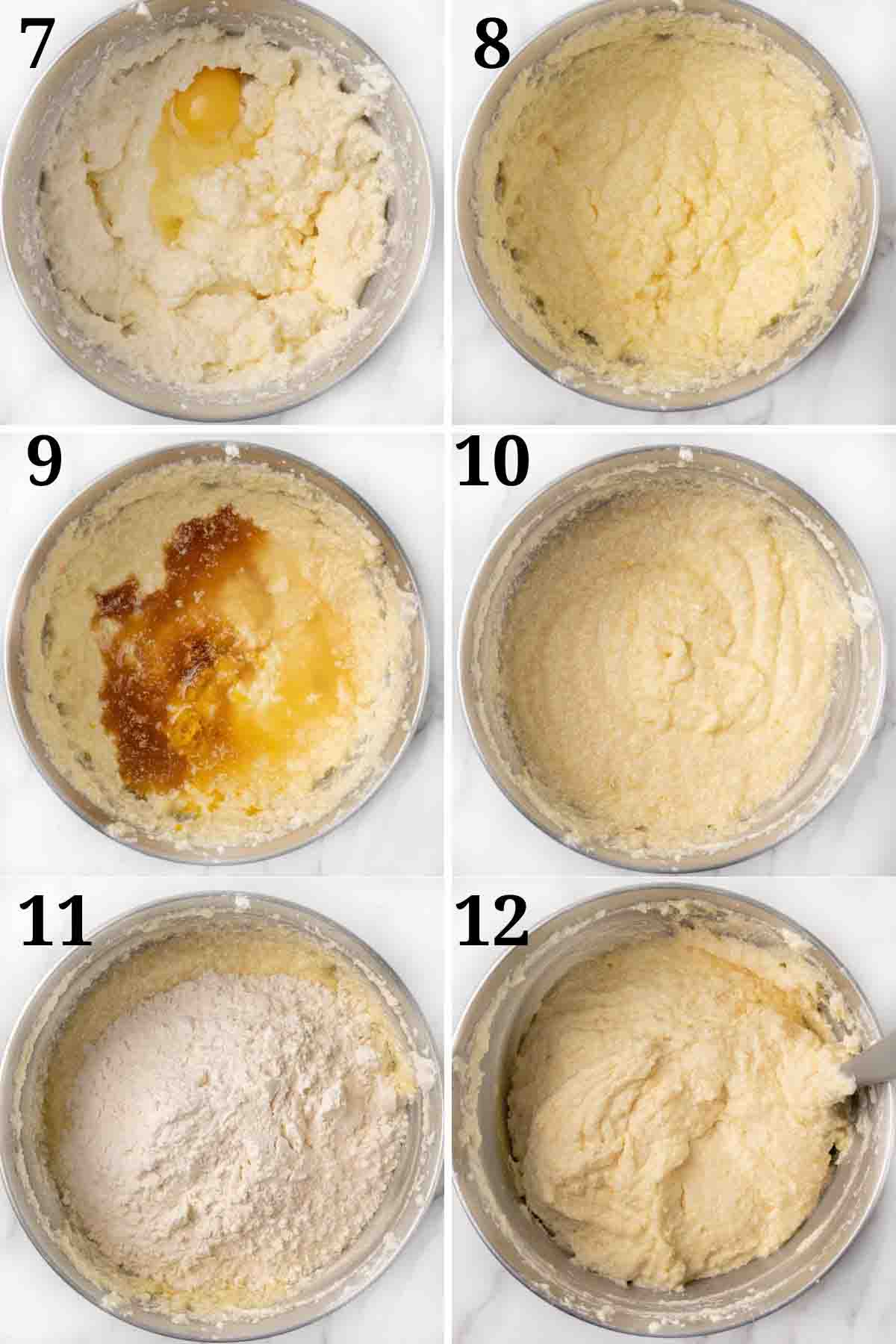 Add the large eggs to the ricotta mixture one at a time.
Whip on medium speed to combine each egg, scraping the sides and bottom of the bowl after each addition.
Add the vanilla extract, fresh lemon zest, and fresh lemon juice to the mixture.
Mix until fully combined.
With the mixer on low, add the flour mixture to the wet ingredients.
Mix just enough to combine. Scrape the bottom and sides of the bowl to make sure all the flour has been incorporated, but do not overmix.
Be careful not to overmix the cake batter. For a fluffy texture and moist crumb, mix just enough to incorporate the ingredients.

Pour the batter into the prepared pan.
Place the lemon ricotta cake in the middle rack of the preheated oven. Bake for 45-55 minutes. Check if the cake is set. Insert a toothpick in the middle of the cake. If the toothpick comes out clean, the cake is done.
Let the cake cool in the cake pan for 15 minutes on a cooling rack before removing the springform pan. Continue to let the cake cool on the wire rack until completely cooled.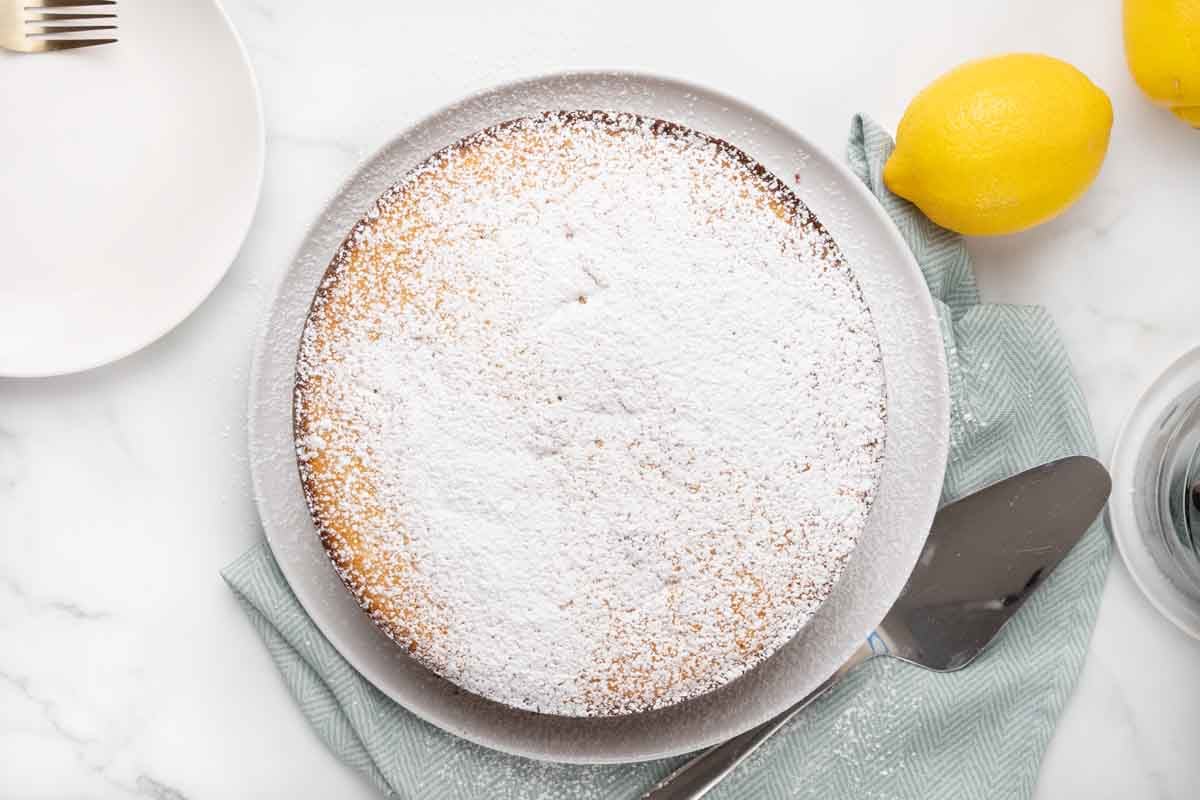 The Italian lemon ricotta cake needs to cool completely. Dust the top of the cake with powdered sugar, also known as icing sugar. This step is optional. Serve this traditional Italian cake with homemade whipped cream and fresh berries.
If you prefer, you can make a lemon glaze for the cake instead of dusting it with powdered sugar.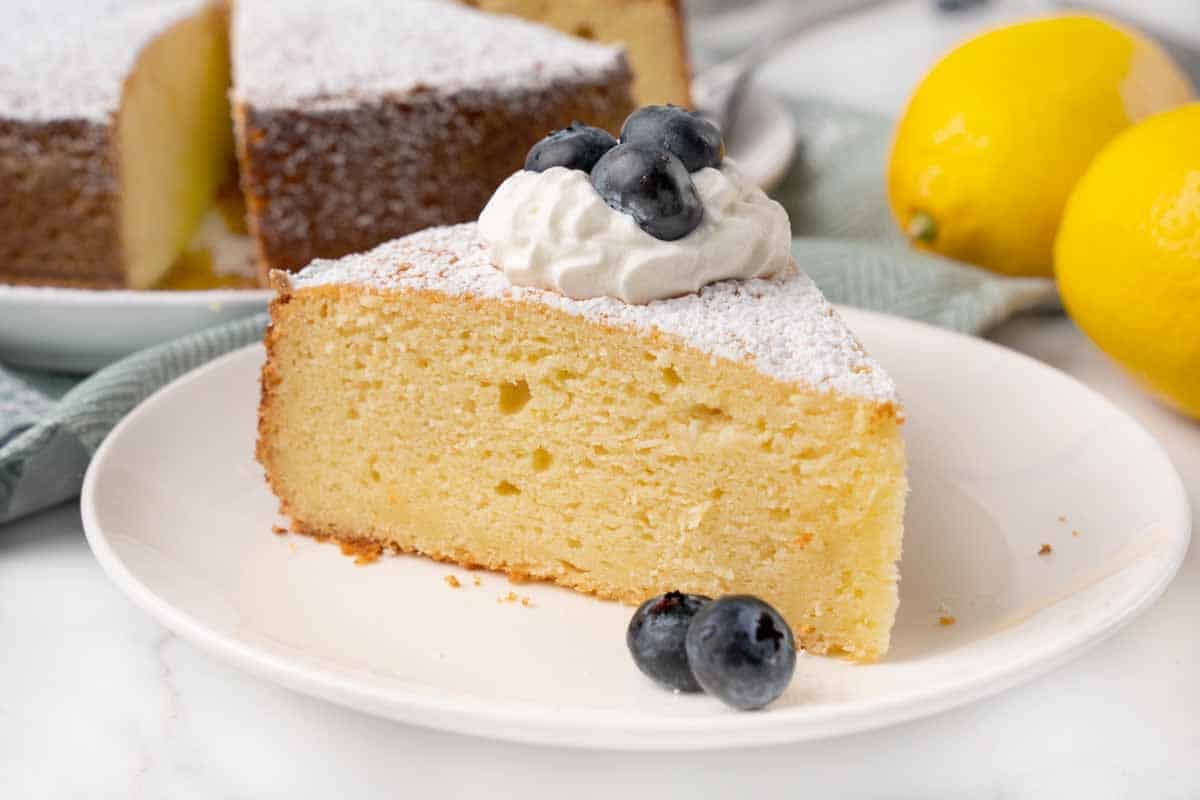 This moist lemon ricotta cake is a perfect balance of tangy and sweet. It's a simple recipe using simple ingredients.
Do you love lemons? Or are you looking for a tasty dessert to impress your friends and family? My Italian lemon ricotta cake recipe will not disappoint you.
Recipe FAQ's
Can I make this cake ahead of time?
Yes, you can make this cake ahead of time. Store it covered at room temperature for up to two days or in the refrigerator for up to four days. You can also freeze it for up to three months. To freeze, wrap the cake tightly in plastic wrap and then in foil before placing it in the freezer.
Why did my ricotta cake sink?
Using a pan that is too small for the recipe can cause the cake to sink in the middle. It's important to use the right-sized pan when baking. The other reason could be that too much liquid was used. Also, opening the oven or moving pans during baking can also cause this to happen.
Can I use part-skim milk ricotta to make the cake?
Yes, you can use part-skim ricotta cheese in this recipe. However, keep in mind that full-fat ricotta cheese will give the cake a richer, creamier texture.
More Recipes You'll Love!