If you're looking for a delicious, filling weeknight dinner my Mediterranean Tuna Casserole is guaranteed to bring smiles to your dinner table! This is comfort food at its best and truly one of my favorite casserole recipes.
This is post is sponsored by my friends at Blue Harbor, all opinions are my own.
I'm going to let you in on a little secret, I've never made a tuna noodle casserole before. And I've also never tasted a tuna casserole before and I certainly didn't think of developing a tuna casserole recipe!
That's right I was a food snob when it came to tuna casseroles.
But I've definitely seen the light! One of my greatest pleasures in life is when I make something that is so delicious that it surprises me, and that was the case with this ah-mazingly delicious dish. I devoured that plateful of deliciousness and more!
This isn't a classic tuna casserole, it's taken it to an entirely new level of deliciousness.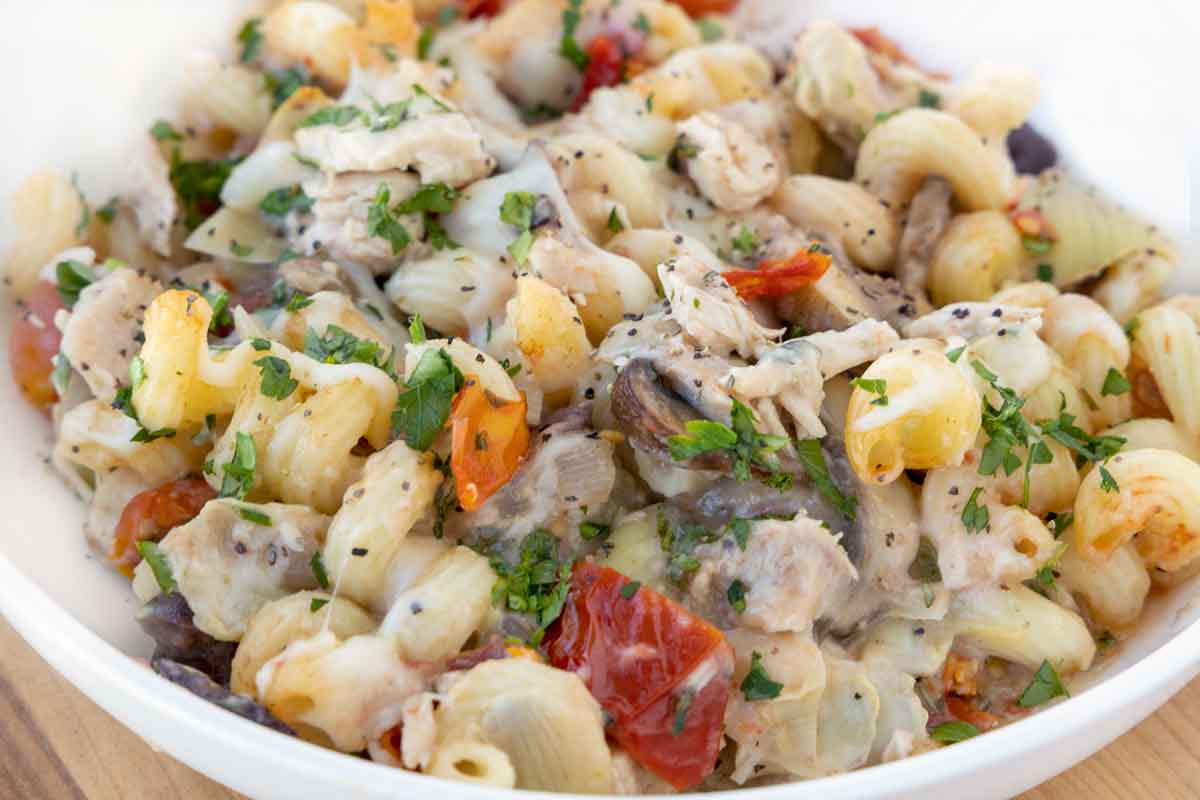 We reheated the leftovers for dinner on day two and if possible it was even tastier! So now I can proudly proclaim I like Tuna Casseroles….. well ones made with Blue Harbor Tuna make the best tuna casserole!
What ingredients do I need to make a Mediterranean Style Tuna Casserole?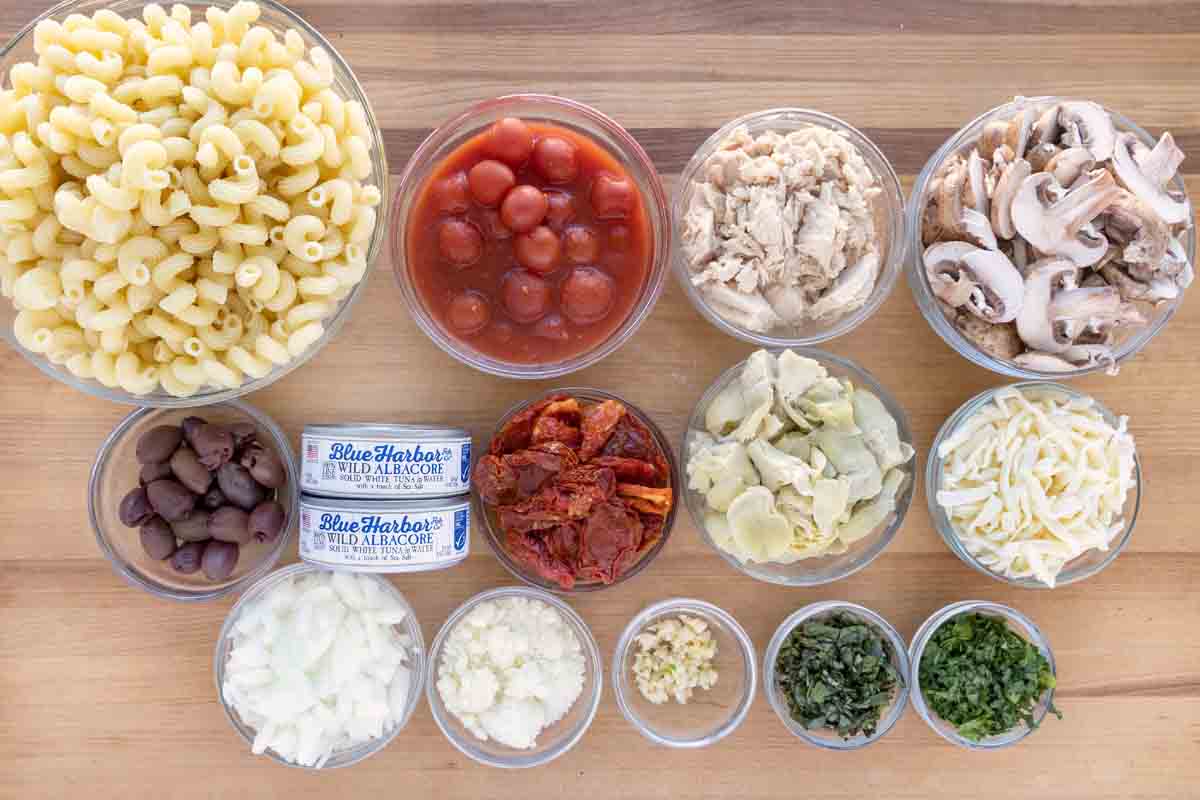 Let's start by gathering the ingredients we need to make my Tuna Casserole. In Chef Speak this is called the "Mise en Place" which translates to "Everything in its Place".
Not only does setting your ingredients up ahead of time speed up the cooking process, it also helps ensure you have everything you need to make the dish.
*Grated Romano shown in pic is for the white sauce. White sauce ingredients will follow.
What type of tuna should I use?
As a chef and home cook, I've opened many cans of tuna fish over the years. From the small home-sized can to the restaurant size can. From my experience, I can tell you that all tuna is NOT created equally and that's why I choose Blue Harbor Wild Albacore Tuna.
Did you know that every fillet of Blue Harbor solid white albacore tuna is hand-selected and hand-prepared? Humans make better choices than automated machines do. And that's why Blue Harbor is hands-down better than the competitor.
With Blue Harbor Sustainable Albacore Tuna and Wild Pink Salmon, you can be sure that each time you open the can you're the best canned (or pouch) tuna or salmon that money can buy.
Simply prepared with water and sea salt (without preservatives) and sustainably caught each can or pouch of Blue Harbor Albacore Tuna will have that clean, fresh, mild taste that will let you taste the delicious flavor that tuna was meant to have.
You can find Blue Harbor Tuna and Salmon online at Target and Walmart and your local grocery store.
Click through the link to find Blue Harbor Albacore Tuna and Wild Pink Salmon at a store near you.
How do I make a Tuna Casserole?
Let's start by making the white sauce aka bechamel for the tuna casserole.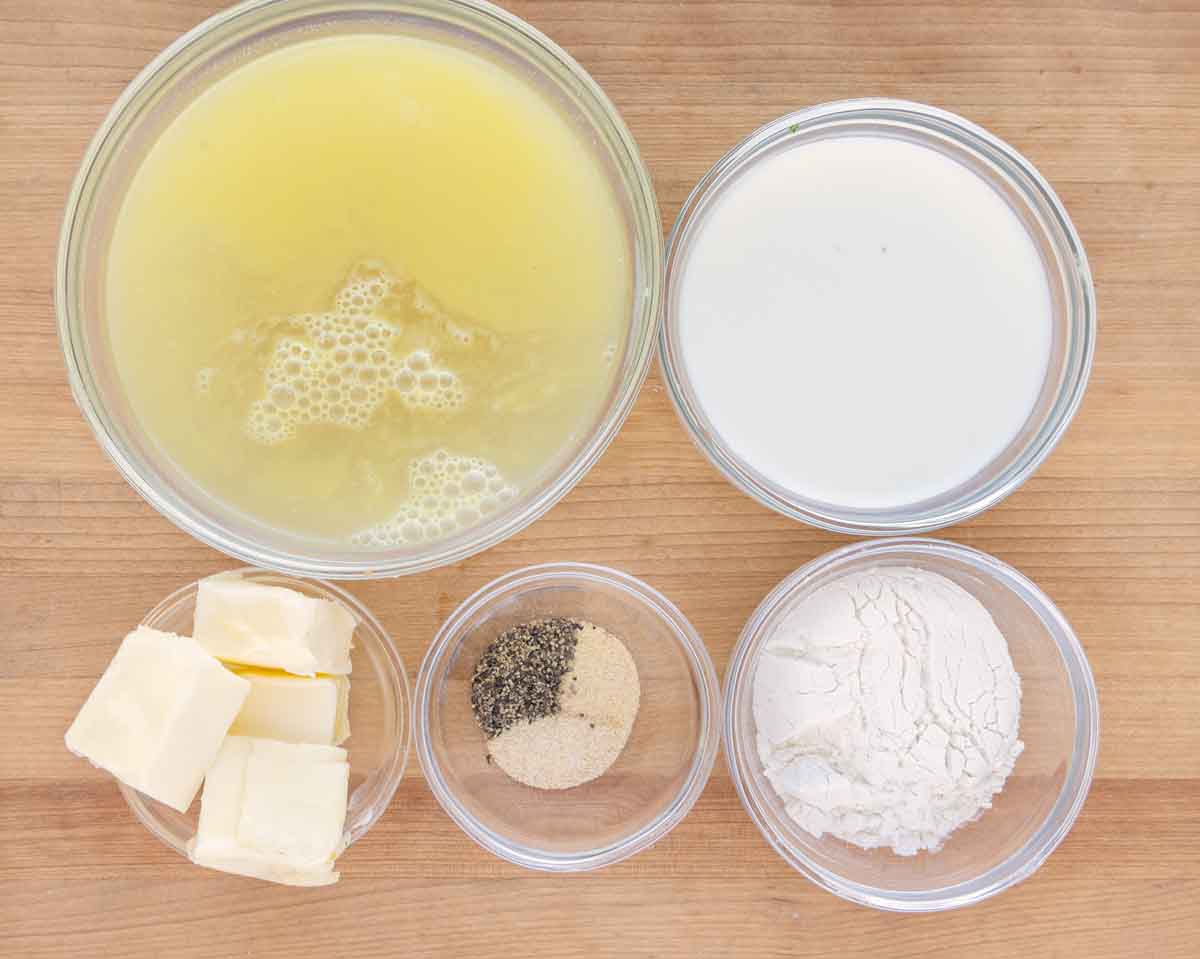 Learning to make a bechamel will be a game-changer, and will allow you to make so many more delicious dishes. It can be used for mac and cheese, a base for cream soups, gravies and sauces that will make you look like a chef in your kitchen.
Melt the butter in a medium saucepan and the flour to the pan
Using a wire whisk, blend the flour and butter together, this is a roux.
Let the roux cook over low heat for 5 minutes, this will cook out the flour taste.
Add the chicken broth to the roux and mix it together (not pictured). This is your basic white sauce.
Add the milk, grated Romano cheese and seasonings to the sauce and mix well.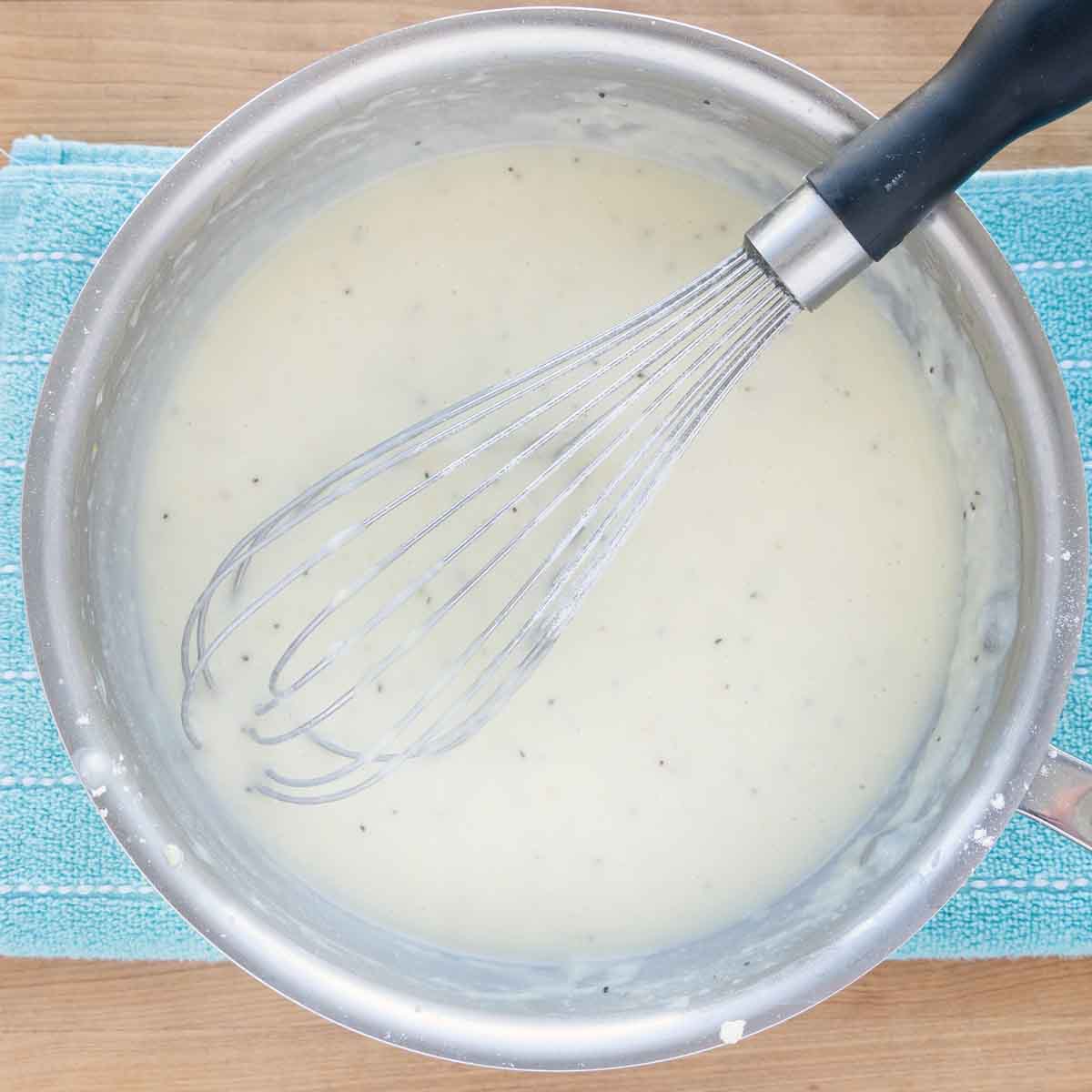 The end result will be this creamy sauce, known as bechamel (one of the 5 mother sauces). If it's too thick, add a little more milk or water to the sauce (if you're feeling decadent a little heavy cream can be added).
Most recipes use cream of mushroom soup or cream of celery soup in their casserole recipe. You can of course go that route instead of making your own sauce, but I promise the results are worth the effort, and you get to control the ingredients.
Place the bechamel off to the side until you've finished preparing the remainder of the ingredients.
How do I make a Mediterranean Style Tuna Casserole?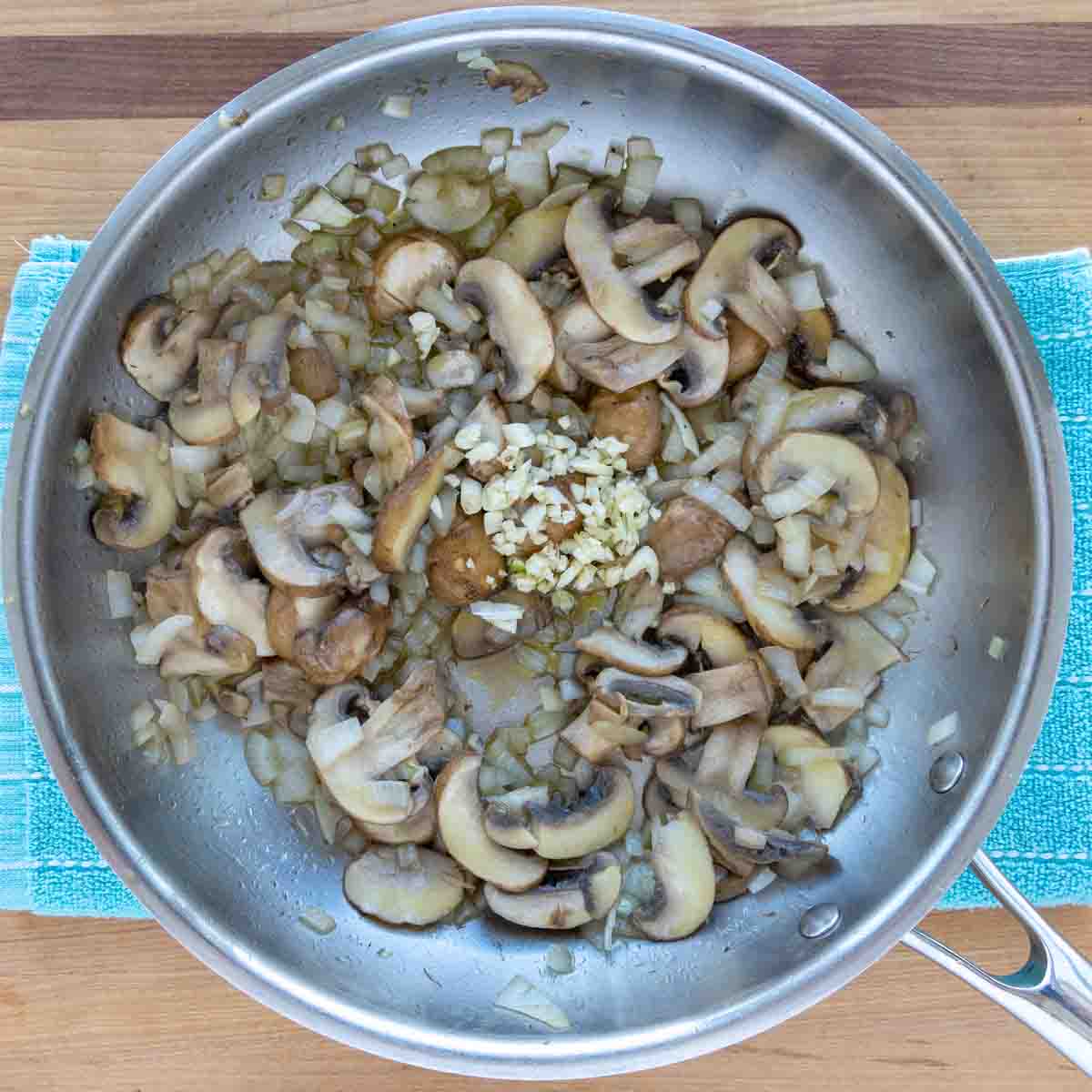 Start by sauteing the chopped onions and mushrooms for 5 minutes. Add the chopped garlic and continue to cook for another 2 minutes (feel free to use your favorite type of fresh mushrooms in the recipe).
While the mushrooms are cooking and you're prepping the other ingredients, cook the pasta for the dish. This is all about timing, and while it's not critical, having the pasta done when the rest of the ingredients are ready, will keep you from rinsing the pasta or letting it get clumpy from sitting too long.
Chef Dennis Tip:
Cook the pasta al dente, it will cook more while in the oven.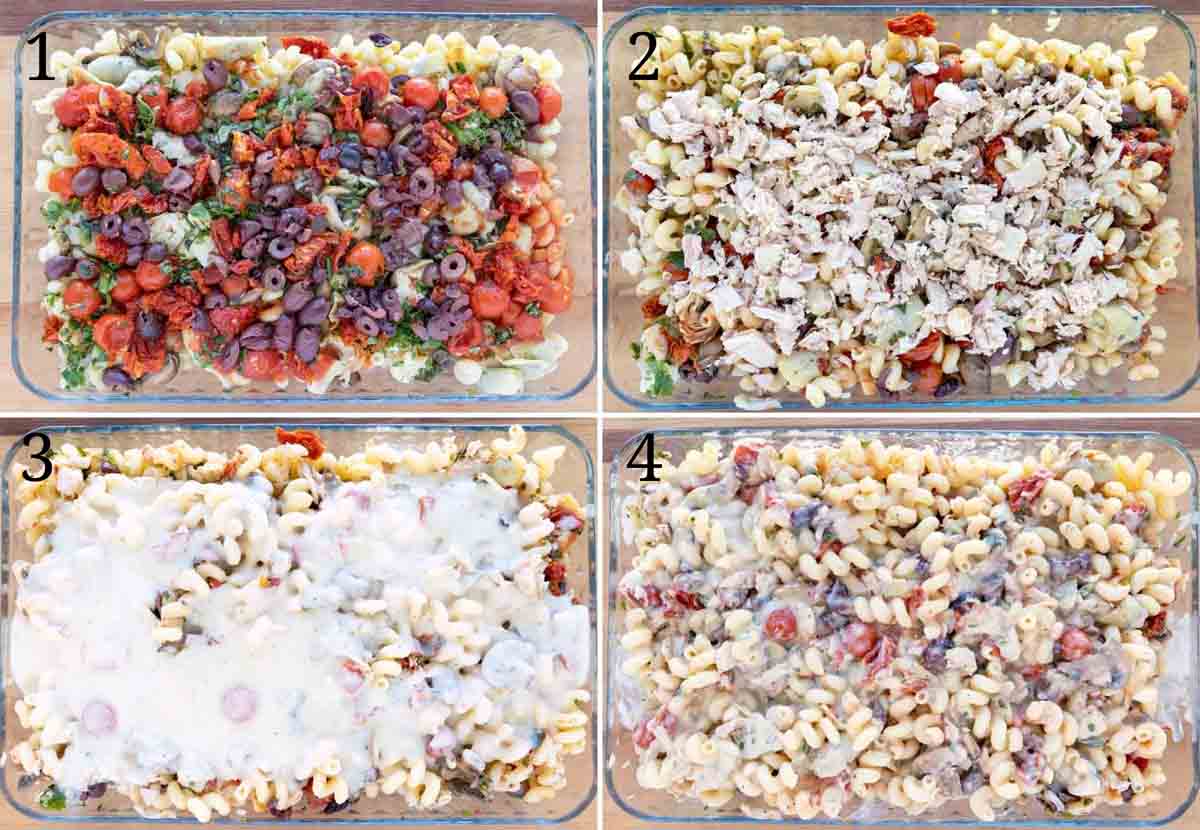 Place the pasta in a casserole dish and add the mushroom onion mixture, cherry tomatoes and juice from the can, sun-dried tomatoes, olives, artichokes, basil and parsley. Mix the ingredients together. You can use a large bowl to mix the ingredients together.
Add the Blue Harbor Tuna to the pasta mixture, and blend it into the pasta.
Add the bechamel to the casserole.
Lightly mix the sauce in, it does not have to be completely mixed.
Bake the Tuna Casserole in a 350-degree preheated oven for 20 -25 minutes.
I like how pasta gets a little crunchy around the edges from being exposed to the heat, but if you're not a fan, cover the dish with aluminum foil to keep all the pasta moist.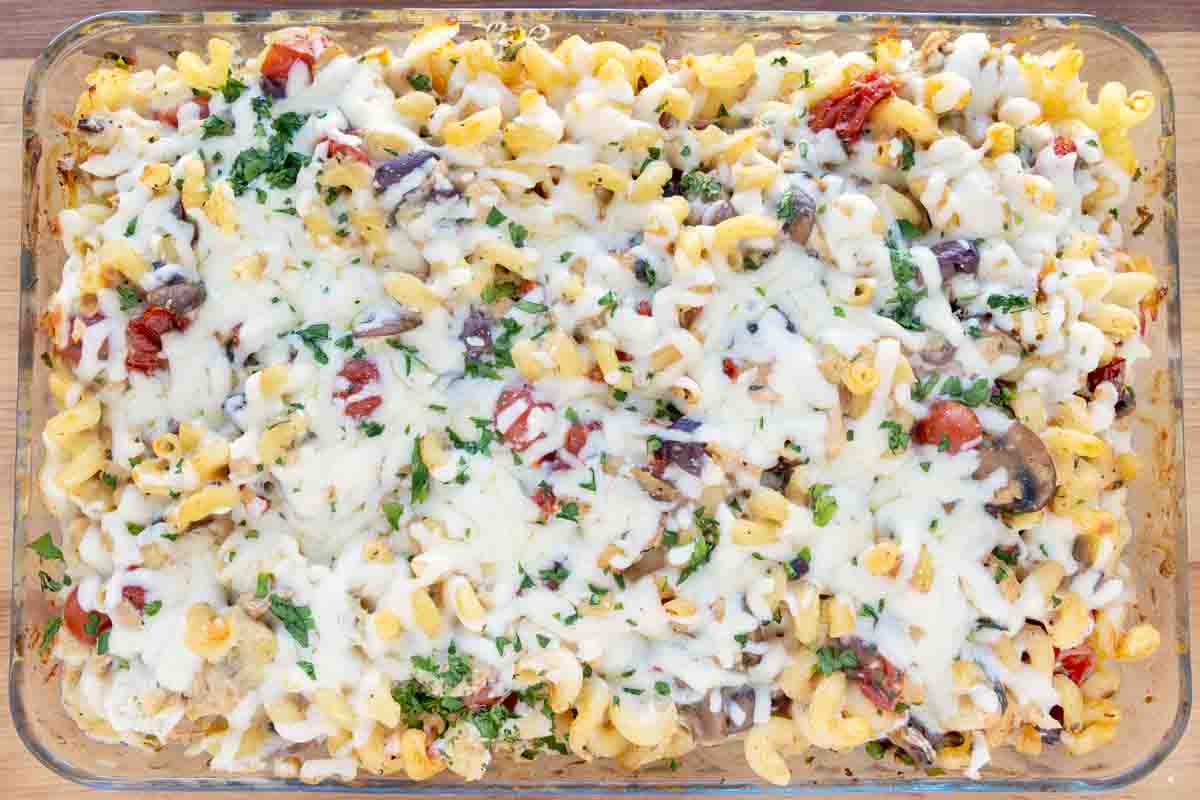 Carefully remove the casserole from the oven and add shredded mozzarella (or shredded cheddar cheese) and sprinkle chopped parsley on the top of the casserole. Return the casserole to the oven for an additional 5-7 minutes until the cheese is nicely melted.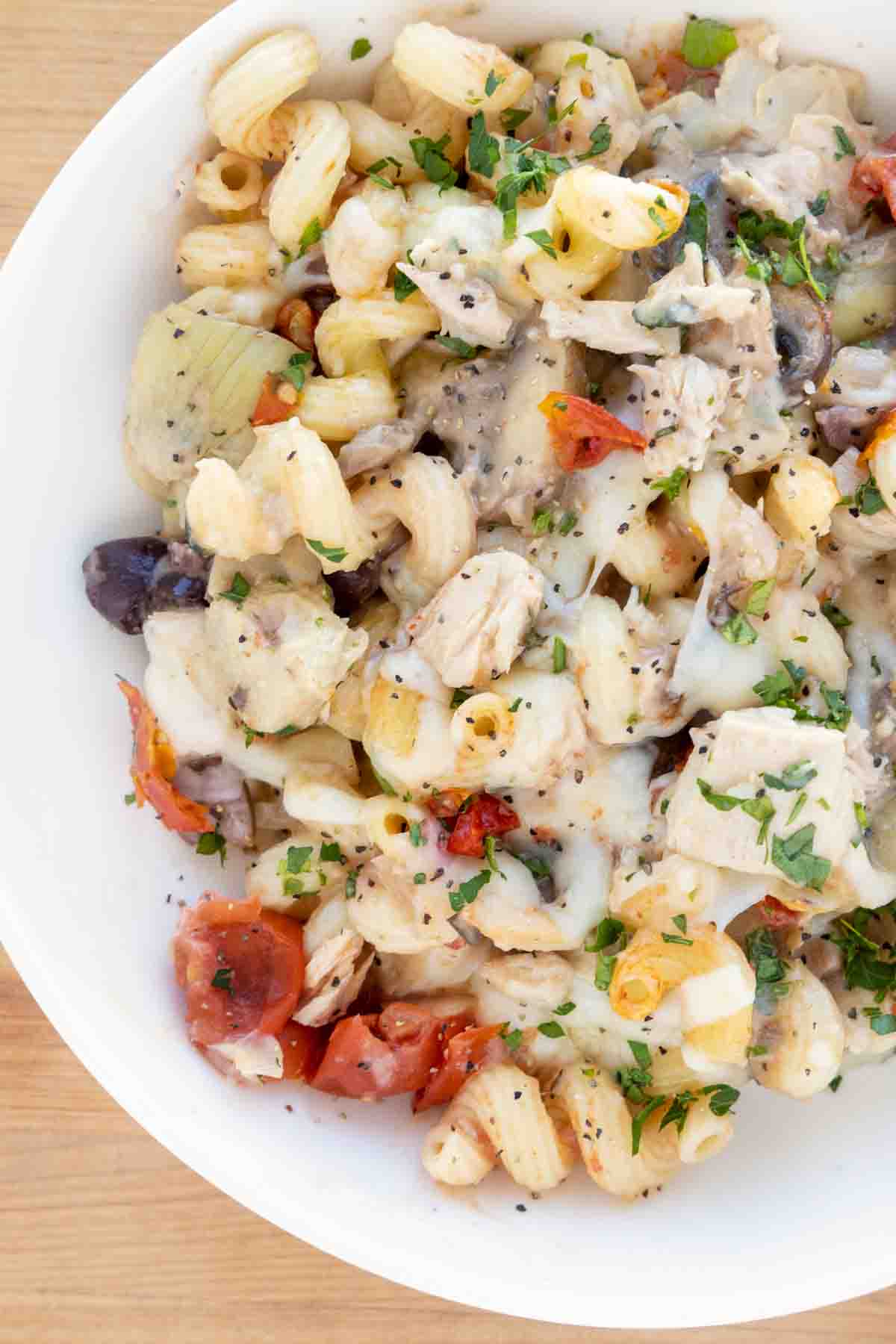 I had thought about adding gorgonzola crumbles to the dish for added flavor. You could also use feta or bleu cheese crumbles. Be creative with the casserole by adding your favorite ingredients to my easy tuna casserole.
Zucchini, roasted red peppers, and eggplant would make delicious additions. And if you can't find canned cherry tomatoes, stew tomatoes would be a tasty substitute.
*You could make this dish with egg noodles if you like for a more traditional tuna noodle casserole, adding a little panko bread crumbs to the top.
However, you decide to customize your Tuna Casserole I promise you it will bring smiles to your dinner table.
Serve this delicious dish with grated Romano or parmesan cheese and black pepper for the ultimate flavor sensation.
Recipe FAQ's
Why is my tuna casserole dry?
The most common reason your tuna casserole was too dry is simply there wasn't enough liquid in the dish. The noodles absorbed what liquid there was and as it baked it dried out. You may also be using a baking dish that's too large for the amount of casserole you have.
If you're worried about the casserole drying out cover it with foil while baking. Remove the foil and add the cheese, then bake until the cheese is melted.
Do you cook the pasta before adding it to the casserole?
Yes, you cook the pasta before adding it to the casserole. Cook the pasta al dente (still firm) before combining it with the other ingredients. If it says cook for 9-12 minutes, cook for 9 minutes. Always take the lower number of minutes for al dente pasta.
Should I rinse the pasta to cool it down?
No, rinsing the pasta will remove starch from the cooked pasta, and the sauce will not cling or absorb into the pasta properly. Try to plan the combining of ingredients so when the pasta is done you can add the rest of the ingredients and sauce.
How long is tuna casserole good for?
Tuna casserole will last 2-3 days in the refrigerator when stored in an airtight container. You can also freeze tuna casserole for up to 2-3 months. Make the casserole, then freeze it uncooked.
More Recipes You'll Love!