My Lobster Mac and Cheese Recipe is ooey gooey, creamy, and cheesy loaded with sweet lobster meat. Lobster Mac and Cheese is one of those decadent treats you order when you go out to eat. But the truth is you can make it better than your favorite restaurant and at a fraction of the price with my easy recipe!
It's comfort food that calls to us with all its decadent deliciousness.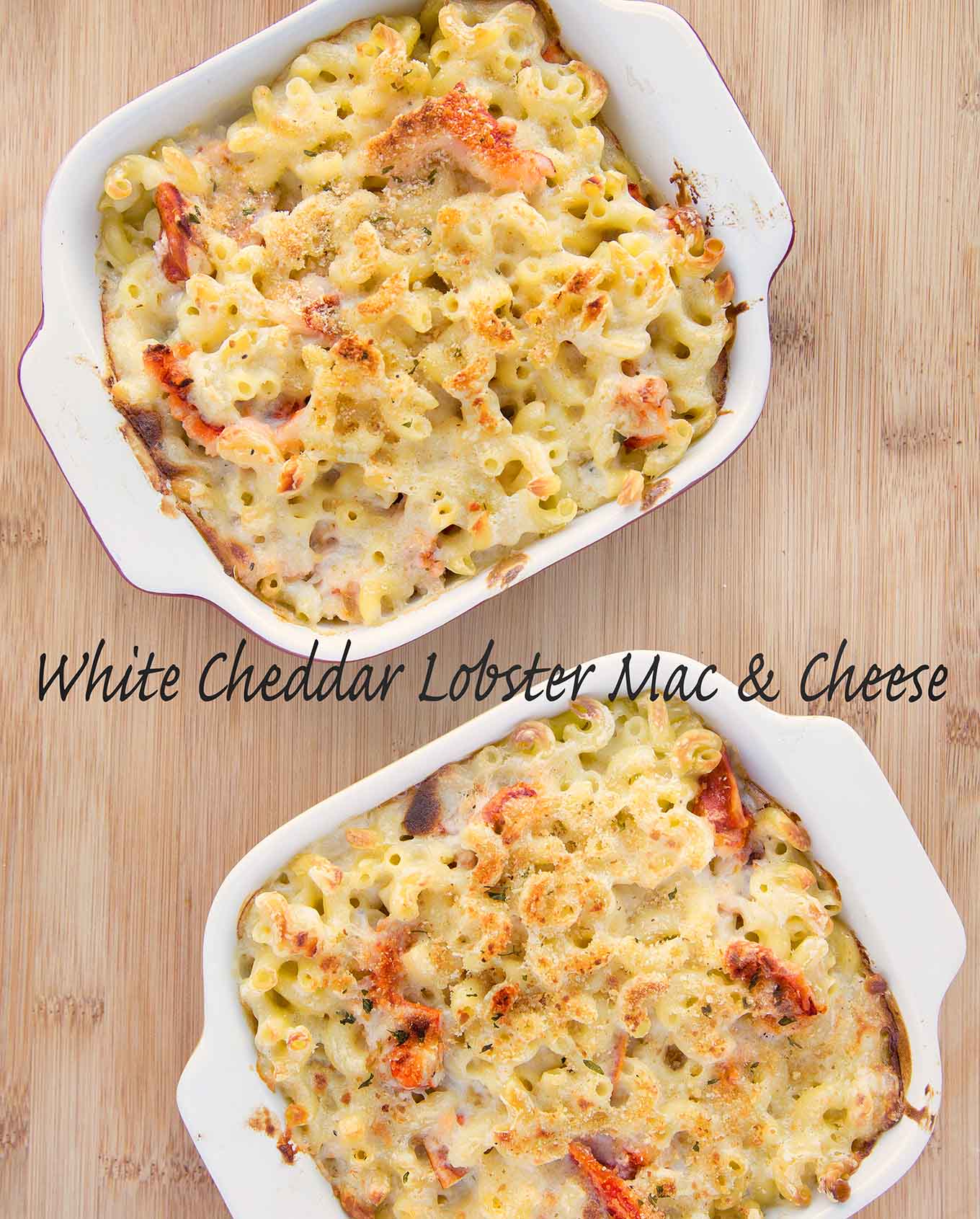 Lobster meat used to be hard to find in grocery stores and most people didn't have access to the places chefs could shop. That just isn't true anymore, with many supermarkets carrying frozen lobster meat.
You can even find whole live lobsters at local grocery stores and Asian supermarkets. They're easy to cook. All you need is a large pot of salted water and some old bay seasonings. Just make sure you're buying cold water lobster.
What ingredients do I need to make Lobster Mac and Cheese?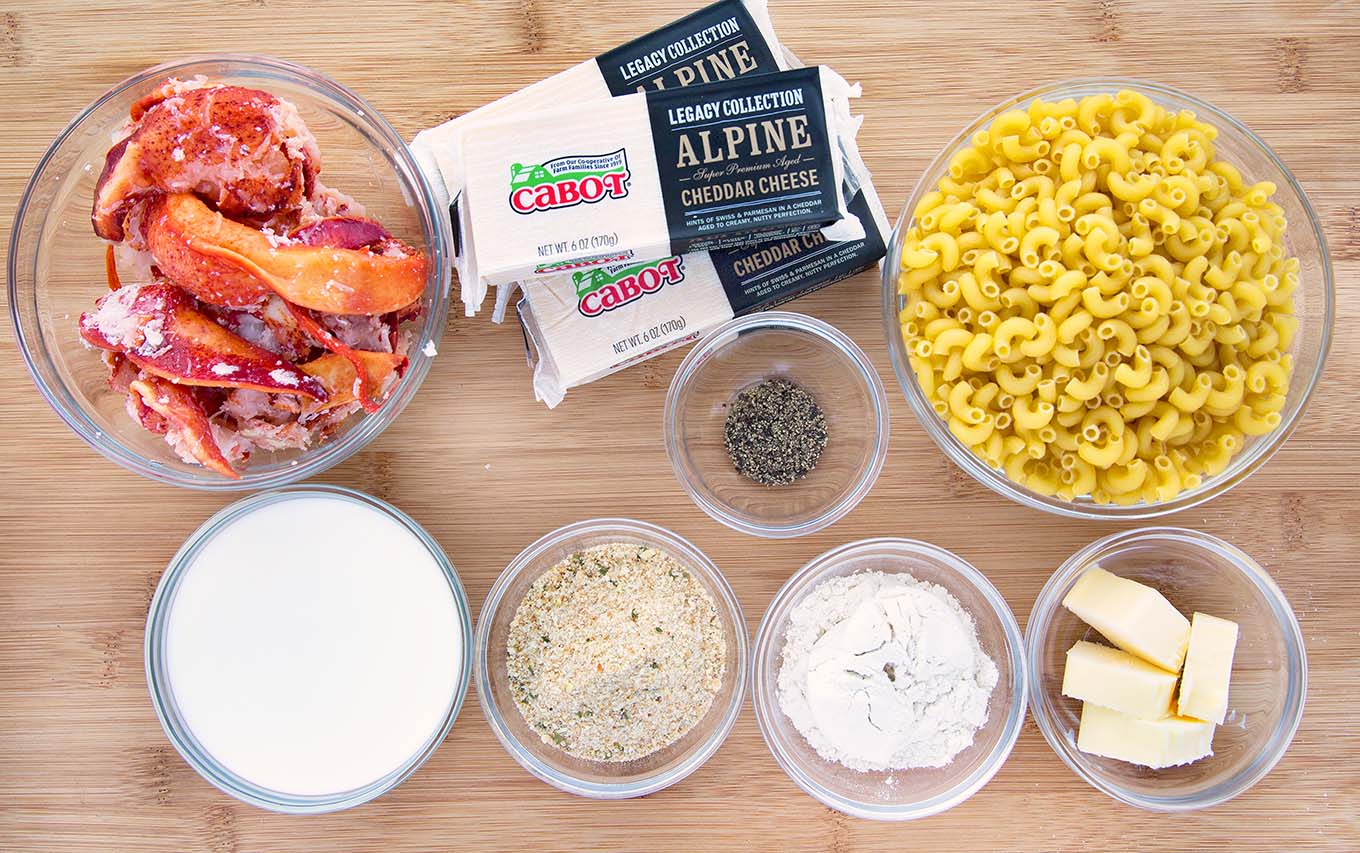 Let's start by gathering the ingredients we need to make Lobster Mac and Cheese. In Chef Speak this is called the "Mise en Place" which translates to "Everything in its Place".
Not only does setting your ingredients up ahead of time speed up the cooking process, it also helps ensure you have everything you need to make the dish.
What type of lobster should I use for lobster mac and cheese?
You definitely want to use lobster meat from the claws and body. It actually has the most flavor and that's why its also used in New England's favorite sandwich "Lobster Rolls".
Don't use lobster tails! It's a waste of good lobster meat and will disappoint you if added to mac and cheese. Lobster tails, need to be quickly cooked or they get tough and rubbery; lobster meat from the claws and body has a lot more moisture and flavor making it perfect for baked casseroles.
No lobster? No problem, you can use any type of crab meat you like instead of lobster. Shrimp can be used, but if they cook too long they'll get tough and chewy.
What type of cheese should I use for lobster mac and cheese?
A combination of cheese is best for this type of dish. I love sharp cheddar cheese and will usually add some gruyere cheese and a little parmesan cheese to my cheese mixture. The flavors of the cheese sauce will be well-balanced and delicious.
Feel free to use the types of cheese you enjoy eating. After all it's your dinner.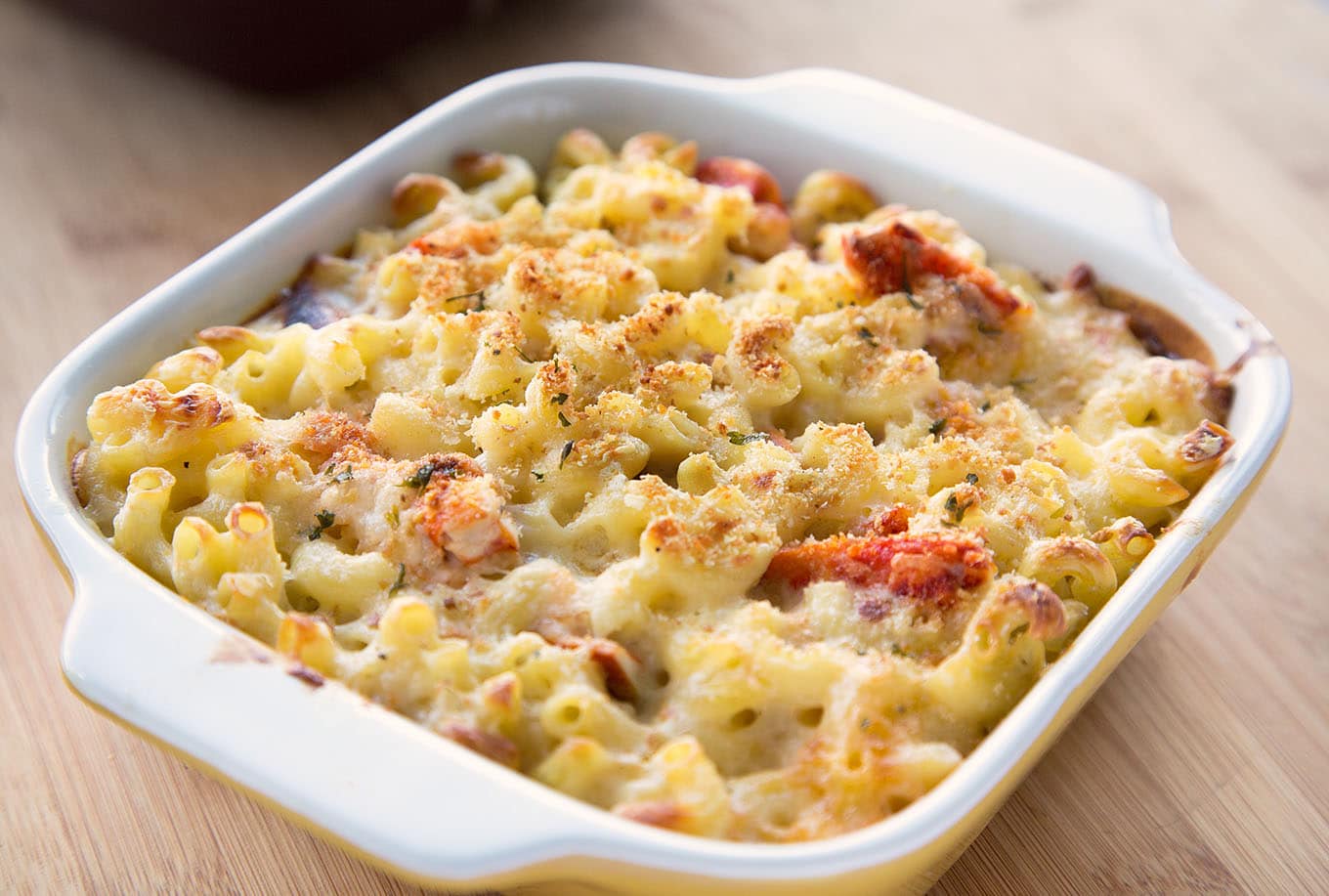 Making the cream sauce for the mac and cheese is pretty easy to do and the real trick to the dish comes when you assemble and finish it. If you let it sit too long the noodles will absorb the cream sauce and the mac and cheese will be dry.
So to make sure it's the best it can be, the cheese sauce should be hot and the noodles room temp or warm. Don't mix it all together and instead layer the noodles with some sauce lobster, more noodles and more sauce.
Top with breadcrumbs and finish under the broiler. Don't let it bake or sit any longer than you have to.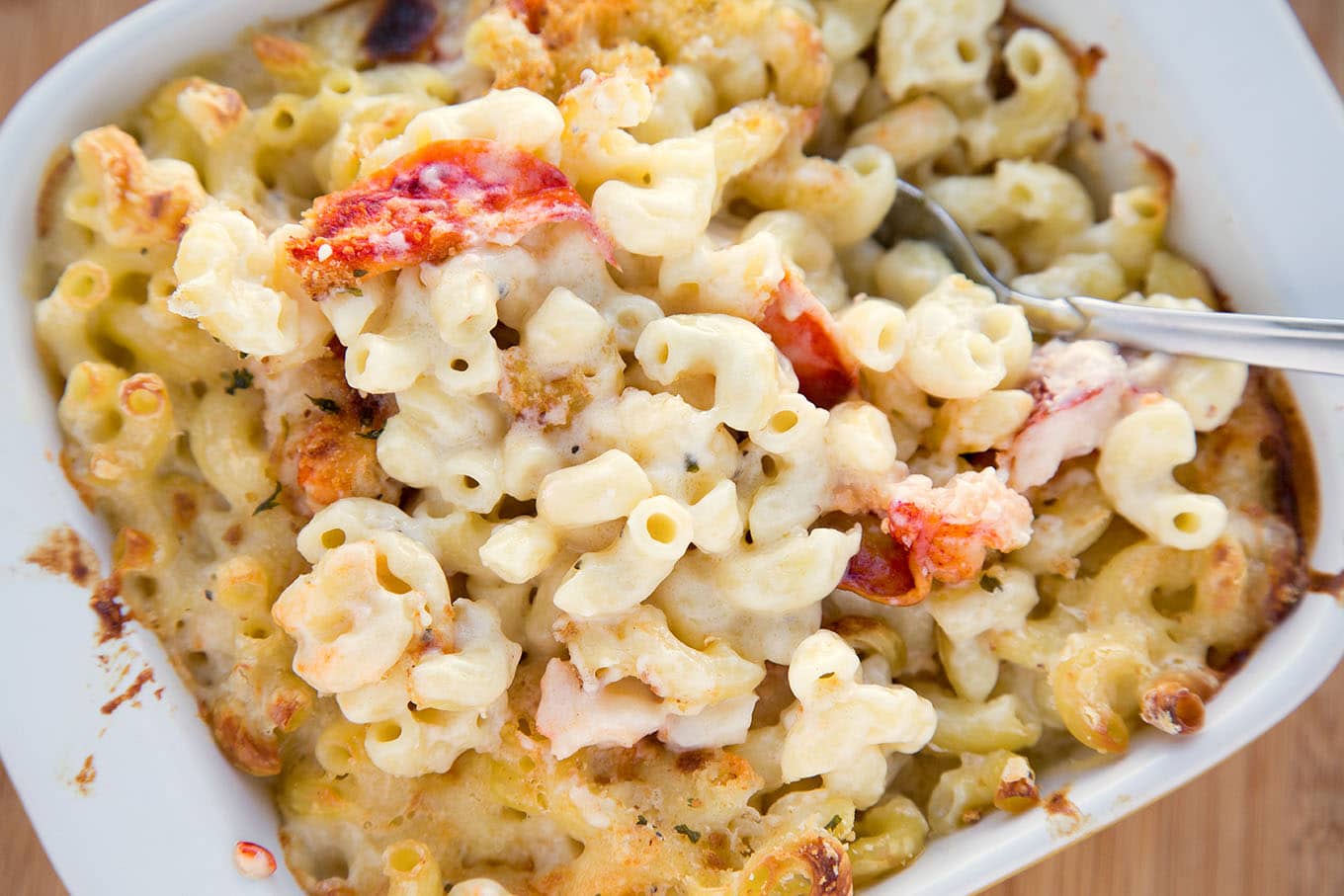 Don't wait for a special occasion to order Lobster Mac and Cheese at your favorite restaurant! Make dinner a special occasion and enjoy this decadent, delicious dish in your home tonight.
Recipe FAQ's
Can I use lobster tails to make lobster mac and cheese?
Lobster meat from the body and claws is the best choice for this dish. Lobster tail meat is at its best when cooked quickly, leaving it tender. Lobster tail cooked longer than necessary yields tough, tasteless, rubbery lobster.
What type of cheese should I use to make this dish?
You can use your favorite type of cheese or a combination of cheese to make this dish. Some of my favorites to blend into this dish are cheddar, gruyere, Jarlsberg, and fontina. Adding a little parmesan cheese or Romano cheese will perk up the sauce.
More cheesy Recipes You'll Love!