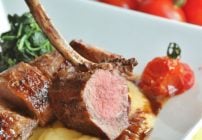 You'll love this restaurant style lamb loin with a red wine demi glace. Roasted and served on a bed of spinach and rutabaga puree, with a Tomato Confit. Simply Delicious.
Total Time:
1
hour
35
minutes
This post includes affiliate links. As an Amazon Associate I earn from qualifying purchases.
How to make lamb loin better than your favorite restaurant!
I am a 22 year-old ex-line cook turned food writer and growing photographer. Until recently, I ate what I wanted, whenever I felt like eating it. After being diagnosed with bipolar 1 and borderline personality disorder at 17, I thought my life would be over.
Heavily medicated and treated like an infant, nothing made sense or seemed familiar anymore. Except for food. It was my comfort, my friend, my enemy, my only way of holding onto the tiny bit of sanity left in me.
I weened myself off of meds and left home to pursue my dream of attending culinary school. There would be days I only ate if we cooked in school, I washed my uniform by hand every day, but visions of returning to the hospital haunted and propelled me to NEVER look back.
I met my soon to be husband there, and with his love and selfless generosity, I graduated in the top 5% of my class, while finally finding a place to call home. I thought that being a free spirit with what I ate would unchain me of the hold my illness once had on me. Turns out that the one thing I felt saved me from myself was also slowly killing me.
So I changed my eating habits; work out 3-5 times a week and am slowly defeating the demons that once held me down. This is only a tiny percentage of my story. I'm still a free spirit, but I am no longer reckless with my body, you only get one life that you know of, I plan on being here as long as I can.
If you would like to know where writing and photography come into all this, you'll have to visit my blog to find out! But basically, my site is about the guilt-free recipes I create and attempt, in order to maintain my new healthy lifestyle. I document my weight loss journey, what I eat, the vitamins and supplements I take, and yes, even my work out routine. So if this messed up little girl can change her lifestyle, emotional illness and all, I know you can too. =]
Since I cannot indulge in the same decadent meals I once enjoyed, my fiancé Tim and I decided to share one of our favorite rich and sensual dishes. The tomato confit, rutabaga puree and sauteed spinach are wonderful accompaniments, but the spotlight continues to shine on the silk-like, savory demi. It takes quite a few recipes to recreate this dish but happens to be a lot easier than it looks, whether you're an ex-line cook or not. If you have the tools, the ingredients and procedures, you can't go wrong.
If you've tried my Stir Fried Pork recipe or any other recipe on askchefdennis.com please don't forget to rate the recipe and let me know where you found it in the comments below, I love hearing from you!
You can also FOLLOW ME  on Instagram @chefdenniseats and @chefdennistravels,  Twitter and Facebook.
Print Recipe
Lamb Loin with Red Wine Demi Glace
You'll love this restaurant style lamb loin with a red wine demi glace. Roasted and served on a bed of spinach and rutabaga puree, with a Tomato Confit. Simply Delicious.
Ingredients
Red wine Demi Glaze
3

large

marrow bones

2

large

carrots

chopped

1

½

onion

chopped

3

stalks

celery

chopped

½

gallon

cold water

2

sprigs of rosemary

5

sprigs of thyme

2

tablespoons

butter

½

shallot

thin sliced

1

cup

red wine
Rutabaga Puree
½

Rutabaga

medium diced

1

pint

whole milk

1

teaspoon

salt
Sauteed Spinach
½

lb

fresh baby spinach

½

tablespoon

butter

Salt and pepper to taste
Tomato confit
2

capari vine ripened tomatoes

3

cups

olive oil

2

sprigs of rosemary
Seared Lamb Loin
2

Rack of lamb

2

tablespoons

butter

2

tablespoons

canola oil

Salt and pepper
Instructions
Red wine Demi Glaze
In a 350 degree oven, roast marrow bones and vegetables on a large sheet pan for 45 minutes.

Remove from oven, place all contents into a stock pot (or pasta pot), and cover with water.

Bring contents of pot to a boil for 10 minutes, reduce heat to a simmer, add whole herbs, cook for 8 hours on a simmer.

Strain the mixture, place liquid back into the pot and reduce it on medium high, until it is a glaze.

In a medium sized pot, place butter and shallots on low heat until caramelized it is a very slow process, make sure it does not burn, could take from 20-30 minutes.

Deglaze the medium sized pot with red wine, and cook off alcohol on high for 1 minute. Pour demi into medium pot, bring it up to temperature, serve warm
Rutabaga Puree
Place rutabaga in a medium pot, add milk and boil on high until fork tender.

Strain and reserve milk. Place rutabaga in blender, slowly add reserved liquid until it is a silky, smooth puree. You may not use all of the milk. Dispose of what remains, add salt to taste. Serve warm.
Sauteed Spinach
Steam spinach until just wilted.

In a small sauté pan on high heat add butter and sautee spinach. Season with salt and fresh cracked pepper. *

Tomato Confit

Keep tops on tomatoes, using a paring knife, slice a small x onto the bottom, just deep enough to penetrate skin.

In a small pot on low heat, place tomatoes with rosemary and olive oil. Cook for about 20-30 minutes until the skin blisters.*
Seared Lamb Loin
Preheat oven to 350 degrees Fahrenheit. Debone rack of lamb, leaving one center rib on the loin.

Season with salt and pepper. In a large, very hot sauté pan, add oil and butter until melted. Sear lamb, approximately 2-3 minutes on each side.

Place lamb in oven for 5-7 minutes for medium rare.
Notes
*Lay cooked spinach on a paper towel to absorb excess moisture before you plate. *Tomatoes are going to be very soft, so remove them from the pot with a slotted spoon and drain excess oil by placing on a paper towel. Serve warm *Allow your lamb to cool for 10 minutes before slicing to let the juices settle. *Wondering how to turn a rack of lamb into a lamb loin? How thin to cut the shallots and how much to cook them? Check out my photographic tutorial on Free Spirit Eater for reassurance.
Nutrition
Calories:
1428
kcal
|
Carbohydrates:
19
g
|
Protein:
43
g
|
Fat:
126
g
|
Saturated Fat:
50
g
|
Cholesterol:
234
mg
|
Sodium:
988
mg
|
Potassium:
1377
mg
|
Fiber:
4
g
|
Sugar:
11
g
|
Vitamin A:
12235
IU
|
Vitamin C:
36.6
mg
|
Calcium:
300
mg
|
Iron:
6.3
mg