This garlic herb roasted rack of lamb is the perfect dish for special occasions or a romantic dinner for two. The combination of garlic and rosemary is a classic flavor combination that pairs perfectly with the rich flavor of the lamb.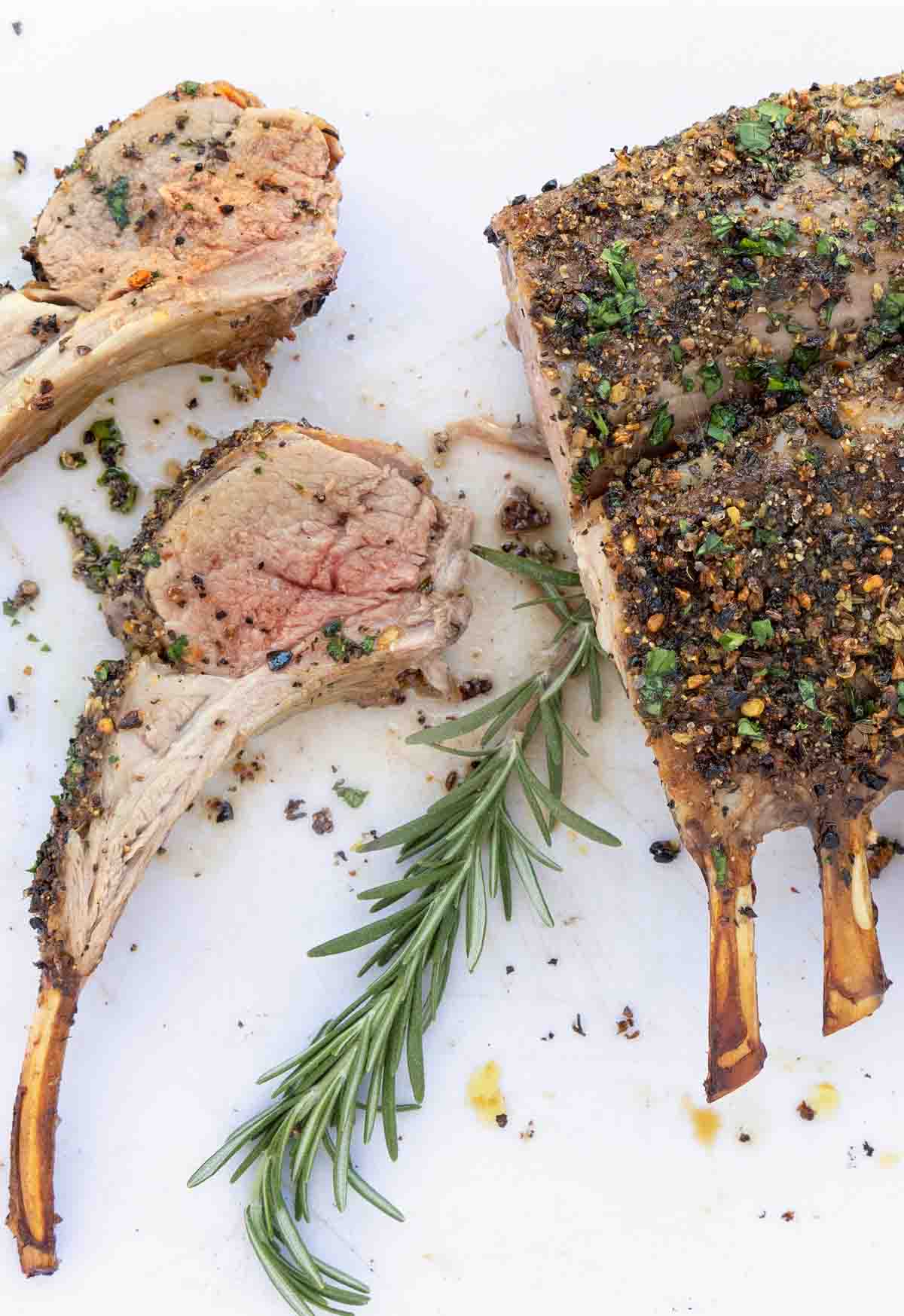 My easy roasted rack of lamb recipe is perfect for entertaining or your next date night. It isn't difficult to make and will definitely impress your guests. Think of this roast as the Prime Rib of lamb.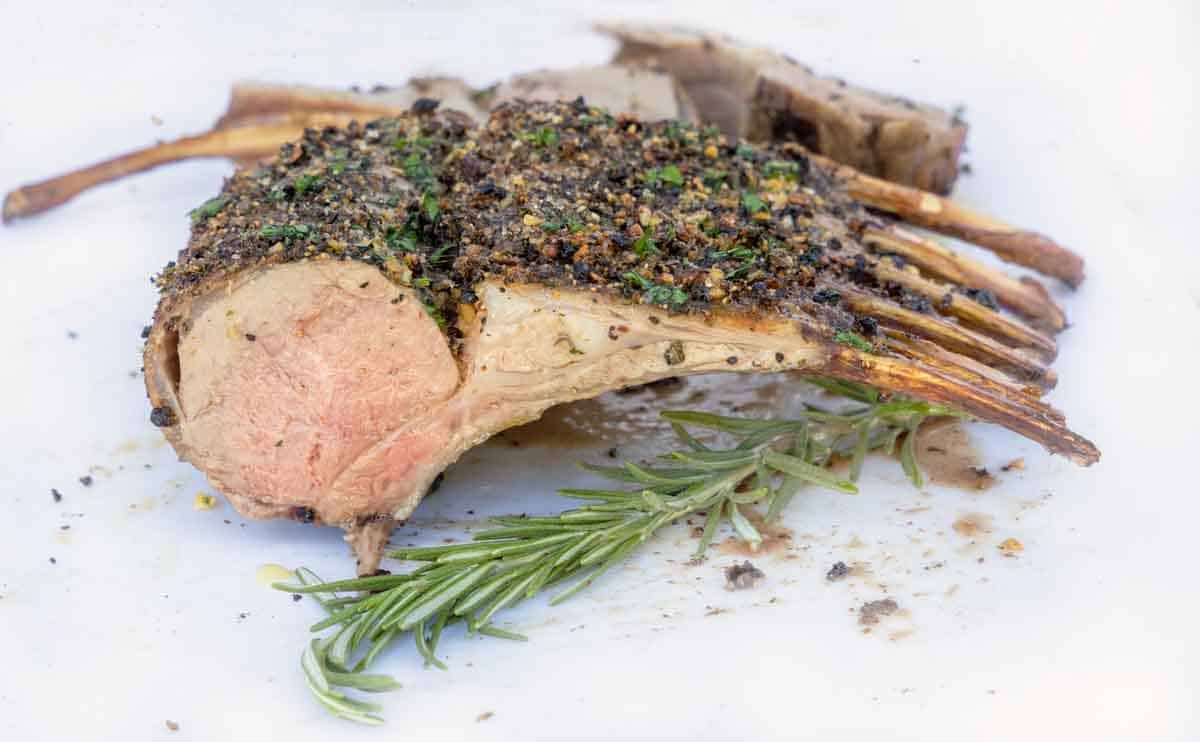 The color of the meat doesn't do the roast justice. This roasted rack of lamb was a perfect medium rare on all but the two outside cuts. This would be a great addition to your dinner table!
If you like lamb, you'll love my oven roasted leg of lamb.
Ingredients to make Roasted Rack of Lamb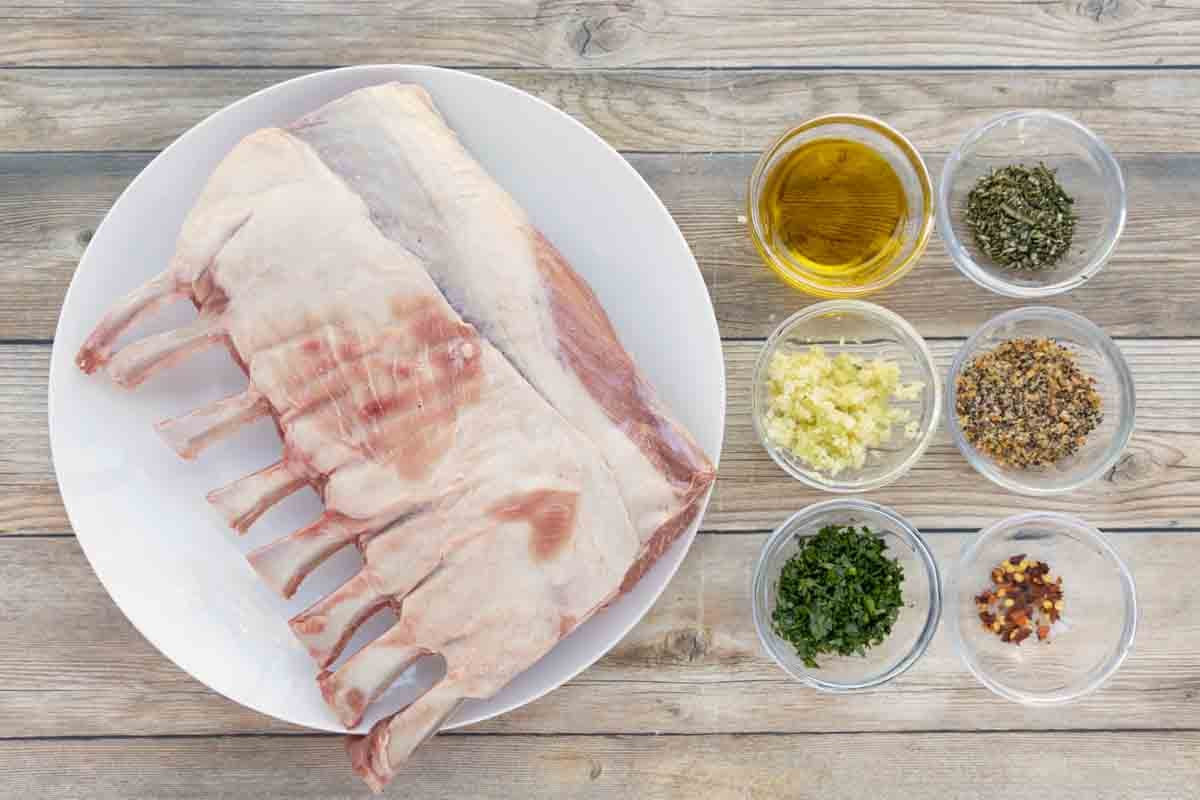 Let's start by gathering the ingredients we need to make my Garlic Herb roasted Rack of Lamb. In Chef Speak, this is called the "Mise en Place," which translates to "Everything in its Place."
Not only does setting up your ingredients ahead of time speed up the cooking process, it also helps ensure you have everything you need to make the dish.
Simple ingredients
Frenched rack of lamb
olive oil
garlic
fresh rosemary
fresh parsley
Montreal seasoning
red pepper flakes
You can add other fresh herbs to the herb mixture. Thyme, sage, and even fresh oregano can be added. If you prefer not to use Montreal seasoning, cracked black pepper and coarse sea salt can be used instead.
How to make Garlic Herb Roasted Rack of Lamb
Roasting a rack of lamb couldn't be easier. There are just a few simple tips that will help you make the perfect rack of lamb.
With any piece of meat that you're going to roast, it's important to let it come to room temperature before cooking. This rack will take about 45 minutes to come to room temperature. Use this time to let the seasonings marinate into the lamb.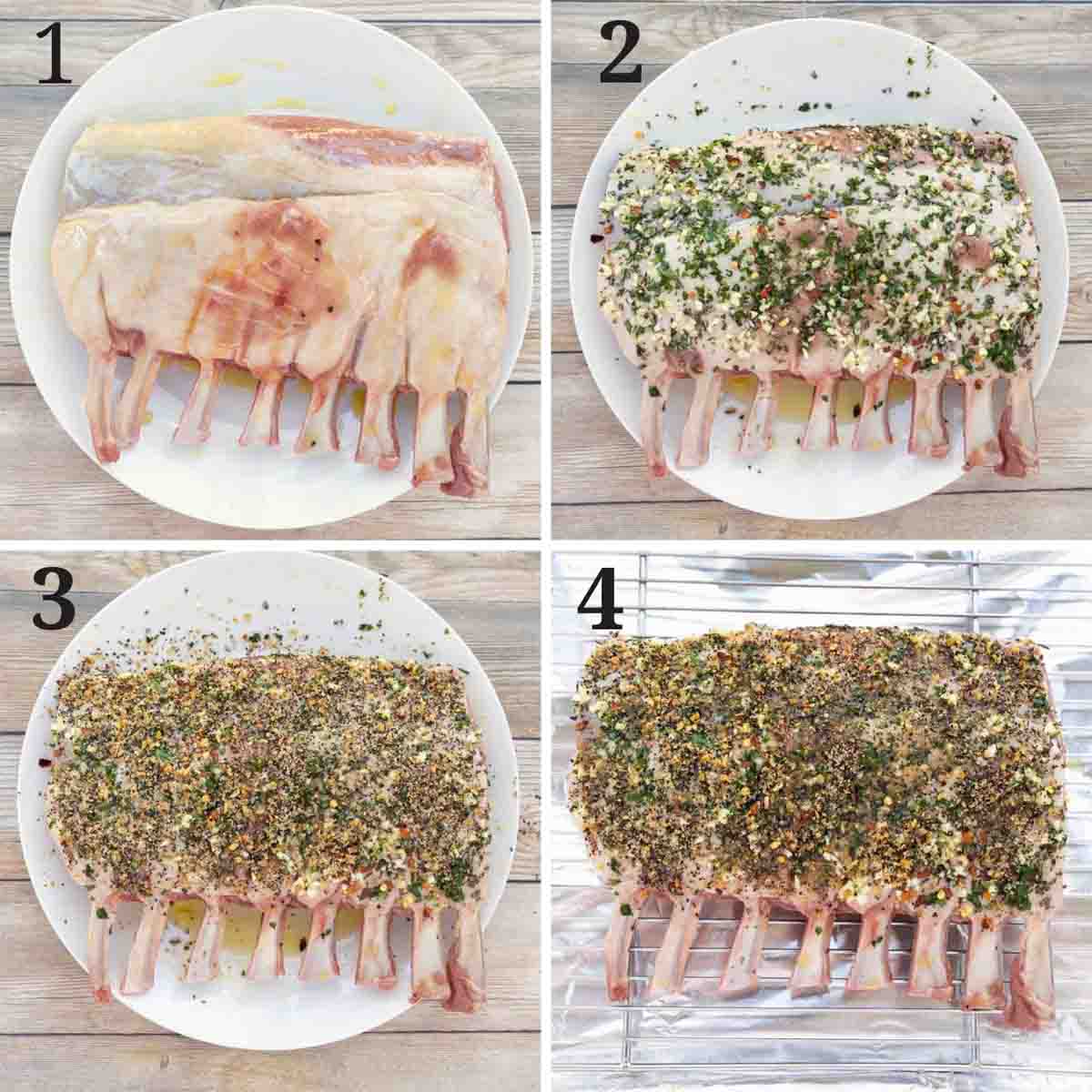 Rub the rack of lamb down with olive oil (brown or dijon mustard can be used instead of olive oil)
Apply the chopped garlic, rosemary, parsley, and red pepper flakes to the fat side of the rack. Rub the seasonings into the lamb.
Sprinkle the Montreal seasoning on top of the other seasonings and pat it down.
Place the seasoned rack on a baking sheet and let it sit for 30-45 minutes. This will let it come to room temperature and also allow the seasonings to seep into the roast.
While the roasted rack of lamb is resting, preheat the oven to 450 degrees F and place an oven rack in the middle of the oven.
Chef Tips:
For a more flavorful roast lamb, after applying the seasonings, let it sit for 1 hour (up to 12 hours) before roasting. This will let the seasonings seep into the lamb.
Use a meat thermometer to ensure the rack is cooked to the right temperature.
After roasting, tent the rack with aluminum foil and let it rest for 10 minutes before carving. This lets the juices release back into the meat, making the lamb more tender and juicy.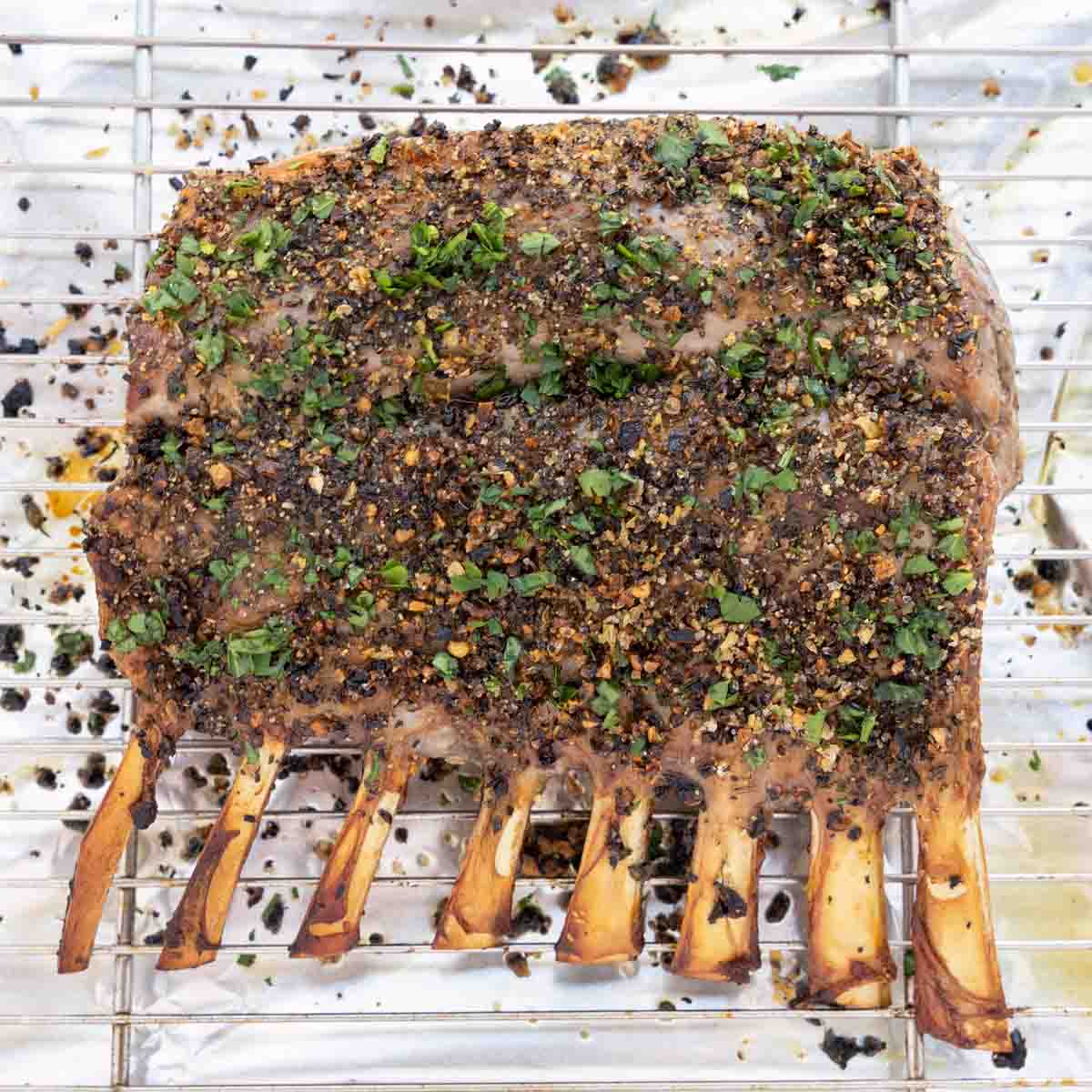 Place the rack of lamb on the middle rack of the preheated oven. Cooking time for medium rare lamb will be 18-23 minutes or until the internal temperature is between 115-120 degrees.
For medium, you want an internal temp of 130-135 degrees F.; Well-done 145-150 degrees F. for the roasted rack of lamb.
*The temperature of the lamb while tented and resting will go up 8-10 degrees.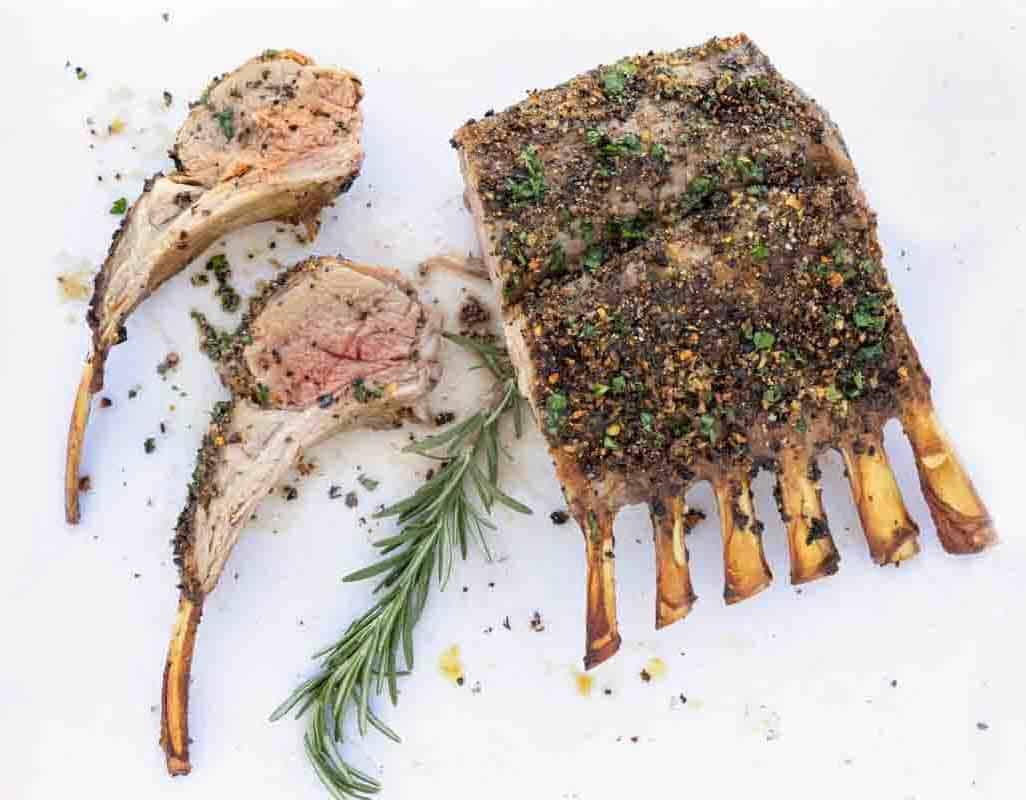 Remove the lamb rack from the oven and tent it with foil. Let it rest for 10 minutes before slicing to let the juices flow back into the meat.
Cut the lamb chops between the bones and serve with your favorite sides.
If you're looking for an impressive and flavorful dish to serve at your next dinner party, my garlic herb roasted rack of lamb is sure to impress. Not only is it delicious, but it's also surprisingly easy to prepare.
This post includes affiliate links. As an Amazon Associate, I earn from qualifying purchases.
This is the instant-read thermometer that I use. It has an oven probe that attaches to it, which you need for this recipe.
Recipe FAQ's
What temperature should a rack of lamb be cooked to?
A rack of lamb is cooked at high temperatures for a short time. The optimal final temperature for lamb is 125-130 degrees which will give you a medium-rare to medium rack of lamb. That means you need to take the roast out of the oven when it's in the 115-120 degree range.
The outer edge of the lamb will be more seared from the heat and more well done, but the center should be close to medium rare.
Use an instant-read thermometer to check on the temperature.
What oven temperature should you cook the lamb at?
High heat is the best way to cook a rack of lamb, and that means 450 degrees F. At this temperature, the lamb should take 18-25 minutes to cook, depending on the weight of the rack.
What should I serve with a rack of lamb?
Roasted vegetables, roasted or mashed potatoes, and a side salad are all great options to serve with a roasted rack of lamb. If you want to add a sauce, something as simple as chimichurri is a great choice. Another option is a red wine sauce.
More Recipes You'll Love!